Densen have introduced an updated version of their B-250 preamplifier called the B-250 XS.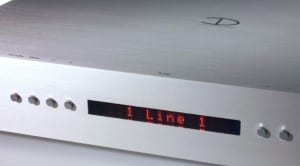 Improvements include a volume control using an attenuator made of Vishay metal film resistors switched by relays controlled by the microprocessor which Densen say has virtually no self-induced noise and extremely low distortion. The attenuator has 200 steps for precise control of the volume.
The new preamplifier also has sockets on board for the SA Board for surround and the DP-03 MM phonostage. The SA boards (Surround Audio Boards) are an add on for the B-250XS and will give 5.1/7.1 line input and line preout meaning you can connect a surround processor, DVD player, or SACD player.
On the back panel of the B-250XS there is a socket for use with internal DAC which Densen will soon be introducing. It will have USB, Toslink and coaxial digital inputs which you will be able to control from the Gizmo remote and from the pre's front panel.