Parisian audio company Devialet presents Ensemble: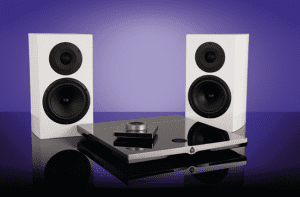 Brought to the UK shores by Absolute Sounds the Ensemble pairs Devialet's just-launched entry-level amplifier, the Devialet 120, with a pair of GT1 compact loudspeakers from fellow French company Atohm.
Devialet created Ensemble for two reasons. First, to form a complete system purchase option for those seeking a one stop audio solution, with a pair of compact speakers that are fully in tune with Devialet¹s sonic and aesthetic philosophies. Second, to showcase the company's SAM (Speaker Active Matching) technology, which tailors the amp's output to precisely match a specific pair of speakers.
Every Devialet 120 amplifier sold as part of an Ensemble system comes preconfigured with SAM data for the GT1s.
The Devialet Ensemble system is priced at £6,290.