Paul Messenger takes a listen to Italian manufacturer Diapason's Astera standmount loudspeakers, now available in the UK through G Point Audio and costing £7896.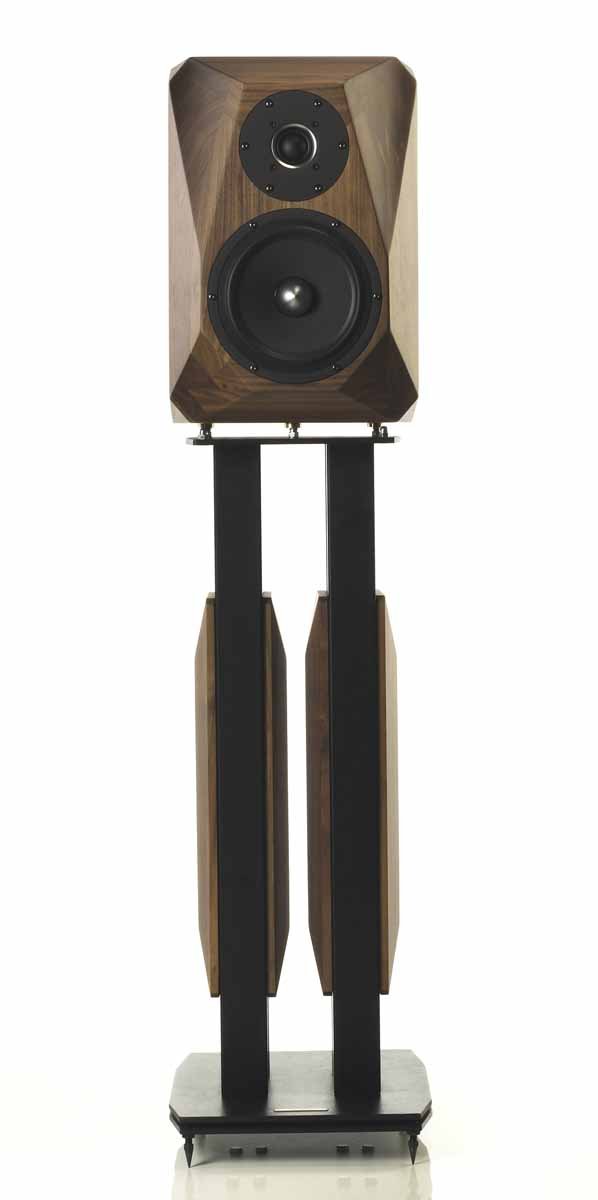 Diapason is a well known name, though the observation that it's also the name of a leading French classical music magazine will create some confusion. (The word 'diapason' can mean a number of things, mostly associated with music. Dictionary definitions are complex and variable, including tuning, harmonic richness, and indeed the whole concept of the octave, from the Greek).
However, this review is focused upon just one product, from a Diapason operation located near Brescia in Northern Italy. Incidentally, Brescia is apparently as important as Cremona in the original development of stringed instruments and is widely regarded as 'inventor' of the violin. As a result, it also has a history in high-class cabinetwork, which undoubtedly has an important place in loudspeaker manufacture.
THE ASTERA
The Diapason brand was founded by Alessandro Schiavi at the end of the 1980s. Early on he created the Adamantes (£4,980), a multi-facet stand-mount two-way that was subsequently developed into this broadly similar Astera. The Adamantes (named after the diamond that inspired its shape) continues in MkV form and shows strong similarities to this Astera, but also some notable differences.
Crucially, both share the same diamond-inspired front panel and the solid walnut wood cabinetwork. First launched in 2009, the Astera has a larger diameter tweeter (29mm rather than 19mm) and a correspondingly lower crossover point (1.6kHz compared with 4.6kHz). The Astera is also slightly larger, somewhat heavier, has a lower sensitivity, and a higher nominal impedance.
Diapason is clearly very keen on two-way designs. Such a format applies to seven of its total of eight models; six of the eight are stand-mounts too. (Indeed, the entire range includes just one three-way £40k floorstander, called Dynamis.) At £7,896/pair, the Astera must be just about the most costly example of the two-way stand-mount (an observation that's by no means restricted to Diapason models).
Furthermore, due to weather difficulties, our review samples could not be properly run in. A fully run in pair might have been considered ideal in achieving a fair and representative review, but we did have a couple of weeks of run-in time.
According to the distributor, it was also important to use the partnering stands. Somewhat taller than most at c725mm (rather than the 600mm norm), these stands are both very heavy and also very costly at £1,920/pair. However, they do include some decoration, flanking the four substantial steel legs with shaped vertical panels that match the wood used for the speakers. Each also has five studs set into its top plate, three of which are designed to fit into sockets set into the base of the loudspeakers.
Despite the unquestioned elegance of the whole package, there's no denying that this stand-mount is a very costly proposition, with or without its matching stands. The question at the heart of this review must, therefore, be whether or not it represents decent sound quality value-for-money, compared to a similar size alternative (albeit probably rectilinear in shape, and made using veneered MDF).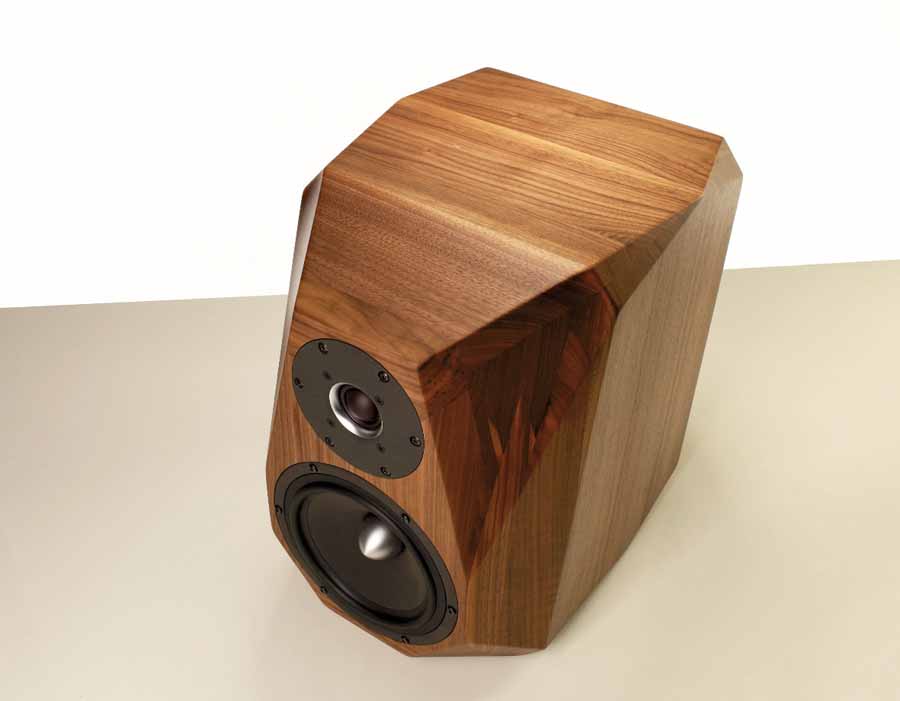 MEASURED PERFORMANCE
Despite mounting the speakers well out from the wall behind them, and placing the stands on Townsend decoupling platforms, the mid-bass output measured substantially too strong at around 50Hz (by some 12dB!), though happily – and unusually for any stand-mount – there was still some output at 20Hz. One point of information is that the rear port is tuned to 40Hz here. Another is that the mid-bass peak proved inaudible in practice!
Elsewhere, the upper bass was rather lacking and the midrange proper (250-800Hz) was somewhat uneven. Above 800Hz everything looks good, with just some mild restraint through the presence zone (1.5-2kHz). Given the unevenness, it's difficult to specify a particular sensitivity, though around 86dB/W is perhaps the figure that will represent a decent average. Happily, that value is not compromised by an impedance which averages around 8ohms and stays above 6ohms throughout.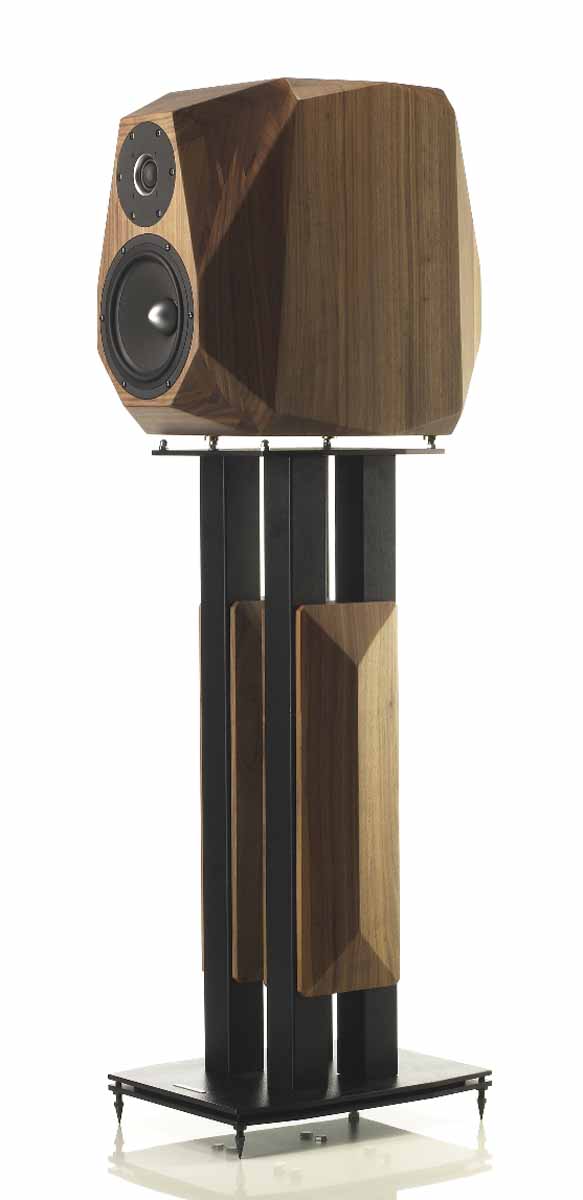 SOUND QUALITY
The tonal balance might not be the smoothest around on our measurements, but this didn't seem to be a particular deterrent, as any box colouration was entirely absent. Indeed, the substantial mid-bass peak proved entirely inaudible in practice, which came as quite a surprise. Indeed, the very solid and cunningly shaped wood enclosure seems to provide this loudspeaker with an exceptionally quiet and effectively 'dead' background, which has got to be a major plus.
While I wouldn't describe it as sounding in any way aggressive, when played loudly using solid-state amplification, a degree of 'forwardness' might be considered unpleasant by some listeners. Happily, the hardness seemed virtually to disappear when my solid-state Naim amplification was changed for an Audio Note Meishu integrated valve amplifier.
However, the sound balance seemed to work really well at lower levels, where intelligibility is excellent, via valve or solid-state amps. This whole business of loudness, relative presence output and valves versus solid-state deserves further investigation. This is certainly beyond the scope of this review, but close attention ought to be required nonetheless.
Timing is unquestionably excellent, as is the stereo imaging (which one would anticipate, given the enclosure shape). Even mono recordings worked well, giving a sharp central image between the two speakers on Eddie Cochran's timeless Summertime Blues. It was time for a stereophonic recording, such as The White Stripes' album Elephant; this showed the expected spread across the soundstage, without clustering around the speakers. Much the same was clearly audible when I dug out a couple of old favourites (Let It Bleed by the Rolling Stones, and the Grateful Dead's Anthem of the Sun).
I remain somewhat perplexed by the observation that although the measurements showed a massive peak at around 50Hz, this seems to be entirely inaudible. Indeed, the overall balance tends to be somewhat bass light, and there's absolutely no boominess that I could detect. Although my measurements do usually correlate with sound quality, they appear to differ in this case; since I firmly believe that subjectivity rules, I must, therefore, disregard the measured findings on this occasion.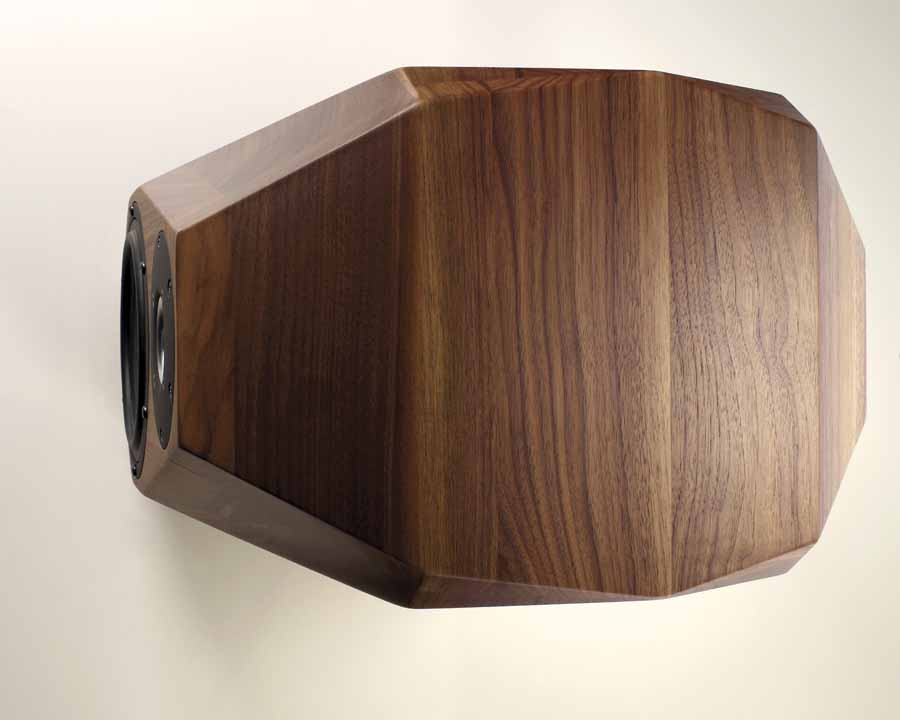 CONCLUSIONS
Although there's no denying that this loudspeaker looks great and is capable of fine sound quality, the problem remains the price, which is undoubtedly high, for both the speakers and the stands. Despite some measured unevenness, this didn't prove in any way audible, so on performance alone Recommendation is mandatory, even though value for money doesn't come into the equation. Provided money isn't the major priority, this is arguably the most attractive looking package currently available.
AT A GLANCE
Build Quality: Excellent high-class build. 
Sound Quality: Very impressive (despite measured problems). 
Value For Money: Unquestionably costly. 
Pros: Lovely sound and gorgeous styling. 
Cons: Costly. 
Prices: £7,896; stand £1,920; grille £216
Paul Messenger
Manufacturer's Specification
Frequency response:   38Hz – 20kHz
Bass Driver:                180mm Nextel-coated paper
Tweeter:                     29mm silk soft dome
Efficiency:                  88dB/W (1m)
Crossover frequency:  1,600Hz
Nominal impedance:   8ohms
Type:                         rear-ported reflex
Finish:                       Canaletto walnut solid wood
Weight:                      13kg
Size (w x d x h):         260x442x380mm
Option:                      cloth covered grille
Prices:                           £7,896; stand £1,920; grille £216