Advertising Promotion
Dreaming of a White Christmas?
KEF's LS50 is one of the most widely-renowned and multi-award-winning loudspeakers of the 21st century so far.  What's more,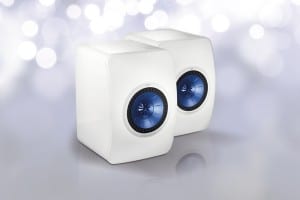 this model is now available in a brand new high gloss, piano white edition!  Featuring the very latest KEF technology, including the critically acclaimed Uni-Q driver array in an attractive blue finish, the LS50 delivers a rich, multi-dimensional soundstage experience that is all out of proportion to their size.
Now available for pre-order, find your nearest retailer here, or visit our online KEF Store.
The original LS50 was designed to celebrate KEF's 50th anniversary, and was conceived as a 'mini monitor' derived from the legendary LS3/5a, to bring professional studio monitor performance into the home. Through patented acoustic designs, together with state of the art technologies from the KEF Blade loudspeaker, the LS50 provides the ultimate studio experience – even in the smallest of spaces.
At the LS50's heart beats the highly acclaimed KEF Uni-Q driver, capable of mastering an exceptional range of dynamic highs and
lows over a large listening area. The stylish new high gloss piano white LS50s have an attractive blue Uni-Q driver, and feature all the advanced, state-of-the-art audio technology and high-tech design that have made the LS50 one of the most critically acclaimed loudspeakers around.
The KEF LS50 has been a resounding success since its introduction in 2012, winning multiple awards and accolades, including being recently honoured with the What Hi-Fi? Sound and Vision Readers' Award for Product of the Year, for the second consecutive year.
'The terrific KEF LS50 standmounters show no sign of losing their sparkle after dazzling our readers for a second successive year'.
Always at the forefront of loudspeaker design and technology, KEF's technical expertise and innovative designs grace anything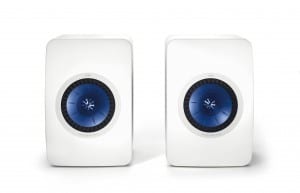 from discreet Custom Install Ci speakers to multi-award winning home theatre systems and class-leading, serious Hi-Fi stereo speakers. Since 1961 KEF has been the most forward thinking and technologically advanced Hi-Fi manufacturer in the world.
The newly launched High Gloss Piano White LS50 continues this legacy, read more about the multi-award winning mini monitors here.