Distributor of home entertainment solutions, The Multi-Room Company, has announced the addition of the Earthquake brand of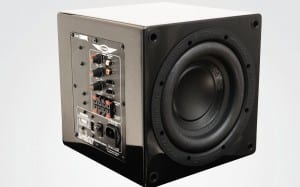 subwoofers to its portfolio.
Engineered by audiophiles for audiophiles, Earthquake subwoofers are crafted to "reproduce the low frequencies with absolute precision, power and authority". The compact but powerful subwoofers are designed to bring the home cinema experience to life, or add the important low frequency information to two-channel systems, without intruding on the environment.
After considered auditioning and evaluation, The Multi-Room Company has chosen a number of models from Earthquake's extensive range as the core offering. From the diminutive, but high performance FF6.5 front-firing 150 watt sub, to the 600 watt MiniMe P12 with its 12" powered driver and 12" S.L.A.P.S. (Symmetrically Loaded Audio Passive System) passive radiator, the range provides a solution for any installation.
Mike Bonnette, product director for The Multi-Room Company, says, "After careful evaluation of a number of options the decision to work with Earthquake was unanimous. They bring a compact but high power subwoofer solution to the market that does much more than just shakes the floor. The output of these remarkably small subwoofers has to be heard to be believed and we are convinced that customers will see, hear and feel the huge improvements that adding an Earthquake sub to their systems will make."
Pricing                                                                                                   
FF6.5                    front firing 6.5"                               150 watts            £250
CP-8                     low profile 8"                                  300 watts            £320
FF10                     front firing 10"                                400 watts            £430
MiniMe FF8  front firing 8"                                          150 watts            £570
MiniMe P8             front firing 8"       + passive 8"       320 watts            £580
MiniMe P8W          front firing 8"       + passive 8"       320 watts            £640
MiniMe P10  front firing 10"     + passive 10"               600 watts            £750
MiniMe P12  front firing 12"     + passive 12"               600 watts            £1050