Edifier has partnered with l musician and audio designer Phil Jones to collaborate on the new AirPulse speaker series. The pinnacle of the AirPulse series is the A300 speakers, which will be on display at the 2019 Consumer Electronics Show in South Hall 3 at booth 30369.
The A300 uses a thin aluminium horn loaded ribbon tweeter reaching up to 40KHz high frequencies. The horn shape adds to the sound as the ribbon tweeter is aimed at the listener. The A300 is equipped with a 6.5-inch aluminium alloy cone mid-range woofer unit. Each magnet has a 50mm diameter edge-wound copper clad aluminium ribbon voice coil. The cabinets are made from 25mm MDF and finished with a cherry wood veneer finished in satin lacquer. The cabinet is lined with a 36mm professional-grade sound absorption material.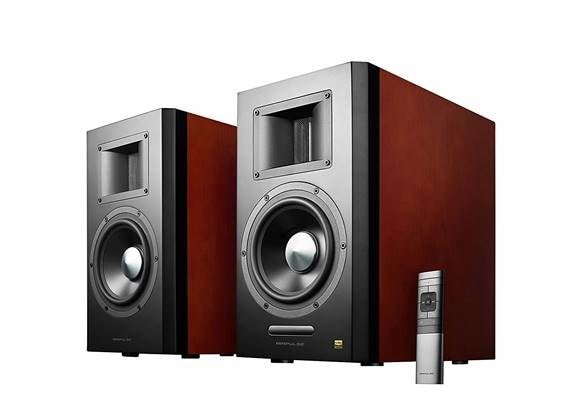 Connect audio sources to the A300 via AUX, RCA, optical, coaxial, USB, professional balanced input, and Bluetooth. The Bluetooth input uses version 4.1 and has support for aptX codec. Bass, treble and volume controls are located on the back panel. Included with the pair of speakers is a wireless remote that allows you to switch between inputs adjust volume and mute your speakers from a distance. Optional stands are available for the speakers. The AirPulse A300 speakers are now available for £999.99.
READ MORE HIFI NEWS WITH HIFI PIG