EISA, the Expert Imaging & Sound Association has revealed the winners of its 2019-2020 Awards. Technical experts from over 60 leading specialist magazines and websites in 29 countries across the world have recognised and awarded no fewer than 78 products as the best in their categories.
We have been bringing you some of the individual awards, but here is the full list of all the Hifi, Headfi and Home Cinema winners, in one place….Congratulations to them all!
EISA Awards
For nearly 40 years EISA has been selecting the most innovative, cutting-edge products for its EISA Awards. The Awards are debated and voted upon by groups of specialist judging panels covering the full spectrum of consumer electronics and photographic products, including HiFi, Home Theatre, In-Car Electronics, Photo, Video and Mobile Devices.  Key to the success and relevance of the annual EISA Awards lies in the evolution of its categories, always reflecting the changing trends and technologies of the consumer electronics world.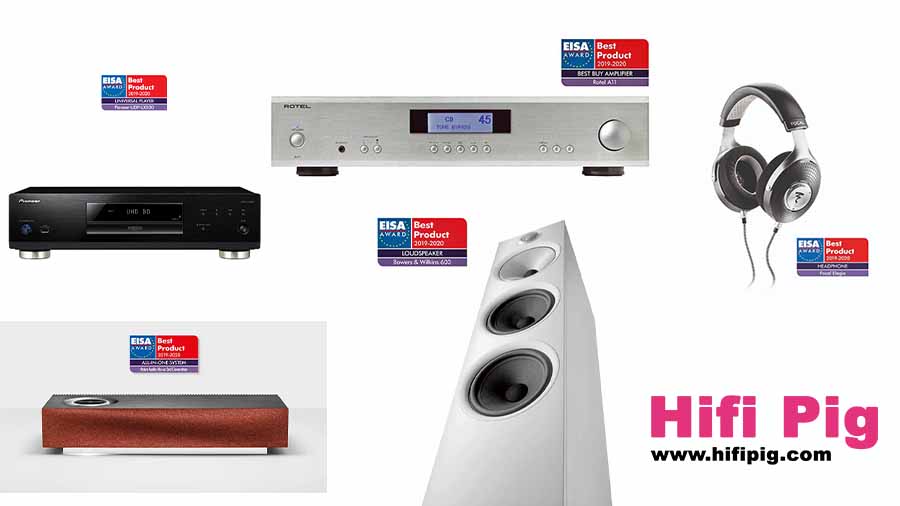 Paul Miller
Paul Miller, President of EISA says, "The collaboration of some 60 specialist magazines and websites from across the greater European continent, Australia and the USA brings with it a unique pool of experience that informs each and every EISA Award. So whether consumers are looking to purchase a feature-rich Smartphone, a versatile camera solution or a pair of high-end floorstanding loudspeakers, the EISA Awards are their unequivocal guide to the cream of today's entertainment technologies."
IFA Berlin
The EISA Awards will be officially presented during the IFA consumer electronics fair, held in Berlin 6-11th September 2019.
The EISA Awards 2019-2020 for Hifi, Headfi & Home Cinema
Hifi Expert Group
EISA ACTIVE STEREO LOUDSPEAKER 2019-2020
ELAC Navis ARB-51
EISA ALL-IN-ONE SYSTEM 2019-2020
Naim Audio Mu-so 2nd Generation
EISA BEST BUY AMPLIFIER 2019-2020
Rotel A11
EISA BEST BUY TURNTABLE 2019-2020
Pro-Ject X1
EISA BOOKSHELF LOUDSPEAKER 2019-2020
Monitor Audio Gold 100
EISA COMPACT STEREO SYSTEM 2019-2020
Marantz Melody X (M-CR612)
EISA DAC 2019-2020
Chord Electronics Qutest
EISA DIGITAL SOURCE 2019-2020
Pro-Ject CD Box RS2 T/Pre Box RS2 Digital
EISA HEADPHONE 2019-2020
Focal Elegia
EISA HI-FI UPGRADE 2019-2020
IsoAcoustics GAIA
EISA HIGH-END AMPLIFIER 2019-2020
Hegel H390
EISA HIGH-END LOUDSPEAKER 2019-2020
KEF R11
EISA LOUDSPEAKER 2019-2020
Bowers & Wilkins 603
EISA SMART AMPLIFIER 2019-2020
NAD M10
EISA STEREO SYSTEM 2019-2020
Primare CD35/I35 Prisma
EISA STREAMING DAC 2019-2020
Mytek Brooklyn Bridge
EISA TURNTABLE 2019-2020
MoFi UltraDeck+M
EISA WIRELESS STEREO LOUDSPEAKER 2019-2020
KEF LSX
Combined With HT AUDIO/HT Video Expert Group
EISA AV ACCESSORY 2019-2020
IsoTek SMART Delta
Home Theatre Audio Expert Group
EISA AV RECEIVER 2019-2020
Denon AVR-X2600H
EISA BEST BUY HOME THEATRE SPEAKER SYSTEM 2019-2020
DALI OBERON Series
EISA HOME THEATRE HIGH-END 2019-2020
Focal Astral 16
EISA HOME THEATRE SPEAKER SYSTEM 2019-2020
Arendal Sound 1723 Monitor S THX 5.1
EISA HOME THEATRE SUBWOOFER 2019-2020
SVS SB-3000
EISA PREMIUM HOME THEATRE RECEIVER 2019-2020
NAD T 758 V3
EISA PREMIUM SOUNDBAR 2019-2020
Sennheiser AMBEO Soundbar
EISA SOUNDBAR 2019-2020
LG SL8
in some markets LG SL8Y, LG SL8YG
EISA TV SOUND SYSTEM 2019-2020
DALI KATCH ONE
Combined With HI-FI/HT Video & Display Expert Group
EISA AV ACCESSORY 2019-2020
IsoTek SMART Delta
Combined With HT Video & Display Expert Group
EISA UNIVERSAL PLAYER 2019-2020
Pioneer UDP-LX500
Home Theatre Video&Display Expert Group
EISA 8K TV 2019-2020
Samsung QE82Q950R
EISA BEST BUY OLED TV 2019-2020
Philips 55OLED804
EISA BEST BUY PROJECTOR 2019-2020
BenQ CinePrime W2700
EISA HOME THEATRE PROJECTOR 2019-2020
BenQ CinePrime W5700
EISA HOME THEATRE TV 2019-2020
Philips 65OLED984
EISA BEST PREMIUM OLED TV 2019-2020
LG OLED65E9
in some markets (LG OLED65E9PLA, LG OLED65E97LA, LG OLED65E9PUA)
EISA SMART HOME TV 2019-2020
LG 65SM9010
in some markets (LG 65SM9000, LG 65SM9000PLA, LG 65SM9010PLA, LG 65SM90107LA)
Combined With HIFI/HT Audio Expert Group
EISA AV ACCESSORY 2019-2020
IsoTek SMART Delta
Combined With HT Audio Expert Group
EISA UNIVERSAL PLAYER 2019-2020
Pioneer UDP-LX500
Mobile Devices Expert Group
EISA BEST EARBUDS 2019-2020
JBL Reflect Flow
EISA BEST NOISE-CANCELLING HEADPHONES 2019-2020
Sony WH-1000XM3
EISA CONSUMER NOISE-CANCELLING HEADPHONES 2019-2020
JBL LIVE 650BTNC
EISA MOBILE SPEAKER 2019-2020
LG XBOOM Go PK7
in some markets (LG XBOOM Go PK7W, LG PK7, LG PK7W)
EISA PARTY SPEAKER 2019-2020
JBL PartyBox 100
EISA WIRELESS IN-EAR HEADPHONES 2019-2020
OnePlus Bullets Wireless 2