Janine Elliot takes a listen to Electrocompaniet's £1969 ECP 2 Mkii phono-stage.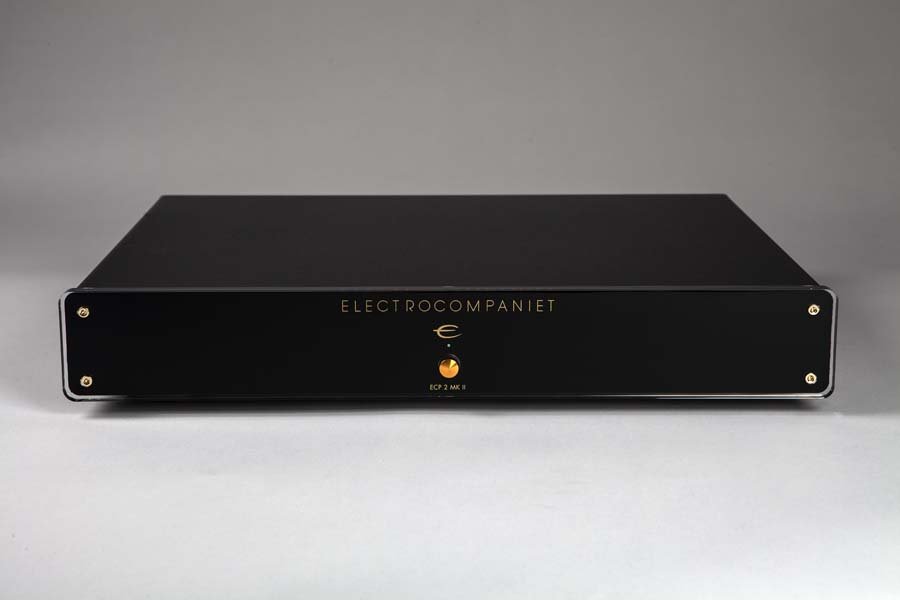 I have always had a soft spot for Electrocompaniet products. That minimalist front panel with gold buttons and screws and gold lettering on black just looks so good, and the ECP 2 Mkii at £1,969 continues the art form, albeit with new curved edges matching other products in the latest Classic Line range. It is also lovely to see a thick Perspex front as a change from the usual mass-production thick aluminium facia, another Electrocompaniet trait. Just be careful not to scratch it. Electrocompaniet was established in 1973 starting with a well-regarded 25W power amplifier and is based on the west coast of Norway. What is well known is their philosophy on creating the best sound by basing their design by listening and adjusting rather than simply technical measurements and theory. Their amplifiers are exceptional, having been used by recording artists and in several recording studios, including Michael Jackson and Abbey Road Studios. They also love Class A and toroidal power supplies, a design philosophy maintained regularly in their products.
Construction
This is the third in a series of phono-stages; firstly the ECP 1, then the ECP 2, and now ECP 2 Mkii. The difference between ECP 1 and ECP 2 is profound, not least the size of the cabinet being larger. Where the original only had a single switch to select between MC and MM cartridges the ECP2 has a series of microswitches on the rear to allow connection of just about every cartridge you are ever likely to meet, whether MM, MC, Moving Micro Cross (MMC) or Moving Iron (MI). The difference between the Mki and Mkii is much more subtle.  The original offering was a fine machine, but the new model has tweaked bits and pieces to make it even better. As Technical Director Volker Hunger told me, the design goal of the ECP Mkii has been to keep the signal path as short as possible using the best circuitry and components. That includes the use of the excellent AD797 op amp from Analog Devices. This amp has very low noise and low distortion. Improvements in the rest of the circuitry include high-quality film capacitors utilised in the RIAA correction circuitry and the subsonic filter. The ECP 2ii has a non-defeating steep low-frequency roll-off at 11Hz to filter out unwanted noises such as those from warped records. Of course, none of my records are warped, and certainly not when using a turntable puck,  but I'd prefer to have a choice of selecting the function. The output stage incorporates op-amps that can drive loads under 1kohms with virtually no distortion meaning that the ECP2 MkII could drive absolutely any amplifier with no effort.
The Music
The front panel is very minimalist; just the off/on switch and blue LED above (rather than the illuminated "E" as in the original ECP 2). There is no volume control or selection switches, nor a useful mono switch. Everything needs to be done from the rear. Therefore, it is probably a good idea to set up this marvel with the unit about-face. You can adjust the settings to get the best music whilst the unit is switched on, though probably best turn the amplifier's volume right down each time! Just remember that the dip switches are set up as mirror images (ie LH goes 1 to 12 and RH goes 12 to 1). There are no less than 30 different resistance load settings to select from 47,000Ω for MM cartridges and 2,553Ω to 10Ω for everything else. Similarly, capacitance loading for MM cartridges is catered for with 8 settings from 0pF to 350pF. Finally output gain can be altered with a choice of 8 settings (71.4 – 39.8dB in 5dB steps). Very importantly this phono stage has a balanced output option, so for the XLR output add 6dB. For much of this review, I went balanced from phono-stage to output. Having a balanced output at this price point was a particularly good feature. If the ECP 2 had a balanced input I could have connected the Thorens TD1600 and gone balanced from source to output! The ECP 2 Mkii is DC coupled throughout using high-quality discrete components. A lot of detail has been put into the power supply, employing a very well filtered input section with a total capacitance of 8800uF. This feeds a total of 8 voltage regulators supplying each individual channel and each amplifying stage. Finally, a battery of sixteen 470uF capacitors filter the outputs of the voltage regulators, meaning there is a total of over 16,000uF capacitance. The circuitry is all carefully laid out on the PCB to not only keep signal paths short but also to make sure that noise and unwanted stray magnetic fields are kept away for the delicate front-end circuitry. All is designed and assembled in-house. They believe this is the best way to ensure the best quality, and the company labels all their components as "fine Audio Instruments".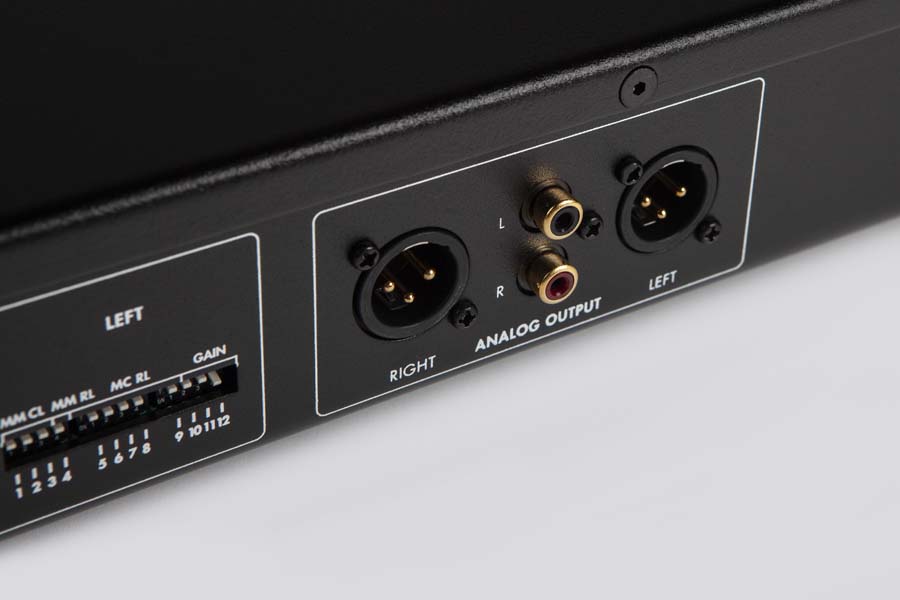 For the first cartridge to be used for this review, the Audio Technica AT33sa, I set up the array of microswitches so that I had a resistive loading of 156Ω and 61.5dB gain (67.5 in balanced mode). The turntable was my Polish tangential GL1102 from Pre Audio. I hadn't been too happy with the cork mat supplied with this turntable so decided to use my aged Audioref that was all the rage in the 80's. The heavyweight rubber keeps the whole free from any vibration and static and bonds the record to the platter which was a good choice for this exceptionally quiet phono-stage. Of course, the extra thickness required some adjustment of height of the arm. The first record out of the box is one of my favourite albums of late, Herbie Hancock's 'Imagine Project', featuring a number of famous artists – Herbie on keys, of course. The title track "Imagine" had a detailed keyboard and a bass guitar that was all there, though more veiled than I would like. "La Tierra" is a typical South American rhythmic number with very clear vocals and piano and a foot-tapping bass. Everything was where it should be, though in "Tamatant Tilay/Exodus" the top end wasn't quite as ecstatic as I wanted, nor soundstage as clear as I remember it. Herbie's Fender Rhodes stage piano was well defined with clear initial transients. This is a very quiet amplifier allowing me to get so much more of the record than most I have reviewed over the years. All frequencies were clear, only the lowest frequencies lacking some decay though they were quick and tight.
That somewhat restrained soundstage was not an issue in Patricia Barber's "Laura" (Live in Paris). The music was extremely open and atmospheric and tantalisingly spacious, whilst still punchy at the right moments. Performance from this EQ unit was effortless and very accurate. Top-end fully met my expectations, only lean in the lowest frequencies, probably not helped by the low-frequency roll-off. With so many settings for load impedance one can change the EQ of the cartridge by degrees, so do spend considerable time setting up this phono amplifier. Turning to my Ortofon Kontrapunkt b cartridge and Rock 7 turntable I found the performance that much more exciting and the bass-end more invigorating.
Time for the excellently mastered 'Vivaldi in Venice' from Chasing the Dragon. Tartini's E minor Violin Concerto D56 was spacious, open, and atmospheric with all instruments correctly spaced out both left and right and also in terms of depth. The ECP 2 Mkii could eek out every sense of musicality from the groove and whilst it was accurate in every sense of the word it wasn't perhaps as cuddly and warm as I would have liked it to be when needed, rather it was bearing more on the side of clinical.  Vivaldi's B minor concerto RV386 made for highly infectious listening, so much so that I played the rest of the 2-LP album rather than flipping about from one disc to another. The phono-stage really excels at classical music, particularly smaller ensembles. The musicians were in the listening room, each in their own space and the performance was so musical it was hard at times to believe this was solid state. Notable was the fact that strings were allowed to vibrate to their very ends, not hindered by noise or electronics.
Next on the platter was Dire Straits 'Alchemy'. Track 1 "Once Upon a Time in the West" has a notable thunder in the bass at the start after the intro, but it just wasn't as forthright as I would expect. Similarly turning to Genesis 'A Trick in the Tail' and "Dance on a Volcano" the lowest octave from the bass just wasn't there until I whacked up the Wilson Benesch subsonic generator. Time to turn to Miles Davis 'Bitches Brew'. That mid and top-end was just so good, but again the bass end was not as powerful as I know it can be, particularly the drum riffs. The track 'Miles Runs the Voodoo Down' has lots of different pitch and rhythmic patterns intertwining, and these were very clear and precise, the ECP 2 Mkii able to deliver micro dynamics and every nuance of music with knife-edge precision. It just wasn't quite as meaty as I know some phono-stages can perform. This is a very clear and accurate phono-stage, just missing out slightly on the sensitivity of musical expression that I am used to hearing from my own phono-stage, though that is considerably more expensive. The Electrocompaniet is more precise and transparent than most phono-stages, but less seductive than my Manley Steelhead.
Turning to the excellent live recording, Love Song 'Feel the Love' the vocals shone through, with cymbals brilliantly clear. Indeed, the concert has a long drum solo that I like to use in reviews, and the kick and bass tom tom were more forthright than I expected to hear, going by earlier experiences. The performance was very refined and dynamic, gripping each hit of the sticks with a vice-like detail. The mids were fluid and tops were again pin sharp. Dave Brubeck's "Forty Days" from the direct cut disc "A Cut Above" is highly ambient, and again the ride cymbals were pin sharp and extended. The synth, played by son Darius, is more forward in soundstage than I expected, ably accentuated by the Electrocompaniet; his playing sounding tiring at the best of times. This double album is a family affair with Dan on drums and Chris on bass.  I bought this LP from "HiFi Care" down in Tottenham Court Road, London, when it came out in in 1978, and where I also presumably bought my platter mat, in the good old days when that road was festooned with HiFi shops such as Lasky's and you could see products in shop windows as opposed to Microsoft Windows. The Electrocompaniet gave a compelling performance just slightly clinical side of the line. Finally to Sibelius Symphony No.5 (Karajan, DG), the best-known symphony from this Finnish composer. The strings were full and lush and trumpets piercing and authoritative.  The ECP again showed its flair with classical music. I am not suggesting that nothing else worked well; Indeed, this is a very "all-round" amp. Closing my eyes and listening I was totally transported to the concert hall. This is a very fast phono-stage and with a very flat RIAA curve.  Performance is very transparent only slightly veering towards being clinical. My only criticism was in the very lowest frequencies being slightly subdued. What was particularly loved by me was the balanced output and that there is a choice of 30 load resistances. Highly impressive.
Conclusion
This is an excellent phono-stage for those looking to spend around £2000, but with a performance that matches phono-stages far higher in cost. Having a choice of balanced output is also a bonus. By having microswitches not only keeps costs down but also keeps that lovely minimalist front. I would certainly recommend you audition this model but make sure you spend time setting it up correctly.
AT A GLANCE
Build Quality: Typical Electrocompaniet minimalist design, well put together, and looking great.
Sound Quality: Excellent speed and transparency
Value for Money: £1,969 for such a refined and detailed sound is excellent value.
Pros:
Precision and timing with excellent midrange and top-end
Transparency
Very quiet in operation
Can be set up to match every cartridge out there
Balanced output
Cons:
Some may find sound a little too restrained in the lowest frequencies.
Price: £1969
Janine Elliot
Review Equipment:
Pre-Audio GL1102/ AT AT33sa; Townshend Rock 7/Otofon Kontrapunkt b (turntable/cartridge),  Leak Stereo20 and Krell KAV250a (Power amps) MFA Baby Reference (TVC preamp), Graham Audio LS5/9 plus Townshend Super Tweeter (speakers); Tellurium Q and Townshend (cables), Townshend Seismic stand.
Specification
| | |
| --- | --- |
| Phono section | |
| Gain @ 1 kHz RCA | Adjustable 39,8 – 71,4 dB |
| Gain @ 1 kHz XLR | Adjustable 45,8 – 76,4 dB |
| Resistance loading (RL) | Adjustable 10 Ω – 47 kΩ |
| Capacitive loading (CL) | Adjustable 0 – 350 pF |
| Maximum output level: | 17.5 V rms (+ 25 dB V) |
| Overload margin | > 31 dB @ 1 kHz |
| Output impedance | 100 Ω single-ended, 200 Ω balanced |
| Frequency response | 20 – 20 kHz +/- 0.2 dB |
| RIAA Correction Accuracy | |
| Subsonic filter | -3dB @ 11 Hz, 24 dB/octave |
| Channel separation | > 85 dB, 20 – 20 kHz |
| THD + Noise | < 0.003 % @ 1 kHz |
| S/N-R | 96 dB, 1 kHz, A-weighted, ref. 10 dB V output |
| S/N-R | 91 dB, 1 kHz, A-weighted, ref. 5 mV input |
| S/N-R | 67.4 dB, 1 kHz, A-weighted, ref. 500 μV input |
| | |
| | |
| Dimensions | |
| Width | 470 mm / 18.5 inches |
| Depth | 373 mm / 14.6 inches |
| Height | 78 mm / 3 inches |
| Weight | 9 kg. / 19.8 lbs. |