Some nights are not to be forgotten.  Like the first night I saw Elvis Costello and The Attractions here at The Playhouse, back in 1981, rattling through a setlist that included a mashup – way before anyone knew what a mashup was – of Watching The Detectives and Stevie Wonder's Masterblaster and later a spine-tingling cover of Randy Crawford's One Day I'll fly Away.   Or the two night residency on The Spectacular Spinning Songbook tour where the content of the evening's entertainment fell to the fates of a wheel of fortune.  Or the night in 1991 when seeing Elvis on his Mighty Like A Rose tour meant that I missed the first tiny steps of my first born son. 
The ghosts of Elvis past are a hard act to live up to but as the lights go down and the Imposters launch into Wonder Woman, Costello's collaboration with New Orleans legend Allen Toussaint, my hopes are high.  These days Costello has more than a score of albums to call on to form his on-stage repertoire but it's a non-album track that's up next, Girls Talk, his gift of a hit to Dave Edmunds, topped off tonight by a subtle tip of the hat to John Coltrane's A Love Supreme.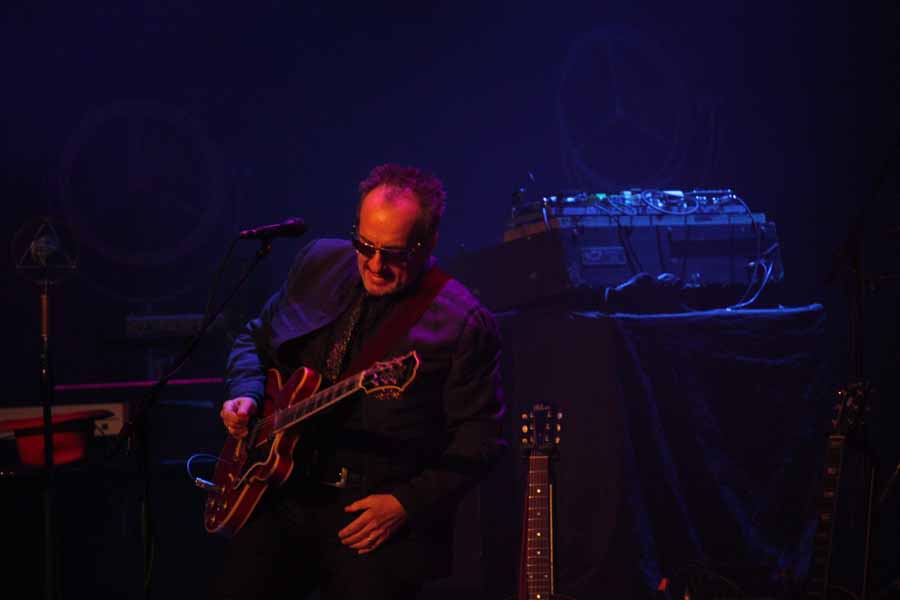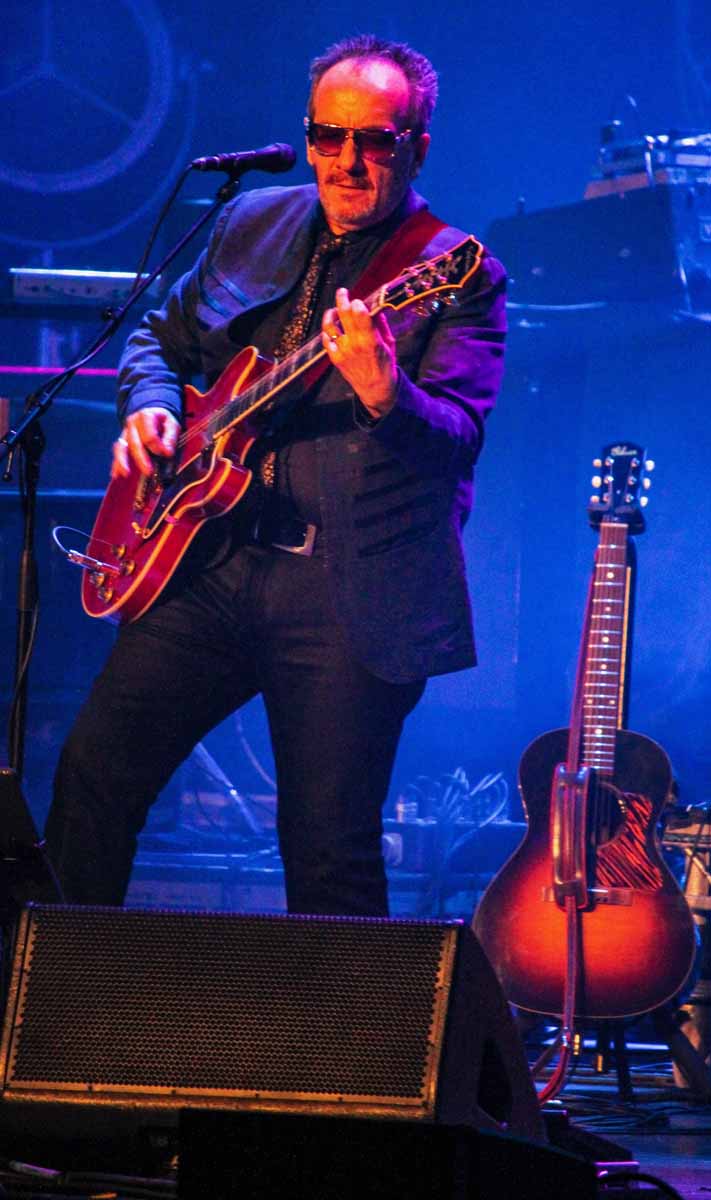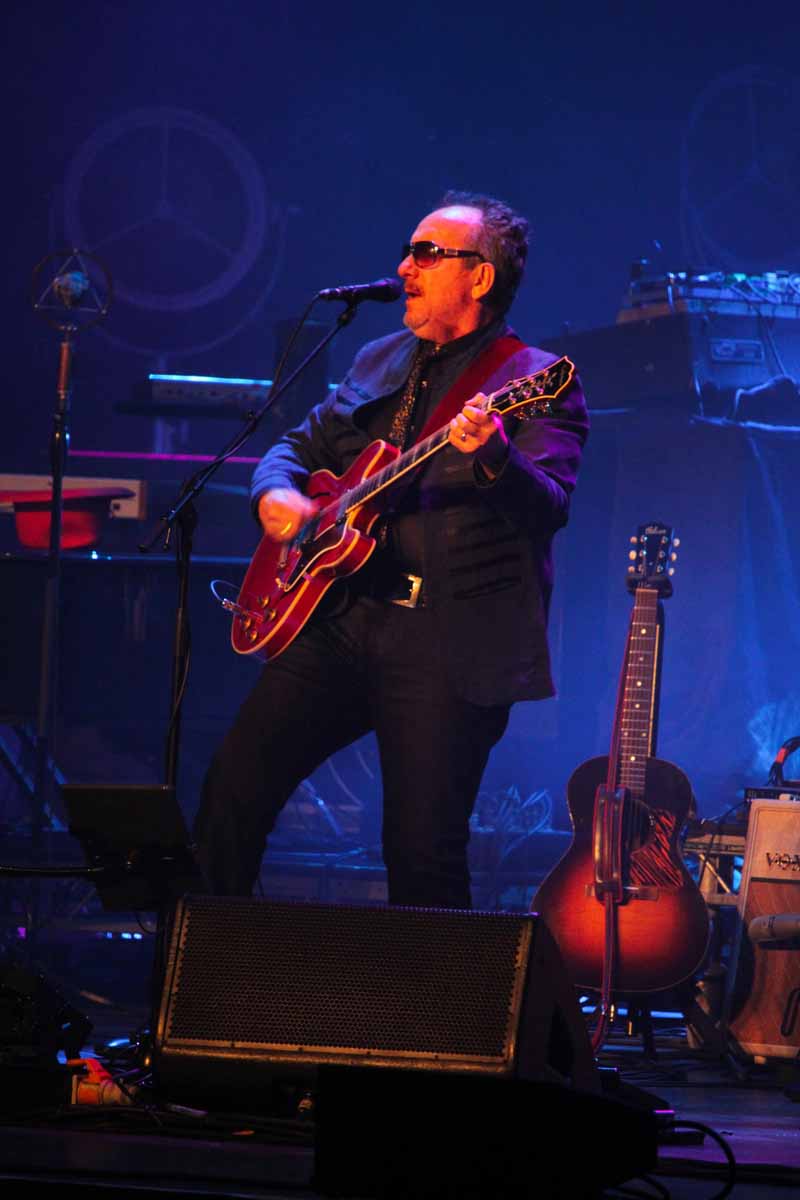 A tightly wound King Horse driven by Pete Thomas' rat-a-tat snare drum fills  is followed by a soulfully reimagined Tears Before Bedtime with backing singers Kitten Kuroi and Briana Lee combining gospel/soul vocals and beat girl dance moves to great effect.  Radio Radio swerves into (I Don't Want To Go To) Chelsea before Costello throws an unrehearsed – not that you'd know unless you were told – New Lace Sleeves into the setlist to commemorate, as we're reliably informed by the man himself, Edinburgh being one of the first places where it was originally performed.  And, all these years later, the line "Even presidents have newspaper lovers" seems more appropriate than ever.
Costello carries on, mixing up the classics with the curios: a murky, dubbed up Watching The Detectives, Costello bathed in green light like some evil goblin, is followed by his 1983 single as The Impostor, Pills and Soap.  Last year's You Shouldn't Look At Me That Way leads to a set-closing hat trick of  a breakneck Beyond Belief, Party Girl and darkly brooding – is there any other kind? – I Want You which incorporates Aretha's I Say A Little Prayer.
Masquerading as an encore, but what is in reality a second set,  Costello opens with his second single, Alison, accompanied only by his guitar,Kitten and Brianna.  He then takes to the piano for a slightly ragged I Still Have That Other Girl.  The King Of The Keyboard Jungle, Steve Nieve, takes over on piano for a supper club section featuring Shot With His Own Gun, Accidents Will Happen and She along with a song from Costello's work-in-progress musical, A Face In The Crowd.  She's chanson ambience is carried forward into Adieu Paris, a song written for Johnny Hallyday.  It's a good tune but its mixture of French and English lyrics had me thinking, somewhat uncharitably, of Kenneth Williams singing Ma Crepe Suzette.
The whole band return for a reworked, slowed down version of Oliver's Army followed by a lovely, if foreboding, version of Shipbuilding and a Johnny Cash poem set to music by Costello, I'll Still Love You.  Much as the opera is not over until the plump lady has performed, an evening of Elvis entertainment hasn't ended until Nick Lowe's (What's So Funny 'Bout) Peace, Love and Understanding has been given an outing and, on this occasion, mixed up with Jean Knight's Mr Big Stuff.   Thoroughly satisfied, I'm happy to call it an night but Elvis clearly has other ideas.  Just in case Mr Big Stuff's poke at the POTUS proved too subtle, American Gangster Time hammers the message home.  We're into soul review territory now as I Can't Stand Up For Falling Down cannons into High Fidelity and the pop-soul of Every Day I Write The Book, kept motoring along by Davey Faragher's bass groove.  Finally,  the tempo ratchets up even further for a triumphant Pump It Up.
And there we have it; a two and half hour musical masterclass covering the last forty years of one of our greatest songwriters.  What more could you want? Well, I could easily list another two and a half hours worth of songs that didn't get played tonight and would have made an equally great second encore, but that might be asking for just a little too much.  I can go home happy with another classic Costello gig under my belt; another night not to be forgotten.
Setlist
Wonder Woman
Girls Talk
King Horse
Tears Before Bedtime
Radio Radio
(I Don't Want to Go to) Chelsea
New Lace Sleeves
Watching the Detectives
Pills and Soap
You Shouldn't Look At Me That Way
Beyond Belief
Party Girl
I Want You
Alison
I Still Have That Other Girl
Shot With His Own Gun
A Face in the Crowd
Accidents Will Happen
She
Adieu Paris
Oliver's Army
Shipbuilding
I'll Still Love You
(What's So Funny 'Bout) Peace, Love and Understanding
American Gangster Time
I Can't Stand Up for Falling Down
High Fidelity
Everyday I Write the Book
Pump It Up
John Scott