HIFI PIG ADVERTISING PROMOTION

Hifi Pig brings you a series of promotional articles about the essential brands to have on your 'go visit' list at High End Munich 2019. Read on for more about their philosophy, their products and, of course, where they will be at this year's High End Show.
In the recent years PureAudioProject has established itself as a leading provider of Open Baffle Speakers…
It's unique and highly raved Modular Open Baffle Architecture allows customers to choose their favourite configuration, to swap the various audio components and to benefit a straightforward and cost effective upgrade path between the various models and even crossovers configuration.
The Product Lines
PureAudioProject offers four modular product lines, the narrow size Trio10 and Quintet10 and the larger size Trio15 and Quintet15.
At the heart of every PureAudioProject speaker lies the exclusive Modular Open Baffle Architecture, a carefully designed chassis and select components from which all models are born.
PureAudioProject speaker are assembled by you. All models are engineered for easy assembly requiring only a hex key and a screwdriver.
"After having a wonderful three hours assembling and testing my new pair of Pure Audio project Trio15 Open Baffle Speakers I was immediately brought back to the 1960's and the joy I received building my Dynaco and Harman Kardon kits. There is a definite satisfaction assembling your own and knowing exactly how the product works.", Harry Weisfeld, Founder, VPI Industries
Drivers, baffles, cables, and even the crossovers parts; all easily interchangeable and upgradeable, giving you the freedom to explore multiple models, and to match your visual and music DNA.
The Models
PureAudioProject models cover a wide variety listening conditions, sonic and music DNA and gear preferences, and the best way to point on the most suitable model will be by answering the following basic questions.
 1) What is your room size ?
Trio10 and Quintet10 models are 42cm wide, they feature 10" woofers, and they are designed for small, medium, and modestly large rooms. Trio15 and Quintet15 are 54cm wide, they feature 15" woofers, and they are designed for medium, large and even extremely large rooms.
The Trio and the Quintet models share quite a similar sonic signature, however, the Quintets' unprecedented capacity to move makes them a true wall of sound speakers; with not only wide and deep but also a high soundstage !
The upgrade path from Trio models to Quintet models is straight forward as both use the same baffle and drivers. An upgrade of the frame, four additional baffles and woofers, and a swap of few components on the crossovers (with a screwdriver) is all that is needed!
2) What is your gear preference ?
The Trio10 and Quintet10 are low efficiency speakers (88db) and they require relatively powerful amplification, while the Trio15 and the Quintet15 are high efficiency speakers (96db) that can play with any amp, be it tubes based Single End, Class A, Class A/B or Class D Solid State.
The Trio15 and Quintet15 grew to be the prime choice for not only tube fans but also for a long list of industry members, playing at the homes and premises of audio gear manufacturers, e.g. Opera Consonance, Line Magnetic, PSVANE, Pass Labs, Linear Tube Audio, VPI Industries, Whammerdyne Audio, Esprit Cables, Shunyata…
3)  What main driver to choose ?
We base all models on the sonic virtues of the finest audio components and drivers available today, and we carefully picked up, designed and integrated a variety of full and wide range drivers to perform at best in Open Baffle and in PureAudioProject designs in particular.
As far as Budget is concerned, our two entry level drivers are the Legendary Heil AMT1 and the field proven Tang Band W8-1808.
These two drivers present a superb music and sonic experience for their price. Full body, all round emotionally moving and totally no fatigue. The Trio15TB is the model that kicked us off with numerous best of shows and best value awards. It was praised for it's musicality, live presence, transparency, smoothness, non fatigue… and it is a perfect match for Jazz, Rock, Acoustical, Electronics and not too complex classical music.
The Heil AMT1 is a legendary wide range tweeter that presents an extremely refined and delicate music experience. The Trio15 Heil captures and wraps this magic, and both models offer a unique performance/price ratio and entry into the Open Baffle and PureAudioProject modular worlds.
" Well, I'm now the proud owner of these wonderful speakers (Trio15TB)! My god, how good does it get?!… The ease of how these speakers work, the soundstage, the naturalness has elevated my system to a level I never thought possible. Drums sound like drums, pianos sound like pianos, etc., etc., etc. I have to listen to my whole library again!", Customer Feedback, Canada
"…these are remarkable speakers (Trio15 with Heil AMT1), especially for the price. Their honest timbre, excellent speed at mid and high frequencies, and overall sense of envelopment is pure listening pleasure. In terms of fidelity; the truth in conveying what's in a recording, they smoke many loudspeakers costing several time as much. Heck, I like their overall performance more than some costing ten times more!", Oliver Masciarotte, AudioXpress, quote from private correspondence.
Climbing the ladder we offer few models with the remarkable Voxativ full range drivers and our own PAP-Horn1 driver.
The Voxativ drivers we use in the various models are the AC-1.6 (paper cone), AC-PiFe (wood cone), AC-4a Alnico and the AC-X Field Coil (AC-X) drivers.
The Trio15 and Quintet15 Voxativ with AC-1.6 are probably our most popular models with full range drivers. They present a stunningly close to live music experience, all-round warm sound with elegance and finesse that Voxativ drivers are well known for. Their musicality, airiness and resolution makes them a match with any genre and they handle with ease the most complex classical passages, Jazz, vocals, rock or electronics. The AC-PiFe adds to the AC-1.6 features a unique and hard to find sonic mass that makes all instruments sound and feel even more realistic.
The Alnico and the Field Coil drivers are a league of their own. The sonic ease, the softness and the deep resolution these drivers present make it hard to describe them in words !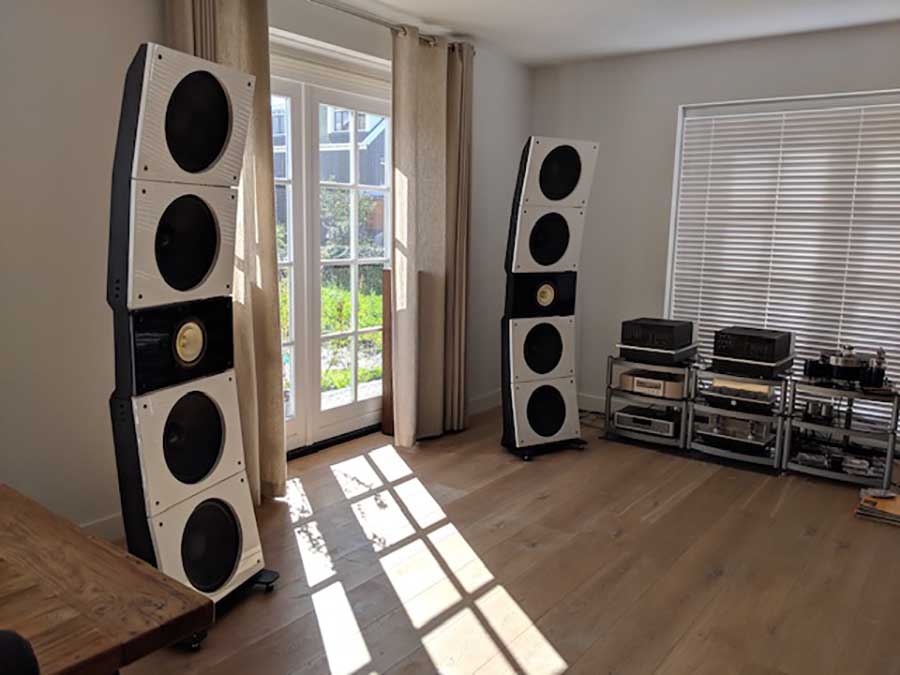 "I love the speakers (Trio15 Voxativ with AC-PiFe). Love them. I find them perfect for me… The flexibility inherent in the open baffle concept and your business model mean that this is the last and final speaker system for me. I wake up looking forward to exploring fascinating new sounds every day. Thank you!", Customer Feedback, USA
Alongside the Voxativ drivers we offer the unique PAP-Horn1 driver. Trio15 and Quintet15 with Horn1 are our best selling models and they were awarded by the press and received not less than unprecedented feedback from customers and industry members alike. With a genuine wide wood horn featuring a modern polymer 1.5" extended neodymium compression driver, the Horn1 plays from 550hz all the way to 19khz. It sounds extremely fast and smooth at the same time. Playing totally effortless it unleashes all the deepest details and the dynamics between the instruments, and it blends with ease with our fast 15" light paper cone woofers. The Horn1 is totally free from any typical 'harshness' that is many times  associated with Horn Speakers. Instruments sound live and complete at any volume and the musical experience with these models is totally addictive whether music is large scale orchestras and choirs, intimate acoustical combos, rock bands or electronics…
"I have been pinching and kicking myself for the past several weeks as I have been romancing the Horn1; pinching myself to be sure this is not an illusion, that the experience is as magical as I'm hearing, and kicking myself because I have been a reviewer for more than 12 years and only now I'm relishing…", Douglas Schroeder, DaGoGo
What are my post-purchase modification/upgrade options ?
PureAudioProject Modular Open Baffle Architecture allows you to swap the main driver, to upgrade from Trio15 to Quintet15, to swap the internal wiring cables and even the components on the crossover. All these allow a level of freedom like no others speakers do, to experiment different components and even voice the speakers to your personal preference and without any need for technical skills or know how… Customers share their experience online and we are here to guide and support !
"I just installed 33 mfd Mundorf Supreme Evo Oil caps with Duelund silver bypass caps in place of the stock 33 mfd Mundorf caps and have seen a very significant improvement in everything that makes music sound more real…  I would highly recommend this $400 upgrade to anyone looking to take their Quintet15 Horn1's to the next level, especially if they listen primarily to un-amplified music. Thanks so much for creating the Quintets with an incredibly easy upgrade path!  I'm having a blast and really beginning to understand my system and the individual components like I never have previously.", Customer Feedback, USA
You can experience PureAudioProject for yourself in the MOC A 4.2, F231e.