Yesterday, at the press conference in New York, Consumer Electronics Association announced the winners of the honorary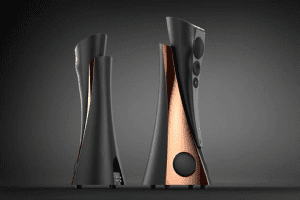 innovation award. Alfred & Partners' newly launched Estelon Extreme has been selected as 2015 CES Best of Innovation Awards Honoree in the High Performance Home Audio/Video product category.
Products entered in this prestigious program are judged by a preeminent panel of independent industrial designers, engineers and members of the trade media honoring outstanding design and engineering in cutting edge consumer electronics.
Besides the use of a crushed marble based composite and already recognized Estelon shape, the most noticeable innovation is the speaker's two modules. On the Estelon Extreme, user can remotely change the height of the upper module and get rid of unwanted reflections from the walls and ceiling that affect the sound quality. We certainly enjoyed the demonstration of the speakers at last years Munich High-End.
"I am extremely proud to be honored with the "Best of Innovation" Award. It gives me energy to work even harder on my ongoing R&D projects in changing the way people listen to music." says Alfred Vassilkov, founder and designer of Estelon speakers. "This award confirms that I have really learned something during my 30 years of experience and I am happy to apply my knowledge to our products that provide the listener with unforgettable and "extreme" experience."