Estelon are calling their new Estelon Extreme Legacy Edition loudspeakers "the world's most technologically advanced speakers" and they were unveiled at the Rolls-Royce Enthusiasts' Club's prestigious annual rally in June.
The event was held in the grounds of Burghley House, a 16th-century stately home in rural Lincolnshire, England, and was attended by more than 1,000 Rolls-Royce and Bentleys.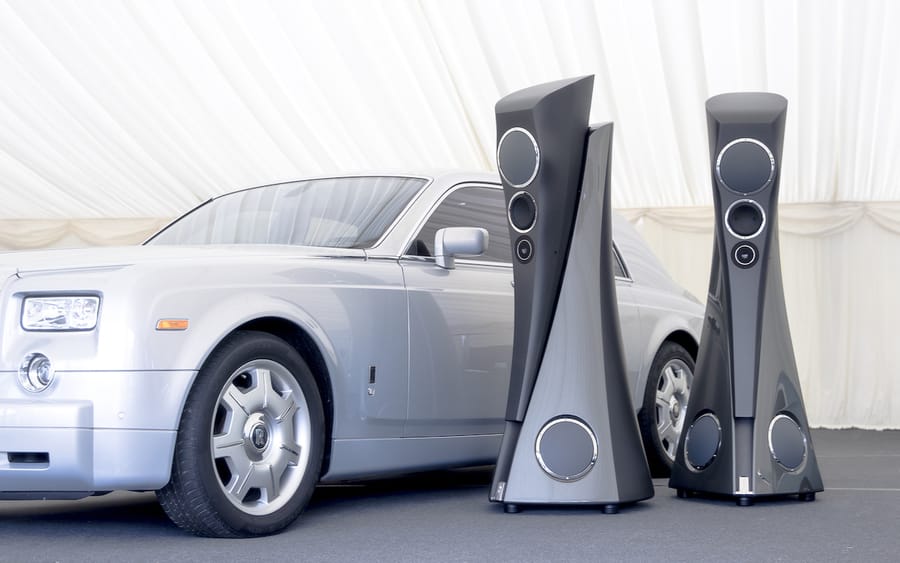 Despite the many classic vehicles on display, however, one of the rally's biggest talking points was the introduction of the Estelon Extreme Legacy Edition speaker system, valued at £220,000. Estonion brand, Estelon, drew inspiration from Rolls-Royce's legacy of design excellence when creating the super-luxury sound system.
The Extreme Legacy Edition's cabinet is finished in light Tudor grey metallic paint, a colour more commonly associated with classic Rolls-Royce cars than high-end audio equipment. The speaker's modular brain, which features new Estelon Intelligent Audio (EIA) technology, ensures that the speakers are "entirely futureproof". Estelon went on to tell us: "EIA allows for the speaker's hardware, as well as its software components, to be updated with ease, resulting in industry-leading performance, as well as the knowledge that, whatever developments are round the corner, the Legacy Edition will always deliver cutting-edge quality".
Speaking further about the process, designer, Alfred Vassilkov said: "As a great engineer once said, 'Take the best that exists and make it better'. That engineer was Sir Henry Royce and it is his unceasing pursuit of perfection that has inspired our new high-performance speaker, the Estelon Extreme Legacy Edition. A pitch-perfect balance of innovative technology and sculptural grace, we like to think that Sir Henry would have approved." He added: "When people hear music through an Estelon speaker, they don't talk about the sound reproduction, they talk about the music itself."
Estelon Extreme Legacy Edition technical specifications:
• Type: Wireless Intelligent Speaker
• Woofer: 2 x 10" aluminium dome
• Mid-Woofer: 10" aluminium dome
• Midrange: 7" ceramic inverted dome
• Tweeter: 1.5" diamond inverted dome
• Frequency response: 20–40 000 Hz
• Height: 1780 mm – 2080 mm
• Width: 790 mm
• Depth: 820 mm
• Net weight: 285 kg per loudspeaker
• Connectivity: Wi- Fi, Bluetooth, DLNA and Ethernet cable