The Evince loudspeaker from Thomas Scherer Audio Engineering is an interesting looking loudspeaker with an equally interesting concept and design. Indeed the company clearly sates that their "corporate philosophy is to develop perfect loudspeakers by combing high-end audio engineering with inspired design."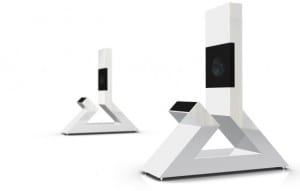 It is a stunning looking single-driver, five-stage, transmission line design made from Scandinavian birch plywood and a composite material that, when finished in white (other colours are available on request), is said to give the loudspeakers a "stone-like" appearance.
The Evince is a novel looking and angular design which is said to be a mirror of "contemporary residential design".
Bass from the relatively small loudspeaker is said to be "acoustically pure" and of "astonishing power and clarity".
The size of the Evince is 220 x 944 x 873 mm w/h/d and they weigh in at 25.5Kg and offer a sensitivity of 90 db/ 5 W/ 2m listening distance.