Toronto-based exaSound Audio Design has introduced the new, e20 DXD/DSD DAC – a stereo asynchronous USB
interface supporting 384kHz/32bit PCM, and 2822.4/5644.8 MHz DSD.
George Klissarov, founder of exaSound explained: "The e20 DAC takes to the next level the remarkable bit-perfect, low-jitter accuracy of the e18 DAC. It is refined for the perfect stereo experience, has even lower distortion and noise levels, improved headphone amplifier, balanced outputs and DSD support. The e20 DAC enables the leading edge audiophile to play DXD and DSD master files in their native format, without any conversion or down-sampling, offering a perfect reproduction of the recorded material. e20 delivers recording-studio precision and realism – nothing added, nothing taken away."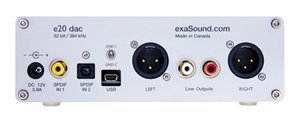 Features of the exaSound e20 DAC include:
Based on the ES9018 Sabre32 reference DAC chip.
e20 operates in asynchronous USB transfer mode.
Galvanic isolation between the USB and the DAC eliminates ground loops noise, and blocks computer-originated interferences.
Jitter minimization is achieved by using three precision quartz oscillators (0.13ps master clock).
Seventeen internal power cleaning stages.
Second generation high-fidelity headphone amplifier, capable of driving the most demanding headphones.
Simultaneously driven, gold-plated unbalanced (XLR) and balanced (RCA) outputs.
Two S/PDIF inputs provide jitter reduction and superb D/A conversion when used with CD transports.
Automatic sampling rate switching, up to 384 kHz software up-sampling.
Price is $2 499