ExaSound Audio Design has unveiled the latest of its digital to analogue converters  – the e22 DAC. This new DAC is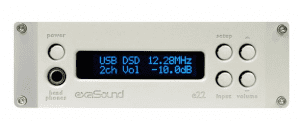 the third generation DSD256 DAC offering DSD 256+ mode at a sampling rate of 12.288 MHz.
Onboard there's an in-house asynchronous USB interface with error correction, proprietary computer drivers and "Galvanic" ground isolation.
Over and above its predecessor, the e20, the e22 DAC has 82fs Femto-Master-Clock, an enhanced high-current headphone amplifier, lower noise and distortion levels, a 12V Trigger Output and heavy duty USB-B and RCA connectors.
Available now!