The Fiio X1ii is a personal music player that costs just £99 but has great specs. Janine Elliot has a play.
I love reviewing personal stereo, and it shows how times have changed in the last 30 years. As someone working their way into the older generation I can see we have become more insular, as the days of sharing our music and talking face to face seems to disappear seamlessly into a world of private listening, private viewing, and 'talking' to others via texts or Facebook. Even the latest fad of 3D VR boxes can only be used by one person at a time. Sad days. Or is it? Whilst I loved my Sony and Akai cassette Walkmans, they still had that limited frequency response, hiss, and wow and flutter. It did, however, mean that playing unsociably loud music became more limited to car stereos.  Whilst personal stereo took a step back with MP3, the rise of higher definition uncompressed digital files is beginning to mean we can start to have higher expectations of audio, as we retrain our ears into accepting better sound quality. With increasing competition of FLAC and DSD audio DAPs, and most importantly prices beginning to come down at the same time as growing performance and bigger storage capacity, high end personal audio is becoming even more popular. One name that has been foremost in making it all accessible to the general public is Chinese company Fiio.  I regularly use my X5, and now their original and popular range of X1, X3 and X5 have been improved into easier to use and better looking second generations, plus they now have a top-end X7 and at the other end of the market a very cheap M3 capable of 96/24 FLACs.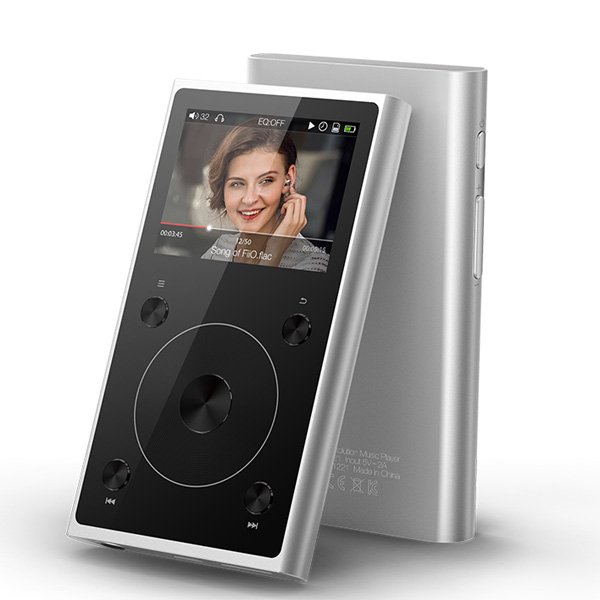 The original X1, almost 3 years ago brought cheap hi-def audio to the masses, and this new X1ii is equally important at £99, having a similar front layout to the original model, but being smaller and much better looking and almost Apple Nano'esque with its curved sides and flat top and bottom. At under £100 the original X1 was extremely good value at a time of very little competition anywhere near the price. So to do a similarly priced and improved unit now it needs to be that much better and with more facilities, which I am glad to say it certainly does on both accounts.  Of course you still have to pay for the microSD cards to assemble your music but as prices of storage is reducing each year that outlay is getting less. The original 106 gram 96.6 x 57 x 14mm X1 used the PCM5142 DAC from Texas Instruments. This new aluminium alloy shell model has the excellent TI PCM5242 which achieves a higher S/N ratio (the X1ii can achieve around 115dB SN and 107dB dynamic range) and supports full differential line output to achieve balanced line output function, and is in a slightly thinner and 4 gram lighter box at 97 x 55.5 x 12mm, available in black, rose gold or black. Whilst much of the architecture has changed, the Intersil ISL28291 buffer chip and an OPA2322 op-amp remains the same. It is fully featured, too, with iPod-esque touch wheel, and four buttons one at each corner, two-way Wireless Bluetooth 4.0 allowing you to receive Bluetooth signal at the same time as sending, so it can be used in your car or with wireless IEMs. It even turns on or off when you start or stop your car engine, if it is equipped with Bluetooth. The unit has a good support for lossless audio including up to 192kHz/32bit WAV and 192kHz/24bit FLAC, though not DSD. The previous first generation model only did 24/192 for both WAV and FLAC). The single microSD socket now allows a 256Gb card (the X1 was 128Gb) and has a switchable headphone/line output socket. It allows in-line remotes on IEMs as well, though not allowing volume control support of Apple earPods, nor my Flare R2s. The 1800mAH 3.7v battery gives a further hours' use at more than 12 hours, and with a fast charging time of around 3 hours. Not only this but the deep-sleep standby mode means it can give you up to 15 days of 'instant' wakeup, a feature also introduced in the second generation X3 and X5.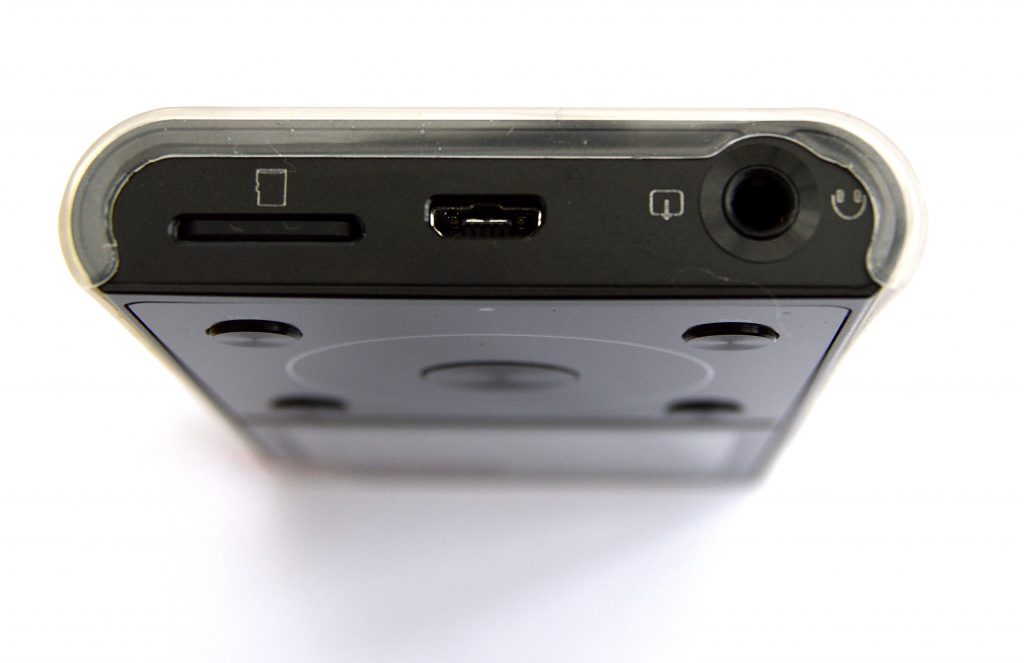 Accessories are vast in this package. Not only can you purchase one in a selection of three colours but then you can "dress" the X1ii with a choice of two bodywork carbon-fibre stickers in black and white if you are still not satisfied; I kept mine nude in black for this review. The unit also comes with a plastic almost-transparent clear cover to protect the back and sides from scratches and bad treatment in your pocket (it also has a standard clear plastic protector already over the screen, and with a spare should you need it). Whilst the cover was a great idea for the back it did mean that you had no protection on the important front panel except for that 320×240 screen, or if you used the carbon-fibre stickers. Of course inline remotes on the IEMs give you some of the controls you need, but I still prefer the rubber cover of the X5 which allows access to the wheel and with full safety around them, though does increase the size of the unit, which might concern some. Also supplied is a USB-to-micro USB cord.
For this review I mostly used the Flare Audio R2Pro IEMs, an excellent quality product which would show up exactly the audio quality without adding any of its own personality. Consequently it gave me a chance to give a general judgement that detail was fast and with an excellent top end, though sounding more clinical and less musical than some DAP Walkmans I have played with over the last year, though they are considerably more expensive. For the price, though, this was a surprisingly good player, if a bit low output at around 100mW at 16Ω. Dadawa's "Home without Shadow" ('Sister drum' album) is well known for the bass extremes and excessive dynamic range. Where the top-end on the recording is excellent, indeed better than the original X1, the bass end just isn't there as much as would like. Playing most Planar and Dynamic headphones would be limiting in sound level; where my X5 at 150mW has slightly more dB, the new X5ii has 250mW! Having the facility for Bluetooth connection to wireless IEMs, now the 'in-thing' following the news of the iPhone7 having no headphone sockets, allowed me to connect up the Optoma BE6i wireless IEM, though the absence of aptX meant the quality was not quite so good as it could have been, especially in terms of dynamic range.
The 320×240 screen is better than the original model, which seemed a bit anaemic in detail and colour, and it shows track details including file details at all times the screen is lit if you haven't downloaded the cover photo. I really like to see this detail at all time, but few have sufficient screen size to permit full details and an unspoilt front cover picture simultaneously. The unit does, however, allow full screen and normal screen selection, so you can choose what you see. It even can display supporting lyrics if you like singing along to the music.
Where the mechanical wheel on the X5 was rather over-sensitive and fidgety, the X1ii is a very precise and virtual touch wheel as in the iPods, so is much easier to use, though not quite as good as the Apple. Also, as in the new X5ii, there are no covers for the microSD socket, something I liked in the X5. Whilst this shouldn't be a problem it does mean that dust might get trapped inside. Another shortcut in the design is that there is only one 3.5mm jack that serves headphone or line output which needs to be selected in the setup, and both headphone socket and microSD card slot are now at the bottom of the unit, rather than on top and side, respectively. I prefer them at the top, especially if the unit is sitting in a top pocket.
Initial updating media loading of songs onto the unit took longer than I hoped, but once all registered in the UI, allowed faultless playback of all file types, if just a little slow between track selecting, though the latest firmware FW1.4.1 did speed it up a tad. Only wish it had the facility of using as a USB DAC, but that would be too much to expect for the price.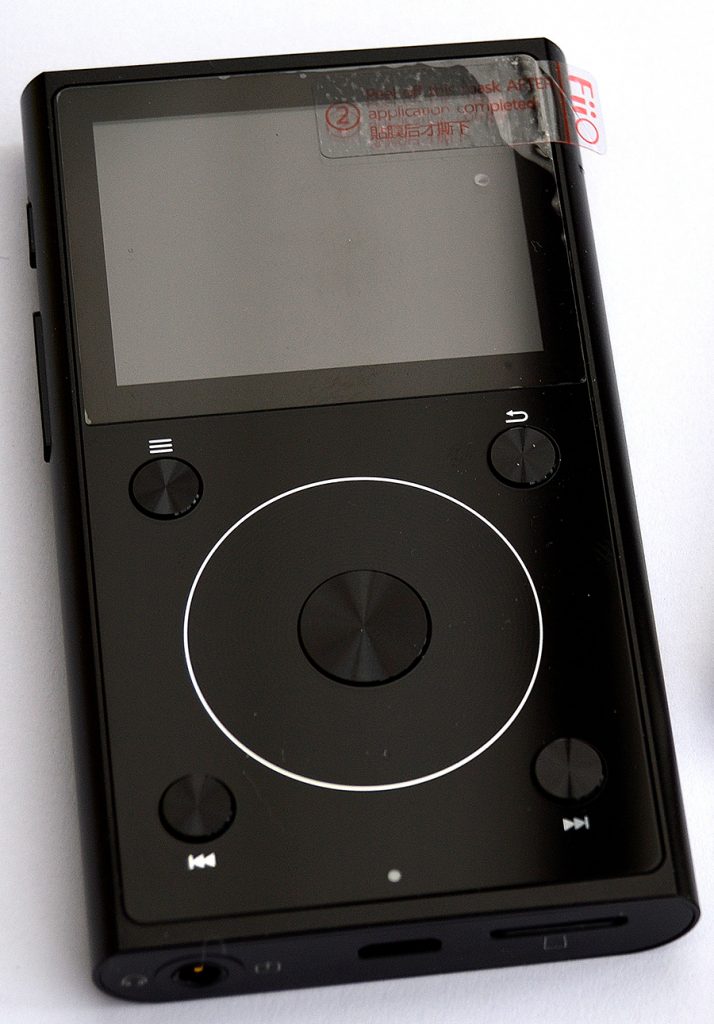 Bach's Goldberg Variations BWV988 Aria (24/192 FLAC), had a very precise and fast harpsichord showing me an improvement in timing and detail in the top end, though I found the sound not as musical as players costing north of the X1ii, though still acceptable.   "Music for a While" ('Classically Minded' David Rees-Williams Trio) gave me a chance to test space and detail from lows to highs, and the X1ii did this very acceptably, with the BE6i showing a greater warmth in the bass end, though not quite as good as some players over £100. Katie Melua's new album 'In Winter' (WAV download) is beautifully recorded, though there are a number of very low frequency and low amplitude mic pops which the X1ii couldn't show when carefully listening, suggesting a slight attenuation at lower frequencies, though when you consider this unit is priced the same as "good" cassette Walkmans back in the 80's, which had none of the technical finesse of 21st Century DAPs, I have no complaints. Katie's close-mic'd voice in 'Perfect World' (track 3) comes across with a very human quality, showing an almost perfect world. "Can't we be Friends?" ('Ella and Louis', Ella Fitzgerald and Louis Armstrong) might have turned everything now to mono inside my head, but the clarity in this old recording was carefully assembled in the X1ii. Finally to Ray Davies 'No one Listen', this grainy recording just slightly missed out in its performance, being slightly less clear in the mids than the tops, though by no means a problem, and the grainy recording slightly encouraged by the lower end DAC. If only this was an ESS Sabre DAC.
Conclusion
I actually really enjoyed using this machine, and whilst tonal quality was not as good as the more expensive X5ii, or indeed a number of much higher priced DAPs, easily took its place as the best value out there now and still highly acceptable for the price. When you look at its good looks and features you wonder how it can be so cheap.  Being so small, and allowing 250G of FLACs makes this obvious choice for the price-conscious personal audiophile. Well done Fiio!
Build Quality:  Excellent aluminium shell and good looks
Sound Quality:  Very detailed and tidy sound, with improved top end compared with the original X1
Value For Money:  At £99 everyone should have one in their top pocket. Don't forget that microSD cards and earphones are extra cost, though
Pros: 
Excellent value
Good looks and build quality
Having a non-mechanical scroll wheel
Bluetooth functionality
Cons:
Bass not quite as extended or flat
Slower user interface than some DAPs
Price: £99
Janine Elliot