To celebrate the recent release of McIntosh Laboratory's first-ever headphone, the MHP1000, the US giant's UK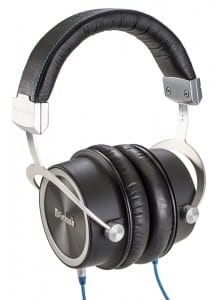 distributor, Jordan Acoustics, is giving away a free pair (worth
£1,995) with every pre/power amp purchased in March 2015. The promotion, which starts on Sunday 01st March, is available throughout McIntosh's UK dealer. 
Participating products include: 
Power amps: MC 2KW £39,995; MC 1.2KW £12,495; MC 2301 £12,495; MC 601 (pair)
£16,995; MC 301 (pair) £10,995; MC 275 Mk VI £5,995; MC 205 £7,495; MC 207 £9,295; MC 8207 £6,795; MC 302 £7,995; MC 152 £4,995; MC 452 £9,995; MC 303 £11,995
Preamps: C1000C £11,495/C1000P £11,995/C1000T £11,995; C500C £6,995/C500P
£7,995/C500T £7,995; C2500 £7,995; C48 £5,795; C50 £7,995
What McIntosh have to say about the MHP1000 
The McIntosh-designed headphone driver in the new MHP1000 has been carefully engineered to complement any current or legacy McIntosh headphone amplifier, plus a wide range of third-party electronics.
The MHP1000 has been voiced to deliver a smooth yet transparent, full-bodied, non- fatiguing output, and is both supremely comfortable and easy to listen to over long periods. Its closed-back, circumaural design eliminates external noise and distractions for a fully immersive personal listening experience.
Its clever design has produced an ergonomic, lightweight headphone that requires minimal pressure to secure them on the head and ear, permitting all-day (or all-night!) comfort for those longer, relaxed listening sessions. The ear pads and headband feature a premium, natural soft leather for luxurious comfort.
Two detachable cables are also included: a 1-metre lead with a 3.5mm stereo connector, plus a 3-metre cable with a 6.3mm (1/4-inch) stereo connector. Both cables feature high- quality gold-plated McIntosh custom-designed connectors and shielded wiring for the best possible sound quality.
Specifications 
Transducer type:                     Dynamic, 40mm-diameter 3-layer compound diaphragm with
viscoelastic centre layer
Operation:                                  Circumaural, closed-back, bass-ported
Frequency response:               5Hz to 20kHz
Impedance nominal:               200 ohms (compatible with all McIntosh headphone outputs) Nominal SPL:                                                97db (1Mw @ 500Hz)
Max SPL:                                 122dB (300Mw @ 500Hz)
Magnetic circuit:                     One Tesla annular neodymium magnet motor assembly Headband and ear pads:                                        leather
Detachable cables included:  1x 1-metre cable with 3.5mm stereo connector;
1x 3-metre cable with 6.3mm stereo connector (gold-plated custom-designed connectors)
Weight:                                      464 grams