Hifi Pig is pleased to announce that we have added a FREE CLASSIFIED SECTION to our website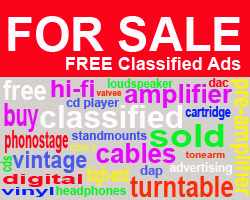 as an extra small service to our readers.
Listings are FREE to both trade and public to sell used equipment with no fees whatsoever.
The pages are brand new and will populate as users add their listings to the pages. We have tried to include all areas of secondhand hifi as well as music for sale.
As well as secondhand items for sale, each category of kit has a Wanted section so that you can also post if you are looking to find a specific item.
Categories include:
Loudspeakers
Analogue
Amplifiers
Digital
Headfi
Cables
Accessories
Computer Audio
Valves
Music For Sale
Make your FREE listing now…it's really simple!