Acoustic treatment manufacturer GIK Acoustics is launching an acoustic foam option as part of the Impression Series and Alpha Series room treatments. The Impression and Alpha Series are the GIK acoustic panels that have a front plate with designs cut into it to both absorb low-to-mid frequencies while diffusing high frequencies simultaneously.
GIK say that the result is" even, tempered low-mid frequency control as well as improved high-frequency balance and ambience".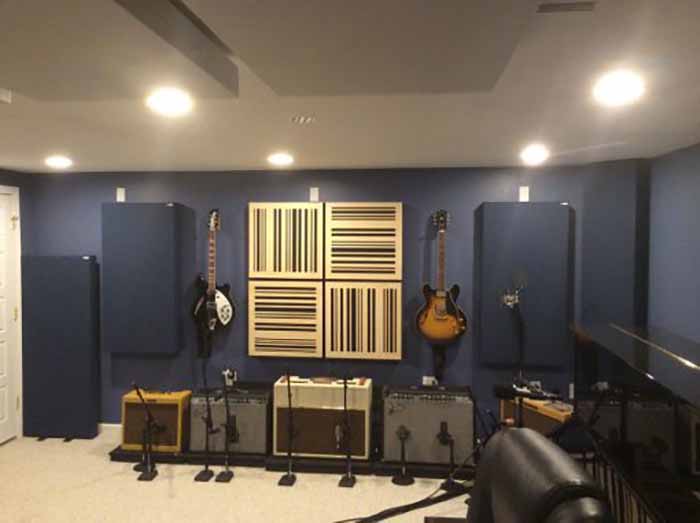 Impression And Alpha Series Acoustic Foam Panels
Available in squares measuring 23.5" x 23.5" and 2.25" thick, the high-performing acoustic foam gives customers a lightweight, versatile, and affordable version of GIK's acoustic panels.
"Being able to have an option that is lightweight, versatile, affordable, and effective is crucial to many of our customers. By releasing these versions of our successful Impression and Alpha Series products, we can allow for more control and options for anyone." explained Glenn Kuras, President of GIK Acoustics.
Finishes
The Impression Series is available in twelve patterns: Basketweave, Braids, Palomar, Sunrise, Wavy Leaves, Bubbles, Checkerboard, Gatsby Arches, Mod Geometric, 3D Cubes, and Digiwave (horizontal & vertical). The Alpha Series is available in three mathematical patterns: 1D (1-dimensional), 2Da and 2Db (2-dimensional) .
Five plate finishes are available: Blonde wood veneer, Black veneer, White veneer, Grey Elm veneer, and Mahogany veneer.
Price & Availability
Customers can save 15% on both types of panels by preordering, shipping will be as early as end of November, 2019. Prices start from 49$/£50 before discount.