The Mediterraneo from Italian brand Gold Note is their top-level turntable and it's certainly a bit of a looker, but how does it perform. The UK price for the Mediterraneo in Italian Walnut is £5,445.00 and this includes the B 5.1 Tonearm. Stuart Smith finds out how it performs.
CONSTRUCTION
I picked up this particular turntable from a reviewer based here in France and so can't really comment on how it was packed, but I do have all the packaging and it all seems well done. For the purposes of this review I've been using the supplied Gold Note Tuscany Red cartridge (I use one in our reference turntable and so know it well), the supplied arm all through the Lab 12 melto2 phonostage whose review we published recently.
The turntable itself has a 60mm wooden base made of Italian Walnut "slats" with a 20mm polished acrylic board above it. The whole is reinforced b a 3mm thick steel board which is there to improve strength, stability and dampening.
Power to the turntable is an in-house device using a quad-core micro-controller that "reshapes" the AC current to drive the 12V synchronous motor which Gold Note claim cancels all vibrations and improves torque.
The platter is made from 45mm Sustarin whilst the spindle is made of hardened "carbon-rectified" chromed steel and the bearing itself is ceramic. The platter bearing spindle is 60mm and the bearing system is made of polished bronze which Gold Note say is polished to 1/100mm tolerances. The whole point here is to try and give as smooth a rotation as possible of the platter when in use and to reduce noise getting back to the stylus, and hence your speakers.
Technical spec provided by Gold Note are a rumble figure of -80dB and wow and flutter of 0.1%. Sped stability is said to be within +/- 0.1% and speed is changed electronically between 45 and 33 RPM with the ability to fine tune pitch should you feel the need. It's a belt drive design, we had to ask for a new one as the cat decided to eat the first one we had and I can only assume our eldest cat has some kind of polyvinyl fetish.
Dimensions are WHD 470mm x 210mm x 360mm and the whole thing comes in at 20KG. Helpfully the turntable comes with a nice dust cover and a platter mat. It also comes with a stabilising weight so add your cartridge of choice and you are off.
Aesthetically the turntable is an absolute stunner and oozes (sorry) Italian style. The wave of the lower walnut plinth looks wonderful on the rack and is offset by that highly polished acrylic top. Speed control buttons are well placed on the left and are effective in their use. Fit and finish are exemplary and set up is a doddle. There are lots of turntables available on the market and I can quite honestly say that this is up there with the best-looking turntables I have come across. It is elegantly simple and stylish and I like that a lot and the large "spikes" below the deck really set it of nicely. I also like that the turntable is essentially plug and play with you only needing to add the cartridge of your choice. If we were to judge this turntable on looks and build alone it would be a winner. Gold Note have, since this review was written, introduced a new version with a gold coloured instead of wood plinth and it too looks fab!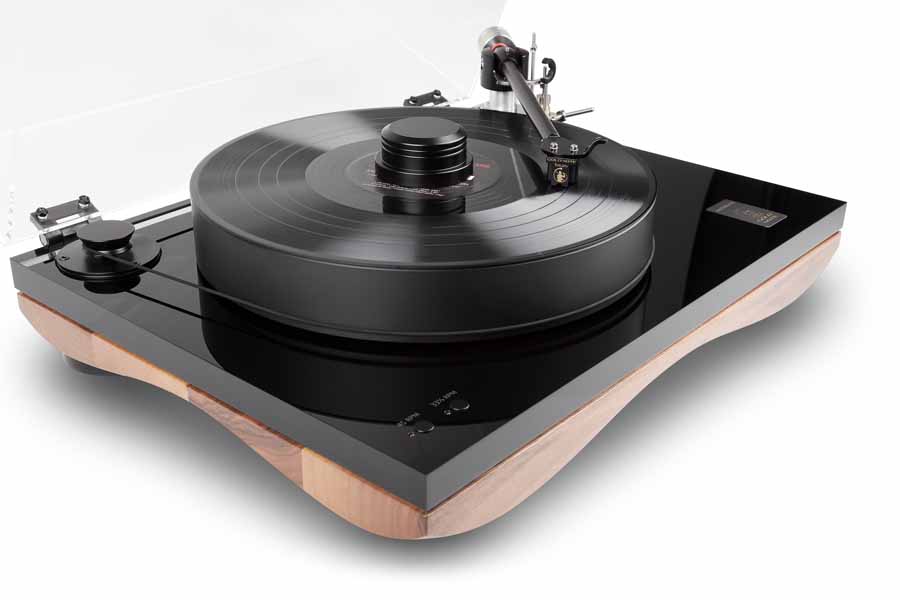 The review sample had fitted the Gold Note B-51 tonearm which is a bit of a looker too – it was also simple and intuitive in use. Inside B-5.1 there are four precision micro ball-bearings manufactured by GRW in Germany and then singularly sealed and packed with Gold Note saying "Extreme precision is a crucial factor and it allows B-5.1 to function in ideal noiseless condition to reproduce without effort every musical detail." The tone arm features a double counterweight system to set up most phono cartridge (up to 15 gram mass) with extra weights being available to handle cartridges with higher mass. The vertical ball-bearings are pivoted through stainless steel bolts that are manually adjusted whilst the horizontal movement is driven by two micro ball-bearings directly inserted in the main rectified pivot. It's a very good looking tonearm that compliments this turntable very nicely.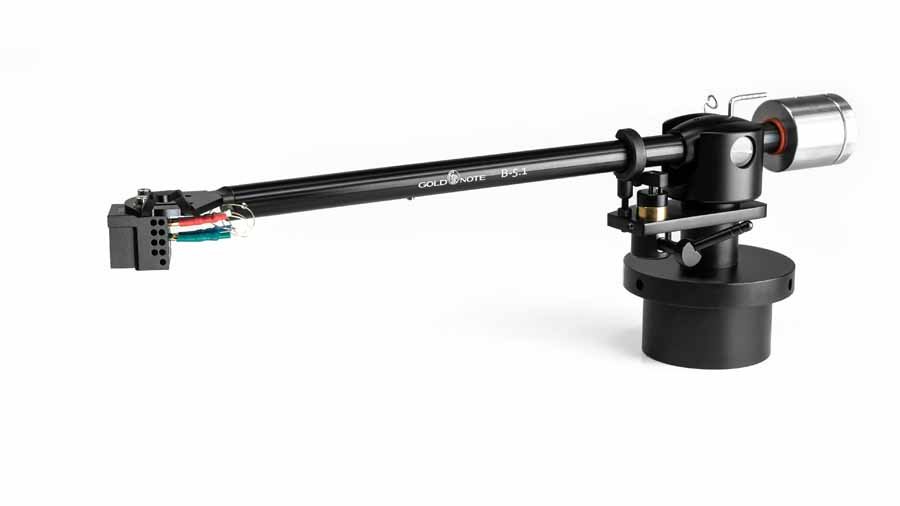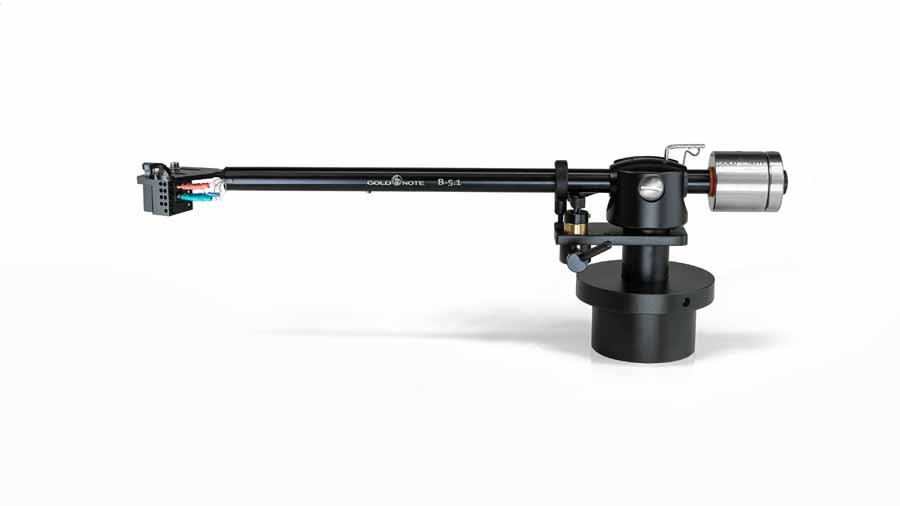 SOUND QUALITY
Piano is the reviewers go to instrument to go to when looking to assess speed stability, any issues and it will be immediately apparent that something is amiss with an unmistakable wobble. I'm a fan of direct-drive turntables for their absolute pitch stability and our current reference from Origin Live, whilst being belt drive, has a feedback system to ensure absolute speed control. Pitch is a weird one and I'm particularly susceptible to a vinyl spinner that is less than stable, I suppose this may be years spent working out the BPMs of all my records when DJing. The Gold Note record player has no such mechanism as the Origin Live, but playing a couple of piano tracks highlighted no issues that I could perceive on both 33 and 45. One feature worth mentioning here is that if you do make any adjustments to the speed (I didn't feel the need) they are automatically stored in the controller's memory – nifty.
Bass was presented rock solidly whatever tracks I threw at the turntable. With Dub Syndicate's Strike The Balance the Gold Note dug down deep and was unfazed by this heavy dub reggae album. I've experienced this record on a load of turntables and it's not always presented as solidly as it is here. There is weight and authority to the bass on the Gold Note, allowing the bass to underpin the tracks but without over-dominating proceedings – even-handed is a word I'd like to use here and whilst on balance I prefer our current reference, were that to go I'd be very happy using the Mediterraneo. Regular readers will know that I bang on about bass overhang a lot but the Gold Note stops and starts on a penny with regards to the lower registers. With Deep Purple's live version of Smoke On The Water (another bass test track for me) it has the right amount of growl when it comes in.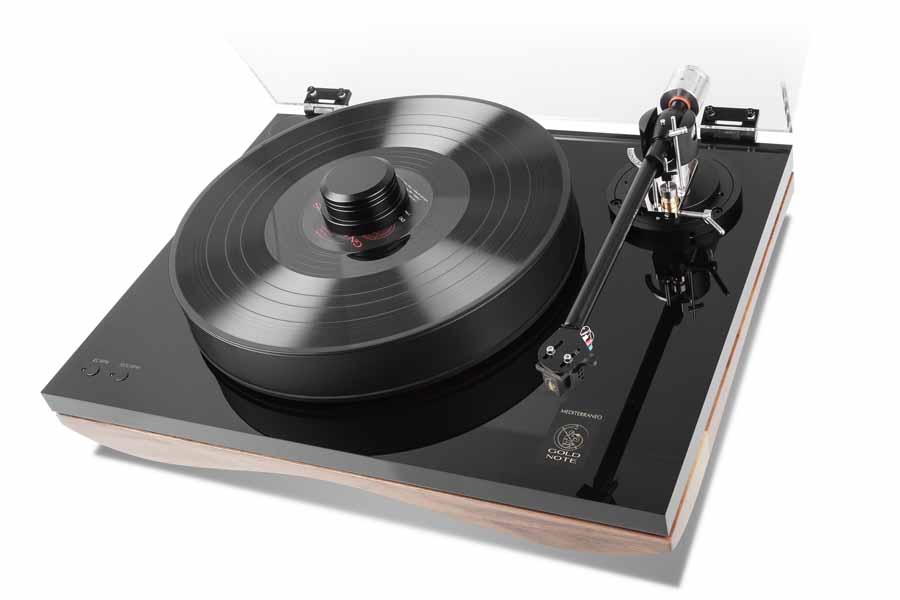 Moving on to a bit of house (Kinky Trax) and again I'm impressed by the pace and the rhythm the Mediterraneo allows. Hardly your usual audiophile fodder I know, but house is music done on machines and as such is temperamental when it comes to speed variations and you'll be happy to know there are none here. You Got Me Up by Dajae opens with a wailed female vocal and I've played it hundreds of times (much to the chagrin of Linette) and if the speed is not stable it sounds, like pianos, terrible – again, no issues here! The job of a turntable and its arm is, for me, to spin at the right speed consistently and allow the cartridge to dig down into the grooves of a record and extract as much information as is possible without adding colouration. Get this right and a vinyl front end can be a truly wonderful thing – OK I know that's pretty simplistic but it's not far off the mark – and the Gold Note does just that. Detail retrieval is there in spades and particularly on well recorded albums (Kind Of Blue on 45) you are allowed to see well into the recording and, importantly, you are able to connect with the music on an emotional level. Musicians and instruments sit in their positions and stay there giving you a visual/aural perspective to the recording.
The turntable was for the duration placed on our rack as our wall shelf had been taken down for relocation and here we may have an issue for the Gold Note. We have suspended floors and it was nigh on impossible to walk around without footfall affecting the deck and as such, unless you have solid concrete floors, a wall-mount is pretty much essential. To be fair the Gold Note is not on its own here, but our Origin Live does fair a smidgen better in this respect, despite it not being a suspended design. I can't help thinking that the cone feet are not helping here and perhaps an alternative solution could be found – though that would affect the aesthetics of the turntable and if you do have a record player of this standard and price, you really ought to get yourself a properly sorted wall mounted shelf. On the other hand, I could not detect motor noise getting back to the cartridge and it was very quiet between tracks.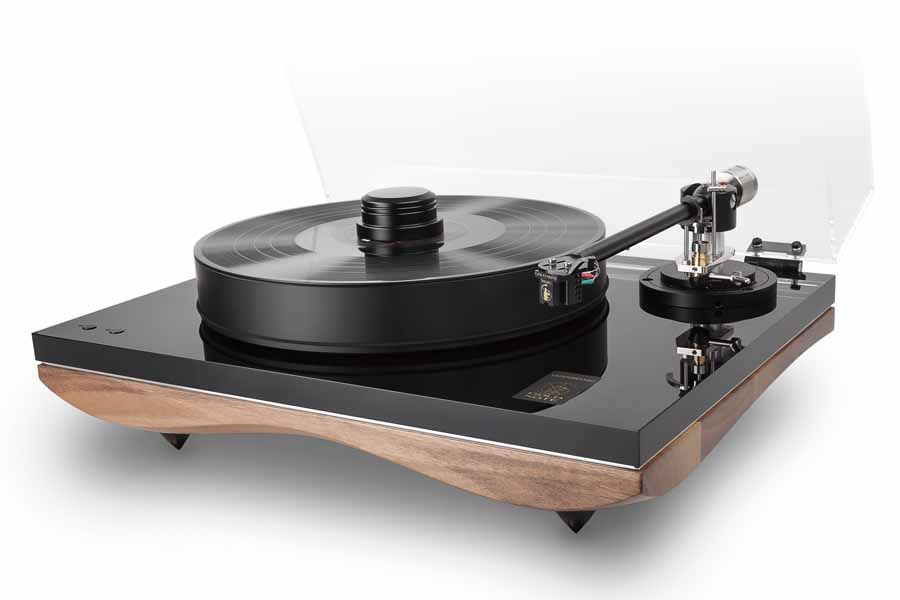 We use the Tuscany Red cartridge on a daily basis on our reference turntable and arm and it is a very good match, as you would rightly expect, with the Mediterraneo. The combination represents an excellent way to get information out of the grooves of your records and to your phonostage without adding too much of itself to proceedings and all in all that is all you can ask for.
CONCLUSION
The Mediterraneo from Gold Note is a bit of a stunner. It looks absolutely spectacular in an understated kind of way and goes to prove that a high-end sound does not need to come at the sacrifice of beautiful aesthetics.
Sonically it performs its job without fuss and comes close to our reference – we use the same Tuscany Red cartridge, so a comparison is perfectly fair I feel – with the Origin Live winning out by a smidgen on getting the last bits of detail out of the grooves and feeling more solid in its presentation bass-wise– but it was a close call. It favours no one genre and can rock along, rave along when required but it can also be cool and refined when expected.
If you are looking for a great looking, very good sounding turntable that is both easy to set up and listen to then get yourself a listen to this.
AT A GLANCE
Build Quality: Beautifully designed and well built. Easy to set up and easy to use.
Sound Quality: Speed stable and with very low rumble. Lots of detail.
Value for Money: Not cheap but then it was never going to be.
Pros: Add a cartridge and you are ready to go. Beautiful to look at and well built. Dust-cover is a nice touch. Great sounding turntable that digs deep into the groove and has speed and rhythm to its presentation. Bass is deep, taught and controlled but doesn't come at the expense of the other frequencies.
Cons: Susceptible to footfall in our environment but invest in a wall shelf and you are sorted.
Price: The UK price for the Mediterraneo in Italian Walnut is £5,445.00 this includes the B 5.1 Tonearm.
The B 5.1 is available separately at £809.00.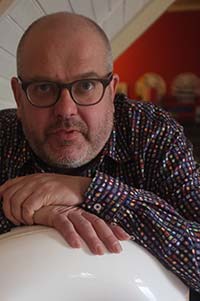 Stuart Smith
Manufacturer's Specifications
Dimensions: 470mm W | 210mm H | 360mm D
Weight: 20kg
Wow & Flutter: 0,1%
Rumble: -80dB
Speed: 33-1/3 and 45 rpm +/-0,1%
Speed changing: electronic with fine pitch control
Transmission: 70 shore rectified polyvinyl belt
Motor: 12 Volt High Torque synchronous externally powered
Platter: Ultra Dead Design Sustarin® 45mm
Platter spindle: special Split-Spindle™
Platter bearing: Tungsten 5mm ball bearing with adjustable brass seat in finely Polished bronze case
Acrylic Dust Cover included
PST-1 mains supply: 100/115/230V, 50/60Hz auto selection
Power consumption: 27Watt – 1500mA