Hifi Pig Advertising Promotion
Hifi Pig brings you a series of promotional articles about our Great British Brands exhibiting at High End Munich 2017. We let them tell you all about their philosophy and products.
Professional electronics engineer Graham Slee has been involved in circuit design, manufacturing research and development, broadcast audio and high fidelity since 1974. In 1998 he established the company Graham Slee Projects Ltd to manufacture and market his designs of phono pre-amplifers and headphone amplifiers. The company is now called HiFi System Components Ltd and the product line has expanded to include DACs and power amplifiers as well as a range of highly successful interconnects and loudspeaker cables.
Graham's philosophy has always been to strive for the most natural sound – that is high fidelity to the original recording, and is keen to distinguish between this and the more common "hi-fi" approach of producing an exciting though ultimately inaccurate and fatiguing experience.
The Graham Slee product range initially started with the Gram Amp – an inexpensive phono pre-amplifier designed to get the most out of LP playback. It's successor the Gram Amp 2 Communicator is still in the range today, as is the Era Gold V phono amp. Initially launched in 2002 as a wide-band design, it was declared "miraculous" by Michael Fremer of Stereophile and Analog Planet and remains today one of his reference devices. Though due to be retired, the design is still in demand.
Moving coil cartridge devotees were not left out. The Elevator-EXP step-up amplifier overcomes the disadvantages that step-up transformers have (hum, distortion and signal "theft") and provides different loading settings for all low output cartridges. The wide-band approach to phono amp design was developed further for the Reflex phono amps (MM and MC versions), and in 2016 a new – and patented – approach to phono amp design was released in the Accession MM phono amp.
The Accession originated from the understanding that all RIAA stages (for magnetic cartridges) are "integrators", although it might not be all that obvious. No matter how it's done – passively; actively; or a bit of both – their function boils down to an integrator. Why should this be important? In RIAA (and earlier record EQ) the music (the signal) undergoes a "folding" and "unfolding" process where frequency bands are boosted or cut, so that nonlinearities of record cutting and phono cartridge are made to fit. Few people realise that the output of a magnetic cartridge has a 45 degree upward slope – the manufacturers always show it after it's corrected to flat by the phono stage they're using! So, it's quite complicated.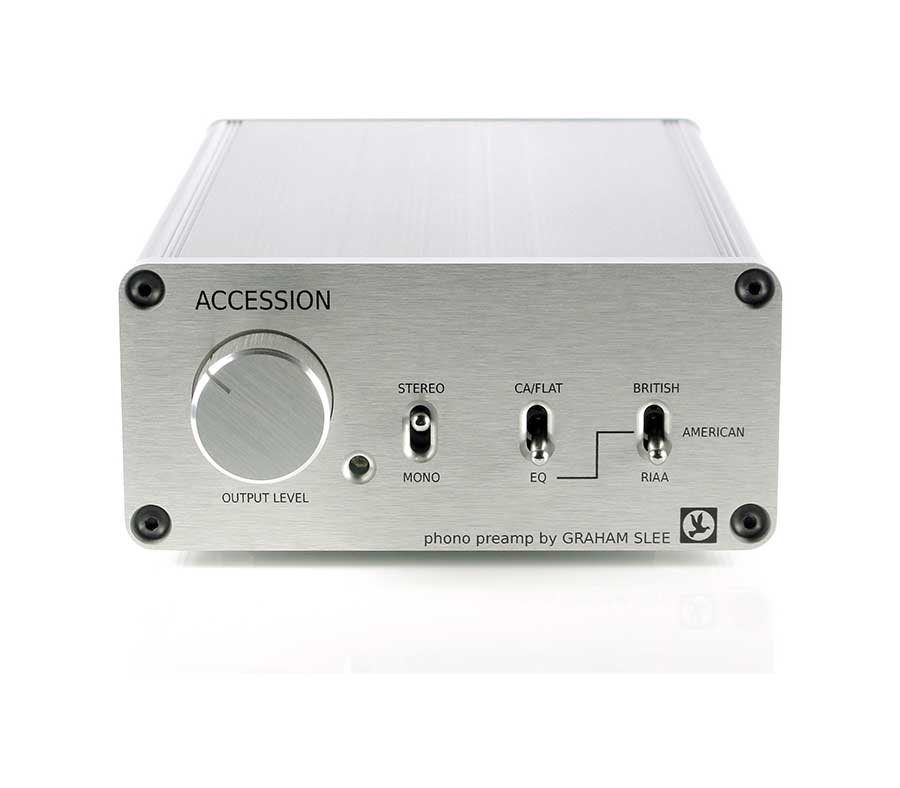 The phono stage therefore has two functions: 1. to integrate the cartridge response (turn it flat); and 2. to equalise the record itself. But virtually all phono stages deal with both functions – or bits of both – as if they're somehow combined and all due to the vinyl. A very complicated form of "stepped integrator" is the result, with numerous compromises.
The Accession recognises they're two different functions, independent of each other, and equalises each function separately: first the cartridge, then the record. It pulls apart the equation and solves each part separately and simply. The result is a highly satisfying sound which can sound much more true to life.
In the Accession the equalization of the cartridge and the record is treated in two distinct steps for more accurate, and therefore natural sounding results. Add in an extra, variable output for driving a power amplifier directly (or going to an ADC for ripping vinyl), British and American EQ curves in addition to RIAA, variable loading and mono switch, and in the words of John Hoffman in his review on Positive Feedback (17th December 2016) :
"When it comes to the typical audiophile characteristics that hobbyists are interested in, the Accession certainly checks all the boxes. This phono stage spreads out a wonderful soundstage, tightly focuses performers and instruments, and has a low noise floor that allows for the subtle details of a recording to shine through. . . . .
"Since this phono stage can be used in a minimalist system that specializes in analog playback, I figured I should see what this is all about. What I discovered is that the Accession has plenty of output to successfully control an amplifier. I never found myself short changed in any aspect of the music, as I had plenty of gain, low noise floor, expressive dynamic shading, sound-stage, or any other meaningful descriptor of an audio presentation we use."
A moving coil variant of the Accession is currently under development.
Graham Slee's analogue electronics reputation was not only built on phono amps. His headphone amplifiers have been best sellers and recommended components right from the start. From the portable Voyager to the flagship Solo Ultra Linear Diamond Edition via the Novo discrete on the way, users of all types of headphones are guaranteed a class-leading performance – with headsets from IEMs to power hungry planar models. All feature great stereo imaging, with depth, dynamics and clarity to complement any kind of music. Like all of Graham's products, they just get out of the way of the music.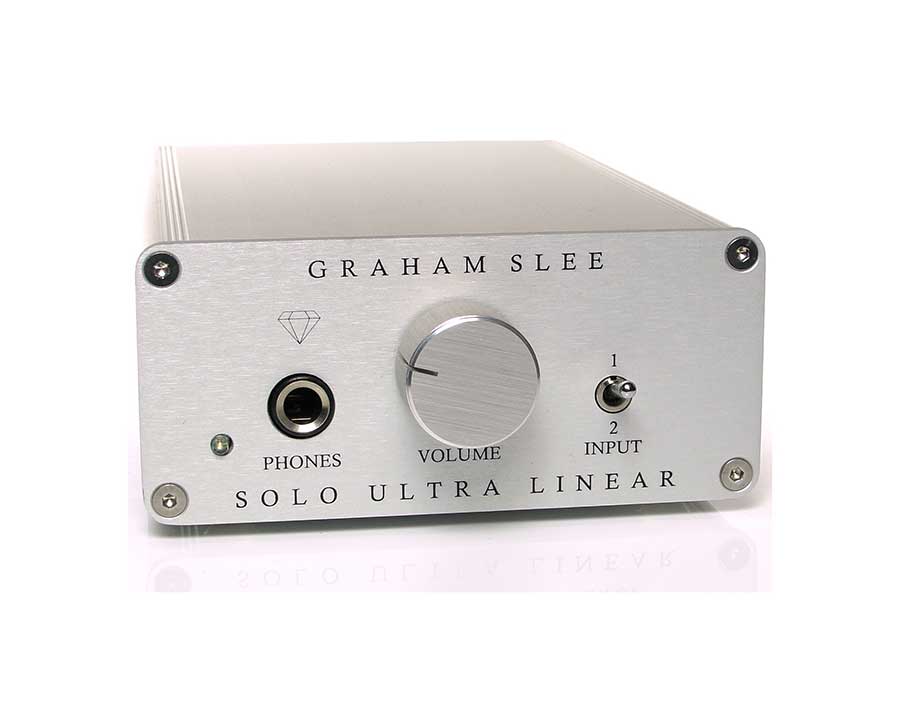 A headphone amplifier has to accomplish a number of things to be a success with the listener. It isn't about power. Headphones aren't loudspeakers. They only need milliwatts to sound loud. So 10, or 5, or even 1 watt, is a waste. What matters most is the amp's ability to drive the range of impedances different headphones present. In a stable manner, and with as little distortion as possible. Because your ears are so closely coupled to your headphones – intimately with IEMs – you will easily hear distortion. Some might consider distortion as giving a nice warm sound, but most people hear it as it is, an unwelcome intrusion into their listening pleasure. The opposite of stability is instability, and amplifiers often "walk a fine line" between the two, and that's because the load – the headphones – can send them close to oscillation – causing a note to "ring" and become highly coloured. Coloration is a distortion just as much as THD and IMD. You simply don't want these upsetting your listening pleasure. The Solo Ultra-Linear Diamond Edition is designed for high load stability as well as ultra-low distortion, making it suitable for the widest range of headphone impedances. But most of all, it takes a leaf out of the valve book: the solid state Solo Ultra-Linear Diamond Edition has an extended open-loop frequency response, and uses only a small amount of negative feedback – just like a valve amplifier. This results in a wholesome sound which isn't all leading-edge which solid-state usually does. Instead you'll hear all the timbre of voices and instruments. And coupled with its fast slew-rate it will easily keep time with the tempo of all the music you can throw at it. And fast enough to capture every bit of imaging information making it present a believable sound stage too!
HiFi System Components don't only make analogue components. Two DACs appear in the product roster. A portable USB DAC – the Bitzie – acts as an audio interface, headphone amp, and USB to S/PDIF converter.
Keep it simple and straightforward…
"The KISS principle states that most systems work best if they are kept simple rather than made complicated; therefore simplicity should be a key goal in design and unnecessary complexity should be avoided." (Wikipedia)
So Graham Slee designed the Majestic pre/DAC that way. It all runs in hardware mode, so it just keeps playing. There is no microprocessor to generate circuit noise. There is no remote control circuitry placing its spikes on the internal power supplies. Nothing to go wrong. It's high oversampling filters make it possible to use smooth analogue filters which differ greatly to what DACs usually offer:
1. their inherently fast slew-rate captures every part of the musical waveform
2. their inverting topology does away with common-mode distortion
3. the filters operate balanced to complement the DAC chip balanced output, cancelling noise
4. they use our ultra-linear technique which gives true 180 degree local negative feedback at the most sensitive hearing frequencies
5. the filters won't "saturate" and distort on the loudest passages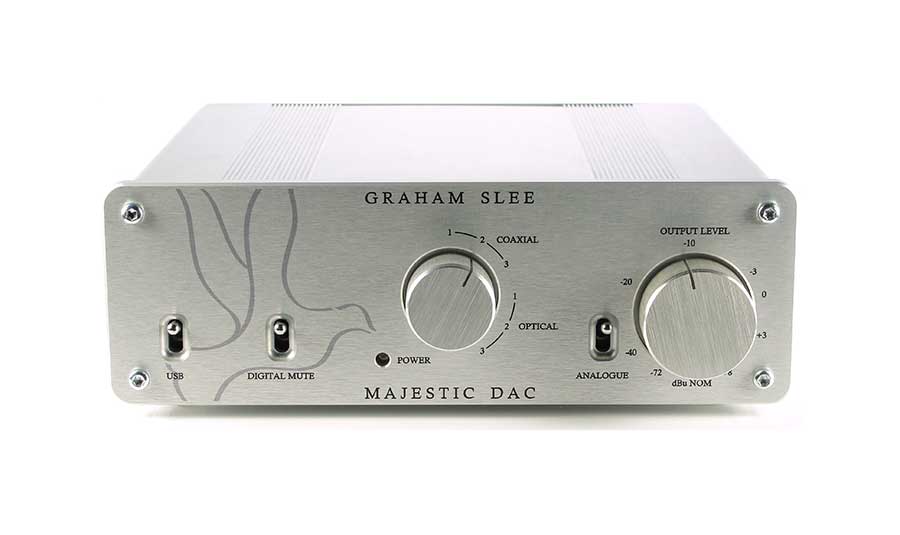 It has no "buzzers and bells" or fancy lighting, but musically it is probably the most analogue sounding DAC you will ever hear. And it has an analogue input which will enable you to judge that for yourself. Janine Elliot of Hifi Pig said:
"This is a Rolls or Bentley with real wood veneer not carbon fibre, and super soft suspension, not spine shattering hardness. This product oozes quality and musicality with a useful analogue input thrown in. Yes, there are cheaper DACs out there, but this one is musical where many out there might just be telling you fibs."
And Geoff Husband of TNT-Audio said:
". . . I tried running the CD42 direct into the S/PDIF 192k input. Holy crap what a difference… This was really a 'I can't believe this' moment. The thing sounded like the speakers had been taken out from their hiding place 1m apart on a shelf and set-up 3 m apart on proper stands – I can think of no better description – a system that really serves as background only became analytical and musical in one moment."
Our users have also had their say on the Majestic:
"My impression is of a very 'grown up' musical signature without any trace of digital harshness. I have not experienced that before from CDs or digital files. Dynamics, attack and timing are also spot on, nothing is overblown or lacking. It is extremely 'realistic' sounding."
"Nearly a week in to using the Majestic as preamp in addition to DAC. It's changed. Not enough "o"s in smooth to describe it (thanks for the line, Sherman Potter). Bass is tighter and a little deeper, but the extra texture (I use that word a lot in describing this thing) is a winner."
To complete the product line up, Graham Slee introduced a mono block power amplifier – the Proprius. These diminutive power amps – which are linear-class AB (not D or T) – deliver a continuous 25 watts into 8 ohms or 45 watts into 4 ohms. In practice they sound a lot louder than these numbers suggest. The volume control on the Proprius can be parked at 100% when driven with a pre-amp – such as the Majestic DAC, or even Accession phono amp, or can be used as a proper volume control when used with a fixed output source such as a CD player or standard phono amp for a truly minimalist high quality system.
A Proprius dual-mono set will surprise you at just how loud they will go. They'll also surprise you at how clear and clean they sound. Per amp, and with 120 power supply watts, the Proprius are rated at 25 watts into 8 Ohms, or 45 watts into 4 Ohms. As well as filling your room with music, they will handle the most demanding of floor standing speakers whose impedances can dip surprisingly low. Where some amps will give up and distort, the Proprius keep driving.
You'd expect such dinky amps to be class D or T, but not these! They're real class AB with rugged 15 Amp 30 MHz output transistors. They're made mono and they're made small so they can be fixed to the back of a speaker, and use long line-level balanced cables into their XLR inputs. But they're equally at home in the rack driven single ended or balanced. Because of their volume controls you can use them for the most minimal single source system. But if not, then just park them up-full, and drive them from a preamp. What really sets these apart from other amps is their voltage amplifier stage. Normally in a power amp the voltage amp and output stages cannot exist without each other. In the Proprius they can, and it means that only a little negative feedback is required to polish and compliment the performance of each stage. The voltage amp also features our ultra-linear treatment, which pulls-off the same "trick" as valves. It has an extended open-loop frequency response so you can wave goodbye to the hard bitty solid-state leading-edge sound. They just sound so real – so natural – and soundstage the way nature intended.
Reviewer Janine Elliot wrote in Hifi Pig:
"This is about music; this is real class Ab – not D or T; this is about ease of listening, and an amazingly good amount of audio level despite the low power numbers; all those sudden bursts that many an amp needs hundreds of Watts in reserve to deliver with any meaning, are catered for with comfort here, even when I connected them to my 83dB sensitivity 15ohm LS3/5a speakers. . . This had grunt, with an exceptionally dynamic and energetic soundstage from the deepest lows to the tizzling tops. . . That this 21st Century £1299 all-in package can sound as good as it does is indicative of Slee's compulsion with creating the very best. . . This is real class in a pint pot, and well worth the price."
Graham Slee's electronics are all about giving exceptional performances at their various price points – with true fidelity to the music source. Development of these products utilized his own interconnects which have blossomed into a range catering for every eventuality. From the CuSat50 series to the innovative Lautus, users have often replaced much more expensive interconnects with Graham's. John Marks, in Positive Feedback (19th March 2017) wrote:
"My summing up is just about the same as my first impression: Graham Slee's Lautus interconnect cable is inherently musical; neutral but by no means boring; and, in large part owing to the company's business model, it represents exceptional value for money. Highly recommended."
The Spatia loudspeaker cable has been just as enthusiastically received. One user wrote:
"I've posted elsewhere about tremendous sound the Proprii give out – full bodied, dynamic and detailed. Now with the addition of the Spatia it's as though the handbrake has been taken off and the full performance of these amps realised. Without going into reviewer-speak (too much): the sound stage now spreads farther out from the speakers, the tonal colours of instruments seem more "saturated" (pre-digital photography fans think Kodachrome over Ektachrome), the bass response of my PMCs has finally been revealed, and the toe-tapping quotient raised yet another notch or two. With well recorded tracks vocals have an immediacy and presence, and solo instruments a holographic image that floats free of the speakers. Fantastic stuff . . ."
Graham Slee's products are made in Yorkshire in the UK to order by Graham and his two colleagues. His user forum operates a no-obligation loan scheme in the UK, Western Europe, US, Canada, and Australia for prospective purchasers to try out products in their own system. Some 50,000 products have been sold worldwide since 1998.
Still to come in our Great British Brands At Munich 2017 series are articles from The Funk Firm, Quadraspire, Living Voice and The Chord Company.