Always a bit of a highlight at High-End is Gryphon Audio's room. Owner Flemming Rasmussen always has something new to show us and this year was no exception. We missed the press launch due to a prior engagement but were graciously allowed to sit in with Gryphon distributors for their launch of the Kodo Reference Loudspeaker system.
Kodo
The Kodo is a two tower per side array with all drivers in phase at all times. The system stands an impressive 2.37 metres tall and incorporates no less than 38 drivers.
The MDF side panels of the towers are reinforced with 5mm aluminium panel supports and the moulded curved exterior panels are laminated high-density fibreboard damped with bitumen. At the foot of each column is an aluminium base that is fitted with polyoxometalate feet.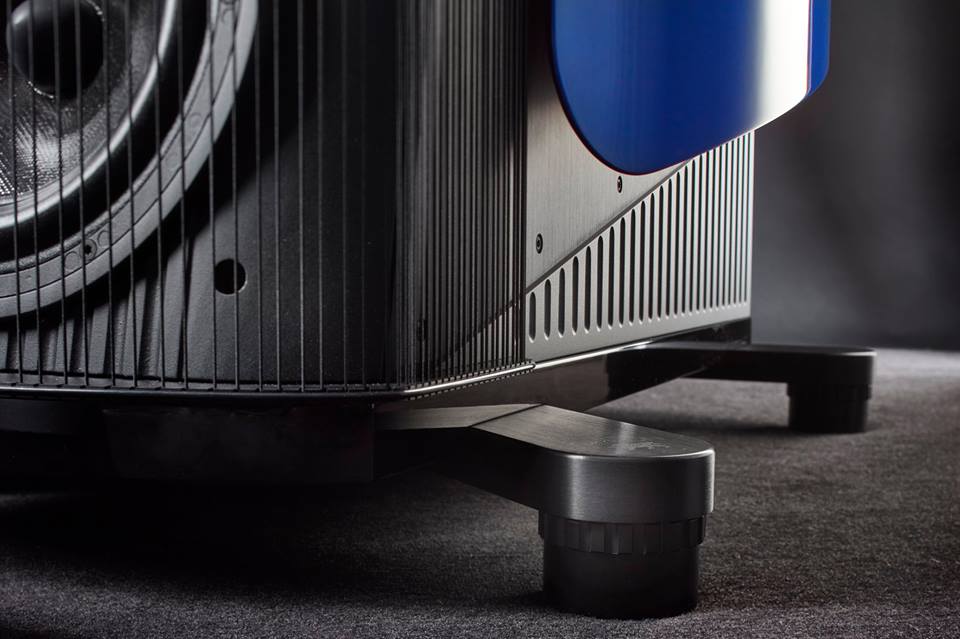 Bass Towers
Each of the bass towers has eight custom designed 8" drive units and a Gryphon amp that is capable of delivering 1000 watts of continuous power to the drivers…peak power is 4000 watts.
There is remote adjustment of bass level, low and high cut filters and a user-selectable bass system Q to match system Q to the rooms own Q.
Upper Frequency Tower
The centre of the upper-frequency tower is a Mundorf Air Motion Transformer high frequency driver isolated in its own enclosure. Above and below it are bass/mid modules with each housing two 4" Scanspeak Illuminator midrange drivers and three 5" Gryphon midbass drivers. Each driver is mounted in its own independent front baffle attached to a sub baffle.
Within the modules three mid/bass units and two midrange units are housed in two separate and isolated chambers to prevent unwanted interaction and to reinforce structural integrity.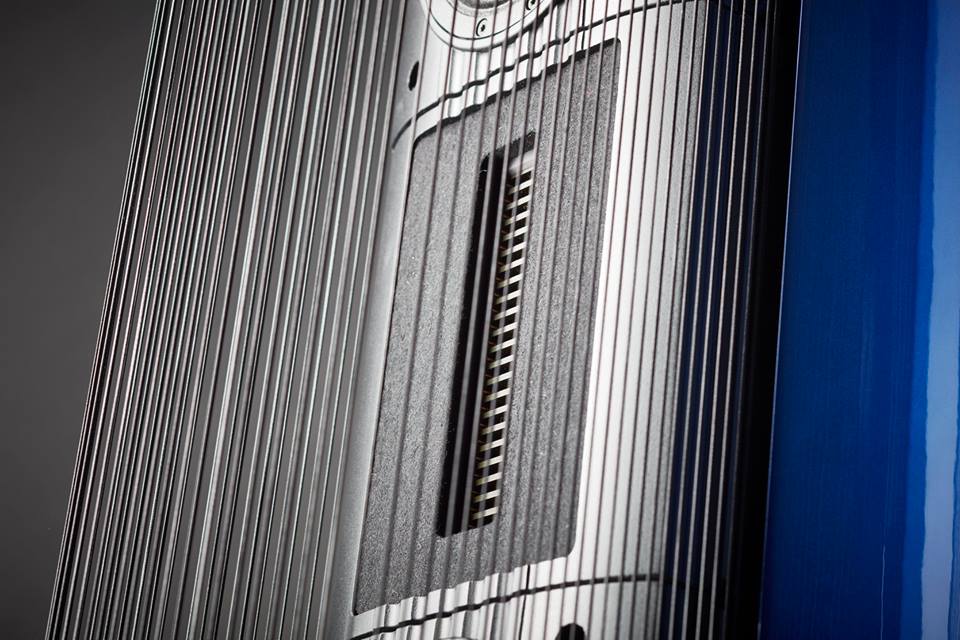 The 11 drivers share the workload from 200Hz to 25kHz and the mid/high tower is 96dB sensitive with the impedence never dipping below 4Ohms making it an easy load for amps.
The Price of all this is €220 000 which includes a 10 year warranty, factory set up and admission to the Kodo owners club.
We were treated t a bit of a listen and crikey these are impressive loudspeakers. Not ideal conditions of course, but good enough to give an impression of what Kodo is capable of.
Mojo S 
Also launched at High-End was Gryphon's Mojo S (superior) standmounted loudspeaker. There are obvious elements of Kodo in the design and use the same Mundorf Air Motion Transformer as the bigger loudspeakers. Interchangeable rear-mounted resistors allow owners of the Mojo S to choose mild roll off, neutral response or mild boost to integrate properly with the listening space.
Mojo S uses two SEAS 6" bass/mid units with free air resonance of 44Hz and just 7.7 grams of moving mass.
The crossover in Mojo S borrows from the Kodo toowith all parts being hard-wired point to point with special Teflon hard-insulated wire. Hand trimmed Duelund graphite resistors, Jensen air-core paper/oil inductors and Mundorf capacitors are used.
Mojo S's enclosure incorporates a front baffle of three separate angled sections up to 34mm thick which attach to a 22mm sub baffle. The independent driver frames and the main baffle are separated by a rubber gasket which acts as a seal around the drive units to eliminate air leaks.
There is extensive internal bracing and damping and the rear panel is a dula layer contruction of aluminium and MDF.
Price is €20 000
Kodo Owners Club 
This was something we didn't really expect to hear but Flemming was very passionate about this concept and claims it will set new standards in what customers buying Kodo can expect in return for spending what is a considerable amount of money.
Members will get the following benefits:
The system will be installed in the home by the local distributor after specialised training, using dedicated equipment to ensure the best performance in the homes of users.
Three months after installation a specialist (it may or may not be Flemming himself) from Gryphon Audio Designs in Denmark will visit the owner to carry out a thorough evaluation and final system calibration. He will also personally deliver a personalised, custom serial number plate engraved with the users name.
For three months after purchase of Kodo the owner will be entitled to 15% rebate on any additional Gryphon products from the same dealer.
Every three months for the first two years of ownership the owner will receive an exclusive and specially curated limited edition CD with reference quality recordings.
This is an excellent step forward I feel and is a model that I'm sure will be embraced by other high end manufacturers for their flagship products.