Joining the line-up of Gryphon Audio Designs loudspeakers is the Gryphon Pantheon which will be launched officially at Munich High End 2014. It slots into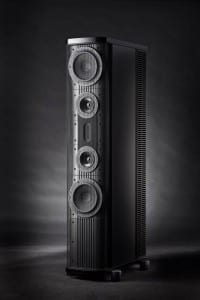 the Gryphon line-up as the brand's most compact (relatively speaking) floor-standing model alongside the Pendragon and Trident II and stand-mount Mojo.
The family resemblance to these monitor systems is strong and readily apparent, as the Pantheon draws heavily on technologies and components developed specifically by and for Gryphon Audio Designs.
Like its predecessors, Pantheon "employs proprietary constant phase technologies to ensure that all drivers are in phase at all frequencies at all times, allowing the Gryphon Pantheon to re-create the original acoustic event with holographic realism and ultimate resolution".
Drivers
Like all Gryphon loudspeakers, the high-frequency range in the Gryphon Pantheon is handled by an Air Motion Transformer (AMT) drive unit with an extremely low-mass folded metal diaphragm.
The Pantheon cone drivers are made in Denmark by ScanSpeak to Gryphon's specifications and custom designed for low Q and minimal dynamic compression. The dual 8" bass drivers and dual 5" midrange units are specially developed with tightly focused, ultra-linear motor systems for maximum force and focus and total control of the motion of the layer-damped fiberglass cones.
Crossing Over
The fourth order filter network is based exclusively on Duelund, Jensen, Holm, Mundorf components in a layout "carefully calculated to eliminate electromagnetic interaction and fitted to a decoupling platform to prevent vibratio"n. The crossover network is pre-biased by a 28 V battery for constant charge to the electrolytic capacitors in the impedance correction circuit which Gryphon say "Class A operation ensures a smoother, more richly detailed three-dimensional presentation". 
The five-driver, three-way Gryphon Pantheon is housed in a sleek, tall, massively braced sculpted enclosure with precisely contoured modular baffle and driver surrounds and baffle covering carefully selected and applied to effectively address baffle reflections and eliminate diffraction phenomena.
 Independent baffle elements for each driver break up the pathway through which vibrations would otherwise be transmitted in a single, shared baffle. "The five dedicated Pantheon baffles allow precision time alignment of the individual drivers based on the now classic, subtle Gryphon baffle curvature".

Beneath its exterior, Gryphon Pantheon offers an inert, non-resonant platform for the drive units combining extensive internal bracing and damping material with separate, precision tuned reflex chambers for the dual bass drivers and an isolated, sealed chamber for the twin midrange units. 
The side panels are a modular construction for simple removal and replacement at any time. 
Like every Gryphon product, Gryphon Pantheon is designed by Gryphon founder and CEO Flemming E. Rasmussen and manufactured in Denmark and if our previous experience with Gryphon loudspeakers is anything to go by it's going to be a great listen!

Pantheon will be introduced at the Munich High End Show in May.
Price will be €35000 plus local taxes.