Hagerman Audio Labs is a small manufacturer based in Honolulu and has recently announced the introduction of the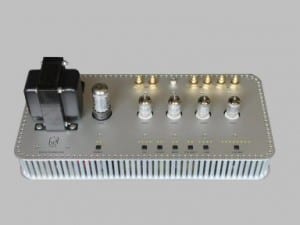 valve phonostage, The Violin.
Offering both Moving Magnet and Moving Coil stages The Violin allows for fine tuning of gain, eq, polarity and operates in Class A with no feedback.
The front-end MC gain uses low-noise matched JFETs to boost up to MM levels, where the vacuum tubes take over providing all gain, equalization and output buffering.
Specifications
– Gain: 44dB (MM) / 54dB, 60dB, 63dB, 65dB (MC)
– Input Impedance: 50k (MM) / 955, 305, 170, 122, 84, 70, 59, 52 (MC)
– Output Impedance: 600 ohms
– RIAA Response: +/-0.5dB from 20Hz to 20kHz
– Bandwidth: 6Hz to 500kHz
– Distortion: <0.5% @1kHz
– Noise: 82dBA (MM) / 74dBA (MC)
– Size: 17″ x 8″ x 6.5″
– Weight: 12 lbs.
– Power: 120Vac/240Vac 35W
– Tube Compliment: 12AX7 x 2, 12AU7 x 2, 5AR4 x 1