John Scott takes a listen to the Hana Lab Sakura music server and DAC hailing from Croatia and costing £500

Hana Lab is a Croatian company specialising in digital music servers and class D amplifiers.   All products are hand built and can be customised to the buyer's specification, whether buying a single component such as a streamer or a streamer/DAC/amplifier combo. Hana Lab sent me a Sakura Server/DAC for review.
UNBOXING AND APPEARANCE 
The Sakura arrived in a plain cardboard shipping box, well protected internally by polystyrene inserts.  The unit was accompanied by a robust power cable and pleasingly comprehensive and easy to read instructions which aided a straightforward set up. 
The Sakura is a circular aluminium case measuring 150mm across and 50mm deep.  The case is topped by a solid slice of the Sakura wood that gives it its name.  A single on/off button at the front provides a minimalist design with all the inputs  and outputs being hidden round the back.
The inputs comprise of a power socket, Ethernet port and two USB ports; one for connection to a USB drive, if desired, and one for the supplied USB wireless dongle.  Outputs are two RCA sockets.
SET UP AND USE 
Connections were straightforward – the USB dongle provided a satisfactory connection to my router but after ascertaining that this was the case I disconnected it and opted for the wired Ethernet connection for the remainder of the review period.  Powering the unit up by pressing the on/off switch results in this flashing with a green LED for a few seconds.  The light stops flashing when the unit is fully initialised.  The server and DAC run from Raspberry Pi hardware featuring a Sabre chip.  Software is the popular Rune Audio programme.
Accessing the Rune Audio software to connect the Sakura to your music source, eg NAS or USB drive, requires you to identify the unit's IP address but if you haven't done this before, the instructions clearly explain how to do this.  The next step is to point the server programme to your music library and allow the programme to compile your library into the programme's player interface.  Depending on the size of your library this might take some time – I found that it took a few hours – I have a large digital library – but fortunately, subsequent updates whenever you add or remove tracks in your library are much quicker.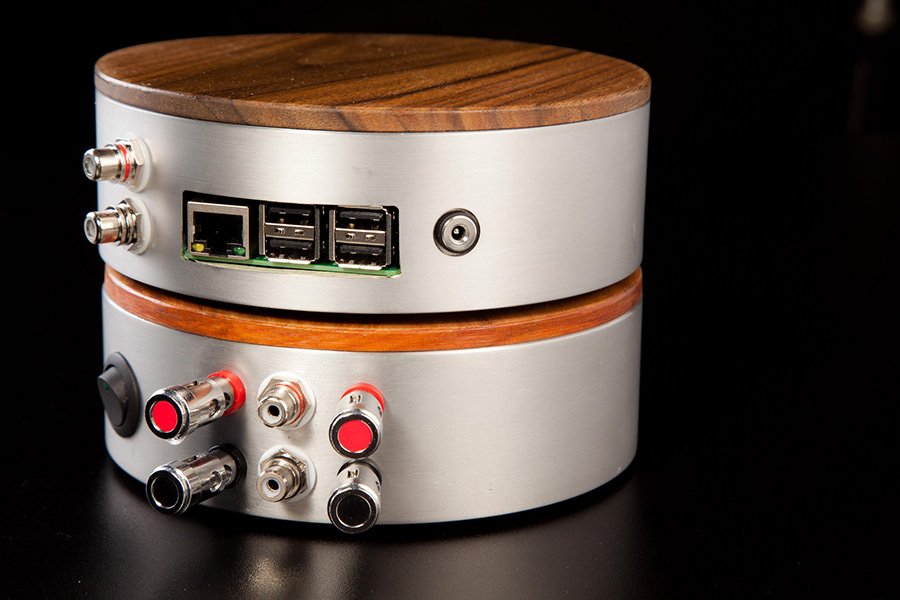 In my opinion, servers  stand or fall on the quality of their control app.  The job of a server  is to allow you to choose the tracks you want to play from your digital music library and then present them to the DAC.  Using a control app should be a pleasure and, ideally, add value to the listening experience.  The Rune Audio app does all the things you need it to: search by artist, album or track, construct playlists on the fly, display cover art, access internet radio.  It's not the best app I have encountered but it is far from the worst and is perfectly adequate for use in a desktop or second-room system.  For everyday use in a main system I'd be looking for a little bit more sophistication.  That said, Rune Audio is an open source software programme and improvements will no doubt be forthcoming from its enthusiastic user group.
SOUND 
When compared directly to a combination of a Logitech Squeezebox Touch streamer and Cambridge Audio DacMagic, the Sakura acquitted itself admirably.  The Squeezebox edges the Sakura in functionality – Tidal integration, for example – but, sound wise there is very little between the Sakura and the DacMagic.  Soundstage was solidly presented, instruments holding their position and not wandering around.  Harlem/Cold Baloney, the closing track of Bill Withers' excellent Live At Carnegie Hall features an extended call and response section between Bill and various sections of the audience.  The acoustic of the hall was well rendered with clear differences between the sound of the responses at the sides, centre, front and back of the room. Mary Coughlan's voice on Leaf From A Tree from her Uncertain Pleasures album is very closely mic'd and it was easy to close my eyes and imagine her standing at the bottom of my room in front of her band. 
CONCLUSION 
The Sakura offers a simple single box streamer/DAC solution, ideal for a desktop or second-room system.  That's not to say that it wouldn't work well in a mid priced main system but, for me, the app needs a little more refinement for extended use.  Its hand-crafted solid wood and aluminium finish is highly attractive but will not be to all tastes; if you prefer nondescript black or silver boxes then this may not be for you.  If, however, you are looking for something a little bit out of the ordinary that offers good value for money then the Sakura is worth considering.
Sound Quality: Good sound for a product at this price point.
Build Quality:  Hand crafted – bespoke options are available on request.
Value For Money: There are lots of generic bits of kit available in this sector of the market.  The Sakura offers something that stands out from the crowd.
Pros:
Distinctive, hand-crafted looks.
Good sound for the price.
Cons:
App could be better – but this is a criticism I have about almost every streamer/server.
Price – Basic Sakura (as reviewed) €500.  Deluxe version with display and remote €650 (both prices inclusive of VAT). 
SPECIFICATIONS
The specification can be tailored to your requirements. The Sakura audio server is based on Raspberry Pi hardware, and features an integrated DAC which supports high resolution playback (configurable with a 24/192 or 32/384 DAC – the review model is based on an ES9023 DAC chip, capable of 24/192 resolution- and a variety of services (Spotify, Internet radio, UPNP/DLNA playback, Airplay, etc.). It plays most of the usual audio formats (MP3, Flac, Aiff, WAV, etc.) via external USB disk, or a wide selection of Internet radio stations. It also supports network sources for audio files (NAS or a network share), and can play music files from a smartphone or tablet.
The server connects to network via Ethernet cable or wirelessly (Wi-Fi) and is powered by a 5V (DC) switching power supply.
John Scott