Harman are a big company in terms of the brands they comprise of – Mark Levinson, Revel, JBL Synthesis, Arcam and Lexicon. All are leaders in their field of high end audio and recently Samsung came along and acquired Harman as a luxury audio off shoot for their electronics empire.
If you look at each brand individually, they have a rich heritage in audio history. Mark Levinson are one of the high-end originals with an envious reputation for quality of sound and build. Revel pioneered extensive testing and design development in their speaker ranges to become a world leader. JBL Synthesis are a loved American speaker brand going back to James B Lansing who had a massive influence in both hifi and cinema sound. Arcam are the British audio brand I remember well from their humble beginnings in the 80's and Lexicon are the DSP specialists in surround sound processing. An illustrious line up of top brands then who continue to further the field of audio.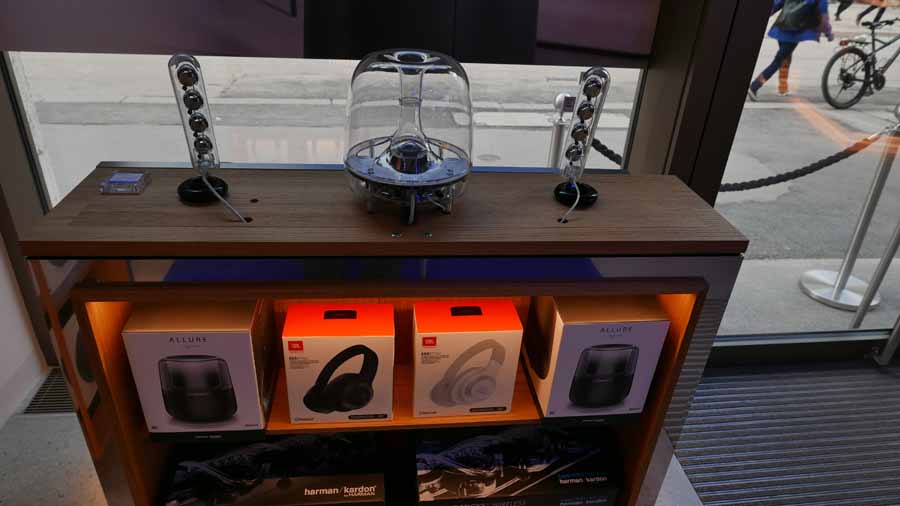 The trade day at Munich on the Thursday ended with me being invited to a world exclusive launch of a new product from Lexicon, the LS-1, as well as to see the recently opened Harman Luxury Audio Experience store in Munich. It is only one of two currently in the world, New York being the other store. Meant as a showcase for the company's products of which there are many, when I arrived at the store after having been chauffeured in a Lexus car containing a Mark Levinson in car audio system, it was an oasis of tranquillity. The store is large and set out like a luxurious home with lots of comfy seating areas and wooden and glass display cases holding all the smaller products such as headphones, travel speakers, portable devices and luxury cars which are regularly changed for customers to experience the fabulous ICE system.
Harman opened the evening with an interactive panel discussion on "The Art of Listening" with Frank Filipetti, 7x Grammy-winning music producer, engineer and mixer, Dr. Hauke Egermann, Assistant Professor in Music Psychology, University of York and Dr. Sean Olive, Senior Fellow, Acoustic Research, HARMAN. The fascinating discussion covered holistic approaches to grasping music in its emotional and creative perfection, as well as discussions on how to develop critical listening skills to help people listen better and more intelligently.
This is a topic close to my heart on the listening habits of people. My take on it is that young people these days have a totally different way of accessing music and take it for granted that music should be free and instantly available. Gone are the days of buying hard physical media such as records, tapes or cd's and taking them home to listen on your hifi. Even more amazing is that younger folk don't listen to whole albums now but flit from track to track between artists and albums. Modern software and hardware allow this, especially mobile smart phones. The mobile phone is their lifeline through which they live each day out. I can't criticise too much as I use mine a lot for emails, Facebook, internet and calls, but for serious music listening it's always on my home system. The difference in sound is obvious and massive, Mp3 can't compete, but try telling them that. It is our duty to enlighten them and make listening to music fun again. The plethora of social media and distractions nowadays make for a very noisy and unfocussed environment. Relaxation is harder to attain so we need to train young people to listen again and enjoy music. I spent hours listening to my records of an evening in the 70's when still at home and loved it. Now, even I must work at not checking my mobile when it goes off every time when I am watching the tv or listening to my system. A desert island would be the ideal with no mobile signal.
The evening was also to launch the new Lexicon active LS-1 speakers with sound steering technology, priced at £40000. This is a first, both for Lexicon as they have not produced a speaker system before, and it has enabled them to show the world what their world class DSP technology can achieve. I had a demonstration with others in the separate new studio further along the alley way from the main store which had only just been finished. Each Lexicon SL-1 loudspeaker delivers high-resolution audio through 33 speaker drivers (12 tweeters, 16 mid- range, 4 woofers and a subwoofer) with 23 channels of amplification, delivering 650W RMS of power. Dual LED Rings indicate the beam width & direction. A removeable 4-panel cloth grille exposes the loudspeaker's elegant hourglass design.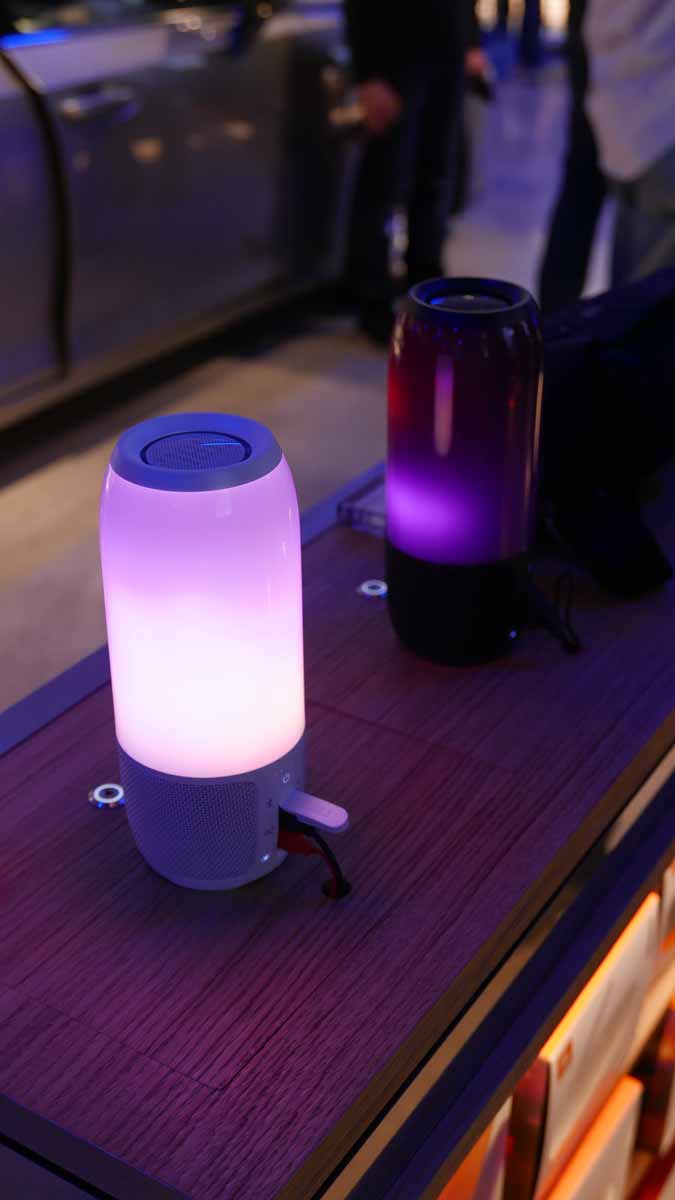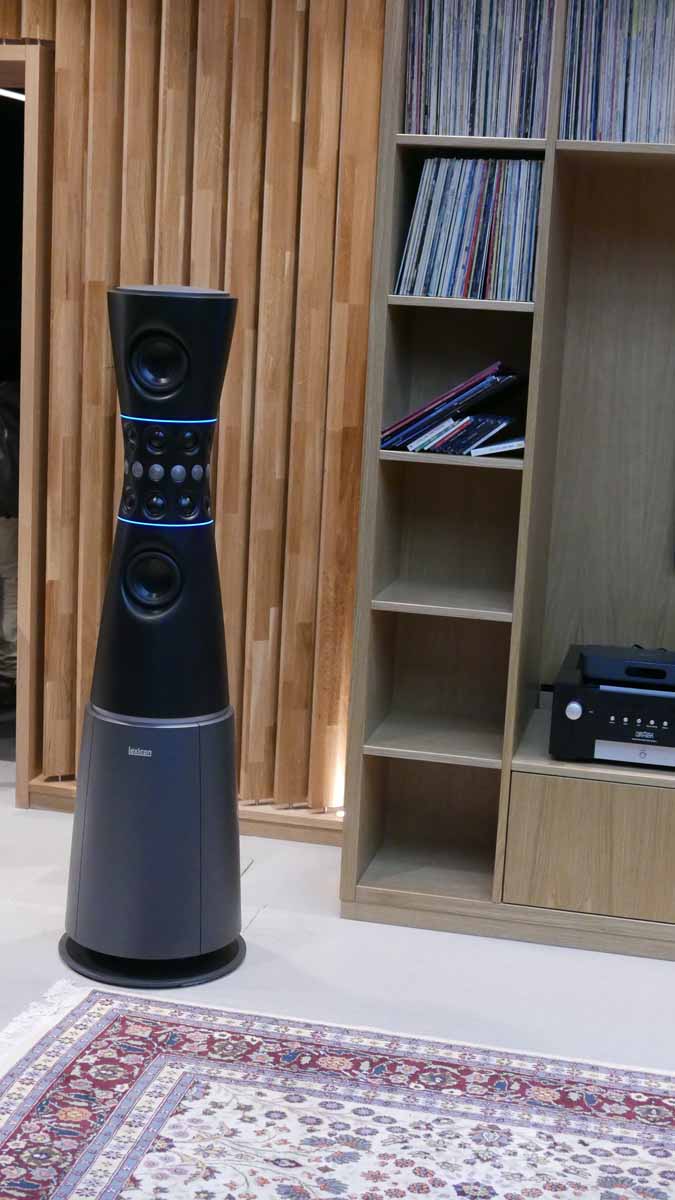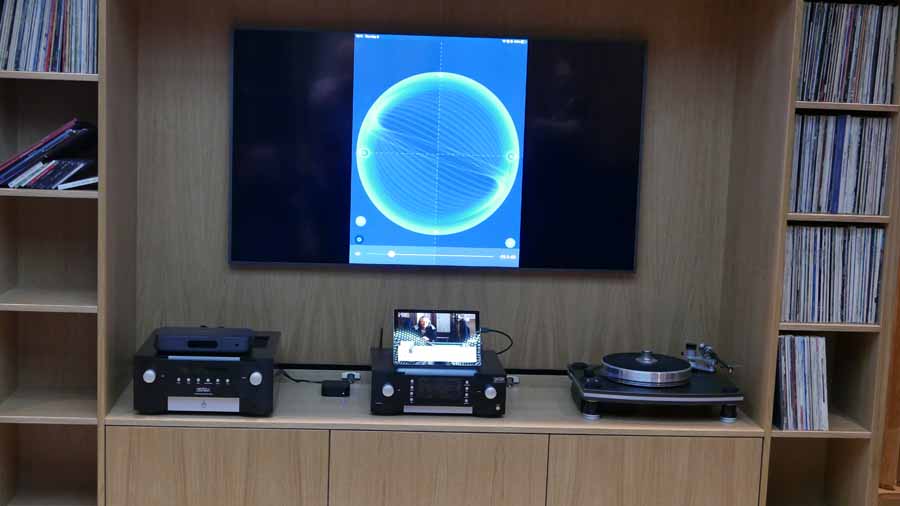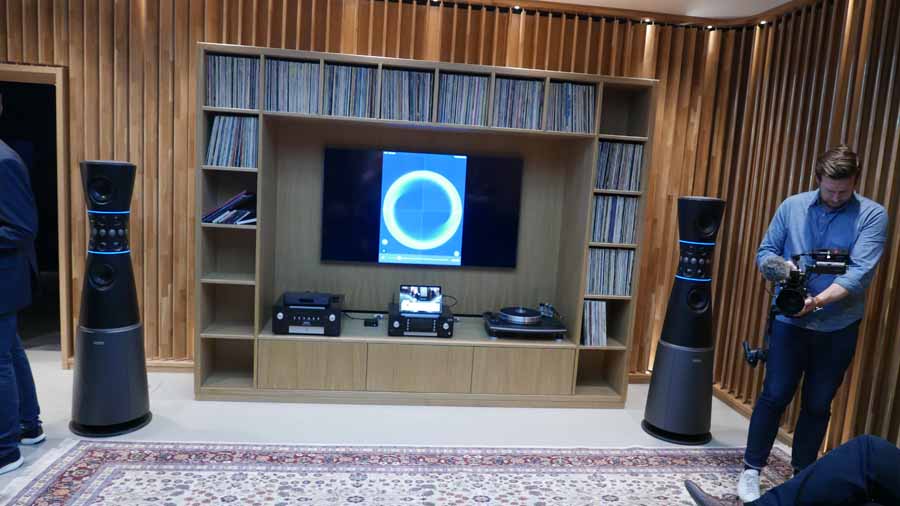 The capabilities of the LS-1 system were shown by using a clever app developed to control it (on a tablet) and this was visually shown on the Samsung TV above the audio equipment and between the speakers. The whole sound field could be steered at will and changed in size to suit the listeners tastes and requirements. The beauty of the technology is that it allows the listener total control in their room even if the room is awkwardly shaped or the layout is unusual. It was very impressive.
Currently featured in the Luxury Audio Studio's Stereo Lounge are the Mark Levinson N°585.5 Integrated Amplifier, Mark Levinson N°519 Audio Player, and Mark Levinson N°515 Turntable, which exemplify the unrivalled build quality, elegant style, and sophisticated features that are hallmarks of the Mark Levinson brand. On display as well are the Revel PerformaBe loudspeakers, true feats of sound engineering meticulously tuned to offer listeners the finest details, the highest levels of performance, and the most emotion possible. Finally, in the Theatre are the JBL Synthesis 7.4.4 System (7x Surround, 4x ceiling, 4x Sub) and the 85" Samsung LED Screen, which work together to offer visitors an immersive movie theatre-like experience certain to impress audiophiles and audio professionals alike.
Not all people will be aware that when they go to the cinema at home in the UK or elsewhere that the speakers they are listening to when watching a feature film are probably JBL's. Developed especially for that environment they truly make it an experience to cherish. A trailer from one of the Jurassic World movies was used where the dinosaurs were attacking two young boys in a glass pod. The effects were epic and startling.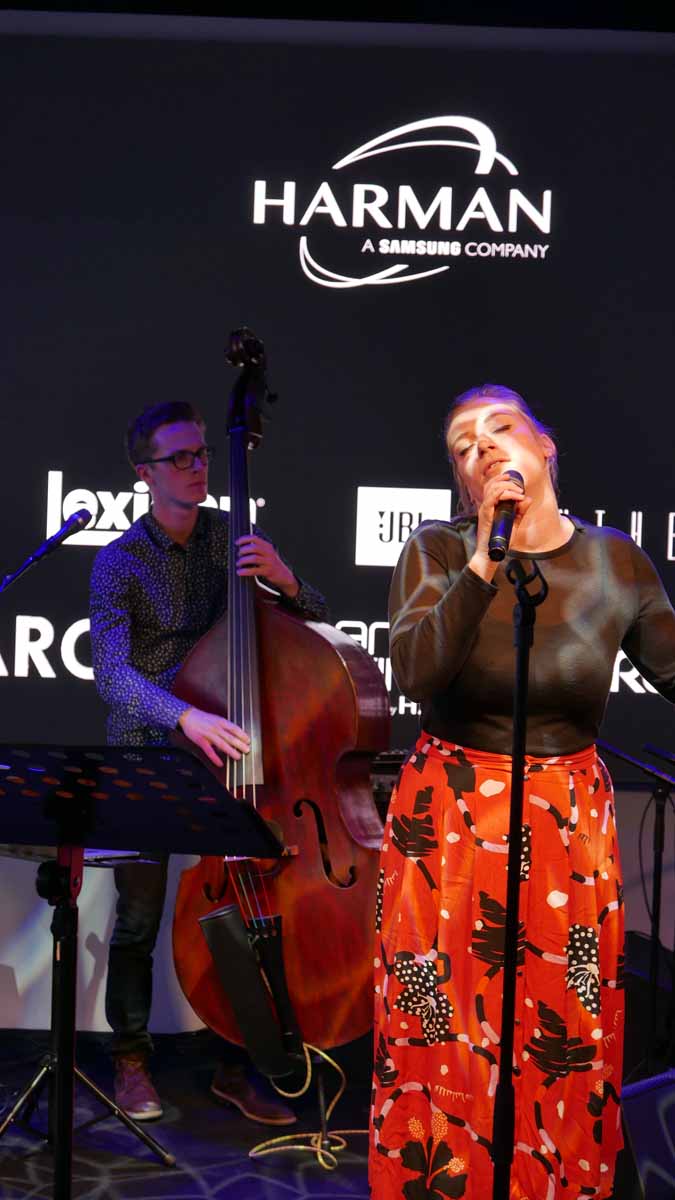 Harman have worked hard to create a large range of products that will entice people to listen to music in different ways and environments. In the home, office, beach, on the move, be it train, plane, automobile or car. The list is endless.
Harman through the backing of Samsung now aim to be the best in the audio field. Stores like the new Luxury Audio Centres can only aid this process and educate the public. Flagship stores are a great way to showcase a company's abilities and intentions to provide excellence.
The launch evening finished off with a four-piece live jazz band comprising of young people. Isn't that what it is all about, enjoying great music in a wholly immersive way, whether in our homes or out and about.
Well done Harman.
Ian Ringstead