Hegel is a name that many will know well with this Norwegian company being very well established and much loved. Here Alan McIntosh tries out their H190 Amplifier with onboard DAC costing £3200 and distributed in the UK by Auden Distribution.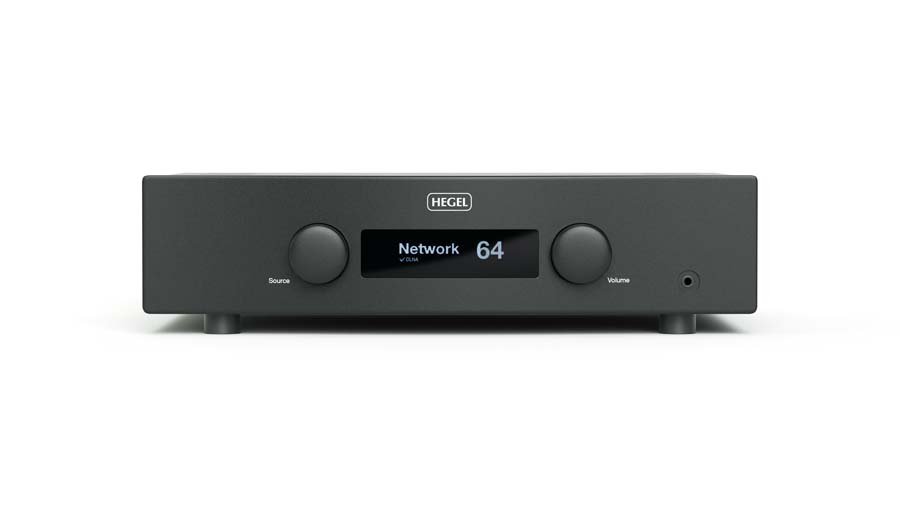 Home demoing amps can be tricky unless you are going to invest big, and even then your local stores may constrict what you can try due to what manufactures they affiliate with, so I've found attending shows such as the North West Audio Show (NWA) at Cranage a great way to hear components I wouldn't otherwise have the opportunity to. It was in 2018 at Cranage I first heard Hegel but with so much to get around it got lost a little in the mix so when I returned in 2019 I paid much more attention – in particular, I was blown away with the H590 driving a massive set of Amphion Krypton 3s. When it came to the end of day 2 of the show I'd been back to the Hegel (and Amphion) room run by Bill Leigh of Auden Distribution 6 times. I left with a pair of Argon 3s speakers and the Hegels imprinted on me in a way I couldn't shake… so much that a couple of months later I found the funds and pulled the trigger and bought an H190! No spoilers then to say – I love this amp!
CONSTRUCTION
As 2nd in the most current "90" range (among the H90, H390 and the beast that is the H590) the H190 this is no "baby brother" and comes in at a strong 19kg. The Norwegian design, like all the range, is a simple elegant casing design with a clear front digital display offering source, volume, digital-depth/frequency information and the setting menu information. Astride this sits a simple 2 large knob array – one for source and the other volume and all milled in the same dark matt (or white where preferred) with a power button secreted below the front so as not to spoil the aesthetics. The only other outward is the simple Hegel branding and 6.3mm headphone socket.
Around the back we have plenty to play with in the digital domain with 3 optical, 1 coaxial and 1 USB input as well as a Network input (also for audio) reflecting the ongoing pivot of many listeners to more digital sources such as CD transports, Hi-Res streamers and laptops, as well as TV's for those with home cinema setups. For those of us who still love analogue as well, there are enough for most with 1 pair of balanced (XLR) inputs and 2 pairs of unbalanced RCAs. For me who uses vinyl, cassette (yes it's still a thing) and an SACD player that needs analogue out, this meant using all inputs so none spare for say a Reel to Reel. A line level and variable unbalanced output are also on offer (handy for us tape heads). A pair of good quality speaker binding post complete the picture. The H190 ships with a standard 3 pin IEC power cable (or a cable suitable for your country) allowing for changes if desired, and a very solid, robust and well-featured metal cased remote.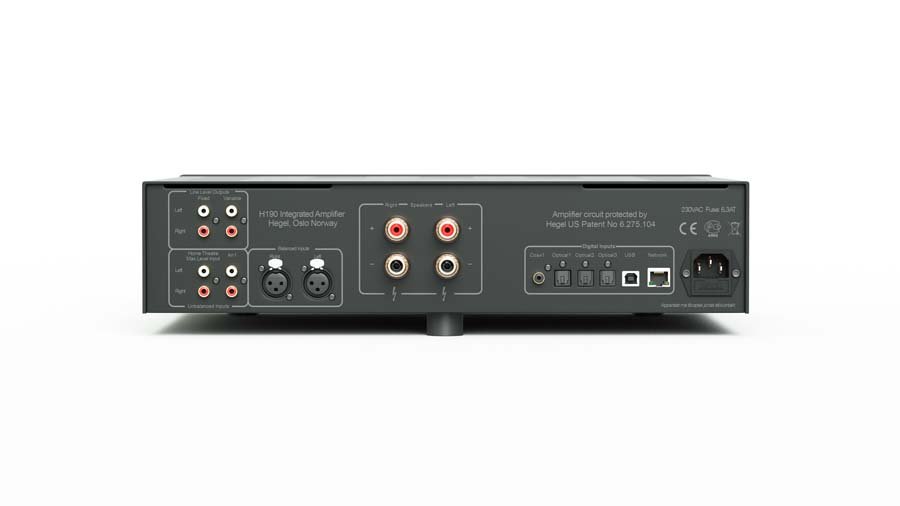 The H190 is rated to deliver 150W per channel into 8 ohms, 250W into 4, with a minimum load of 2 and has an industry-leading "grip" (speaker damping) of 4000 according to Hegel and with a reported signal to noise ratio of more than 100dB overcareful pairing is really not a concern for any except the hardest to drive of speakers (where the H390 or 590 may be a better option).
The amp is designed in Oslo by the trio of Anders Ertzeid, Bent Holter, & Joakim Jacobsen and built around a single large and high-quality toroidal transformer. Hegel also employs their latest version 2.0 of the proprietary SoundEngine technology which is designed to not only increase and improve dynamic range (which also reduces noise floor) but also to improve damping (grip) on speakers by "reading" output pressure to speakers and deliver a correcting signal to reduce or remove distortion. Hegel sees the H190 (and H90) as an evolution of the Rost amplifier that received so much applause – being built around the "framework" of the Rost but taken far further in both sound quality and functionality – their philosophy is to do a small number of things very well rather than trying to be a Jack of all trades.
Streaming is supported in spades as the H190 is UPnP/DNLA enabled (for streaming via various apps like BubbleUPnP or from a NAS box), has wired network support, that raft of digital inputs, and also has Apple Airplay and Spotify Connect native. Hegel opt to allow users to use their controller app of choice so as not to restrict people. A future Firmware is planned and Roon endpoint support is coming
SOUND QUALITY
I had a cold for the first couple of weeks I had the Hegel and so allowed it to run in well without any critical listening being done. Once ready and with the amp warmed up and hour or so I settled in to see what was what. My first test with most components is the Abbey Road Half-Speed master of Simple Minds' New Gold Dream (81/82/83/84) as Someone Somewhere (in Summertime) instantly separates the man from then pre-teen adolescents – its wonderful bass drum, thwacking percussion, subtle guitar work and detail can really show off what amp can do in terms of digging out the depth and their capability to control woofers. The H190 instantly impressed – that bass was stonking, but the grip keeping everything in lovely order and turning up the volume only made the music more energetic and impressive with it not feeling overdriven or like the drums were losing control. As we moved into Colours Fly and Catherine Wheel I already knew this was a keeper. Again, drums and percussion sounded wonderful – big, strident and detailed but not too bright. By the time we hit Promised You a Miracle my grin wouldn't stop ! "Chosen well I have" as Yoda would say (were he into Hifi ).
Over the next few days and weeks between Dire Straits New Gold Dream (the Mofi release finally here with us) and some lovely Blue Note SRX and Music Matters vinyl later it was clear the Hegel is a Norwegian masterpiece.
On the digital front end (until now) I have run a well-loved Audiolab MDAC+ as my DAC of choice, streaming from the wonderful Auralic Aries G1, but I went straight to the H190 DAC first via USB that handles up to 24bit/96hz without conversion which will be enough for most and then with Digital Coax (which extends capability to 24/192) via a Chord Shawline cable…and never went back. This thing is stonkingly good!  Rather than opt for the now almost ubiquitous ESS Sabre 9038 chip, Hegel has designed and implemented their own SynchroDAC technology. Coupled with their Direct Master Clock technology it's designed to avoid quality issues associated with traditional up-sampling and instead delivers a cleaner, better quality output. To my ears their implementation (as much or more important than the chip in my opinion) is expert and the result is sublime with it sounding less heavy-handed and digital in sound than many DACS I've heard. This is very impressive stuff!
I also have to remember to consider weak points or niggles of course… the problem is, beyond maybe hoping for 1 more analogue input for an eagerly awaited Reel to Reel I simply can't find any weak points. I don't use MQA and run mostly Hi-Res (up to 24/192) from Qobuz, however, for those that do MQA isn't supported in the H190 but is in both the H390 and H590. I even tested the Airplay function (not something I normally use) and it's more than adequate. Airplay2 functionality is yet to come.
Authoritative power with control and refinement that is what I keep coming back to with this amp and I can understand why Hegel went with the "master and commander" marketing line in their adverts. And this is the just the H190!
CONCLUSION
If you are in doubt that investing carefully in the right amplifier can really make a real difference to your listening experience then you need to think again. For context, I was comparing the H190 to my Michell Argo HR preamplifier and Alecto "top hat" monos – no slouches! The H190 took my set up to the next level and then some, with that trademark grip driving the Amphions (and Fynes) with effortless ease and control. The detail and separation are universal in everything played and paired with, and the on-board DAC has continued to impress me with its punch, clarity and refinement, though it is not overly clinical or dry. Pairing with the Amphions has added a superb balance of deep yet controlled bass and emotion to the detail and transparency that the Hegel offers. Some users with multiple analogue needs may feel the balance of inputs leads towards digital sources, but for most there will be more than enough on offer and control is easy via the solid remote, with the streaming connectivity offering many a one-box solution. I am at a rare point of contentment with my setup and can't see me changing this amp for a very long time – if ever!
Driving the Amphions you get "wow" moments time and time again as they reach down into lows and deliver almost impossible bass without flabbiness due to the immense Hegel grip and then with the smaller, lower prices Fyne 500's you dig every last ounce of what they can offer, lifting the experience greatly over my previous amplification set up.
AT A GLANCE
Build Quality: Simply superb – a weighty, solid and understated design built of quality components and doing the Norwegians proud. The remote feels comfortingly solid and heavy with satisfyingly tactile buttons.
Sound Quality: While pairing is key to any amplifier, the Hegel H190 is in the driving seat 100%. What feels like a power station of reserves under the hood delivers stunning clarity, detail, with energy and oodles of space and control.
Whether its thumping techno, complex rock or the raw acoustic glory of 1950's jazz the H190 just offers up it up on a plate. All inputs are strong and as mentioned the DAC is surprisingly excellent for an integrated one, especially through coaxial input. It sounds simply wonderful!
Value For Money: £3200 isn't small pennies for most but when investing to really transform the core of your system it's a wise one to make. With many amps in this class costing more, this feels the right price point and I feel it's worth every penny.
Pro's : Where do I start – Strong yet understated aesthetics, power with class-leading grip, superb detail and imaging, onboard DAC and multitude of streaming options at a very decent price point. Well machined and laid out remote.
Cons: May seem just a teensy bit light on analogue inputs for those among us with many analogue sources like cassette or R2R. DAC lacks MQA –  the upper models do support, however.
Price: £3200 rrp
Alan McIntosh
Review Equipment: Modified Technics SL1210Mk3D (Origin Live Zephyr Tonearm, Timestep HE V linear PSU, Townsend Seismic Sink) , Hana ML pickup ,Vincent Pho700 Phono stage, Arcam CDS27, Auralic Aries G1 Streaming Transport , Nakamichi DR2 Cassette , WyWires Blue Speaker cable and Analogue IC's Chord Shawline Digital Coax (for Aries)  , Van Den Hul 3T XLR  (for CDS27)
Specification
Power output 2 x 150W in 8 Ohms, 2 x 250W in 4 Ohms
Minimum load 2 ohms
Analog Inputs 1 x balanced (XLR), 2 x unbalanced (RCA)
Digital Inputs 1 x coaxial S/PDIF, 3 x optical S/PDIF, 1 x USB, 1 x Network
Line level Output 1 x unbalanced fixed (RCA), 1 x unbalanced variable (RCA)
Frequency response 5Hz-100kHz
Signal-to-noise ratio More than 100dB
Crosstalk Less than -100dB
Distortion Less than 0.01% @ 25W 8 Ohms 1kHz
Intermodulation Less than 0.01% (19kHz + 20kHz)
Damping factor More than 4000
Dimensions 12cm x 43cm x 41cm (HxWxD), 19kg shipment weight
Dimensions (US) 7.72" x 16.93" x 16.15" (HxWxD), 41.89lbs shipment weight