Hi Fi Racks Ltd got in touch to tell us that they will again be exhibiting at High End Munich in May 2015 – and this year,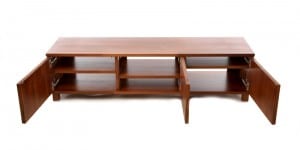 the Rutland-based firm will be presenting the worldwide launch of two brand new product ranges. The UK market has already been given a sneak preview of the Grand and Ianua products at Bristol Sound & Vision in February, where the feedback was extremely positive – Hifi Pig got a good luck at the new racks and they look very nice indeed.
The Grand Range
The Grand Stand and Grand XL products have been designed to meet the needs of the higher end of the market and to complement sophisticated hi fi and audio visual systems, with extra isolation and de-coupling on each tier.
Each hi fi rack and TV stand is constructed from the customer's choice of solid oak, cherry, maple, walnut or mahogany, with a range of finishes also available.
Each piece is handmade in the company's own workshops and customers will be able to choose from a range of standard sizes or tailor their rack to meet their unique requirements.
The Ianua Range
Ianua is the very first Hi Fi Racks range to feature doors and are designed for people who want their hi fi rack or AV stand to blend with their other furniture. Each product is manufactured in solid oak, with a choice of finishes to complement any room. Both wall-mounted and floor-standing racks are available.
The Ianua range features soft open/close doors, multiple shelf configurations and de-coupling shelf supporters as standard.
'Both the Grand and Ianua ranges went down a storm at Bristol Sound & Vision in February. We received lots of positive comments from stand visitors, especially around the products' aesthetic design and superior acoustic benefits. What's more, we also took a number of orders on the spot – a sure sign that Grand and Ianua are set to be popular.'
You'll find Bradley and the Hi Fi Racks' team at Hall 3 Stand G10 from Thursday 14 to Sunday 17 May.