Day Two of Hifi Pig's Advent Calendar advertising promotion focuses on Tellurium Q's Blue range of Loudspeaker cables.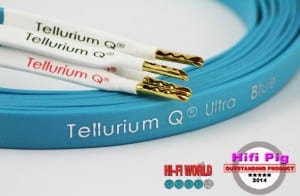 "The Blue was specifically designed for dealers and customers to be able to terminate themselves if you choose to. It has been the entry level cable for a few years now and still getting awards for its performance.
As a recent review put it:
"The Blue Speaker cable is a good example that good sound on a budget is within easy reach"
HiFi Pig, 2014″.