The May 2018 edition of Hifi Pig Magazine is out and ready for free download.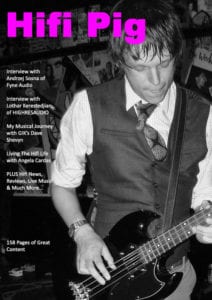 YOUR HIFI NEWS
INTERVIEW: Andrzej Sosna of Fyne Audio
INTERVIEW: Lothar Kerestedjian of HIGHRESAUDIO
REVIEWS:
ORIGIN LIVE RESOLUTION TURNTABLE & ZEPHYR TONEARM
CHORD ELECTRONICS DAVE DAC
CYRUS ONE AMPLIFIER & ONELINEAR LOUDSPEAKERS
KRALK AUDIO TBD4 SPEAKERS AND STANDS
AMPHION ARGON 7LS LOUDSPEAKERS
TELLURIUM Q ULTRA BLACK XLR INTERCONNECTS
ATLAS CABLES "THE ELEMENT SUPERIOR" RCA INTERCONNECT
TIMESTEP HE V LINEAR PSU FOR TECHNICS 1200 FAMILY TURNTABLES
BIRD'S EYE VIEW: The Survivor's Guide To Munich High-End
VIEWS OF STU: A Journey Through The Past
JAMES FLEMING: Truth, justice, rock n' roll, and how they are wrong
MUSICAL JOURNEYS: Dave Shevyn of GIK takes us on his own musical journey
LIVE MUSIC:
RUMOURS OF FLEETWOOD MAC
CHRYSTA BELL
NEARLY DAN
BRYAN FERRY
LONDON ASTROBEAT ORCHESTRA
PUBLIC SERVICE BROADCASTING
JOSH ROUSE
GARY NUMAN
LIVING THE Hifi LIFE WITH ANGELA CARDAS
The latest Women in HIfi Special Edition of Hifi Pig Free e-magazine is live and ready to download.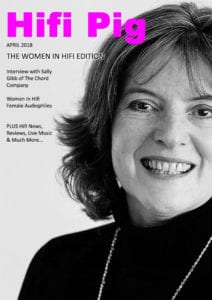 As well as all the usual great reviews and news the magazine is guest edited by Linette Smith and we have interviews and comment specifically about women audiophiles and women who work in the Hifi industry. This really is an edition that you do not want to miss.
News: All the latest news in Hifi land
Interview and Cover: Sally Gibb of The Chord Company
Women in Hifi: Women working in the HIfi industry ditch the dirt and share their experiences good and bad
Female Audiophiles: HIfi Pig talks to real live female audiophiles
Reviews: Leema Tucan Anniversary Integrated Amp, iFi Nan Black Label Headphone amp/DAC, Wire On Wire 660 speaker cables, Audiovector SR3 Avantgarde Loudspeakers, Speakase, LOngdog Audio PH1 MM Phonostage, Burson Conductor Virtuoso V2+ Headphoneamp/DAC, Parasound Halo 2.1 Integrated Amp with DAC
PLUS MUCH MORE OVER THE 141 PAGES…There is even a quiz!
The Latest Hifi Pig Free e-magazine is live and ready for FREE download.
NEWS: All the months Hifi News in a new easy to read format.
INTERVIEW: Holger Fromme is the man behind the German horn loudspeaker manufacturer Avantgarde Acoustic. Here he talks to Hifi Pig about what drove him to build these speakers and where he sees the role of innovation in loudspeaker design going forward.
A TIDAL STORM IS UPON US 
There really is a tidal storm of music out there! A never-ending, algorithmically-curated musical selection that is spat out ad-nauseam especially for you, your gender, your socio-economic grouping. Perhaps I should just let it wash over me, or perhaps I should just have nice cup of tea, turn on the wireless and calm down a bit. Perhaps not.
REAL MEN LIKE WHITE SPEAKERS
Never afraid to bring, as she has been accused, of fetching the itchy blanket of gender politics to the audio table, Linette this month looks at why we should all embrace better looking Hifi.
WHAT DO WE MEAN BY THE WORD HIFI?
Hifi means many things to many people. Some prefer valves ad some prefer solid state. Some prefer horns and some prefer conventional speakers. But what does Hifi really mean? Or is that a question that is impossible to answer?
FROM WORDS, INTO WORDS
Regular Hifi Pig contributor, James Fleming looks at the work of The Fall and especially the recently deceased Mark E. Smith.
INTERVIEW:
Ian Munro was one quarter of the UK electronic band Opus 3 that had a major hit with the tune Fine Day which was an absolute monster of a tune and seemed to be everywhere in the year it was released. Other members of the band were Kirsty Hawkshaw, Kevin Dodds and Nigel Walton and in addition to Fine Day, that charted in the UK at number 5 (U.S. Hot Dance Club Play number 1) they released two albums, Mind Fruit (1992) and Guru Mother (1994).
BOOK REVIEW:
Cosey Fanni Tutti – Art Sex Music
My life is my art, my life is my art is a statement that few can say they have lived by so wholeheartedly as Cosey Fanni Tutti and Art Sex Music documents her life as art using her diary entries as the starting point.
HIFI REVIEWS:
AURALIC POLARIS ALL IN ONE STREAMER AMPLIFIER
REL T9i SUBWOOFER
FLUX HIFI SONIC STYLUS CLEANER
LIVING THE HiFi LIFE:
Colin Pratt is the sales director for Chord Electronics. This trip to New York was the third trip out after CES and Germany, back home for day then straight in to his home market show of Bristol. Then off again, Prague, Montreal, LA and Chicago in quick succession! He still loves Living the Hifi Life though !
GADGETY REVIEWS
…there's even a quiz.
The NEW LOOK Hifi Pig and GadgetyReviews is out and ready for FREE download.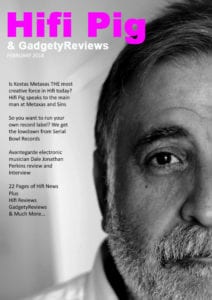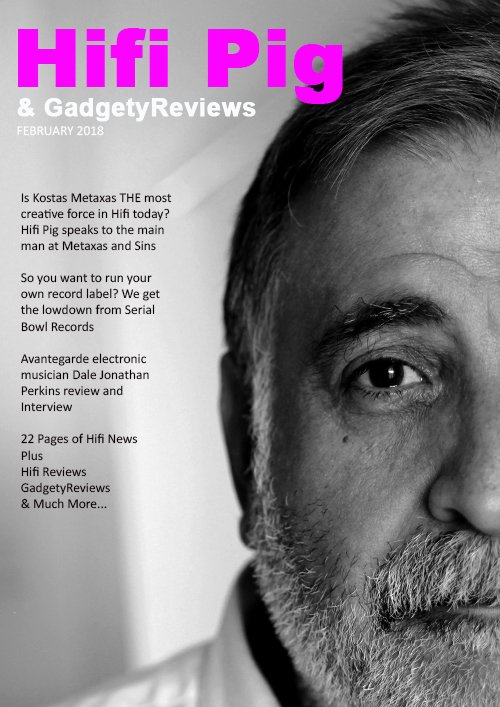 NEWS – A new look, easy to read format that will display better on more devices.
INTERVIEW – Kostas Metaxas: The creative powerhouse behind high-end brand Metaxas & Sins. As well as his wonderfully inventive "High-end audio sculptures", he has an extensive collection of concert recordings from some of the top names in the music world.
Not limiting his imagination to the audio world, Kostas also designs for some of the most well-known luxury brands in the world.
HIFI REVIEWS
MUSICAL FIDELITY M6 ENCORE CONNECT
LINN KLIMAX DS STREAMER
AVID HIFI REFERENCE FOUR LOUDSPEAKERS
ALBEDO MONOLITH REFERENCE SPEAKER AND INTERCONNECT CABLES
FLARE AUDIO PRO IN EAR MONITORS
ATC HDA-DP20
LIFE THROUGH A SCREEN. A MODERN DAY ADDICTION? -Our obsession with screens shows no signs of slowing down but what does this mean for the future of high quality music in the home and on the go?
STU'S VIEWS
It's all well and good having a thousand and one records in your collection, but how do you go about organising them and making sure you can put your hands on specific recording you want to play?
In recent weeks this very subject has been to the fore of Stuart's thoughts given his burgeoning record collection and here he shares some possible solutions to deal with this perennial problem.
BIRD'S EYE VIEW
I was browsing through Facebook earlier, flicking through some of the Hifi and audio related groups that I am a member of, and something caught my eye. The cover photo for this one group was a close-up of a loudspeaker driver, instantly recognisable, without any branding or names visible, it was the KEF Uni-Q driver.
SERIAL BOWL RECORDS
So, you want to launch your own record label but don't have the funds, don't have the know-how and frankly haven't a clue where to start?
Hifi Pig has a chat with Serial Bowl Records, a label collective based in Sunderland in the North East of England to get the low down.
David Blumenstein takes a look at how 2018 is starting out musically.
MUSIC INTERVIEW
Dale Jonathan Perkins "Voice Without Words Parts 1-3 (Ishikawa) plus Interview with this innovative and somewhat avant-garde musician 
LIVE MUSIC
Slalom D and The Damned by Fiona Duncan 
BOOK REVIEW
Lou Reed: A Life by Anthony DeCurtis 
LIVING THE HiFi LIFE
A Behind the scenes glimpse of life on the road with Rune Skov of Raidho whilst he visits the US.
GADGETY REVIEWS
iFi NANO iDSD BLACK LABEL PORTABLE DAC/AMP
KZ ZS6 LOW COST HYBRID QUAD DRIVER EARPHONES
NINETY7 VAUX SPEAKER FOR ECHO DOT
HONOR 7X – FLAGSHIP LOOKS, MID-RANGE PRICE
BRAINWAVZ B200 DUAL BALANCED ARMATURE EARPHONES
WiZ SMART LIGHTS – VOICE CONTROLLED ILLUMINATION
FOOBOT SMART AIR QUALITY MONITOR
TiBAG COMPACT LAPTOP BAG
ROCCAT KHAN PRO GAMING HEADSET
The December Edition of Hifi Pig and Gadgety News is ready to download 
AVM Inspiration CS2.2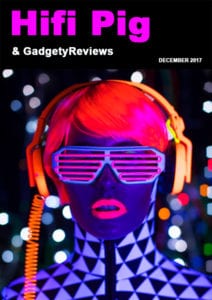 Leema Acoustics Tuscana II Integrated Amplifier
Triple M Icon Smart TVC Preamplifier
MUTEC MC-3+ Smart Clock USB (Master Clock/Reclocker/SPDIF Converter)
Kralk Audio Elite Mk 2. Loudspeakers
Arcaydis EB1S Standmount Loudspeakers
Tannoy Revolution XT8F Loudspeaker
Göbel Lacorde Statement USB and Ethernet Cables
MCRU No. 75 Mains Cable
Black Rhodium Stream Power Cable
Sbooster Best of Two Worlds Power & Precision ECO (BOTW) Power Supplies
Hifiman HE-400S Headphones
Kralk Audio KALSU Loudspeaker Set Up Device
Solidair Audio Ukishima Magnetic Isolators
Winyl Record Cleaning Fluid
Gadgety Reviews
The October Edition of Hifi Pig and Gadgety News is Ready To Download
Hifi News
Hifi Reviews
Sound Kaos Liberation Loudspeakers
RMB 12/3 qnd 22/3 Loudspeakers
KJF Audio Frugel Horn Lite Speaker Kit
TAGA Harmony Diamond B60 Speakers
Ophidian Audio Prophet P2 Speakers
Melco N1A/2 Music Library
Lector 707 CD Player
Gadgety Reviews
The September Edition Of Hifi Pig is ready to download.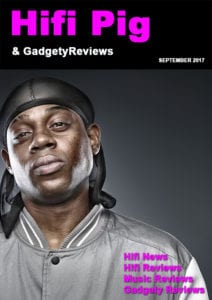 Hifi News
Hifi Reviews
Pylon Diamond Loudspeakers
Melodika BL40 MK2 Loudspeakers
Townshend Allegri + Passive Preamp
Gold Note PH10 Phono-Stage
Tellurium Q Black II Speaker Cable
Ecosse The Director SE Digital Coax
Music Reviews
GadgetyReviews
Acer Predator 17 Laptop
Casio Edifice Smartwatch
Mynt Tracker
Sony Xperia X2 Phone
Noble Trident IEMS
Adam Vimteg Fencer IP Camera
Acer Swift 3 Laptop
I Frogz Impulse Duo Earbuds
Speedlink Fortus Wireless Mouse
Aukey PBB5 Solar Charger
Bertek 8 AC/6 USB Tower Extension
July's edition of Hifi Pig Extra is ready for you to download for FREE. Click the link or the image for your download to begin.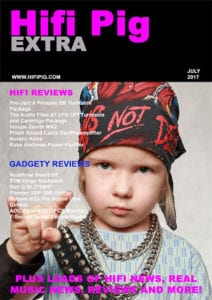 Hifi News
Hifi Reviews
Pro-Ject 6 Perspex SB Turntable Package
The Audio Files AT-LP5 1PT Turntable and Cartridge Package
Innuos Zenith MK2
Prism Sound Callia Dac/Preamplifier
Auralic Aries
Russ Andrews Power Purifier
Music News and Reviews
Gadgety Reviews
Vodafone Smart V8
STM Kings Backpack
Ben Q BL2706HT
Pioneer XDP-30R DAP
Hohem HG5 Pro Action Cam Gimbal
AOC Agon AG272FCX Monitor
F-Secure Sense Secure Router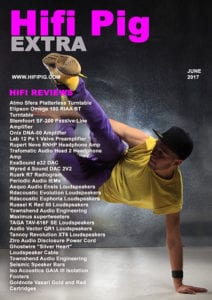 Download your FREE 135 page copy of the June edition of the Hifi Pig Extra Magazine. In this edition of Hifi Pig Extra you'll find a whole host of reviews carried our over the last couple of months. The magazine took a small break in the late spring and early summer to allow us to get some new systems in place, both online and with the e-magazine, but going forward readers can expect a much more responsive and speedy website due to us moving the whole site to new and better servers and some other cosmetic changes that will improve the viewing experience. You'll still be able to enjoy all the great content you have always had with Hifi Pig but expect more of everything including more news, more reviews, a better and more comprehensive music section plus we've launched Hifi Pig Television on our You Tube channel, so expect to see more video coverage of shows and video reviews too.
Normal service and Gadgety News will also return in the July/August edition.
REVIEWS
Atmo Sfera Platterless Turntable
Elipson Omega 100 RIAA BT Turntable
Stemfoort SF-200 Passive Line Amplifier
Onix DNA-50 Amplifier
Lab 12 Pe 1 Valve Preamplifier
Rupert Neve RNHP Headphone Amp
Trafomatic Audio Head 2 Headphone Amp
ExaSound e32 DAC
Wyred 4 Sound DAC 2V2
Ruark R7 Radiogram
Fiio X1ii DAP
Periodic Audio IEMs
Aequo Audio Ensis Loudspeakers
Rdacoustic Evolution Loudspeakers
Rdacoustic Euphoria Loudspeakers
Russel K Red 50 Loudspeakers
Townshend Audio Engineering Maximus Supertweeters
TAGA TAV-616F SE Loudspeakers
Audio Vector QR1 Loudspeakers
Tannoy Revolution XT6 Loudspeakers
Ziro Audio Disclosure Power Cord
Ghostwire "Silver Heart" Loudspeaker Cable
Townshend Audio Engineering Seismic Speaker Bars
Iso Acoustics GAIA III Isolation Footers
Goldnote Vasari Gold and Red Cartridges
The March edition of Hifi Pig Extra and GadgetyNews is now available for FREE download.
It has absolutely LOADS of music news and reviews of music that will be new to many and not the usual classical and jazz reviews seen in many other publications. We hope you enjoy and discover something new for yourselves to add to your collection.
Of course there is also page after page of the latest Hifi News and tons of reviews too.
HIFI PIG REVIEWS
VOLYA BOUQUET LOUDSPEAKERS
MONITOR AUDIO PLATINUM PL300ii LOUDSPEAKERS
ARCAYDIS EB2S LOUDSPEAKERS
UNISON RESEARCH TRIODE 25 AMPLIFIER
CYRUS ONE INTEGRATED AMPLIFIER
DENSEN B-130XS AMPLIFIER
ECHO DIASTASIS PH-79 PHONOSTAGE
BENCHMARK DAC3 HGC
AURALIC ARIES MINI STREAMER
TELLURIUM Q SILVER DIAMOND SPEAKER CABLES & INTERCONNECTS
ERZETECH PERFIDUS HEADPHONE AMPLIFIER
NUFORCE SPORT3 IEMs
OPTOMA HEM4 IN EAR MONITORS
PENSIL CABINET KIT
GADGETYREVIEWS
Vodafone Smart Platinum 7
Skullcandy Method Wireless earphones
Blink wireless security cameras
Elipson Alpha 100 RIAAT BT turntable
Q Acoustics M3 soundbar
Emicro One electric scooter
Roth VA4 active speakers with phono
SteelSeries QcK+ Limited gaming mat
Tile Mate Bluetooth tracker
TrackR Bravo Bluetooth tracker
TASCAM MiNiSTUDIO US-32
Buffalo MiniStation Velocity USB SSD
Toshiba Canvio Premium 3TB HDD
BenQ GL2706PQ 27-inch monitor
TP-Link Archer VR2800 DSL modem
Scroll down the page for previous editions 
January's edition of Hifi Pig Extra and GadgetyNews is now available for FREE download.
GOLD NOTE VALORE PLUS 425 TURNTABLE
PRO-JECT PRIMARY TURNTABLE
COS D1 DAC & PREAMPLIFIER
SOTM SMS 200 STREAMER
CEC TL5 BELT DRIVE TRANSPORT
TANNOY ECLIPSE THREE LOUDSPEAKERS
STELJES NS3 POWERED LOUDSPEAKERS
LEHMANN LINEAR D HEADPHONE AMP/DAC
WIRE ON WIRE EXPERIENCE 680 INTERCONNECT
CHORD COMPANY SIGNATURE TUNED ARAY USB
1More C1002 & E1001 IN-EAR HEADPHONES
OUTSTANDING PRODUCTS 2016
PRIMALUNA DIALOGUE PREMIUM HP INTEGRATED AMP
MUSIC FIRST BABY REFERENCE V2 TVC PREAMPLIFIER
PRO-JECT MaiA DS INTEGRATED AMPLIFIER
CHORD SARUM SUPER ARAY USB CABLE
STUDIO CONNECTIONS CARBON POWER CABLE
GIK ROOM TREATMENT PRODUCTS
MUSIC
MUSIC NEWS AND REVIEWS
CLASSIC ALBUM – Never one to avoid an obvious cliché, John Scott takes a walk on the wild side and reacquaints himself with Lou Reed's 1972 hit album, Transformer.
GREAT COLUMNS 
RETRO BITES – Janine Elliot charts the rise and fall and rise again of the Thermionic Tube/valve in this fascinating and informative article
BIRDS EYE VIEWS – 2016 As Seen From The Perspective Of Linette Smith
VIEWS OF STU – 2016, The Year The Music Died? Cheerful as ever Stuart Smith makes a list of musicians that have died in 2016 and asks, was this the year that the music really did die?
RANTS, RAVES & ROCK 'N ROLL – James Fleming asks that crucial question: Is it the singer or the song?
GAGDETYNEWS REVIEWS
AOC Agon AG241QG G-Sync monitor
UKI Mr Bubble and Hystrix Red 5 X Series 2.4 camera drone
AOC Agon AG241QX Free-Sync gaming monitor
Vape Shoreditch e-liquids
TP-Link Archer C9 router
Onkyo TX-8150 networked amp / DAB radio
Mi Band 2 fitness tracker
Skullcandy Crusher Wireless: haptic bass headphones
December's edition of Hifi Pig Extra and GadgetyNews is now available for FREE download.
HIFI NEWS & REVIEWS
Loads of Hifi News
THE HIFI PIG CHRISTMAS GIFT GUIDE PROMOTION
AVID HIFI PELLERE PHONOSTAGE
NORD ONE UP NC500 DMST POWER AMPLIFIER
SIMAUDIO MOON NEO ACE
ROKSAN K3 DAC
CODE ACOUSTICS SYSTEM 1 ACTIVE SPEAKER SYSTEM
RUSS ANDREWS BMU3000 BALANCED MAINS UNIT
FROM THE VAULT  – ZETA ZERO VENUS PICOLLA LOUDSPEAKERS
GADGETY REVEIWS
Noble Audio Savanna IEMs
Amazon Echo Dot and Alexa
Stihl Compact Cordless garden tools
BenQ EW2775 27-inch monitor
Astro A50 wireless gaming headset
D-Link DCS-936L HD security camera
Anki Overdrive Supertrucks
Revell Control Spot 2.0 camera drone
INTERVIEW  
Hifi Pig goes Behind The Brands Alan Clark of Kralk Audio 
GREAT COLUMSNISTS
RETRO BITES – Janine Elliot takes a look at the Meridian M2 active loudspeakers
BIRDS EYE VIEW – Linette tells us that music is a universal language
THE VIEWS OF STU – Potrzeba Jest Matką Wynalazków 
RANTS, RAVES AND ROCK 'N ROLL – James Fleming does a bit of Soul Searching
November's edition of Hifi Pig Extra and GadgetyNews is now available for FREE download.  More pages of great content than many of the mags you'd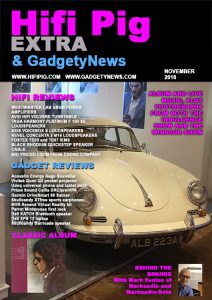 pay good money for!
HIFI PIG REVIEWS 
WESTMINSTER LAB UNUM POWER AMPLIFIERS
AVID HIFI VOLVERE TURNTABLE
TAGA HARMONY PLATINUM F 100 SE LOUDSPEAKERS
AXIS VOICEBOX S LOUDSPEAKERS
REVEL CONCERTA 2 M16 LOUDSPEAKERS
FOSTEX TE05 and TE07 IEMS
BLACK RHODIUM QUICKSTEP SPEAKER CABLE
MID PRICED LOOM FROM CHORD COMPANY
GADGETYNEWS REVIEWS
Acoustic Energy Aego Sound3ar
Vivitek Qumi Q3 pocket projector
Udoq universal phone and tablet dock
Prism Sound Callia DAC/pre/HPA
Garmin DriveSmart 60 Satnav
Skullcandy XTfree sports earphones
MVR Ascend Virtual Reality kit
Parrot Minidrones first look
Dali KATCH Bluetooth speaker
Dell XPS 15 laptop
Skullcandy Barricade speaker
MORE PAGES OF HIFI NEWS
BEHIND THE BRANDS with Mark Fenlon of Markaudio and Markaudio-Sota
CLASSIC ALBUM – Bob Dylan's "Blood On The Tracksl"
GREAT COLUMNISTS including a rant from Stu, Handbags and lipstick from Linette and a great guide to vinyl EQ from Janine
ALBUM AND GIG REVIEWS
The Indulgence Show photographs and photos from the Windsor show too. 
The October edition of Hifi Pig is ready for FREE download. Download your copy now.
October's edition of Hifi Pig Extra and GadgetyNews is now available for FREE download.  This bumper edition of 170 pages includes loads of reviews, great news, interviews, in-depth classic band profile and more. Download your copy now.
HIFI PIG REVIEWS 
MUSIC FIRST AUDIO BABY REFERENCE V2 PREAMP
CREEK EVOLUTION 100CD CD PLAYER & 100P POWER AMP
AUDIOLAB 8300A AMP & 8300CD CD PLAYER
ETALON SUPRA INTEGRATED AMPLIFIER
CONVERT TECHNOLOGIES PLATO CLASS A
CYRUS STREAM XA STREAMER/DAC & PSX R2 PSU
VIVID B1 DECADE LOUDSPEAKERS
PEAK PT1 TURNTABLE
STUDIO CONNECTIONS CARBON POWER CABLE
QUADRASPIRE X REFERENCE RACK
MEZE CLASSIC 99 HEADPHONES
FROM THE VAULT (McIntosh MA 5200)
GADGETYNEWS REVIEWS
VaultCard RFID blocker
Buffalo MiniStation Slim 1TB
NanoQuad Cam Drone
SteelSeries Rival 700 mouse
BenQ BL2205PT monitor
Motorola VerveRider+ earphones
D-Link DIR-879 EXO AC1900 router
Neato Botvac Connected
Allocacoc audioCube
FIIL Diva headphones
12 PAGES OF HIFI NEWS
BEHIND THE BRANDS with Conrad Mas of AVID Hifi
CLASSIC ALBUM – Elvis Costello and The Attractions "Last Year's Model"
CLASSIC BAND – An in-depth look at the band Taste
GREAT COLUMNISTS
ALBUM AND GIG REVIEWS
NATIONAL AUDIO SHOW 2016 – All Hifi Pig's coverage of this year's Whittlebury show with loads of photographs
September's edition of Hifi Pig Extra and GadgetyNews is now available for FREE download. It's packed with hifi news, hifi and gadget reviews, great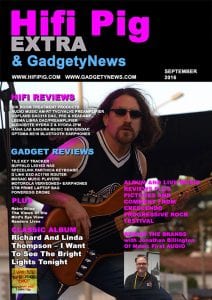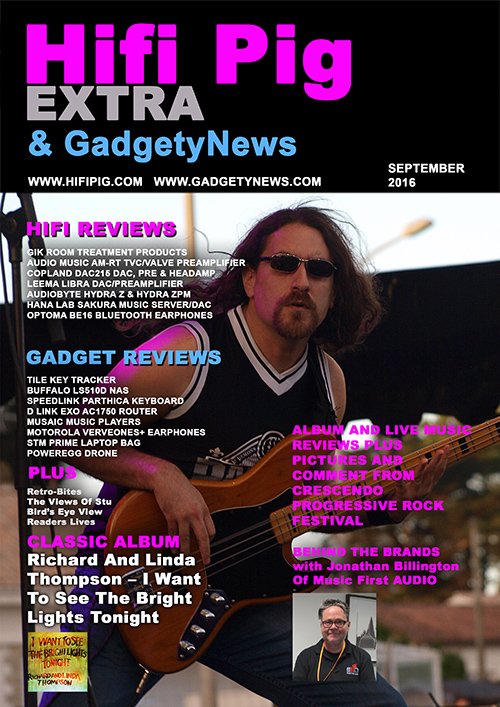 columns and a visit to the fabulous Crescendo Progressive Rock festival in France. Download your copy now.
HIFI REVIEWS
GIK ROOM TREATMENT PRODUCTS
AUDIO MUSIC AM-RT TVC/VALVE PREAMPLIFIER
COPLAND DAC215 DAC, PRE & HEADAMP
LEEMA LIBRA DAC/PREAMPLIFIER
AUDIOBYTE HYDRA Z & HYDRA ZPM
HANA LAB SAKURA MUSIC SERVER/DAC
OPTOMA BE16 BLUETOOTH EARPHONES
GADGETY REVIEWS
TILE KEY TRACKER
BUFFALO LS510D NAS
SPEEDLINK PARTHICA KEYBOARD
D LINK EXO AC1750 ROUTER
MUSAIC MUSIC PLAYERS
MOTOROLA VERVEONES+ EARPHONES
STM PRIME LAPTOP BAG
POWEREGG DRONE
TEN PAGES OF HIFI NEWS
BEHIND THE BRANDS
with Jonathan Billington Of Music First AUDIO
CLASSIC ALBUM
Richard And Linda Thompson – I Want To See The Bright Lights Tonight
ALBUM AND LIVE MUSIC REVIEWS PLUS PICTURES AND COMMENT FROM CRESCENDO PROGRESSIVE ROCK FESTIVAL 
RETROBITE – The Leak Trough_Line series of tuners
BIRDS EYE VIEW – Fame, I want to live forever
VIEWS OF STU – Camping and Caravanning
The AUGUST edition of Hifi Pig Magazine and Gadgety News is out and ready for FREE download. 
We've given the inside of Hifi Pig Magazine a bit of a revamp to make it cleaner and more attractive to read. We've also added a news section with our pick of the months best news items.
HIFI REVIEWS
ROKSAN BLAK AMPLIFIER AND CD PLAYER
NAIM SUPERUNITI
MINUTE EL34 SE AMPLIFIER
ATC SCM19A LOUDSPEAKERS
CHARTWELL LS3/5 LOUDSPEAKERS
PROJECT VC-S RECORD CLEANING MACHINE
VERMOUTH AUDIO RHAPSODY CABLES
SOUNDCARE SUPERSPIKES
FLARE AUDIO ISOLATE & ISOLATE PRO  
GADGET REVIEWS 
TP-LINK AV1200 POWERLINE STARTER KIT
GEEK OUT V2 INFINITY PORTABLE DAC/AMP
VIEWSONIC VX2776-SMHD MONITOR
MIVUE 658 WI-FI DASHCAM
WD RED 8TB NAS HARD DRIVE
PIONEER SE-MHR5 HEADPHONES 
BEHIND THE BRANDS with Steve Halsall of KEF UK 
IN THE STUDIO
Hifi Pig's Janine Elliot is invited along to world famous AIR Studios where BBC Radio 2s Clare Teal joins the Syd Lawrence Orchestra for a direct to disc recording session. Read on, it's fascinating! 
CLASSIC ALBUM
This month, John Scott revisits the 1968 classic from Pink Floyd, Saucerful Of Secrets 
LIVE MUSIC 
PiL and  Rickie Lee Jones 
COLUMNISTS 
RETRO BITES
Things are afoot in the world of reel 2 reels. Not only are there now at least 4 major companies producing reel to reel copies of famous master tapes, but very importantly after a long gap the Swiss tape recorder manufacturer Revox are bringing back the medium with a player based on the A700. By Janine Elliot. 
READERS LIVES
How I Judge A Hifi System – Hifi Pig reader Michael Howell was born in England but now resides the good old USA. In this Readers' Lives article he tells us how he personally goes about evaluating a system. 
FIDELITY MATTERS
There's More Than One Way To Skin A Cat. Different loudspeaker designs with Ian Ringstead. 
VIEWS OF STU
Why Hifi Pig ? Why ? The truth behind the name and origins of Hifi Pig by Stuart Smith. 
BIRDS EYE VIEW
Beauty Is In The Eye Of The Beholder. Linette Smith examines what the visual appeal of a system can do.
Download your copy of the August edition of Hifi Pig Magazine now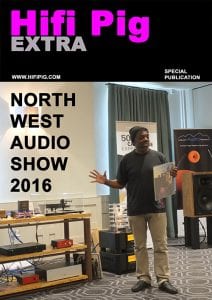 Download your free copy of Hifi Pig's FREE 66 page special supplement for the last months North West Audio Show. There's loads of reports from the show, photos and more
The JULY edition of Hifi Pig Magazine and Gadgety News is out and ready for FREE download. 
Grandinote Proemio Preamplifier and Silva Power Amplifier
Mitchell & Johnson SAP201V Amplifier, CDD 201V CD player and WLD+211T Streamer
Triangle Elara LN01 Loudspeakers
Chord Electronics Hugo TT DAC/Headphone Amp
Intimate Audio DS-108 Back Loaded Horn Loudspeaker
MS HD Audio MS-E02SS Mains Block 
GADGET REVIEWS
Dali Menuet Speakers
Buffalo DriveStation
Astro A40 TR Gaming Headset and Amp
Vodafone Smart ultra 7
Netgear Nighthawk X8
ONEmicro DECT Speakers
PLUS
Retro Bites
Fidelity Matters
The Views Of Stu
Dealers View
Album Reviews
CLASSIC ALBUM
T Rex "Electric Warrior"
INTERVIEWS
Mike Twomey speaks with Vince Bruzzese of Totem
Miles Showell, mastering engineer at Abbey Road, speaks to Hifi Pig about half speed mastering
The JUNE edition of Hifi Pig Magazine and Gadgety News is out and ready for FREE download.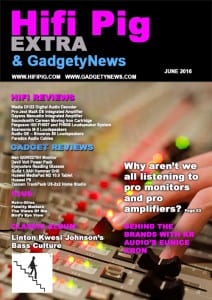 Hifi Reviews 
Wadia DI122 Digital Audio Decoder
Pro-Ject MaiA DS Integrated Amplifier
Dayens Menuetto Integrated Amplifier
Soundsmith Carmen Moving Iron Cartridge
Ferguson Hill FH007 and FH008 Loudspeaker System
Scansonic M-5 Loudspeakers
Audio GE – Sincerus 80 Loudspeakers
Paradox Audio Cables
Gadgety Review
Ben QGW2270H Monitor
Devil Volt Power Pack
Eyejusters Reading Glasses
Guild 1.5AH Hammer Drill
Huawei MediaPad M2 10.0 Tablet
Huawei P9
Tascam TrackPack US-2×2 Home Studio
PLUS: Retro Bytes, Fidelity Matters, Birds Eye View, Classic Album, Music Reviews and more.
Behind the Brands with Eunice Kron of KR Audio
The MAY edition of Hifi Pig Magazine and Gadgety News is out and ready for FREE download.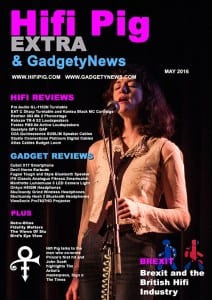 It's packed with Hifi and Gadget reviews of course but this month we have a great interview with the man who discovered Prince and help write his first hit single, plus a special report on the possible effects of a Brexit on the British Hifi industry. Download your free copy now.  There's also great music reviews, fab columnists and more…
Hifi Reviews
Pre Audio GL-1102N Turntable
EAT C Sharp Turntable and Koetsu Black MC Cartridge
Remton 383 Mk 2 Phonostage
Roksan TR-5 S2 Loudspeakers
Fostex PM0.5d Active Loudspeakers
Questyle QP1r DAP
O2A Quintessence SUBLIM Speaker Cables
Studio Connections Platinum Digital Cables
Atlas Cables Budget Loom
Gadgety Reviews
Cubot X17 Smartphone Review
Devil Horns Earbuds Review
Fugoo Tough and Style Bluetooth Speaker Review
iFit Classic Analogue Fitness Smartwatch
Manfrotto Lumiemuse 3 LED Camera Light
Onkyo H500M Headphones
Skullcandy Grind Wireless Headphones
Skullcandy Hesh 2 Bluetooth Headphones
ViewSonic Pro7827HD Projector
The March and April edition of Hifi Pig Magazine and Gadgety Reviews is out and ready for FREE download. 
HIFI REVIEWS
Roksan Xerxes 20Plus, Caspian RPM Speed Control and PUG Tonearm
Krell Digital Vanguard Integrated Amplifier
Fezz Audio Silver Luna EL34 Valve Amplifier
TAGA Harmony HTA – 700B V2 amplifier, Platinum B-40 Speakers and Platinum 18 Speaker Cables Package
Audiobyte Black Dragon DAC
Etalon strEamer
Audiofilia AF-S6 Loudspeakers
ATC SCM7 Loudspeakers
Kralk Audio DTLPS-1 Elite Loudspeakers
3 Square Audio Translator Loudspeakers
KBL Sound Red Eye Ultimate Interconnects.
MCRU Limited Edition Silver Plated 6 Way Mains Block
GADGET REVIEWS
Adam Elements CASA USB-C Cable and Adaptors
AOC G2460PG Gaming Monitor
Atlas Cables Zeno
Dali Rubicon 5 Loudspeakers
Intempo Retro Blaster
Lindy BNX Bluetooth Headphones
Linksys EA7500 Mu-Mimo Router
Netgear Arlo Q Camera
Olive ONE Home Digital Audio Player
STM Drifter Laptop Backpack
View-Master VR Starter Kit
Wraps Bracelet Earphones
PLUS
Retro-Bites
Fidelity Matters
The Views Of Stu
Bird's Eye View
The Voice Of Dom
Interview – Marshall Currier of Lenbrook America
Behind The Brands with Brian and Trevor
Album and Gig Reviews
Classic Album – Hawkwind's "Space Ritual"
Download your FREE copy by clicking here.
The February Edition of Hifi Pig Extra and GadgetyReviews is now available for FREE download. Yes, that's right, as well as all the usual great hifi reviews, music reviews and great columnists we've got loads of gadget reviews from our sister website GadgetyNews.
HIFI REVIEWS
Lampizator Big 7 DAC
Aaron "The Chrome One" Integrated Amplifier
PrimaLuna DiaLogue Premium HP Integrated Amplifier
Arcam FMJ CDS 27 and FMJ A19 Integrated Amplifier
Naim Mu-So
Russell K Red 100 Loudspeakers
Hana S Range Moving Coil Cartridges
A Chord Company Budget Loom
GADGET REVIEWS
BenQ BL2420Z Monitor
Gibson Trainer Wireless Headphones
Huawei Mate S Phone
Sengled Pulse JBL Speaker & Bluetooth Lightbulb
Intempo Bluetooth Jukebox
Oppo F1 First Impressions
Vodafone Findxone Tracker
GREAT COLUMNISTS
LOADS OF MUSIC REVIEWS INCLUDING THE CLASSIC ALBUM BOWIE'S "THE RISE AND FALL OF ZIGGY STARDUST AND THE SPIDERS FROM MARS"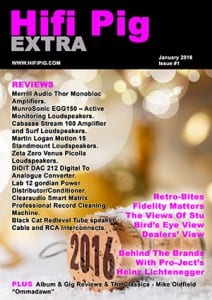 The January 2016 edition of Hifi Pig Extra is now available for FREE download.
REVIEWS 
Merrill Audio Thor Monobloc Amplifiers.
MunroSonic EGG150 – Active Monitoring Loudspeakers.
Cabasse Stream 100 Amplifier and Surf Loudspeakers.
Martin Logan Motion 15 Standmount Loudspeakers.
Zeta Zero Venus Picolla Loudspeakers.
DiDiT DAC 212 Digital To Analogue Converter.
Lab 12 gordian Power Distributor/Conditioner.
Clearaudio Smart Matrix Professional Record Cleaning Machine.
Black Cat Redlevel Tube speaker Cable and RCA Interconnects.
COLUMNS 
Retro Bites – Janine Elliot takes another look at retro audio kit, this time focusing on the rare Tefifon
Voice Of Dom – Dominic Marsh gets puzzled over the differences people hear with identical products and explains how he goes about evaluating and listening to new kit.
Fidelity Matters – In the last of his Fidelity Matters articles for 2015, Ian Ringstead celebrates innovation wherever it comes from and applauds all the people in the hifi industry who make this wonderful kit possible.
The Views Of Stu – Stuart Smith looks at the year that was 2015 and hints at a few things you can expect to see in the coming year from Hifi Pig.
Bird's Eye View – Linette Smith asks "What's your drug of choice?".
Dealers' View – Mike Twomey continues his series of articles looking at the wonderful world of audio from the dealers perspective and this month offers up a few useful tips on how to get the best trade in deal when it comes round to the inevitable upgrade time…
Music and Live Gig Reviews with John Scott and Stuart Smith including live reviews of The Rezillos, Spizzenergi and The Proclaimers. 
The Classics – John Scott throws a log on the fire, pours himself a wee dram and puts on his copy of Mike Oldfield's Ommadawn as part of his Classic Albums series. 
A great Behind The Brands interview with Heinz Lichtenegger, the CEO of Pro-Ject.
OLDER ISSUES
Hifi Pigs coverage of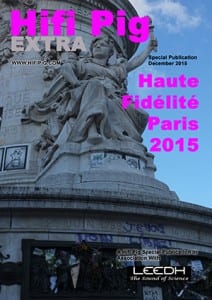 the recent Haute Fidélité Show in Paris.
This special promotional publication is sponsored by Leedh.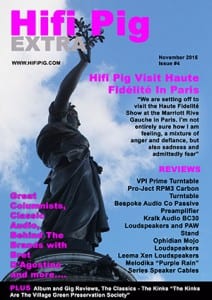 The November Edition of Hifi Pig Extra is available for FREE DOWNLOAD
COVER STORY
Linette Smith talks about the recent visit to the Paris Haute Fidélité show the week after the attacks. ""We are setting off to visit the Haute Fidelité Show at the Marriott Rive Gauche in Paris. I'm not entirely sure how I am feeling, a mixture of anger and defiance, but also sadness and admittedly fear"
REVIEWS
VPI Prime Turntable
Pro-Ject RPM3 Carbon Turntable
Bespoke Audio Co Passive Preamplifier
Kralk Audio BC30 Loudspeakers and PAW Stand
Ophidian Mojo Loudspeakers
Leema Xen Loudspeakers
Melodika "Purple Rain" Series Speaker Cables
COLUMNS
Janine Elliot takes a step down memory lane with the much loved Leak Stereo 20 power amplifier.
Dominic Marsh concludes his popular three part series on mains cables.
Ian Ringstead takes a look at the state of the hifi industry and asks what we can all do to boost the popularity of two channel audio in the home.
There seems to be a lot of in-fighting within the audiophile world about people's personal choices and the equipment they finally place in their system. Stuart Smith takes a tongue-in-cheek look at what he thinks are the reasons for this phenomenon…
Mike Twomey tells us how best to strike a great deal with your retailer this holiday season.
Plus album and gig reviews with John Scott, Janine Elliot and Stuart Smith and the ever popular Classics series where John Scott takes a look at the Kinks album "The Kinks Are The Village Green Preservation Society"
The October Edition of Hifi Pig Extra is Out and available for FREE download
COVER STORY
""Cable wars must surely be the biggest single cause of conflict and injury between audiophiles …better just to keep quiet, watch from a distant hilltop and let the troops on the virtual front line battle it out ad-infinitum"… Stuart Smith goes over the top!
REVIEWS
Entotem Plato
Zontec Art-Deco Phonostage
Rothwell Signature One Phonostage
Icon Audio MB 30 SE Power Amplifiers
NuForce DAC80 DAC
NuForce HA200 Headphone Amplifier
Magnific Acoustics M521 Loudspeakers
Oak Audio Hurricane Loudspeakers
Wyred4Sound Remedy Digital Reclocker
MCRU Excelsior DC Blocker
10 Great Free Android Apps
COLUMNS
The Story of Stax with Janine Elliot
Hifi Shows with Ian Ringstead
Giving WAF the red card with Linette Smith
Mains cables explained with Dominic Marsh
PLUS  22 pages of Album and Gig Reviews by John Scott and Stuart Smith, The Classics – Yes – The Yes Album, Behind The Brands interview with Russell Kauffman of Russell K…
The FR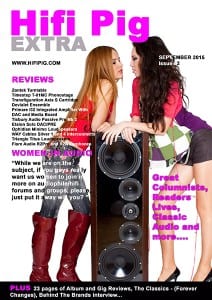 EE September edition of Hifi Pig Extra is available for download.
Reviews
Zontek Turntable
Timestep T-01MC Phonostage
Transfiguration Axia S Cartridge
Devialet Ensemble
Primare I32 Integrated Amplifier With DAC and Media Board
Tisbury Audio Passive Pre Mk 2
Etalon Solo DAC/PRE
Ophidian Minimo Loudspeakers
WAY Cables Silver 1 and 4 Interconnects
Triangle Titus Loudspeakers
Flare Audio R2Pro and R2A Earphones
RETRO BITES JANINE ELLIOT DUSTS OFF HER PHILIPS DCC900 Digital Compact Cassette Player
Columnists
THE VOICE OF DOM  – DOMINIC MARSH TALKS MAINS CABLES (PART 1)
FIDELITY MATTERS –  IAN RINGSTEAD IS BOXING CLEVER
THE VIEWS OF STU – STUART SMITH AVOIDS A STICKY SITUATION
BIRDS EYE VIEW – LINETTE SMITH TELLS THE BLOKES TO PUT IT AWAY
DEALERS VIEW – WITH MIKE TWOMEY
Music
21 Pages of album and gig reviews PLUS THE CLASSICS WHERE JOHN SCOTT DIGS LOVE'S FOREVER CHANGES OFF THE SHELF
Behind The Brands
WITH FREDERIK DAVIES, CREATOR OF THE AXJET LOUDSPEAKER SYSTEM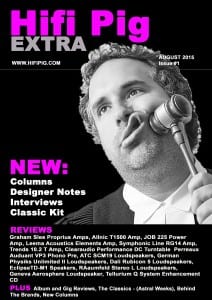 May's Hifi Pig Magazine is out for FREE download.
Reviews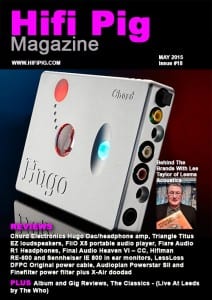 Chord Electronics Hugo Dac/headphone amp,
Triangle Titus EZ loudspeakers,
FiiO X5 portable audio player,
Flare Audio R1 Headphones,
Final Audio Heaven VI – CC, Hifiman RE-600 and Sennheiser IE 800 in ear monitors,
LessLoss DFPC Original power cable,
Audioplan Powerstar SII and Finefilter power filter plus X-Air
Plus Music Reviews, The Who's Live At Leeds in the Classic Album section and Behind The Brands with Lee Taylor of Leema Acoustics
April's Hifi Pig Magazine is out for FREE download.
Loa
ds of reviews:
Pro-Ject MaiA Integrated Amplifier
ADL (Furutech) H-118 Headphones
ATC SCM 11 Loudspeakers
Roth OLi RA1 Bookshelf Loudspeakers
Skogrand SC Beethoven Loudspeaker Cables
Arte Forma Mezzo Power Amplifier
Tangent Spectrum X5 BT – Powered Digital Bookshelf Speakers
NuForce NE750M and NE800M Inner-Earphones
Roksan Kandy K3 Integrated Amplifier
Album and Gig Reviews
Behind the Brands with Peter Comeau of IAG
The March Edition of the FREE Hifi Pig Magazine is published and ready for download.
Its a bumper i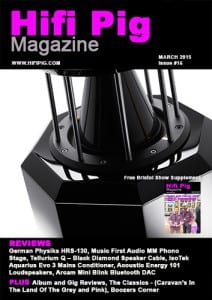 ssue of 111 pages with great reviews of German Physiks and Acoustic Energy loudspeakers, Music First Audio's MM phono Stage, Tellurium Qs Black Diamond Speaker Cable, IsoTek's Evo 3 Mains Conditioner and Arcam's Mini Blink Bluetooth DAC.
There's music reviews, Gig reviews, a look at the classic album In Land Of The Grey And Pink by Caravan and there's boozers corner where we sample the delights of Campari and Fizzy water plus a rather Punky IPA from Scotland.
We also have a free supplement of the recent Sound and Vision – The Bristol Show.
What are you waiting for?
Hifi Pig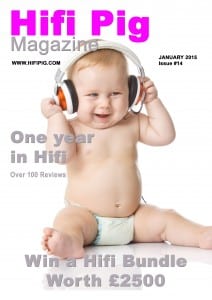 's Yearbook is out now and it's FREE to download.
It has over 350 pages and over 100 hifi reviews from the last year on Hifi Pig and is an invaluable resource for all audiophiles anyone interested in audio.
What's more is there's a great chance for one lucky reader to walk away with kit worth over £2500 from the following companies in our fantastic competition – Amptastic, Chord Company, Fiio, Henry Audio, HiSound, Lehmann Audio, Linn Records, Pro-Ject, Sansui, Snip Records, Triangle, Velodyne, Vinyl Passion.
Not only that but there's album reviews, a great Classics piece from John Scott about the album "Eli and the Thirteenth Confession" by Laura Nyro, an in-depth Behind the Brands interview with Mark Sears of The Missing Link and Vinyl Passion and our latest regular feature Tipplers corner where Louis Bricka pairs booze with music.
The cover story and a great article full of pictures and editorial, is our visit to iconic British hifi manufacturer Roksan.
You can download the full Hifi Pig magazine for FREE here.
The August edition of Hifi Pig Magazine is available for FREE DOWNLOAD. There's loads of interesting c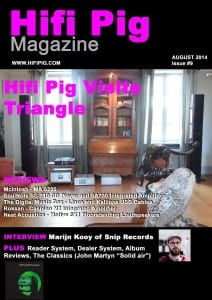 ontent this month including reviews of the McIntosh MA 5200 Amp/DAC, SoulNote's SC 710 CD Player and SA730 Integrated Amplifier, The Digital Music Box' Linus and Kalliope USB Cables, Roksan's Caspian M2 Integrated Amplifier and Neat Acoustics' Motive SX1 Floorstanding Loudspeakers. If that wasn't enough we've got a great computer based Reader System report and a high-end Dealer System report from North East UK's Hifi Sounds. We also visited Triangle way back in May at their offices in Bordeaux for what turned out to be a wonderful trip where we got the opportunity to sample some great wines and the Triangle Magellan Grand Concert loudspeakers. On the music front there's a whole host of album reviews plus we highlight the story behind John Martyn's album Solid Air. This month's Behind the Brands interview is with Mrijn Kooy of Dutch record label Snip records. All in all a great read we think. Download it now.
The July edition of Hifi Pig Magazine is now available for free download. This month we not only have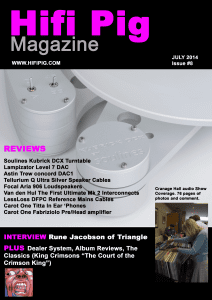 loads of reviews including the terrific Soulines Kubrick turntable, the much awaited Lampizator level 7 Dac, the Astin Trew Concord Dac 1, the surprising Focal Aria 906 standmounters, new cables from Tellurium Q in the form of their Ultra Silver speaker cables, Van den Hul's First Ultimate Mk2 interconnects, LessLoss' DFPC Ultimate mains cables and some interesting lower priced products from Carot One. There's a great Behind the Brands interview with Rune Jacobsen from Triangle, the French loudspeaker manufacturer as well as a new item featuring a classic album….this time it's King Crimson's " The Court of the Crimson King". There's album reviews too, not to mention our great photos and coverage of the Cranage Hall Audio Show. Don't miss it!!!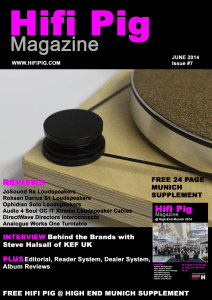 The June edition of Hifi Pig Magazine is now available for free download. Lots of reviews including the the £52 000 JoSound Ra Loudspeakers, Roksan's Darius S1 Loudspeakers, Ophidian unusual looking Solo Loudspeakers, Speaker Cables from Audio 4 Soul, DirectWave's Directors interconnect cables and the Analogue Works One Turntable. There's a great Behind the Brands interview with the MD of KEF UK, a wonderfully amusing Readers System report and MCRU put together a £15000 Dealer System for Hifi Pig. As well as all that there is a 24 page supplement with some of our coverage of High-End Munich.Download your copy now!
The Brand NEW edition of Hifi Pig Magazine is now available for download on Hifi Pig. In this month's edition there is a look forward to High End Munich PLUS a new fe
ature looking at Vintage Classics…this month it's 57 years of the ESL 57!!!! We've got reviews of KEF's X300A speakers with built in amps and a DAC…plug and play, PrimaLuna's Prologue Premier Valve Integrated Amplifier, Tellurium Q Ultra Black Interconnects, MS Power's Distribution Mains Filter and High Current Mains Cable, Pro-Ject Xpression Carbon UKX Turntable andCLONES Audio Pre and Power Amplifiers. O'Brien Hifi put together an £80 000 system for a classical musician and a Hifi Pig reader in France shows us his dedicated hifi building. You can also WIN an amptastic Mini 1 amp……LOOK NOW!
The April edition of Hifi Pig Magazine is now available for Free download. Reviews: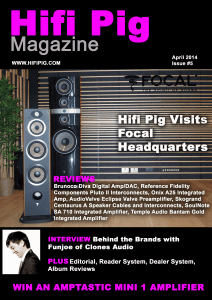 Brunoco Diva Digital Amp/DAC, Reference Fidelity Components Pluto II Interconnects, Onix A25 Integrated Amp, AudioValve Eclipse Valve Preamplifier, Skogrand Centaurus A Speaker Cables and Interconnects, SoulNote SA 710 Integrated Amplifier, Temple Audio Bantam Gold Integrated Amplifier Plus:Behind the Brands with Funjoe of Clones Audio, a great reader system from the owner of AudioChews forum, an analogue front-ended dealer system from Divine Audio, loads of great album reviews PLUS our cover story where Hifi Pig spend the day as guests of Focal. Not only that but you can also win an ampstastic mini-1 amplifier.
The March edition of the Hifi Pig Magazine is now available for FREE download.Reviews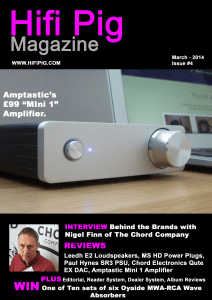 of Leedhs E3 loudspeakers, MS HD Powerplugs, Paul Hynes RS3 Power Supply, Chord Electronics QUTE EX DAC and Amptastics latest diminutive amplifier the Mini 1. Plus editorial comment, album reviews, a great reader system that includes Lampizator, Ming Da and hORNS kit and a very stylish dealers system from Audio Emotion. There's also a very interesting Behind the Brands interview with Nigel Finn from The Chord Company and you can win one of ten sets of six Oyaide NWA-RCA Wave Absorbers courtesy of Mains Cables R Us.
The February 2014 edition of the Hifi Pig Magazine is now available for FREE download.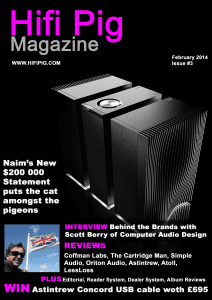 Reviews: Coffman Labs G-1A Valve amplifier, The Cartridge Man Isolator,  Simple Audio GO bluetooth speaker, Oriton Audio R33 Support System, Astintrew Concord powered USB, Atoll Electronique IN200 SE Integrated Amplifier & CD200 SE-2 CD Player, LessLoss DFPC Signature Power Cables.  Plus: Editorial comment, Reader System, Dealer System, Interview with Scott Berry from Computer Audio Design and music reviews too.   Win: Astintrew's Concord Powered USB worth £695. If you'd rather not download the PDF magazine you can read it here using the interactive magazine-like display widget..
The January 2014 edition of the Hifi Pig Magazine is now available for FREE download. Reviews:
Pluto Ultimate Loudspeakers, Monster iSport Freedom Headphones, Van de Leur 002/402 pre and power amps, Isotek EVO3 Mains cables, Resonessence Herus headphone amp/DAC, Wireworld Starlight 7 USB cable, Tellurium Q Claymore integrated amplifier. Plus: Editorial comment, Reader System, Dealer System, Interview with Holger Fromme MD at Avantgarde Acoustics, a factory visit to Cabasse, music reviews and the pick of 2013's albums. Win: Chord Company's Epic Reference Loudspeaker cable worth £750 plus Akiko Tuning Sticks. If you'd rather not download the PDF magazine you can read it here.
Download the free December edition of Hifi Pig Magazine. Reviews: Roksan Kandy K2 Integrated amplifier. Musical Fidelity MF100 Headphones, Mike New's bearing for the Technics 1210, Dynaudio Excite x14 Loudspeakers, QNKTS AB-1.2 DAC, QED uPLay Stream digital streamer, Akiko Audio tuning sticks, Teufel Audio Aureol Real headphones, Waterfall Victoria EVO loudspeakers. Plus: Bird's Eye View, Ripping Yarns, Reader System, Dealer System, Albumreviews and Behind The Brands with Randy Kunin of Randall K Designer Hifi.  WIN a Tellurium Q power amplifier worth £1194 and Akiko Audio tuning sticks worth €496. CLOSING DATE FOR THE COMPETITION IS 28th DECEMBER 2013 NOT 28th DECEMBER 2014 AS STATED IN THE MAGAZINE. DOWNLOAD the December edition of the FREE Hifi Pig Magazine.