JoSound Cartouche loudspeakers use a Voxativ driver and an innovative bamboo construction that makes these €22 000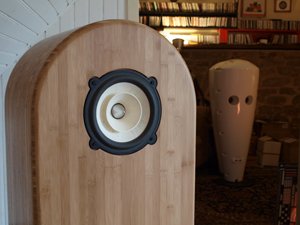 loudspeakers really stand out from the crowd.
"We first came across the JoSound range of loudspeakers twelve months or so ago when we attended the Paris Hifi and Home Cinema Salon and were very impressed with what we heard. Later at Munich we again made the effort to go and have a listen and were equally impressed and asked if it would be possible to get a pair of one of the range in for review."
Read the full review of the JoSound Cartouche loudspeakers.