The McIntosh MA 5200 is a multi-faceted amplifier/DAC/headphone amp and more, so when Hifi Pig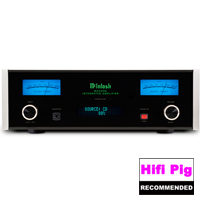 was offered one for review we jumped at the chance of giving this American brand's Swiss army knife a thorough review. In this review for Hifi Pig Peter Stanton-Ife puts the McIntosh through its paces.
"I used the MA5200 with both a pair of Sonus Faber Grand Pianos and a pair of Bastani open baffle speakers alternating between runs of Skogrand Ignis Purist cable and my normal Electrofluidics cable. I also borrowed a pair of Spendor BC1s from a friend to try out on the MA5200. Again, consistency of sound proved to be the order of the day, even with speakers as coloured as the SFs. I tried a pair of elderly Sennheisers on the headphone output and can report that late night listening will not be a chore."
You can read the full review of the McIntosh MA 5200 here.