The Iridium power amplifier from Tellurium Q arrived a couple of months ago and has been a permanent feature on the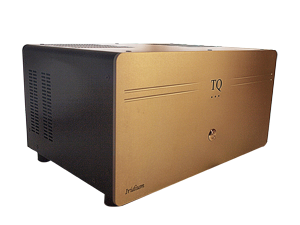 Hifi Pig rack since then.
"The Iridium by Tellurium Q is a single ended class A amplifier that gives out a not massive 18 Watts per channel into 8ohms (the same as my 300B PSE amp actually). It's a heavy beast weighing in at around 21Kg but it also looks quite elegant on the top of the rack. Now, I say the top of the rack because being class A the top of this amp gets very hot indeed (the heatsinks are on the inside of the casing) and I'd be unsure about putting it in a situation with anything directly on top of it.

The Iridium is a dual mono design where each channel is effectively isolated from the other and uses a mixture of power MOS FETs and large power semiconductors. Each channel has its own dedicated torroidal transformer and rectifier bulk capacitors for smoothing."
Read more about the Iridium power amplifier from Tellurium Q or read all the Hifi Pig reviews.