Welcome to the first of my reports from this year's High End Munich show which took place from 9th to 12th of May at the brilliant MOC venue in Munich and featuring: TAD (Technical Audio Devices) Laboratories, Kii Audio, Technics, Octave, ATC, GATO and Emotiva, Audio Reference, Dan D'agostino, Absolute Sounds, Canton, DALI, AVM, Primare and inakustik, Accuton and Bugatti, JoSound and Axjets, Crystal Cables and Siltech, Vitus Audio, THRAX, Raidho/Scansonic, Joseph Audio and Alluxity and Weiss & PSI Audio.
Munich High End is always a packed event and this year was no exception with a great mix of industry people and music lovers alike. Whether you are a fan of streaming audio, vinyl, tubes/valves, solid state, full range speakers, horn loudspeakers…or even sports cars, there is going to be lots for you to see and hear at High End and we hope our coverage of the show gives you a feeling of being there to some extent.
As well as being very well attended, the show is also absolutely huge and you can kind of tell the people who are making their first visit to High End as they begin the day looking not a little dazed and confused – or perhaps that was the previous night's beer intake.
We try to cover as much of the show as is physically possible but to get into every room, make notes and take pictures is impossible and this year we have been somewhat selective – but don't worry as we will have reports from myself, Linette, Ian Ringstead and Janine Elliot, as well as a report from the HifiDeluxe show that takes place at the same time in Munich.
So, without further ado, here is my first report featuring: TAD (Technical Audio Devices) Laboratories, Kii Audio, Technics, Octave, ATC, GATO and Emotiva, Audio Reference, Dan D'agostino, Absolute Sounds, Canton, DALI, AVM, Primare and inakustik, Accuton and Bugatti, JoSound and Axjets, Crystal Cables and Siltech, Vitus Audio, THRAX, Raidho/Scansonic, Joseph Audio and Alluxity and Weiss & PSI Audio.
TAD (Technical Audio Devices) Laboratories
Speakers used by TAD at this years Munich High End were the Evolution One TX powered by their M1000 power amps and matching CD player.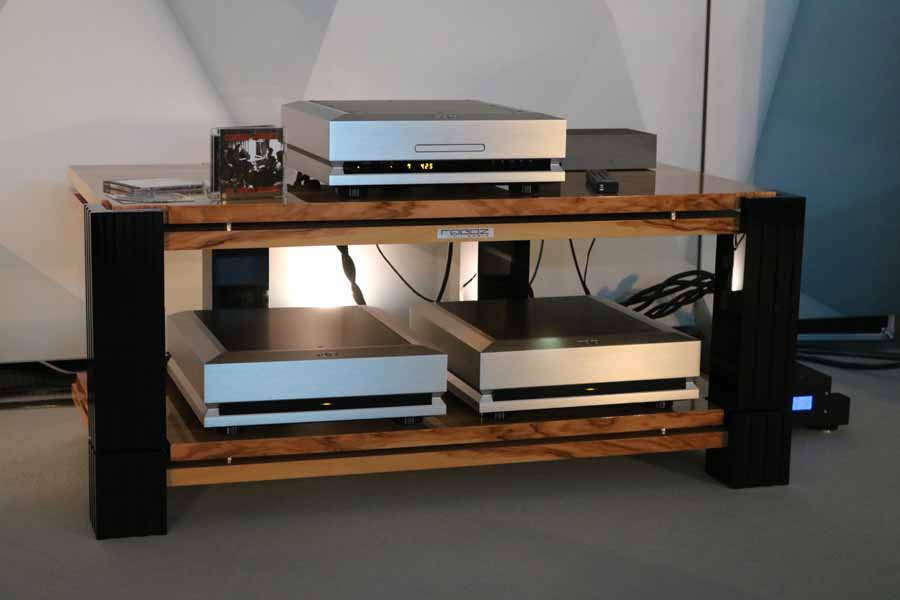 Rack is from Rogoz Audio of Poland. I've often found TAD to be a little polite in its presentation but enjoyed this set up, as I have the last few times I've heard their gear.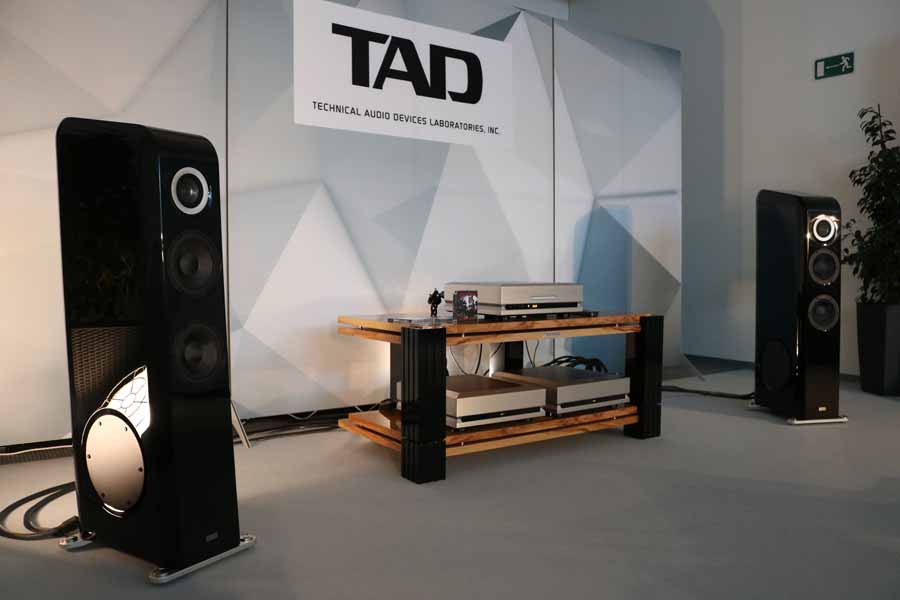 Kii Audio
This is the Kii THREE BXT System and it is stonkingly good sounding playing of all things Infected Mushroom. You get two of the Kii THREE speakers 2 x BXT modules and a Kii control that allows you to select volume, input etc. This is a DSP controlled active system that allows for input of USB, SPDIF, TOSLINK, AES and an Analogue input. So all bases are covered and it even comes with all the cables you'll be needing. Kii claim response down to 20Hz and I'm not going to argue. This is the kind of system that bridges the gap between serious high-end audio and the convenience of a, and I hate to use the term, lifestyle system – and I mean that in the very best sense. If today's dem was anything to go by this is a system I could certainly very happily live with long term. Price of admission is around the £28k mark.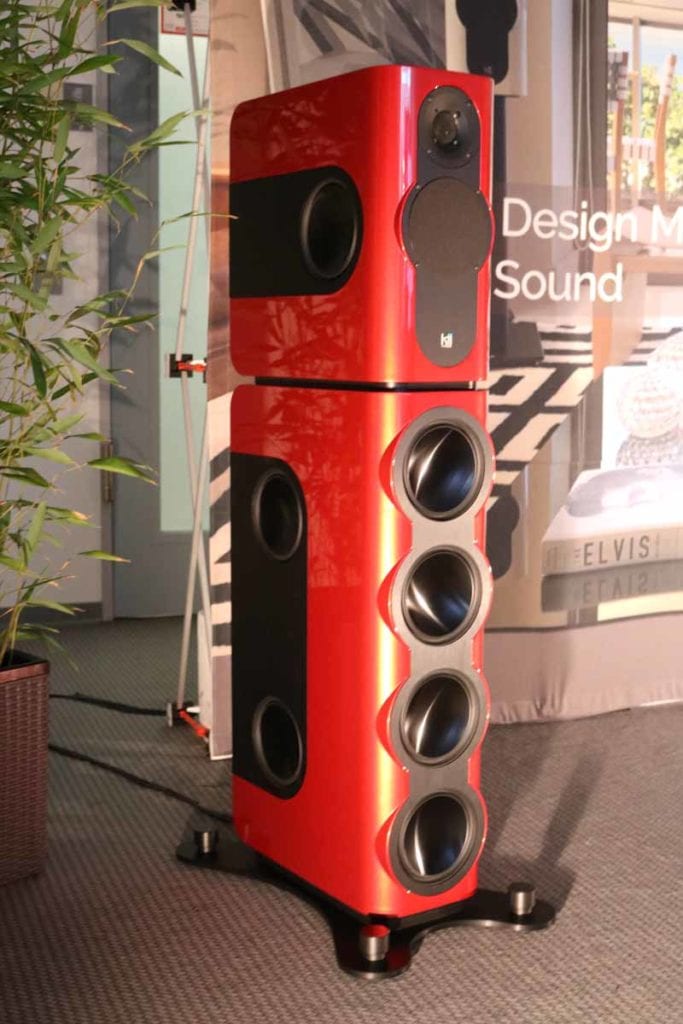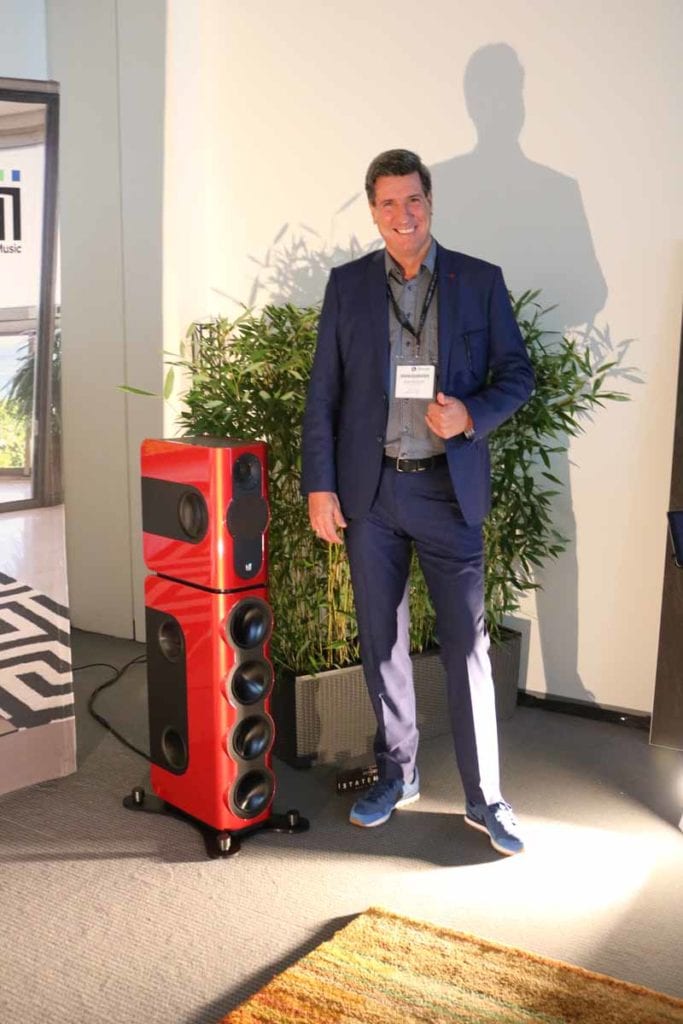 Technics
I make absolutely no apologies for my love of the Technics direct drive turntables and we've got one getting ready for review when we get back to Hifi Pig Towers when the Munich High End is over – and I'm looking forward to plugging it into the mid-priced system to see how it gets on.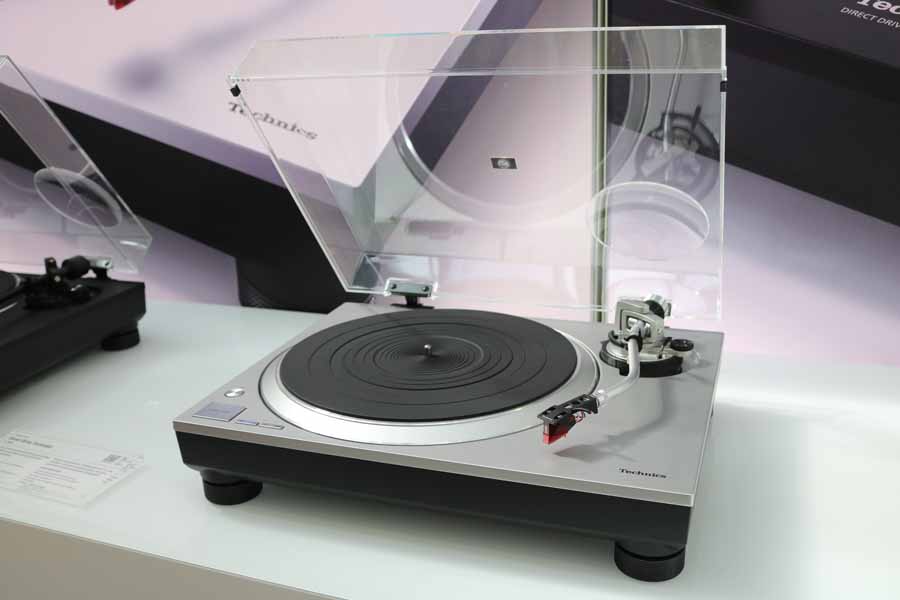 The SL 1500C was launched earlier this year and it's hailed as a Premium Class Direct Drive Turntable. It's got a built in but bypassable phonostage, which is a clever move and even comes equipped with an Ortofon Red cartridge to allow for out of the box plug and play.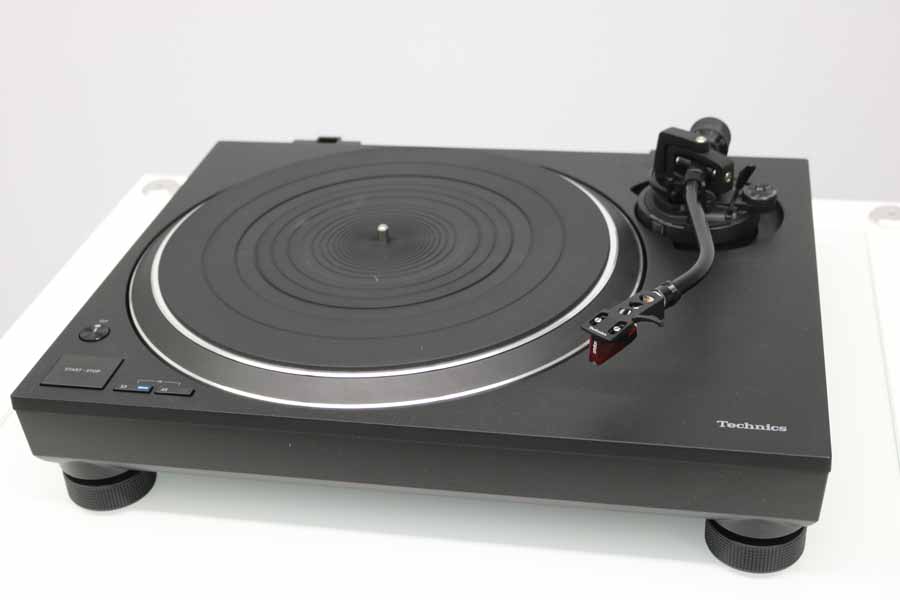 At the other end of their offering is the SL 1000R seen here with three tonearms including a tangential affair. Proper Japanese high-end loveliness!!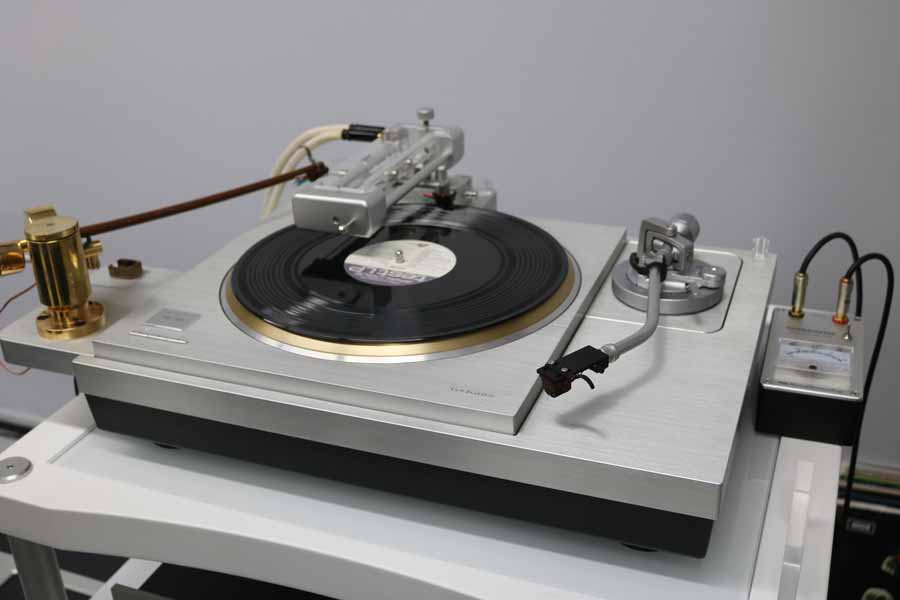 Octave
I do love a 300B tube and Octave didn't disappoint with their humungous Jubilee 300B power amplifiers that looked absolutely stunning at High end, but they also had less extreme and more affordable products on offer.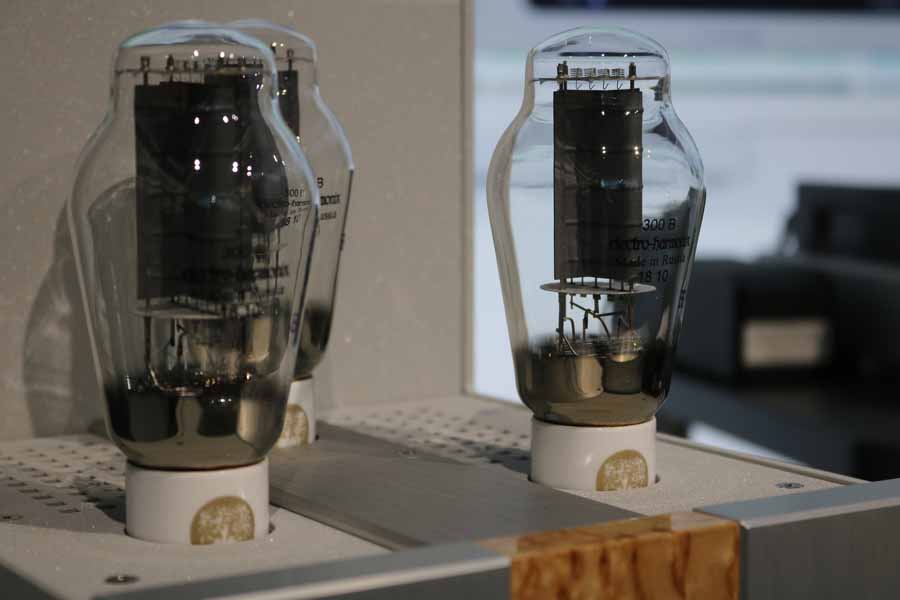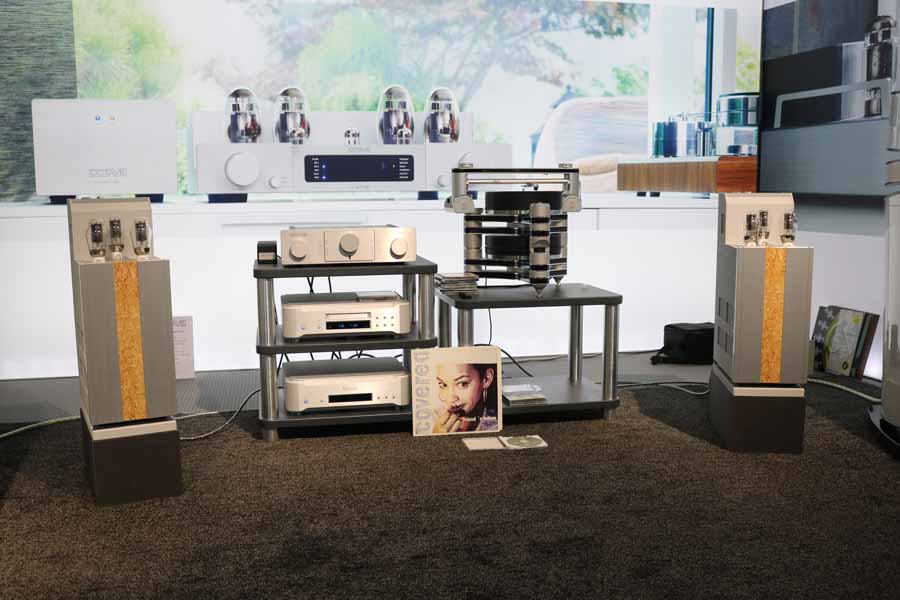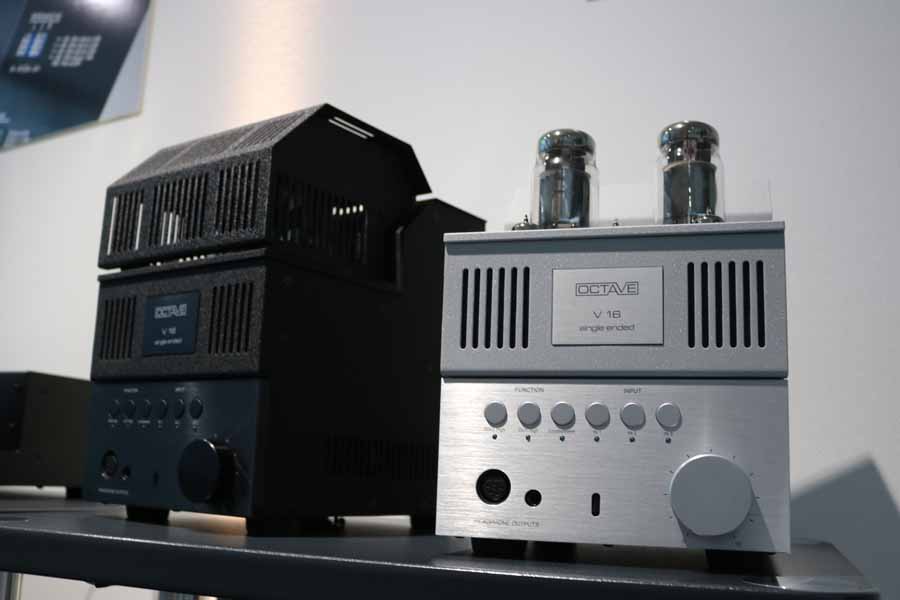 ATC
ATC has a solid studio pedigree that they also bring into the traditional home market and that heritage showed at High End. The smaller units are the SIA2-100 Integrated Amp/DAC and CD2 CD Player which launched at the Bristol Hifi show earlier this year.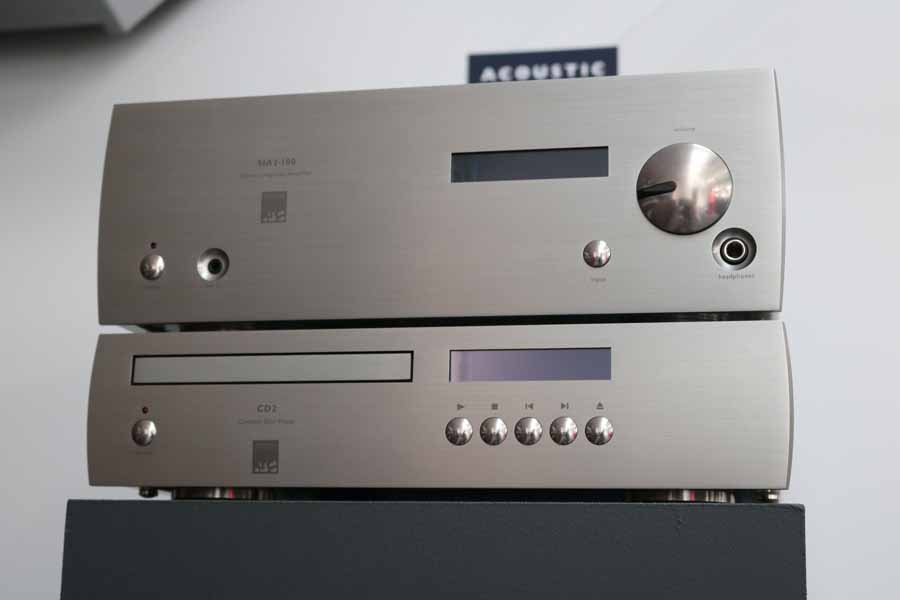 I reckon that crossover from the pro audio market to the home audio market is something we will see more of in the coming years.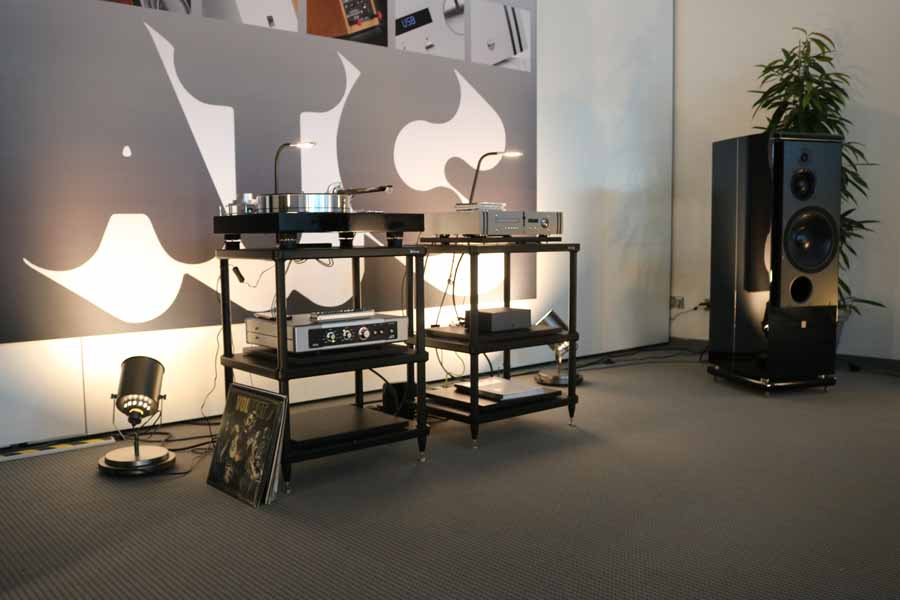 GATO and Emotiva
Gato's speakers on the day were (I hope) their FM 50s, a three-way passive design using two 6" drivers for bass in a 50L enclosure and a smaller driver for mids. I think this is a case in point of a company able to make great sounding kit that also manages to look great too, as you can see from their electronics – just different enough to set them apart without being outlandish.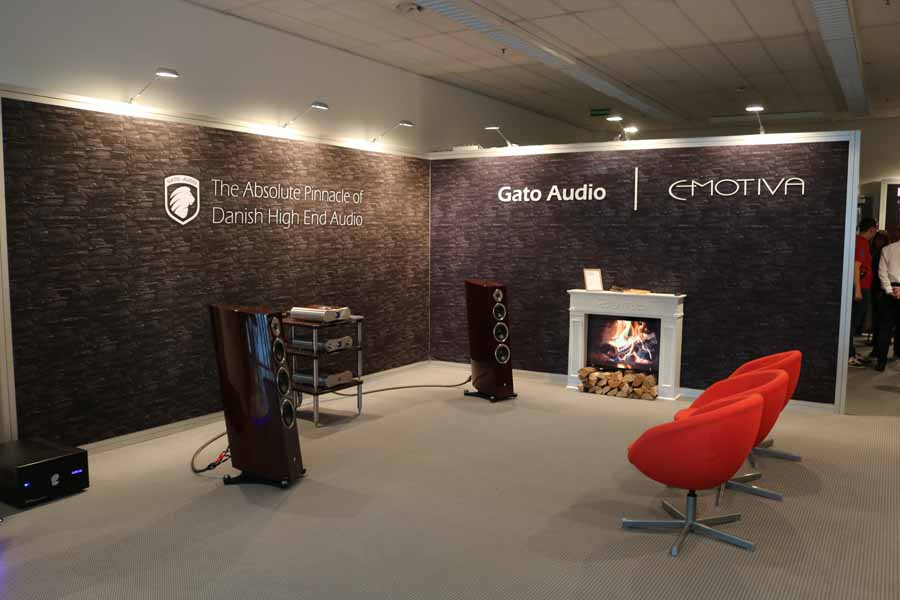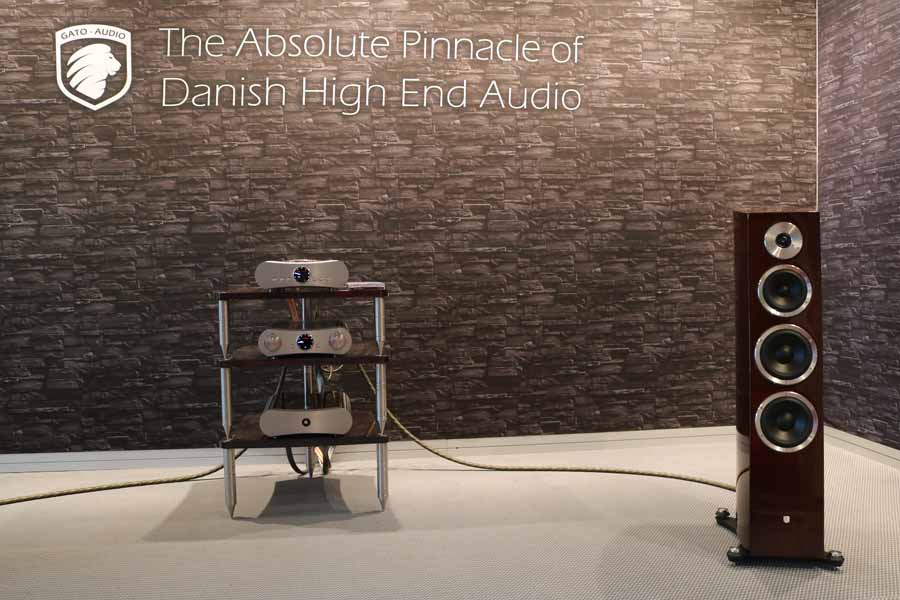 Emotiva were demonstrating a surround sound system using their RMC 1 controller and XPA amps along with multiple speakers for a truly immersive sound that had a real impact. What I often wonder is how Emotiva cram so much into their products for a relatively modest pricepoint.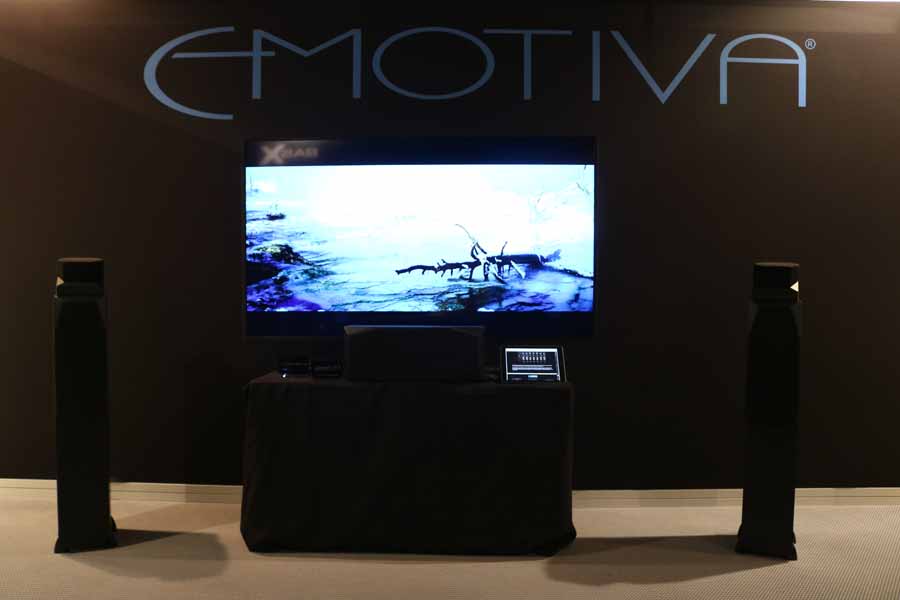 Audio Reference
Audio Reference always have the same spot at Munich High End and it's always full of high-end exotica, and this year was no exception.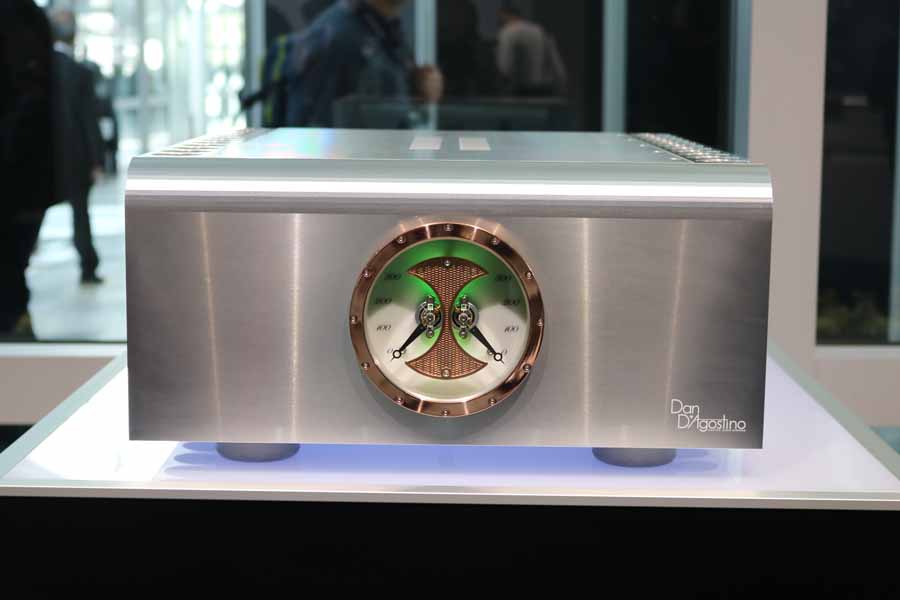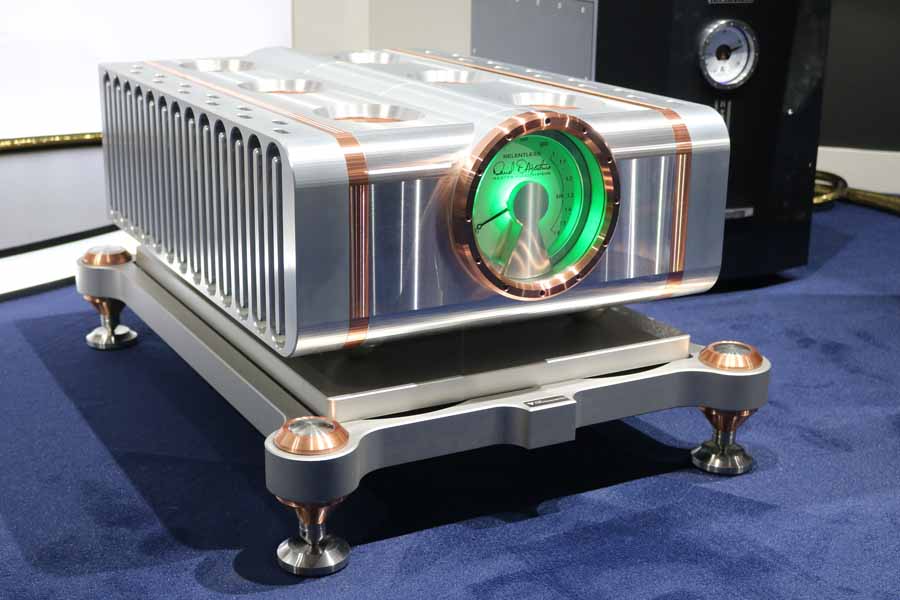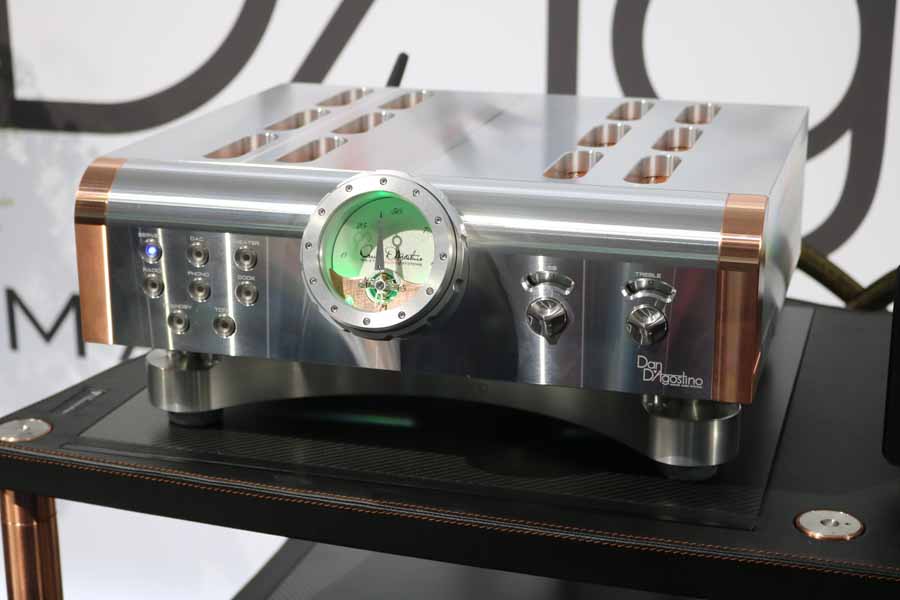 Highlights of the room were getting a chance to chat with Ricardo from Absolute Sounds, the UK high-end distributor as well as Dan D'Agostino himself. New for the show were the Progression integrated amp that I failed miserably to get a shot of in my excitement and so excuse the library pictures. Progression is a modular ampand has two single-ended inputs and three balanced inputs including a passthrough for home theatre systems. You can add a moving coil phono stage and the Progression amp offers Bluetooth remote connectivity. Another option is to add a digital module that has two SPDIF coaxial inputs, two optical, USB A and USB B plus RJ 45 inputs. You get Roon music management for Tidal, Qobuz and MQA and the DAC will handle all the usual suspects with DSD up to 4xDSD (11.2 MHz). It outputs 200W into 8Ohms and 400W into 4 Ohms. It will begin shipping late Summer in the States and will cost $18,000 for the most basic analogue model, add another $2K for the phono and a further $5K for the full-blown phono and digital version. As soon as we have UK prices we will, of course, let you know.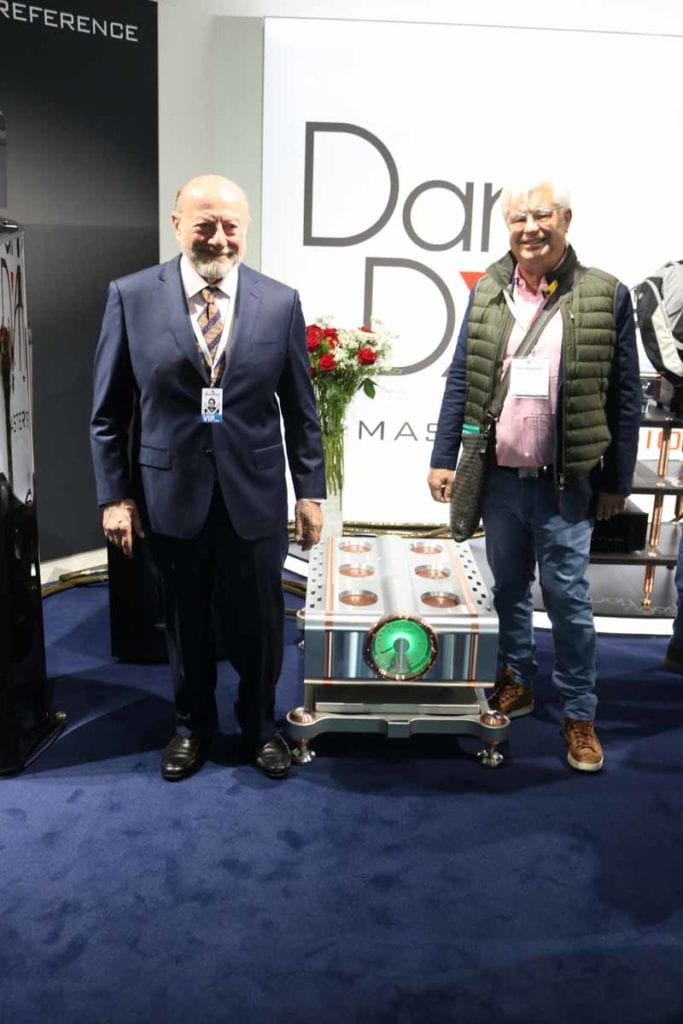 Canton
Canton was showing off their Reference 2K 3 way that uses ceramic drivers and comes in at €7200. Also on show was their Reference 5K active speakers that offer 2 x 600w of power, virtual surround sound, Bluetooth with apt-x and allow for multi-room setup.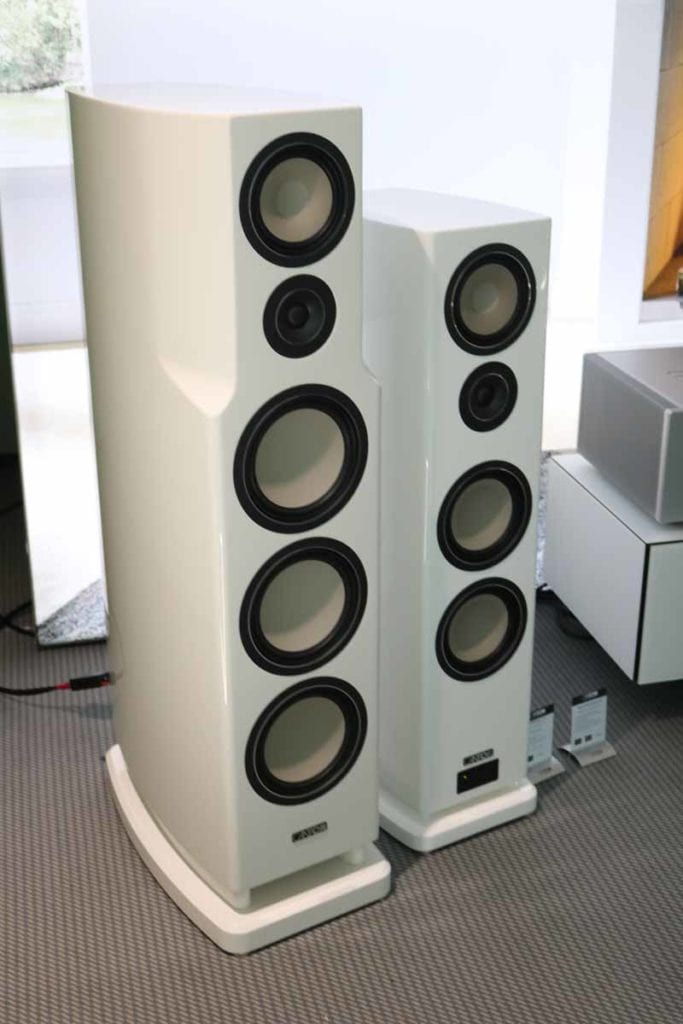 DALI
Danish brand DALI were showing off their Oberon Series of loudspeakers in this room.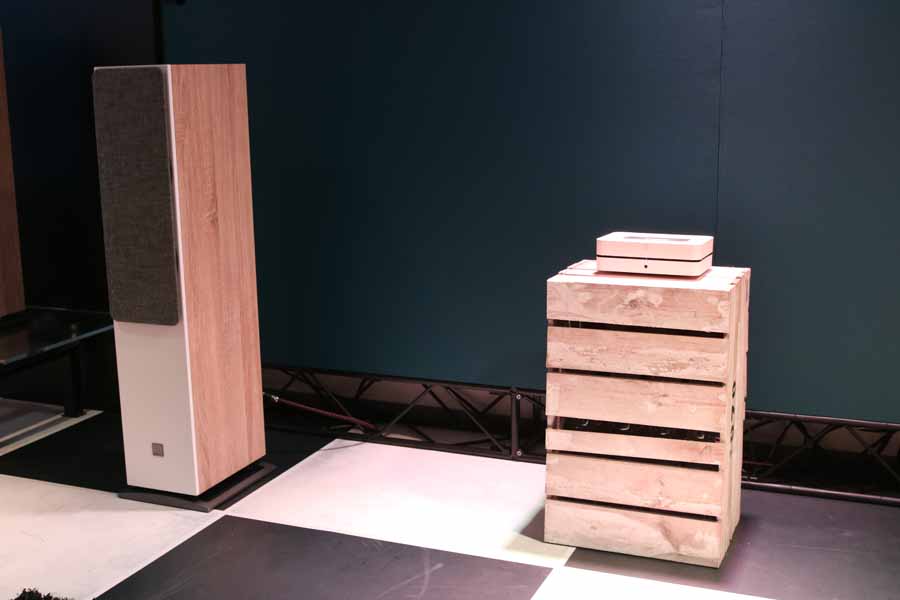 AVM
Udo Besser and his team chose High End Munich to premiere AVM's first active loudspeakers adding to the turntable which they launched at last years High end Show.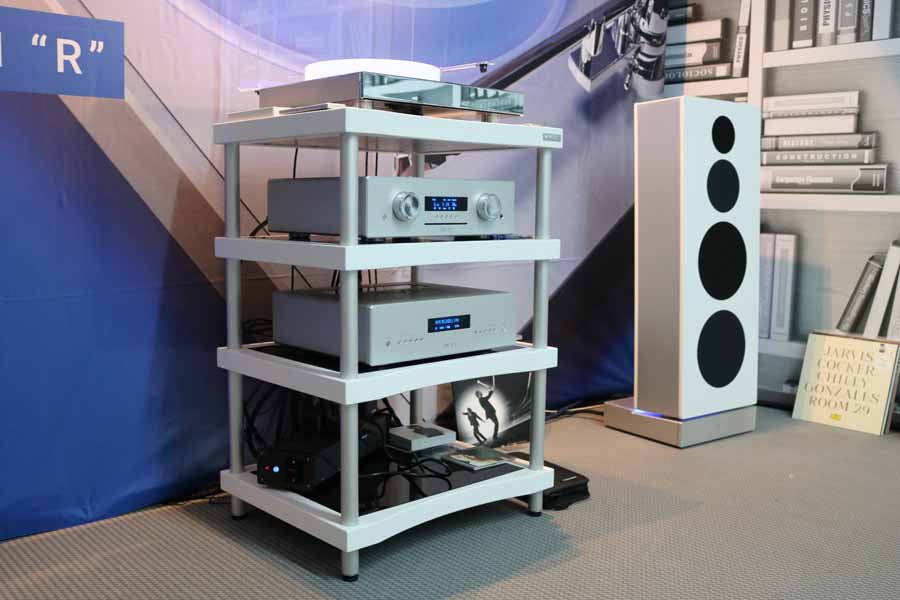 Primare and inakustik
Primare joined forces with inakustik to bring visitors to the Munich High End what was a very nice sounding system. They had the Pre35 Prisma preamplifier, DC35 Prisma CD player, R35 phonostage and A35.2 power amplifier.
The speakers are the Piega (from Switzerland) Master Line Source 3s which are stunning in the flesh standing at 165cm and using "acoustic lenses" around the back of the dipole speakers allowing for conventional room placement. Midrange and high frequencies are handled by four ribbons. The bass in these speakers is handled by two new 180mm UHQD drivers. They are 92dB sensitive and go down to a claimed 28HZ whilst weighing in at 65Kg. One of the most interesting speaker designs so far at the show.
Accuton and Bugatti
It's perhaps becoming a sad state of affairs when self-confessed car nutjob is more interested in taking pictures of the Accuton drivers than he is in the Buagatti Chiron with whom they have joined to provide the speaker system in this iconic supercar.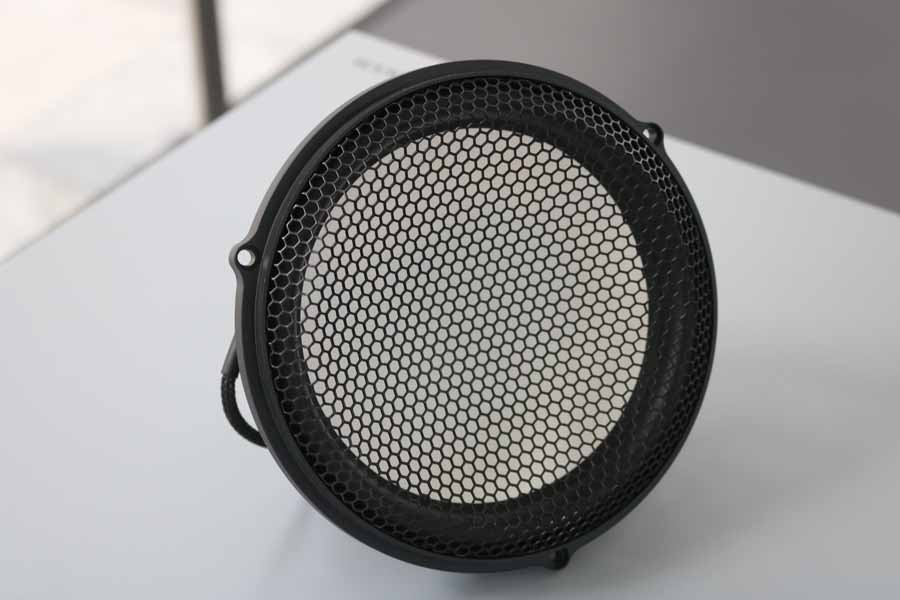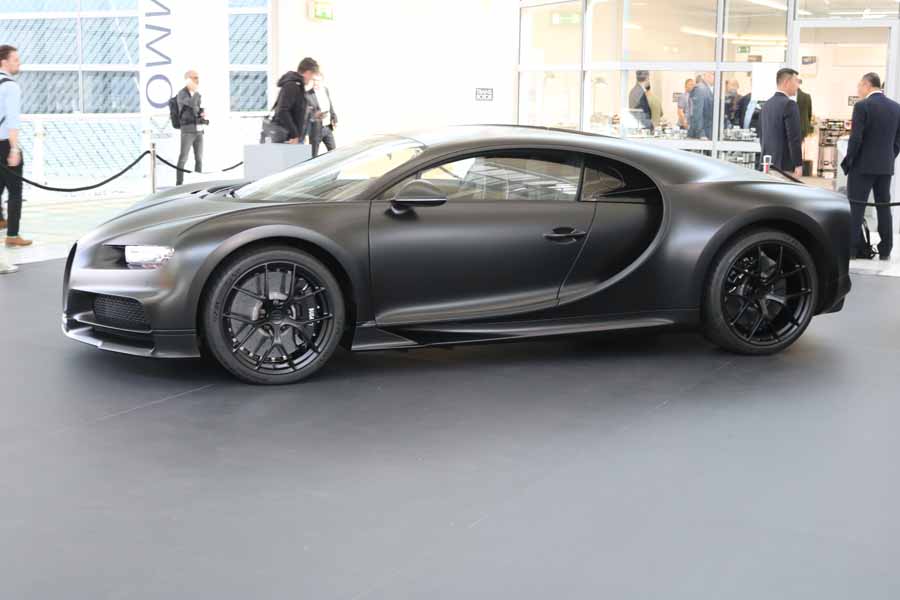 JoSound and Axjets
Joe Jouhal used Munich High End to demonstrate his newest line of speakers and we liked them a lot. Joe has eschewed a pure full range driven loudspeaker to incorporate a bass unit. The horn is Perspex and slightly elliptical. I moaned at Joe some time ago about one of his previous speakers not being particularly dynamic (particularly in the bass)  and if today's performance is anything to go by, he has certainly addressed these concerns.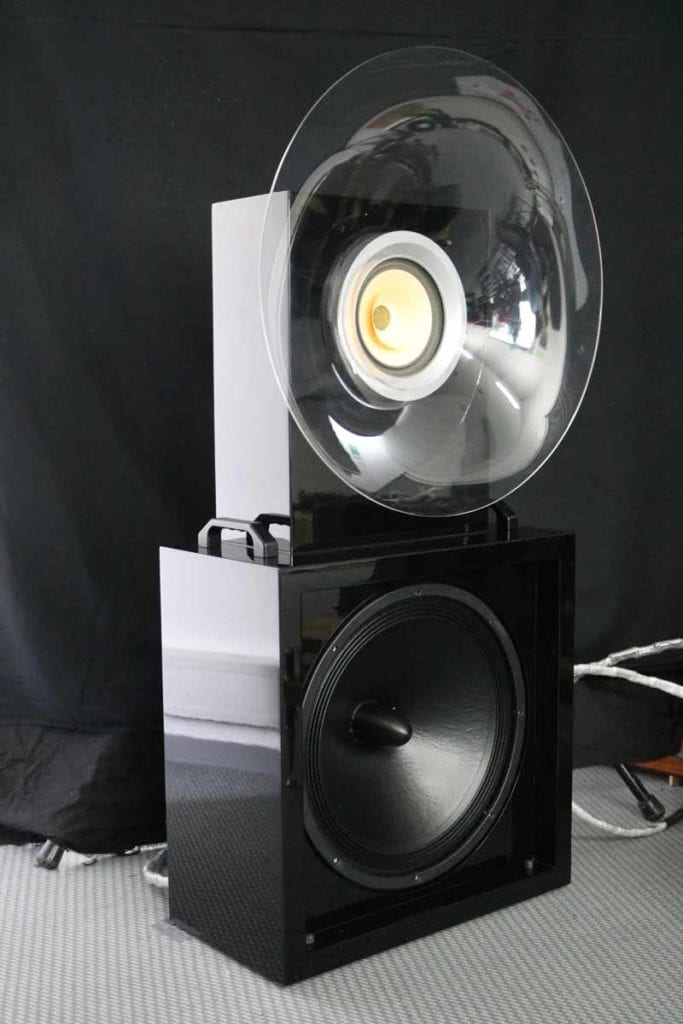 The speakers are called ecoJo YS Tribute and, Joe tells us, has been produced as a tribute to one of the audio industry's legends of the audio industry from Japan. Whilst JoSound's founder, Joe Jouhal, will not disclose his name, suffice to say that they both shared a great friendship and love of nature and music. The new model is named YS Tribute. It is a departure from JoSound's traditional cabinet material, bamboo, and instead has a 28 layer, high-gloss paint finish on ecoBoard, a material that is made from 100% recycled post-agricultural waste.. straw, which has a negative carbon footprint. The cabinet is also available, at extra cost, in JoSound's traditional bamboo or 100% recycled acrylic, in 8 different colours. It is a 2 way design, featuring an 8″ full-range driver in a sealed cabinet with an acrylic wave guide. The volume of the cabinet is such that this driver rolls of at around 100hz. Below the sealed cabinet is an H-frame featuring an 18″ woofer. The woofer is powered by it's own 250w Ncore class D amplifier from Hypex with built in DSP. A low pass filter is loaded on the DSP that matches the natural roll off of the upper sealed section.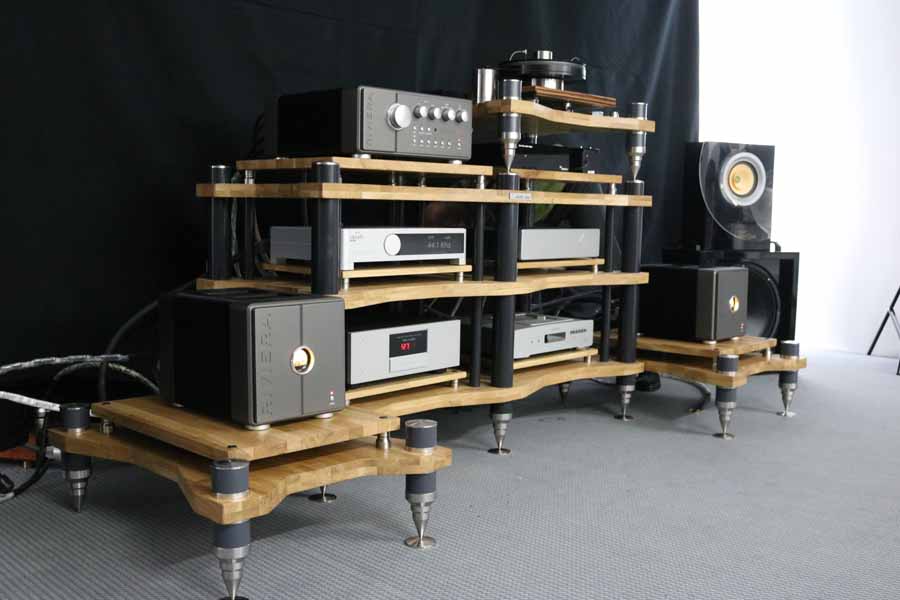 Axjets' Fred Davies showed off the AXsuperjets which are a very unusual design indeed and one that is now being distributed in the UK by Greg at G-Pont Audio. They use and AER BD4B (AX) wide-band driver and need only ten to twenty watts of power to drive them, being around 106dB sensitive. They are a 16ohm design with a response that goes down to 45Hz. Inside they use Atlas Ascent 3.5 OCC cable and Mundorf M-Connect Evo connectors.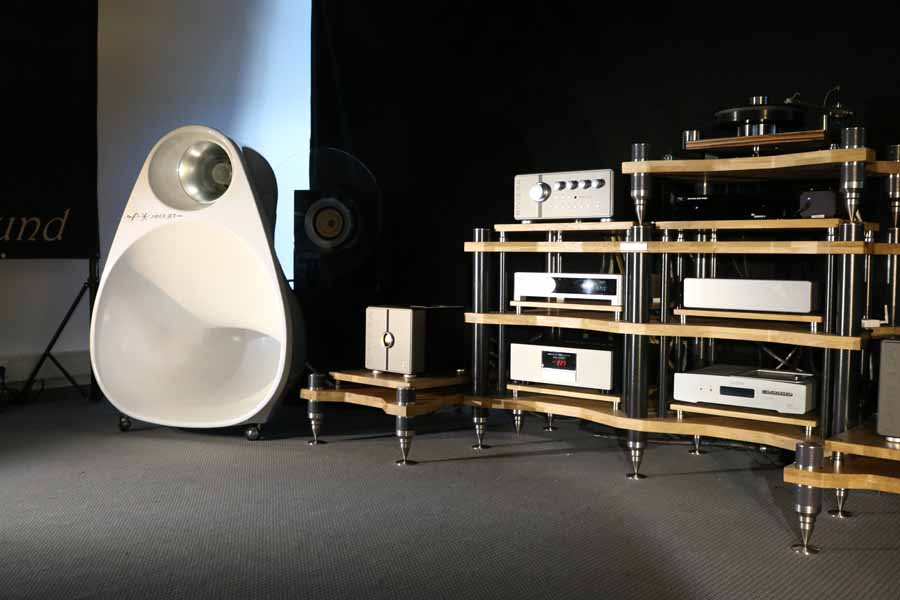 They are made of glass reinforced cement in a fibreglass shell with PU foams. Weighing in at 65Kg they come on castors, which I thought was a nice touch and they come in any RAL colour you care to request. They are £68K in the UK, which may seem to be a fair old whack but when you consider the design and the fact the drivers alone command a price of £20K it put it into perspective somewhat.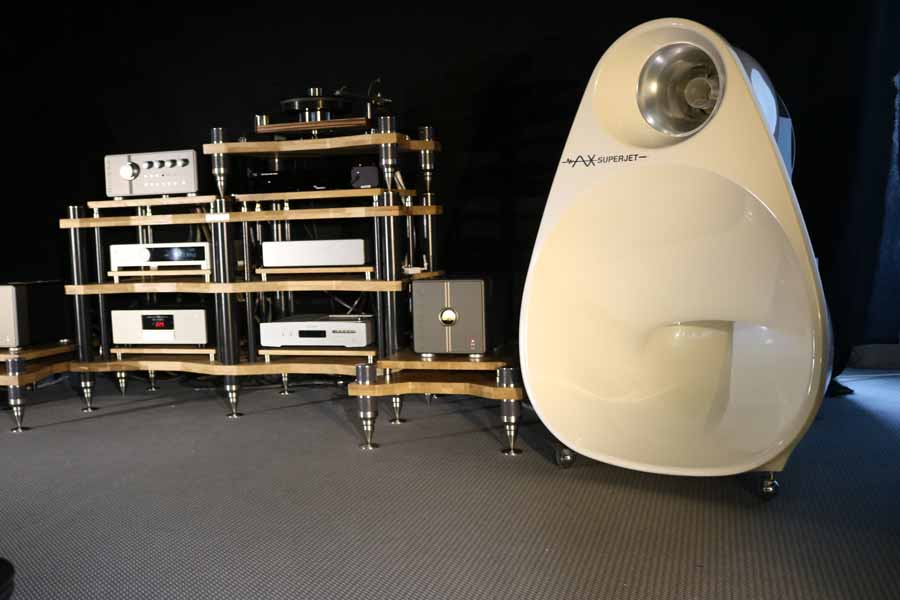 Crystal Cables and Siltech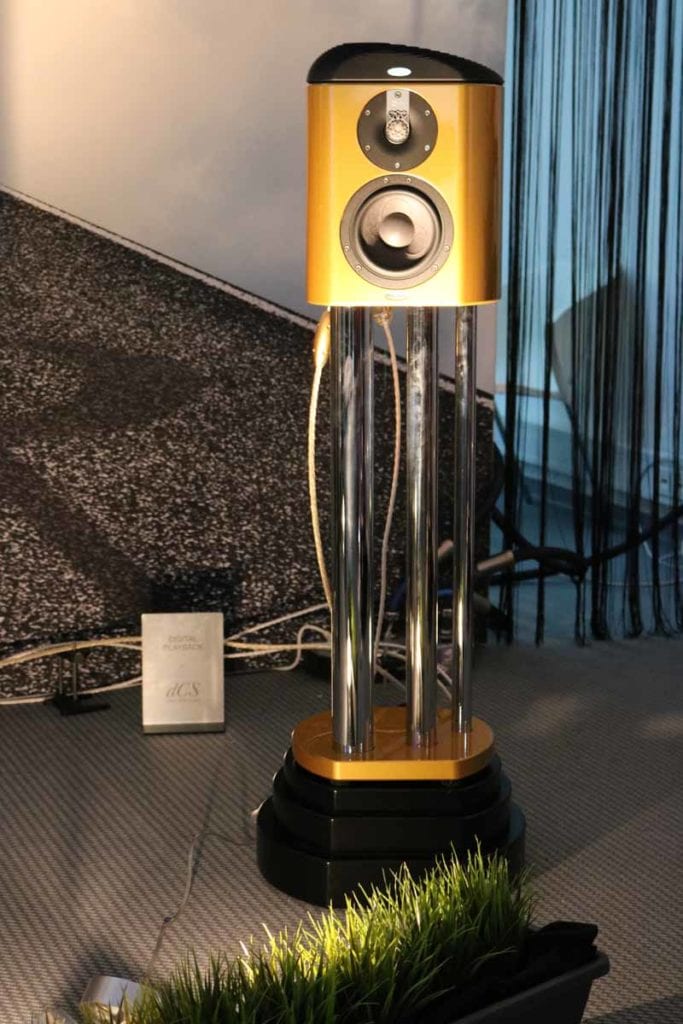 Every year I listen to the Crystal Cable Arabesque speakers and every year I'm impressed with their presentation for such a compact loudspeaker – this year was no exception. Siltech had a new speaker on show called The Symphony which I would have loved to have heard, sadly it wasn't being demoed and only to look at.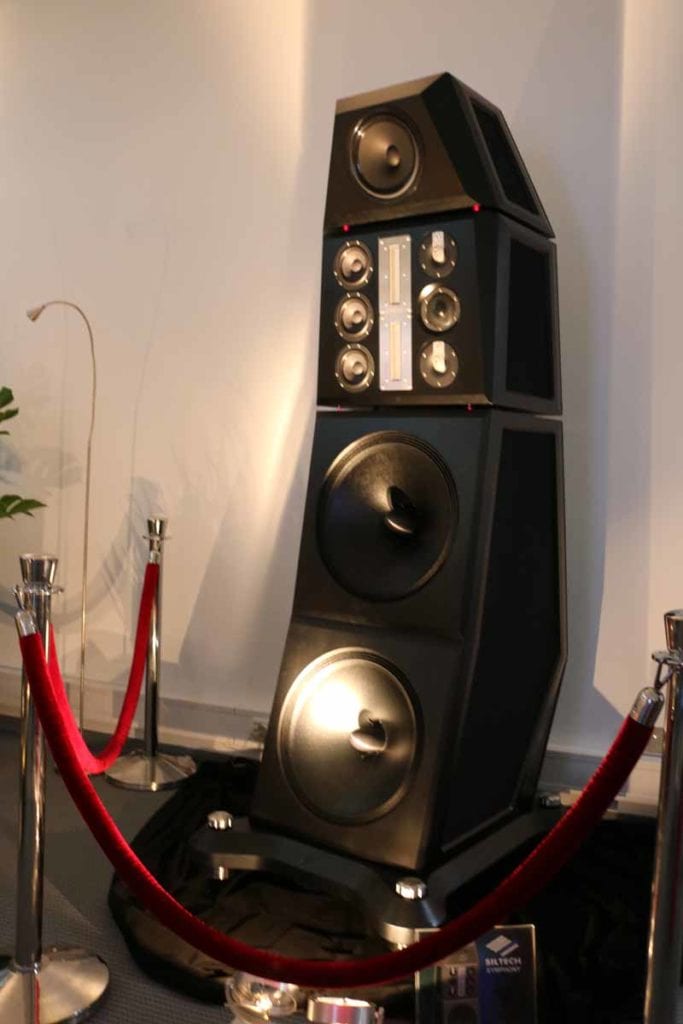 Vitus Audio
Hans-Ole Vitus was showing off his new Vitus SIA-030 integrated, that he's nicknaming the Beast. It's certainly impressive and boasts a total power output of 200 watts with the first 30 being in pure Class A.
It has two RCA inputs and three balanced XLR inputs plus a phonstage and the option to add digital by way of a DAC and streamer with USB, optical, SPDID and ethernet. Speakers on the day were Rockport Technology if memory serves me correctly and both Linette and I thoroughly enjoyed the sound in this room.
The DAC/Streamer module already known from the Rl-101 /RD-101 but has been optimized and enhanced for a Plug and Play Board. The Phonostage supports MC/MM with max gain upto 70dB (expected) with two non-balanced inputs, mm/mc support 2x RCA inputs with individual settings stored.  Vitus says the "the SIA-030 will be all you will need for a minimalistic 'uber' performing system".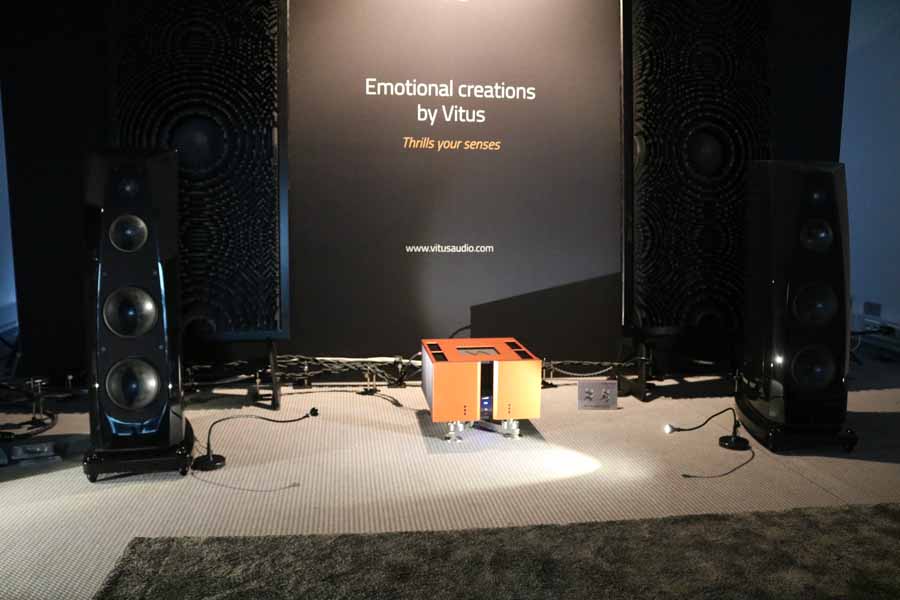 THRAX
The big news in the Thrax room this year was their Yatrus direct drive turntable.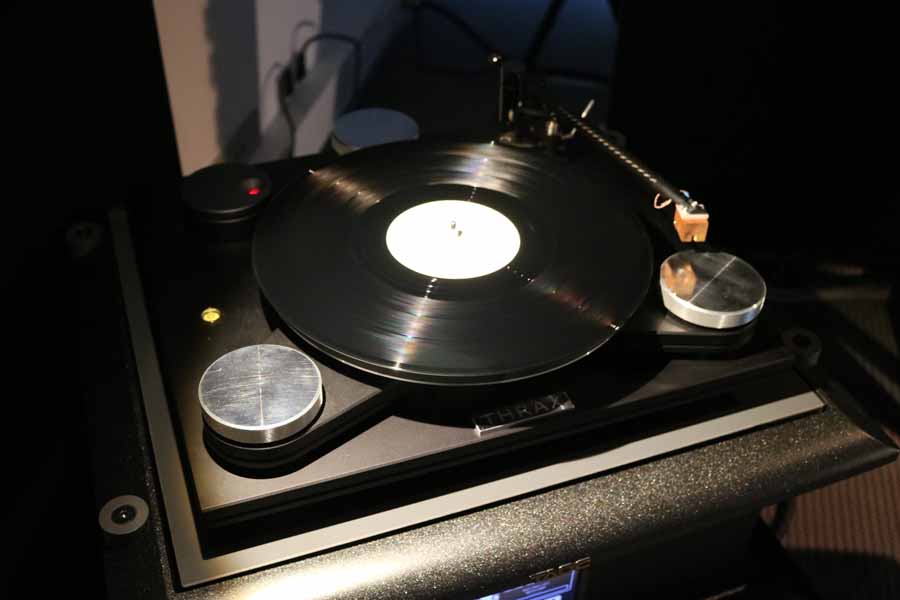 Features include a "vibration-free" direct drive brushless DC motor with integrated bearing and being direct drive you can expect it to be incredibly stable with regards to sped control. You get a multi-layered platter with special damping, a low resonance and adjustable suspension for isolation and the whole caboodle comes in anodised aluminium with "constrained layer" damping. It offers speeds of 33, 45 and 78 RPM. Ut weighs 24Kg but manages to look sleek and elegant.
Raidho/Scansonic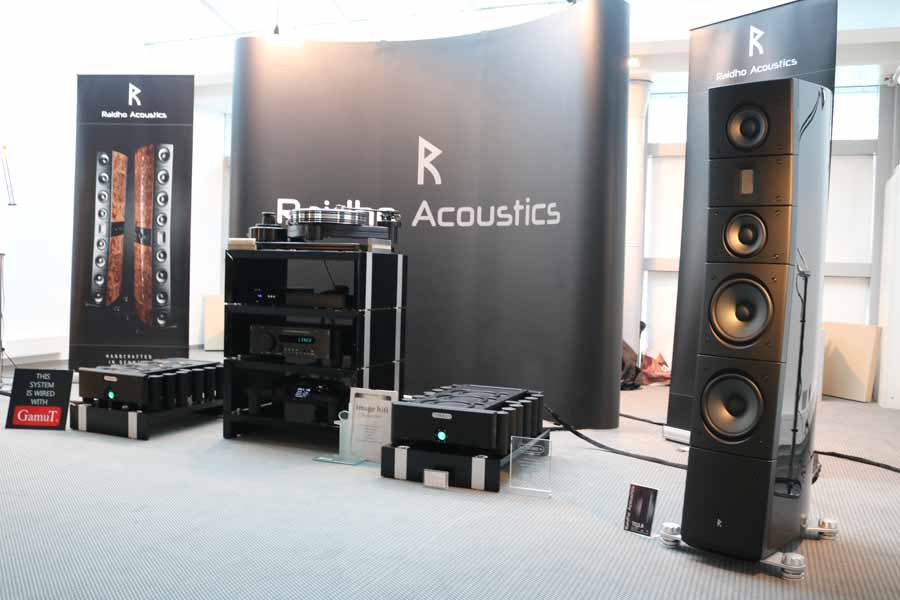 Quite simply put this room was stunning. Front end was all Chord Electronics whilst making their debut was Raidho's TD3.8 loudspeakers. By Raidho's own admission the TD3.8 is an absolute beast and has been a dream-project for the whole team under the watchful eye of chief designer, Benno Baun Meldgaard.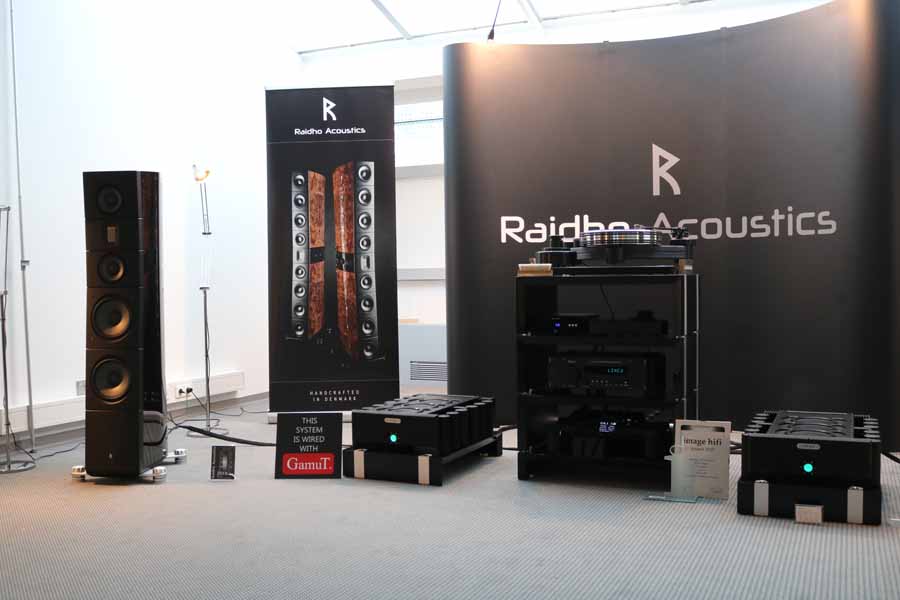 The TD3.8 is a completely new design but with the signature Raidho-look. This is the first time Raidho has produced a midsized floorstanding speaker with big drivers, implementing their new patent pending driver design in a new 8" woofer in a dual configuration and used in conjunction with two new 5" midranges sharing the same, new driver design.
Both midranges and woofers have the new TD-cones (Tantalum/ Diamond), a 5-layer design with higher inner damping and increased stiffness with a new magnet system, new proprietary edge-wound voicecoils and a motor system with more than 1.1 tesla. The tweeter is also a new and upgraded design.
Speed, detail and pace are the order of the day here. Price is 89K and more in walnut but this is a seriously good sounding loudspeaker.
Speakers to the side are the TD 4.8s.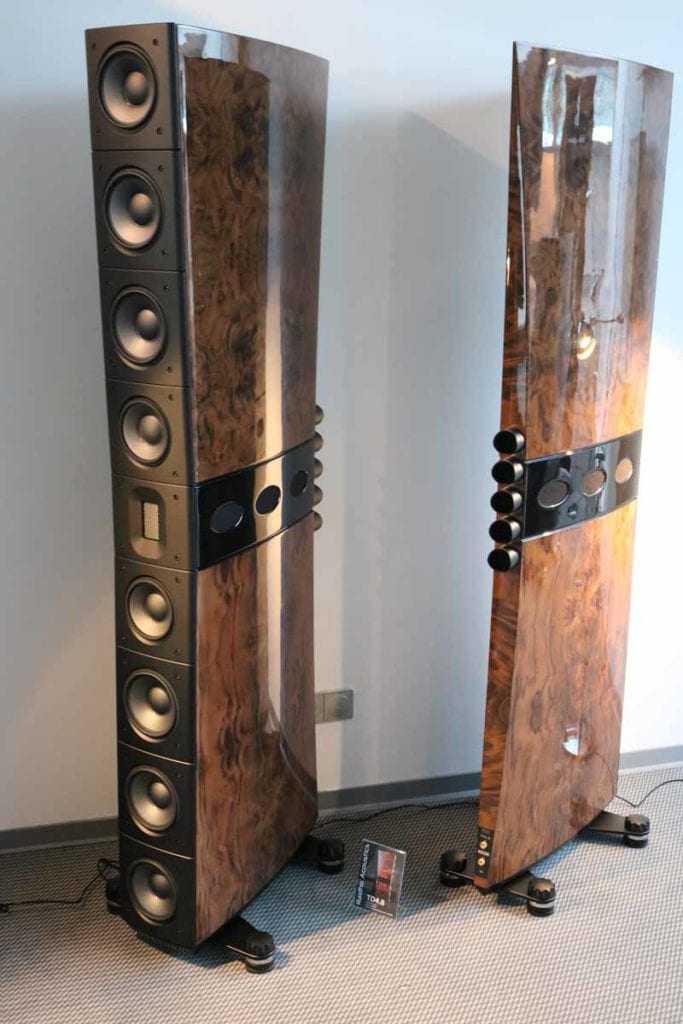 Joseph Audio and Alluxity
Was really looking forward to this room and it didn't disappoint.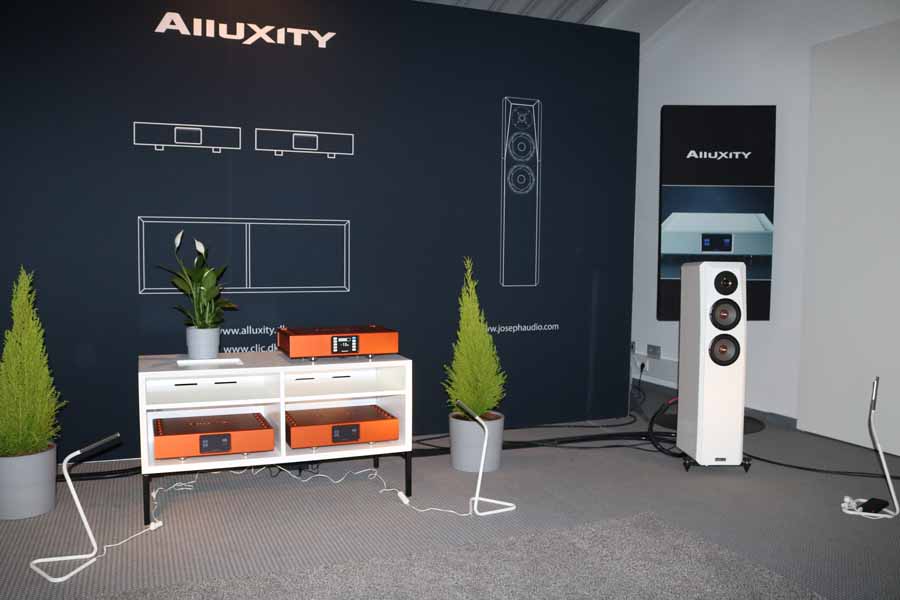 Making their European debut from Joseph Audio were the Perspective2 Graphene. We read that people had raved about this speaker at Axpona and were keen to hear it in the flesh as the magnesium woofers are now coated in Graphene. Specs for those interested are 8 ohms nominal, 5.5 ohms minimum, and they have an asymmetrical Infinite Slope Crossover at 2 kHz (Joseph saying that "The steep filter slopes ensure good acoustical behaviour in the crossover regions, with a minimum of acoustical interference, along with low distortion and wide dynamic range. Driver acoustic responses are in-phase throughout the crossover regions."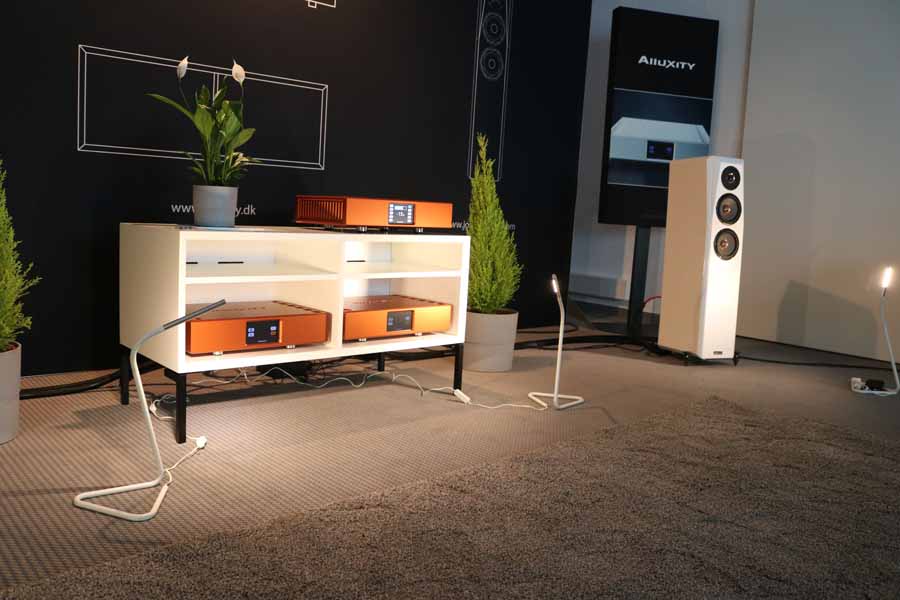 Alluxity from Denmark had their Media One server plus pre and power One. Now, I know there is a group of audiophiles out there that believe "real" hifi can only be declared as such if it has been battered with the ugly stick but Alluxity have managed to combine a lifestyle look with high-end performance and I for one don't see why this should not be the norm rather than the exception.
Weiss and PSI Audio
Weiss was demonstrating their DAC 502 digital to analogue converter with up to 384kHz/24 bit, DSD and having USB, SPDIF, AES/EBU and UPnP inputs. It also has onboard DSP for room equalisation and the ability to maintain a constant volume, vinyl simulation and spatial processing. There are also discrete Class A line and headphone outputs.
PSI Audio from Switzerland is a well-known name in monitors for the professional studio environment and the Heritage 3 is their first foray into the home market – this was the debut for the loudspeaker. It's an active floorstanding speaker three-way design that is DSP free. The enclosure features 45 degree angles to reduce secondary emissions and achieve a flat response. The three drivers are made up of a 10" woofer, 5.8" mid-range driver and a 1" tweeter that is entirely handmade. The woofer gets a healthy 170 Watts, the mid 80w and the tweeter 50w allowing for a continuous SPL of 109dB. It will go from 28Hz to 23Khz at 1dB tolerance which is very impressive! Also in the room was an active bass trap.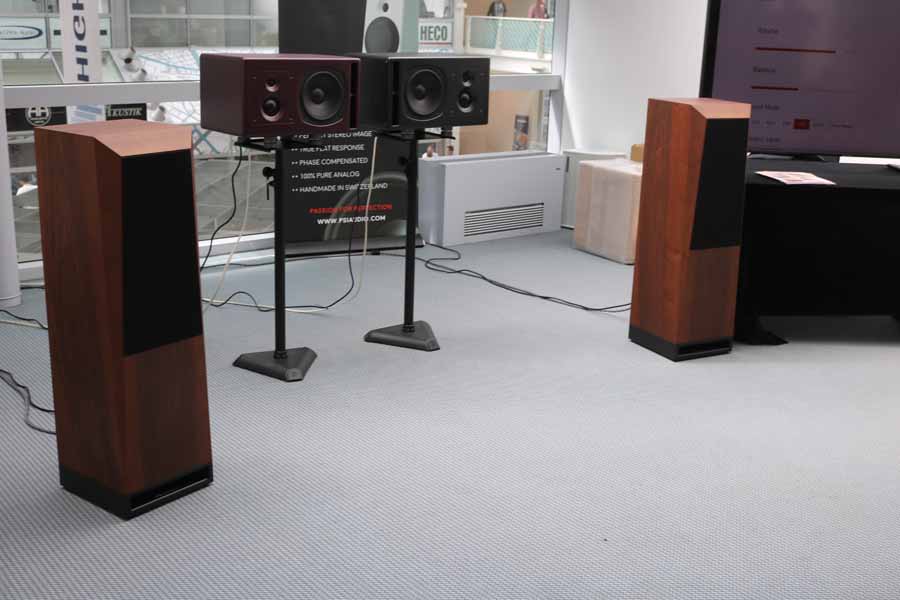 Stuart Smith