Welcome to the fourth report of Hifi Pig's coverage of this years Munich High End show. High End Munich is huge but we do try to bring our readers as much of the show as we possibly can so please do enjoy this instalment of Hifi Pig's coverage, safe in the knowledge there is more to come. This report contains details from: Grimm Audio, MSB Technology, Ascendo, Luxman and Isotek, VAC, Von Schwekert Audio, Masterbuilt Audio, Airtight, Esoteric, Artesania Audio and Acoustic Signature, Boenicke, IsoAcoustic, dCS, Dan D'Agostino and Wilson Audio, EgglestonWorks, Doshi, Way Cables and Pre Audio Turntables, Manger, Scheu, ZenSati and SPL, Zellaton and YS Sound, Engstrom, CAD, Bibacord, Verity and Franc Audio Accessories, Digitale Audio Systeme, Weiner Lautsprecher Manufaktur and Way Cables, Vivid Audio, CH Precision, Tech DAS, AGS and Artesania Audio, Totem Acoustics, Portento Audio, NAIM and Focal, Audio Solutions, Audio Hungary, EERA and PPFFF, SPEC and Leben and finally Line Magnetic and Supravox. 
Grimm Audio
Grimm are an interesting brand and they have interesting speakers that I first happened across at one of the Paris shows a good few years back. They are Dutch based and offer products to the pro world of audio as well as the home Hifi market. Their product range includes cables, loudspeakers, music players and master clocks.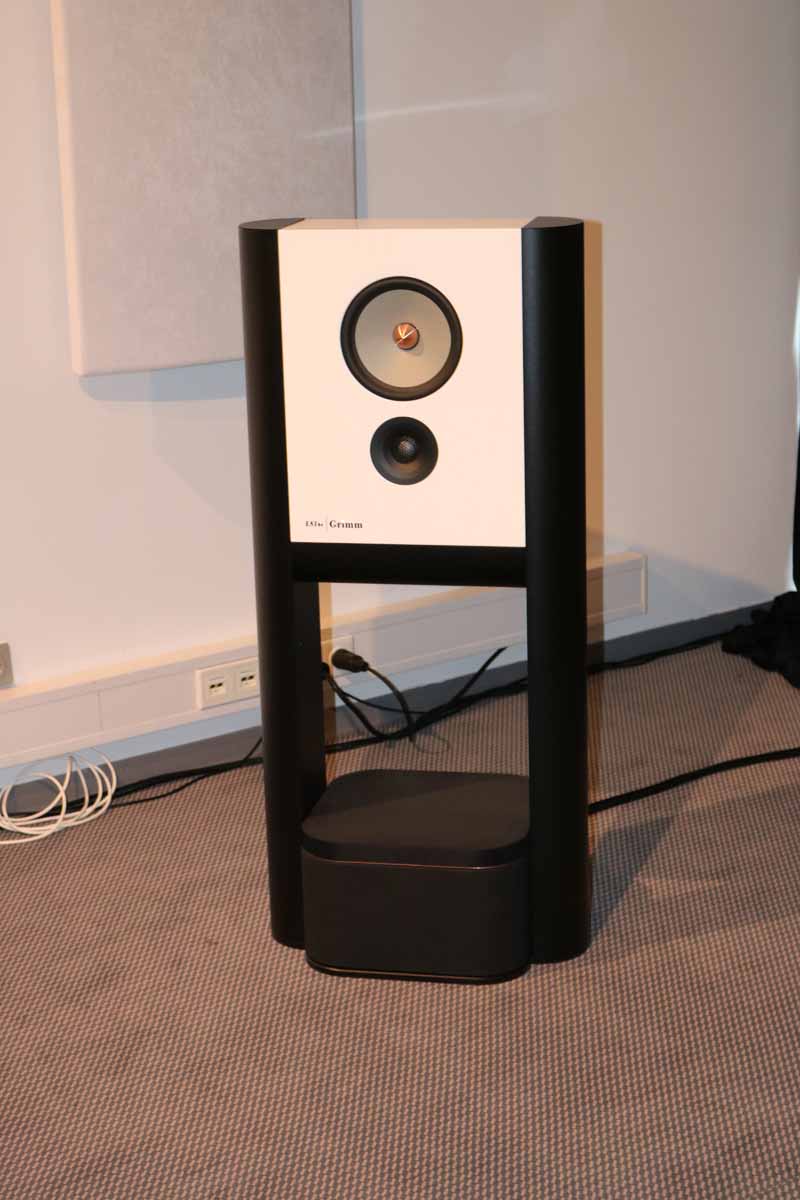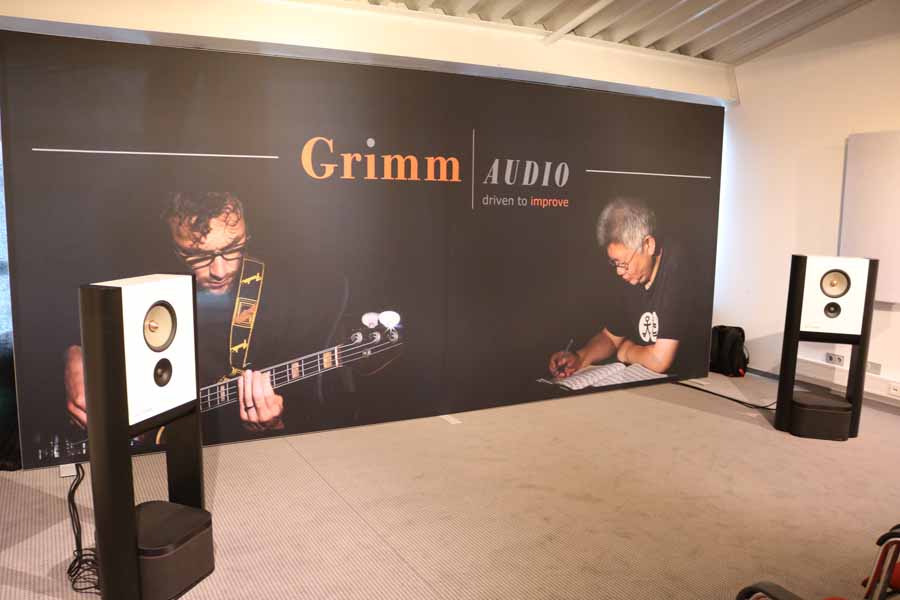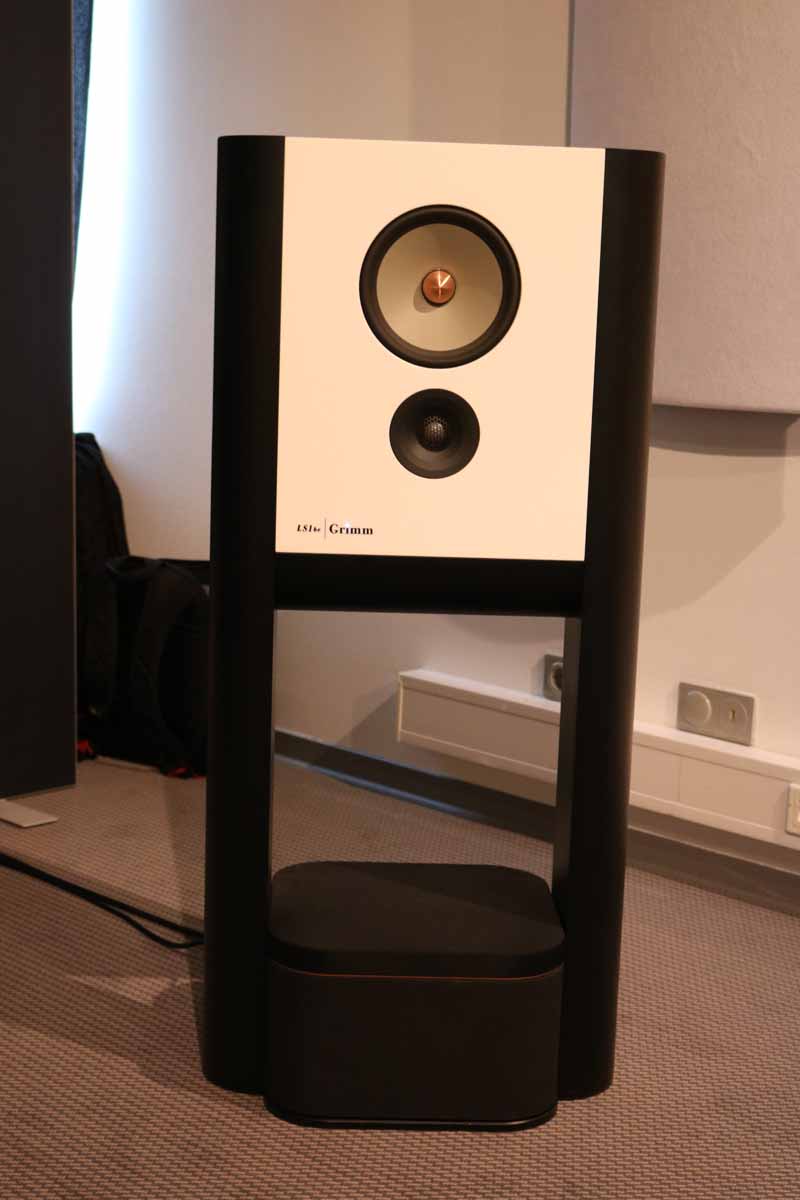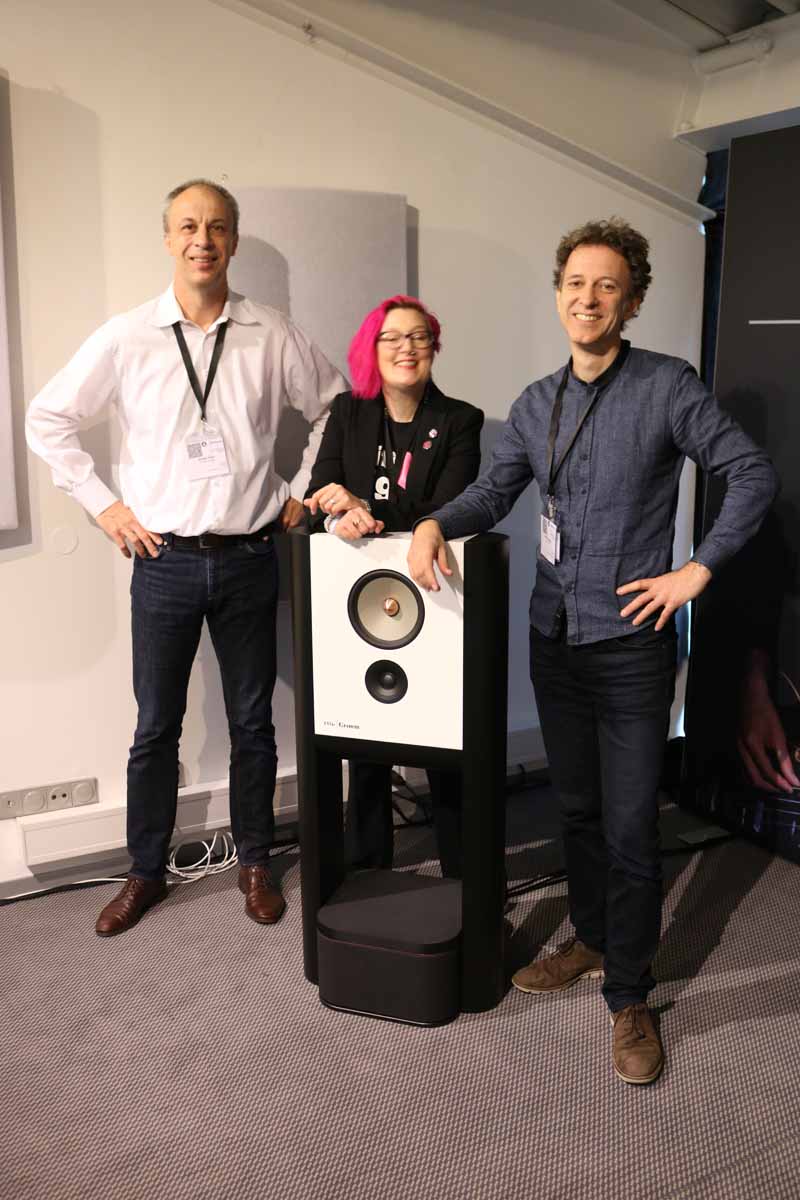 Speakers in use at Munich High End were the company's flagship in the form of their LS1be that uses a wide dispersion Berylllium tweeter and a seas Magnesium woofer. What is interesting is that the LS1be, like all the LS1 range from the company, is pretty much plug and play – you just need to add a source. You get DSP control, DAC, amps and obviously the transducers so all you need to add is a record player, CD transport, media player or a computer. Simples. Price of entry is €23 750.
I asked about the severe toe-in that Grimm always use when demonstrating at shows and the response was the same that Ken Ishiwata of Marantz gave when we asked him about the toe in he uses at shows and that is to allow the maximum width of the sweet spot.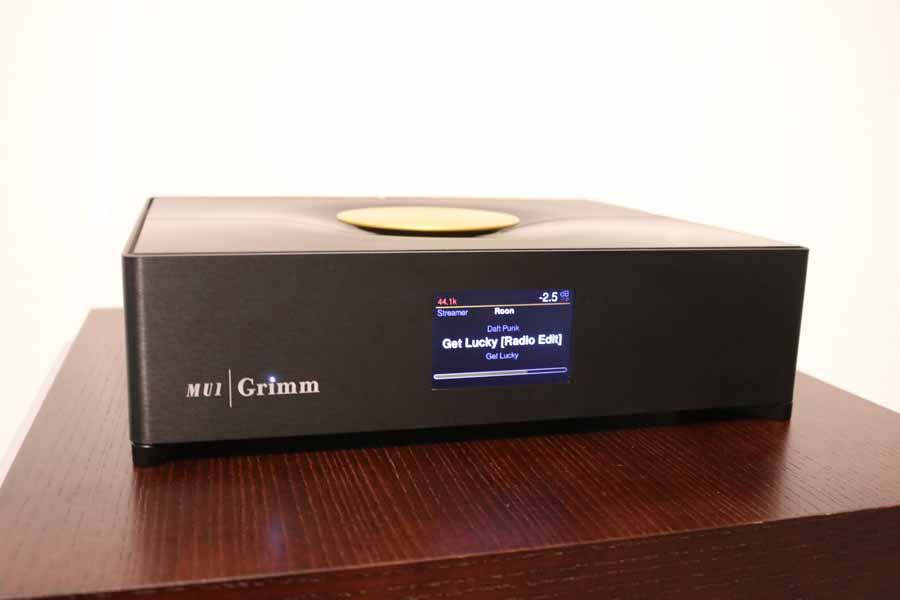 I've always enjoyed the sound the Grimm speakers offer at shows and that was true at Munich High End too. We'd love to get a pair of these in for review at some point in the near future as this all in one solution concept is something we've been banging about for ages.
MSB Technology
MSB is based in Silicon Valley in California and everything in the room bar the loudspeakers were MSB products.
The amps on the floor are the company's own M500s which give out a healthy 500 Watts of power into 8 Ohms and double that into 4 Ohms and cost $118 500 a pair. A stereo S500 amp is available at $58 500. Also used in the room was the Pro USB interface that converts USB to MSB's proprietary Pro ISL interface to full electrical isolation – essentially you can use this to remove computers, servers and noisy electronics out of your system.
Pictured are Frank Vermeylen the European sales manager and Vince Galbo who heads up sales in North America and on the right, we have Daniel Gullman who is the product designer.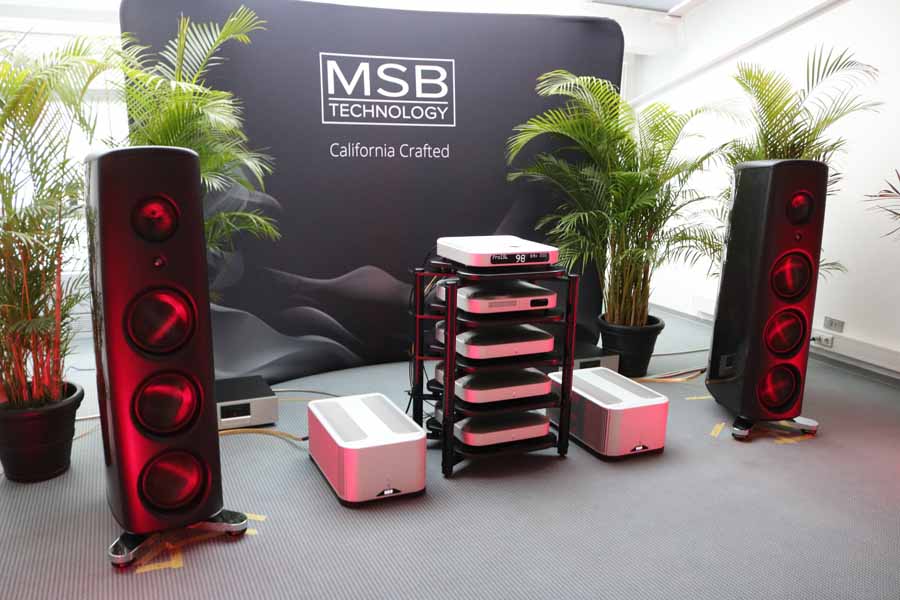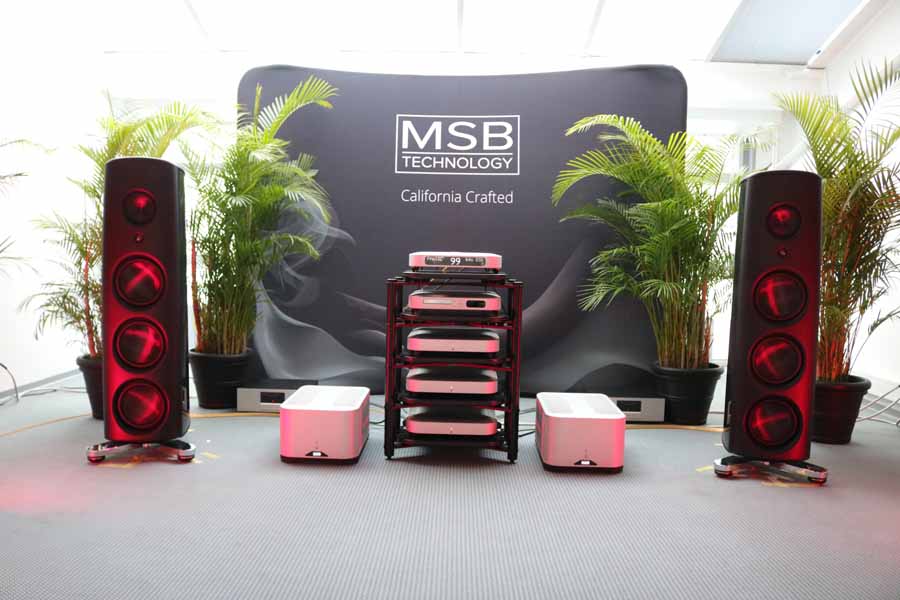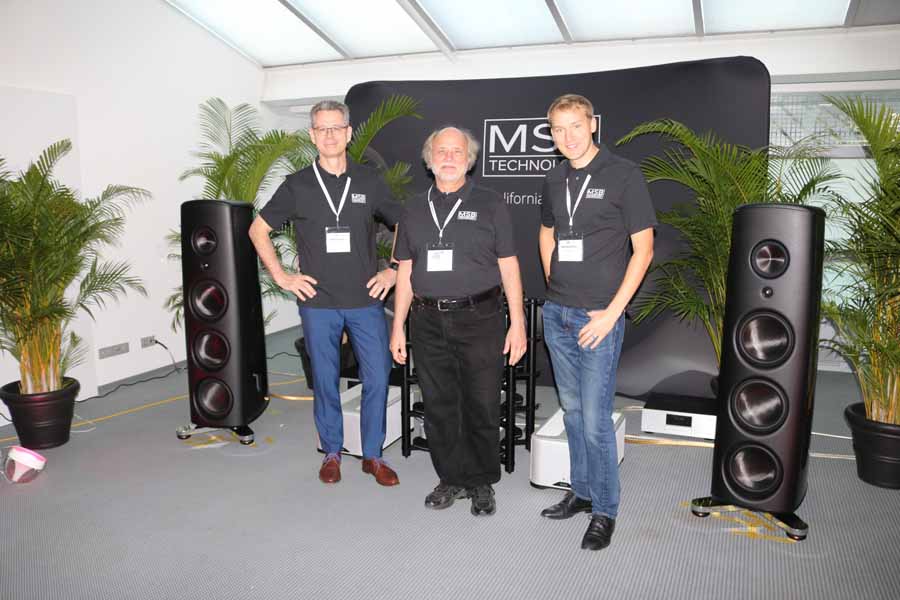 When asked what we'd like to hear I noticed they had Wild World by Cat Stevens on their server and so asked them to play that. It's a great tune that I play only seldomly so it was great to hear it in through such a fabulous system – I must confess it brought a tear to my eye. This is the thing with truly wonderful systems; the technology should just do its stuff without getting in the way of the music and allow the listener to connect emotionally with the art. Loudspeakers are the Magico M6.
One of the highlights of the show for me.
Ascendo, Luxman and Isotek
Ascendo are a new brand to me but are based in Germany and make a wide range of passive and active loudspeakers. Luxman, on the other hand, needs no introduction as they have been around for longer than I have been buying Hifi.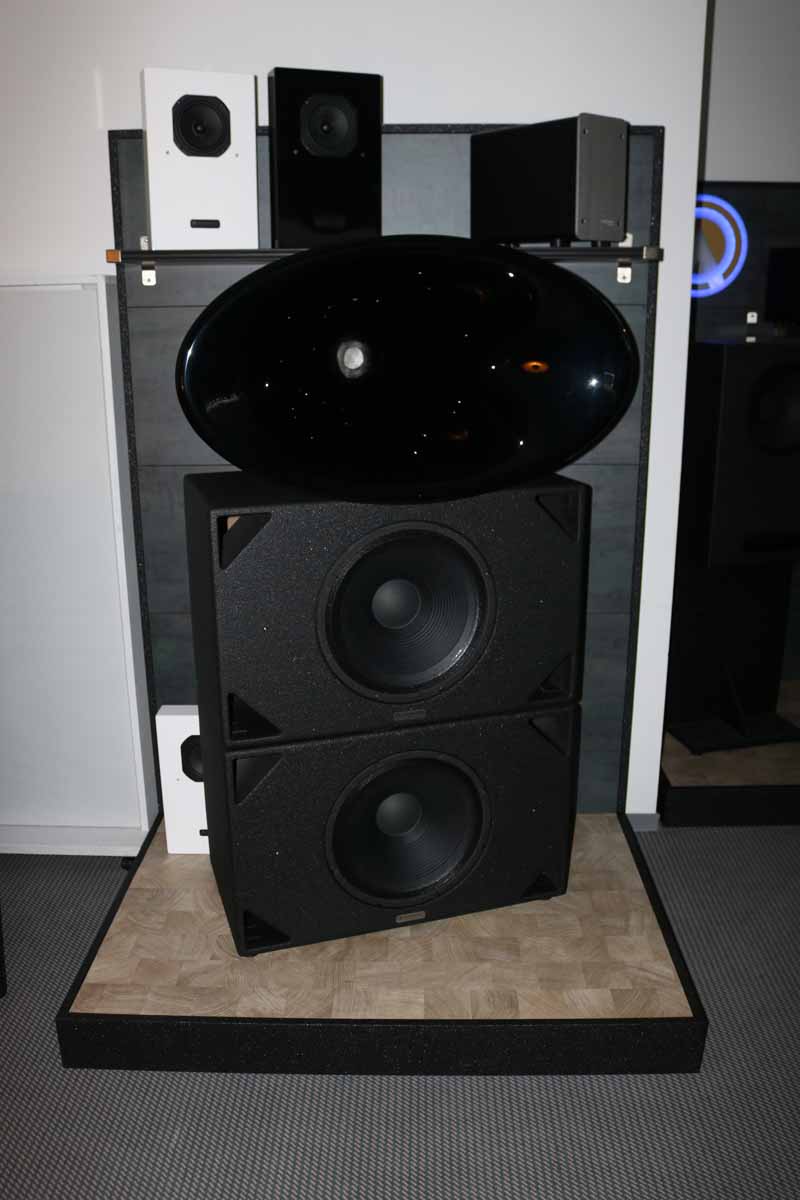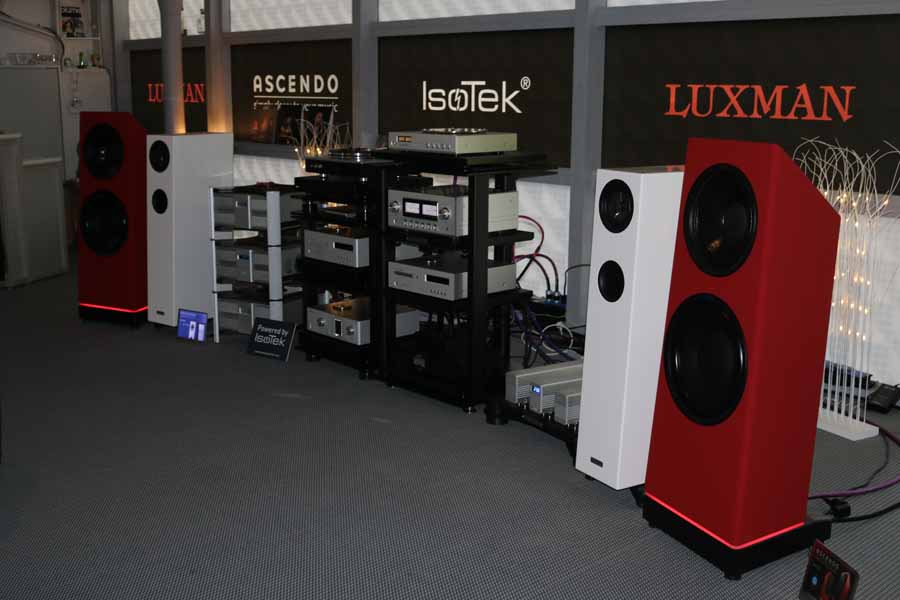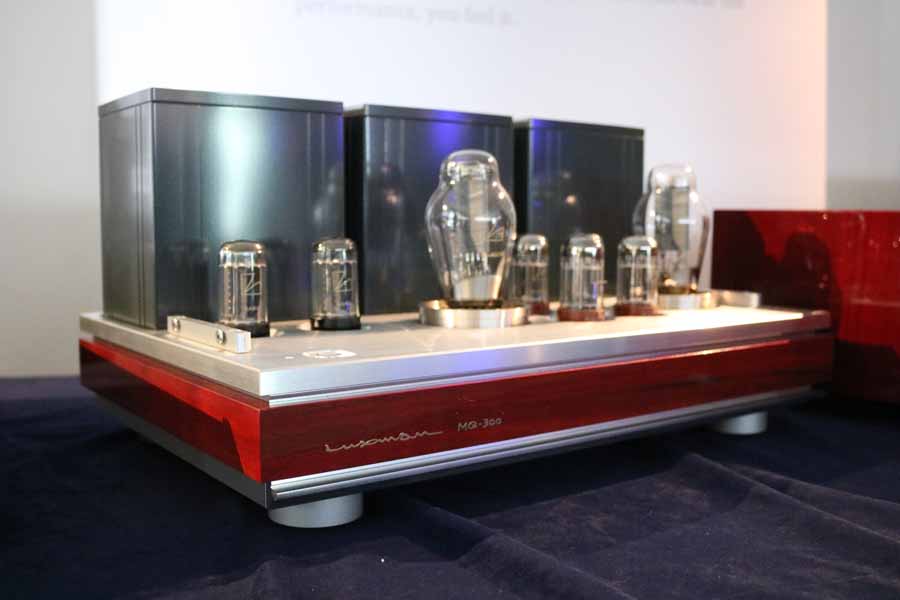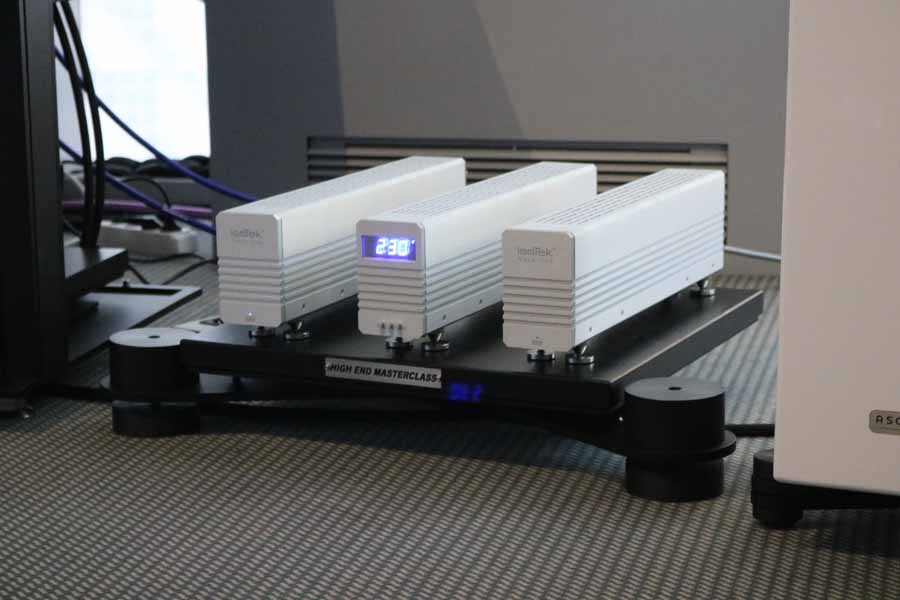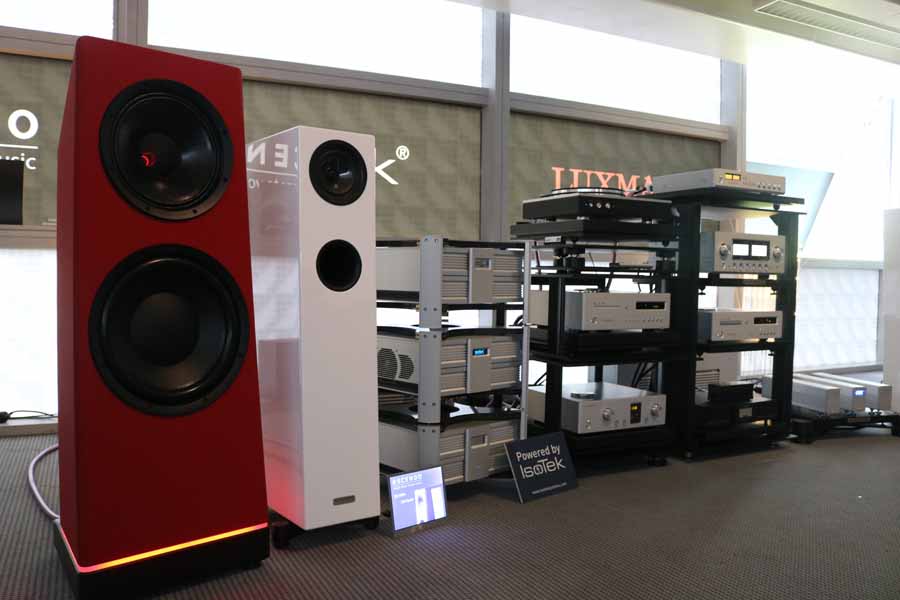 Isotek are based in Winchester in the UK and provide a wide range of power conditioners and regenerators at pretty much every price-point. The three units on the floor are their EVO3 Titan One, the EVO3 Nova One which both flank their EVO3 Genesis One. Genesis One is and interesting bit of kit being a single cell sine wave generator with the idea being to improve the performance of front-end components. Several Genesis Ones can be linked together so that you need only have one power cable for several units. It will provide up to 100 Watts.
IsoTek used the Munich High end show to launch their new Super Nova power cleaning system. The Super Nova is designed for primary components that typically have a constant current draw, thus CD Players, Music Servers, DAC, Pre-Amplifiers, Phono stages etc.  Each of the eight power outlets has its own dedicated power cleaning system, and each output has over 100'000 Amps (1840 joules) of protection, that's over 800'000 combined. Priced at £9995.00 (including VAT), the Super Nova features ground filtering which is fully compliant with certification and safety standards; this is further clamped with an electronic protection circuit. Therefore, each connected component's functional lifetime will increase as well as being totally protected against dangerous power surges and voltage spikes.
The Super Nova design includes a new choke which allows a series connection that quadruples the inductance giving a vast increase in filtering at a constant 10 Amps if needed. In turn, this provides a typical load of 25-40W a massive power reserve.  In addition, two specialised radio frequency chokes which combined with capacitances produce a high level of classical (Pi filter) design filtration. Furthermore, there is the unique Nova adaptive gate system which produces the optimum resistance capacitance barrier eliminating differential mode cross-contamination.
All internal wiring features silver plated ultra-pure OCC (Ohno Continuous Cast) Copper with IsoTek's VAD (Virtual Air Dielectric) technology.  All PCB circuits feature double Oz copper. These qualities are remarkable in themselves however when they multiple eight times they achieve exactly with IsoTek standards, which is total isolation of each output socket from mains noise or in other words ultimate "isolation technology".
VAC, Von Schweikert Audio, Masterbuilt Audio, Airtight Esoteric. Artesania Audio and Acoustic Signature
This was an interesting system that included the Statement 450i iQ integrated amplifier from VAC (Valve Amplifier Company) that costs around $150K, Von Schweikert's Ultra 9 loudspeakers, Masterbuilts Ultra Line cables, an Acoustic Signature Invictus Junior turntable which was fitted with an Airtight Opus cartridge and then Esoteric provided the Grandioso transport, Grandioso D1 mono-block DAC, Grandioso G1 master clock and the N-01 network player whilst Artesania Audio provided all the racking.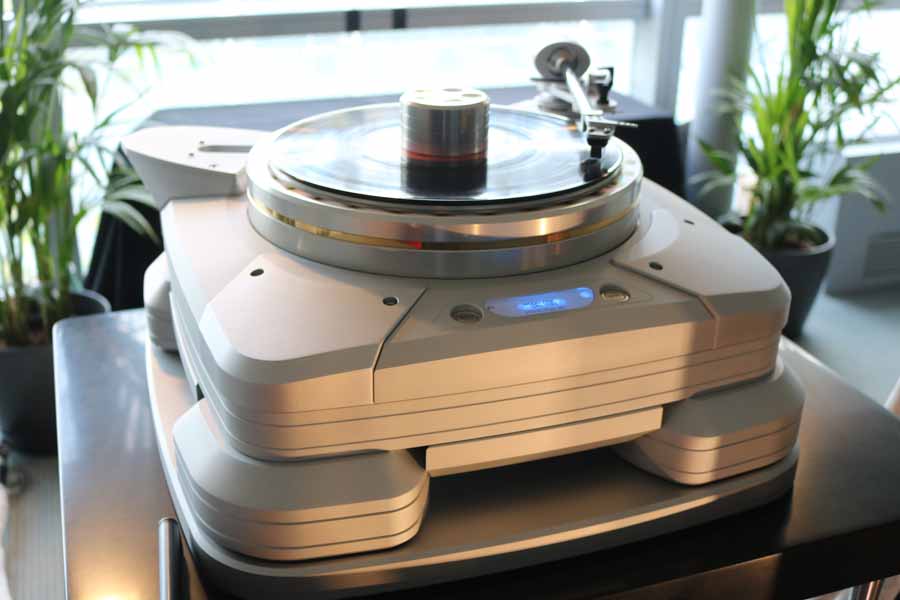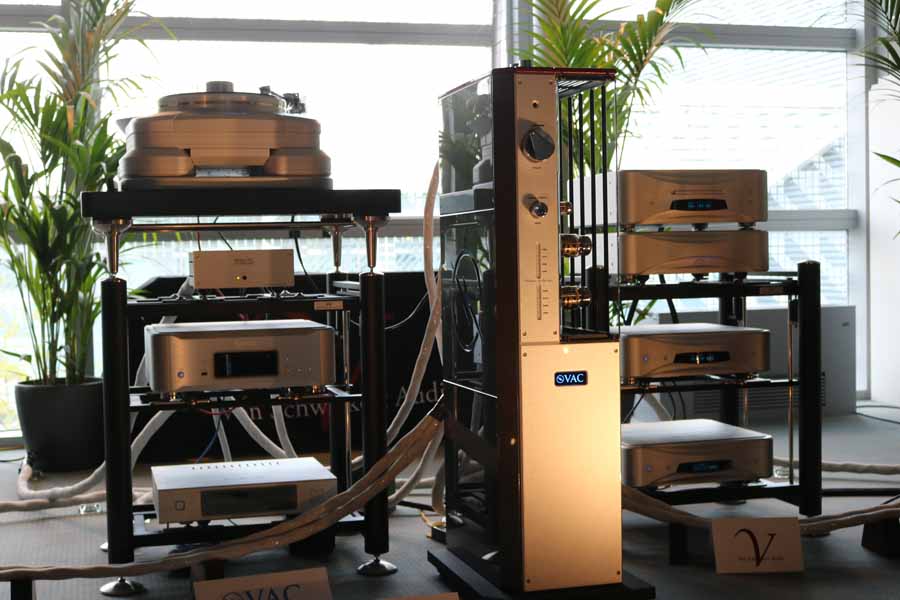 The amplifier from VAC is an usual design but looks fabulous and the speakers are HUGE and use Accuton drivers in the main. The speakers were launched at RMAF and is the second loudspeaker in their flagship reference series.  Its technology and performance are essentially identical to the ULTRA 11, but in a smaller form – SMALLER? Each channel features drivers including two 9" reinforced ceramic woofers, one 7" reinforced ceramic midrange, one Beryllium Tweeter, two Ribbon Super Tweeters (one front, one rear), one magnesium horn loaded tweeter (rear) and one 15" compound woven subwoofer (rear) with dedicated 1,000-watt amplifier. MasterBuilt Audio ULTRA wire is used exclusively for all signal paths. The ULTRA 9 has point to point hand-built networks with isolated architecture that protects crossover parts and wiring from electrical noise contamination. They also feature Version 2.0 Aktive Cabinet Vibration Control and the ULTRA 9 achieves full-range response from 10Hz to 45kHz.
The Statement 450i iQ integrated from includes a Statement 450S iQ power amplifier, a Statement Line Stage, and phono stage with multiple inputs, variable gain, and adjustable loading. Power supply arrangements are dual mono throughout, with six main power transformers for left and right power amplifier, left and right line stage, and left and right phono stage. The internal topology is fully balanced.
VAC's patented iQ Continuous Stable Automatic Bias System* keeps the KT88 output tubes set at the intended operating point at all times.
Boenicke
We like the Boenicke loudspeakers and gave their teeny standmounters our top award when we reviewed them. Now the company has launched their E2 amplifier which gives out 400 W into 4 Ohms and is an integrated design. You can have it in standard or SE versions.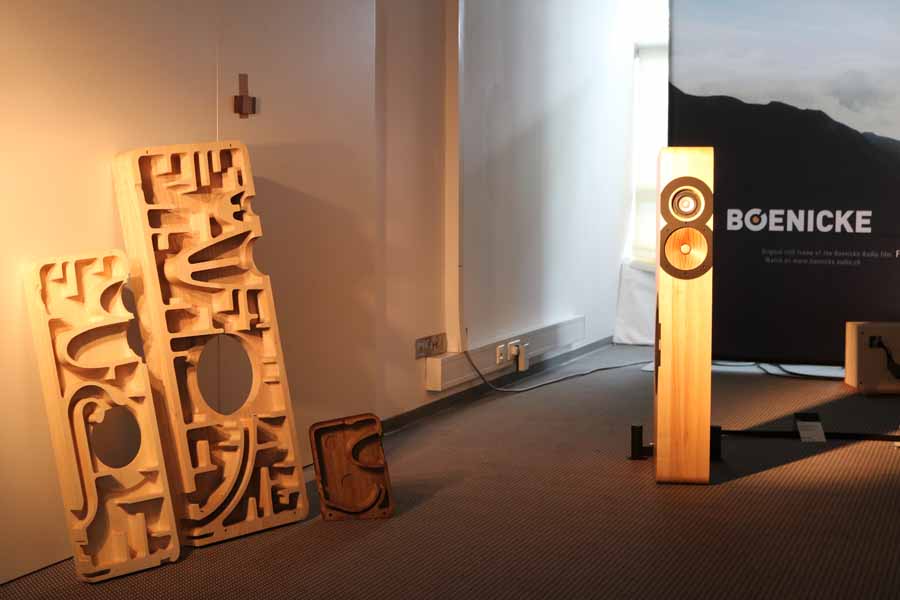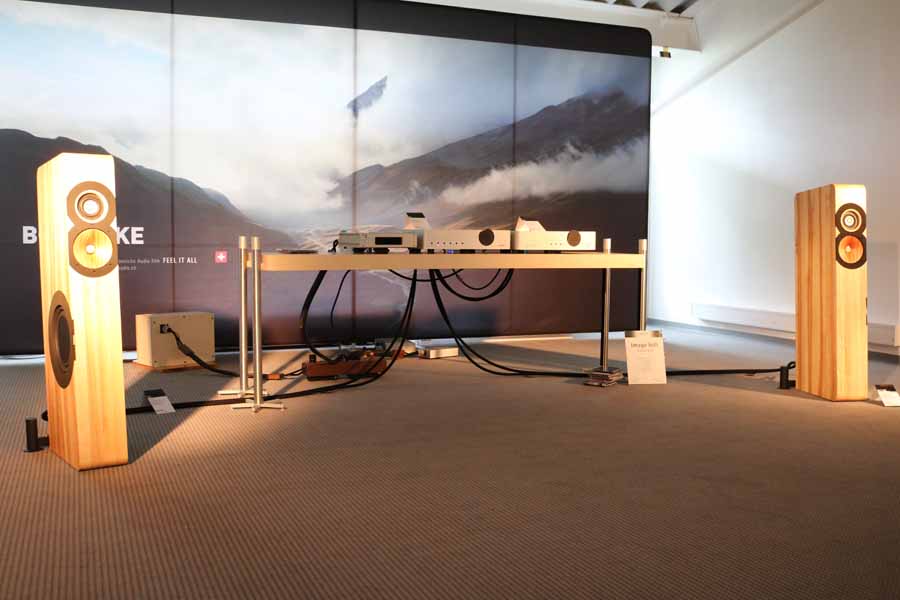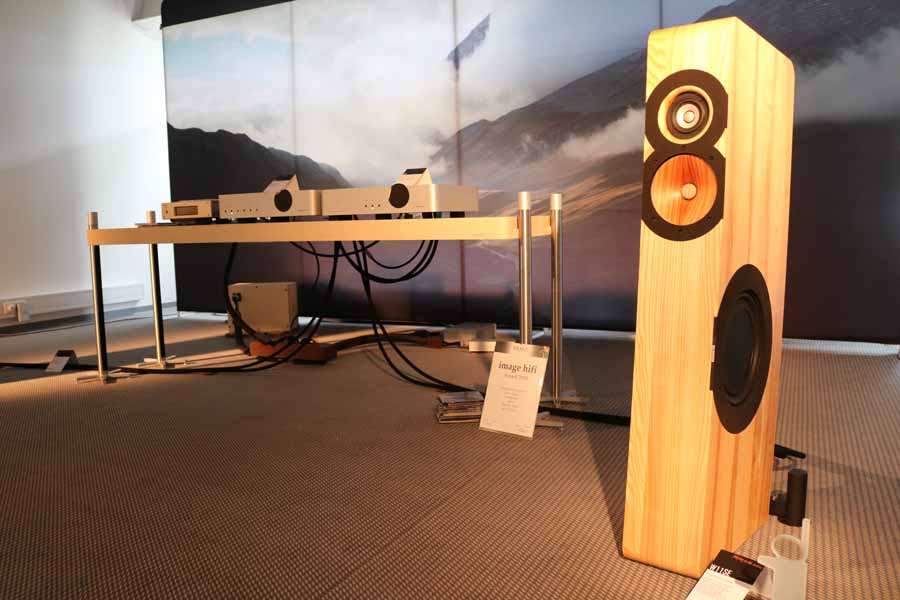 IsoAcoustic
I say it every time I hear this demonstration, but it is amazing what these isolation units bring to the table. Basically, the demonstration is a minute or so of the Focal speakers with their standard platform and then an instant switch using the Gaia or Titan units. The effect is pretty dramatic and positive, bringing the whole stereo image into sharper focus. This is a product I will be buying in the near future!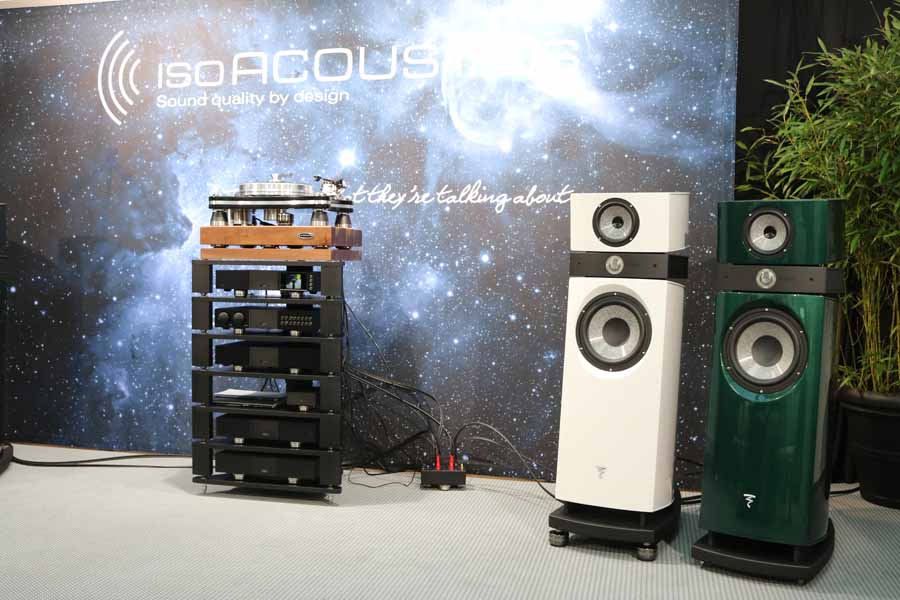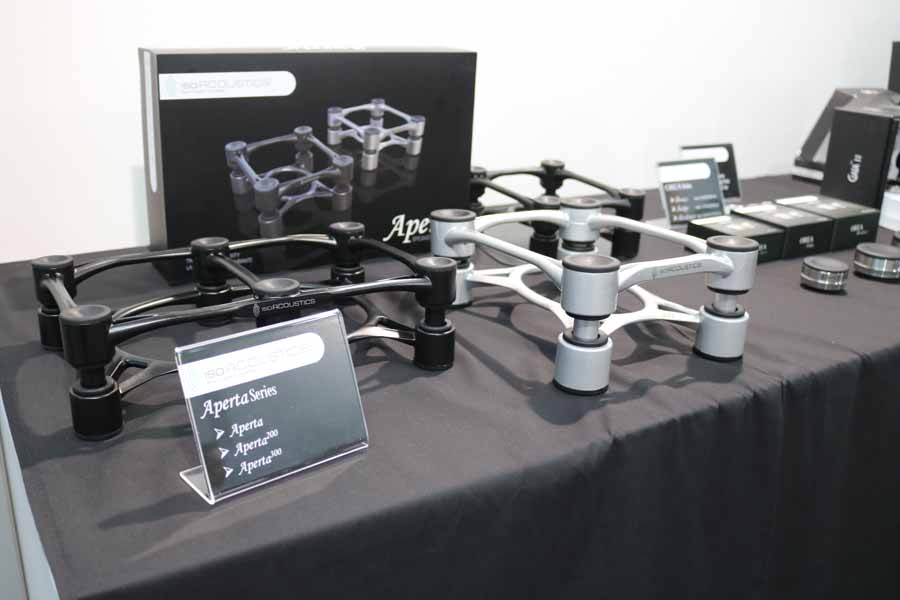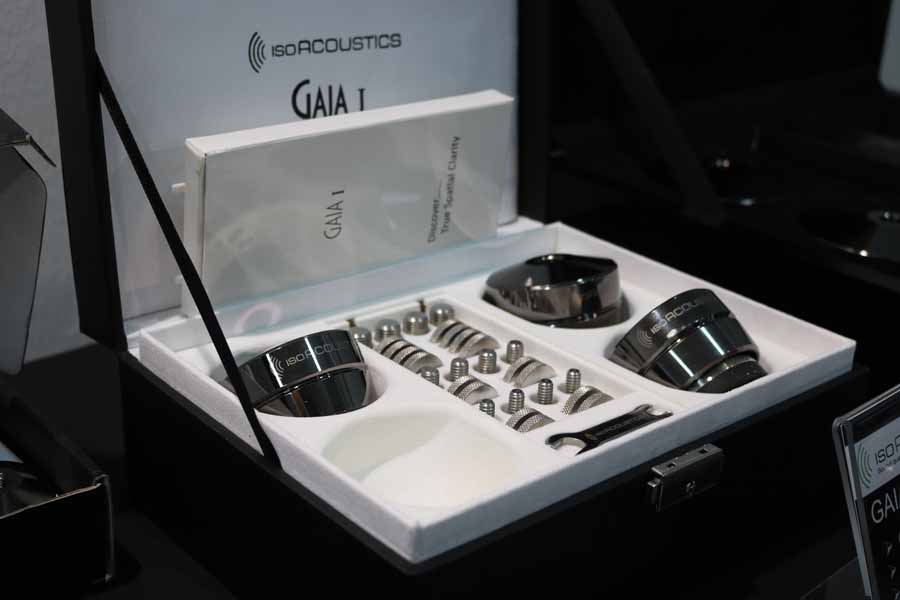 The company used Munich High End to introduce their new isolation platform for turntables and electronics – another product I want to test here at Hifi Pig Towers.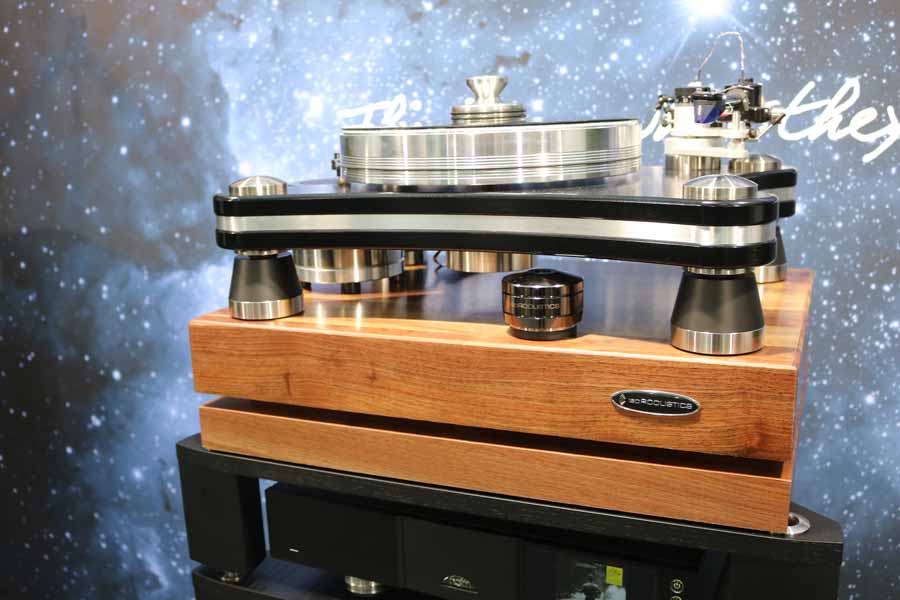 dCS, Dan D'Agostino and Wilson Audio
This was a high-end marriage made in heaven and so good I forgot to take notes but the system is Vivaldi and Rossini from dCS through a D'Agostino amp and Wilson loudspeakers. Elsewhere at Munich High End dCS had a dedicated listening booth dedicated to headphones and featuring their new Bartok amp.
Four Bartóks were on demonstration and dCS staff were on hand to demonstrate the wide functionality of this new network DAC with headphone. The cost of the headphone amplifier equipped version costs £11,999, and features a custom-designed Class A headphone stage that works with both high and low impedance headphones and IEM's in balanced or unbalanced formats. Bartók also comes with a crossfeed option as standard.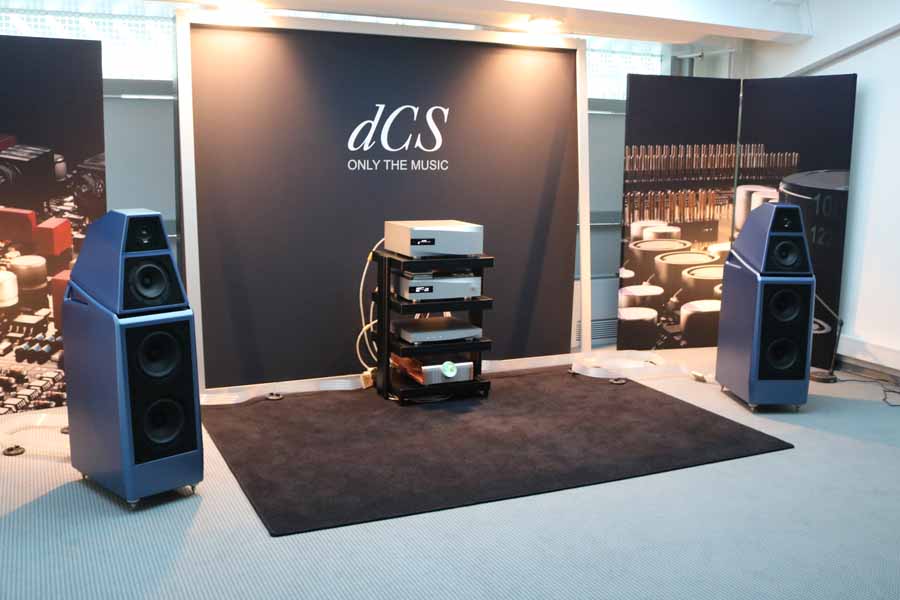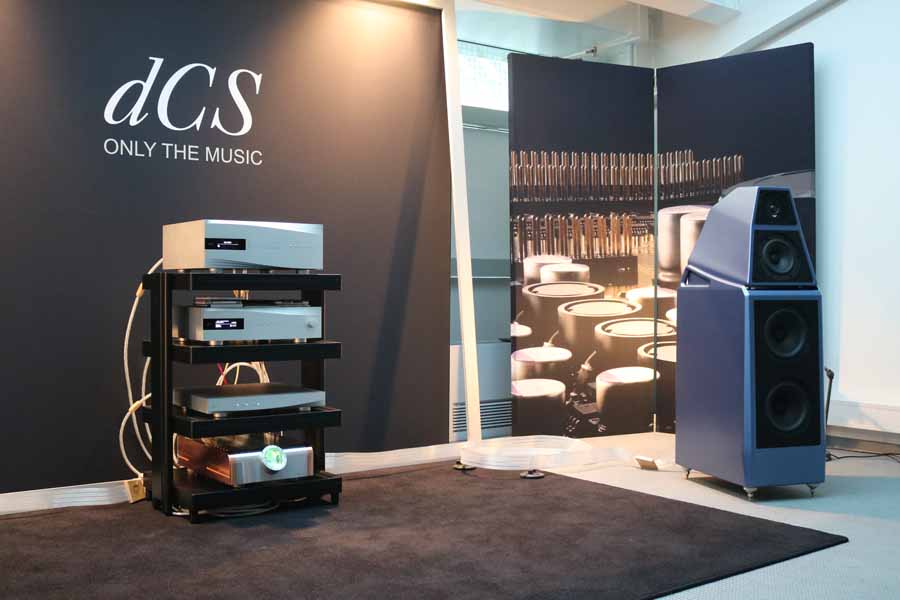 Bartók supports all major music codecs including high-resolution PCM and DSD, with user- selectable upsampling. The network streaming section currently runs at up to 24-bit, 384kS/s and DSD128, supporting all major lossless codecs, plus DSD in DoP  format and native DSD.
Bartók plays music through an array of industry-standard USB, AES or S/PDIF digital  inputs. It streams over Ethernet from a NAS drive or online music services, and from Apple devices via Airplay. Its network interface performs full MQA decoding and rendering.
EgglestonWorks, Doshi, Way Cables and Pre Audio Turntables
Doshi is a new name to me but are based in Virginia in the US and make a range of amplifiers. The monoblocks used at High End were the V3.0 using the KT150 tube and giving out 160 watts into 4Ohms and weighing in at 75lbs each. Phonostage was also their V3.0 as was the preamplifier.
EgglestonWorks used Munich High end to show off their latest standmounter, the Nico EVO priced at just shy of $5000 a pair and sporting a 6" woofer and 1" tweeter and a slot port around the rear. Sadly these were not on dem when we were in the room.
Pre Audio supplied the turntables in the room and you can read all about their GL-1102N when we reviewed it here.
Cables for the whole room were provided by Way Cables who launched their new Poetry+ range, including the Poetry+ analogue RCA cable, at Munich 2019.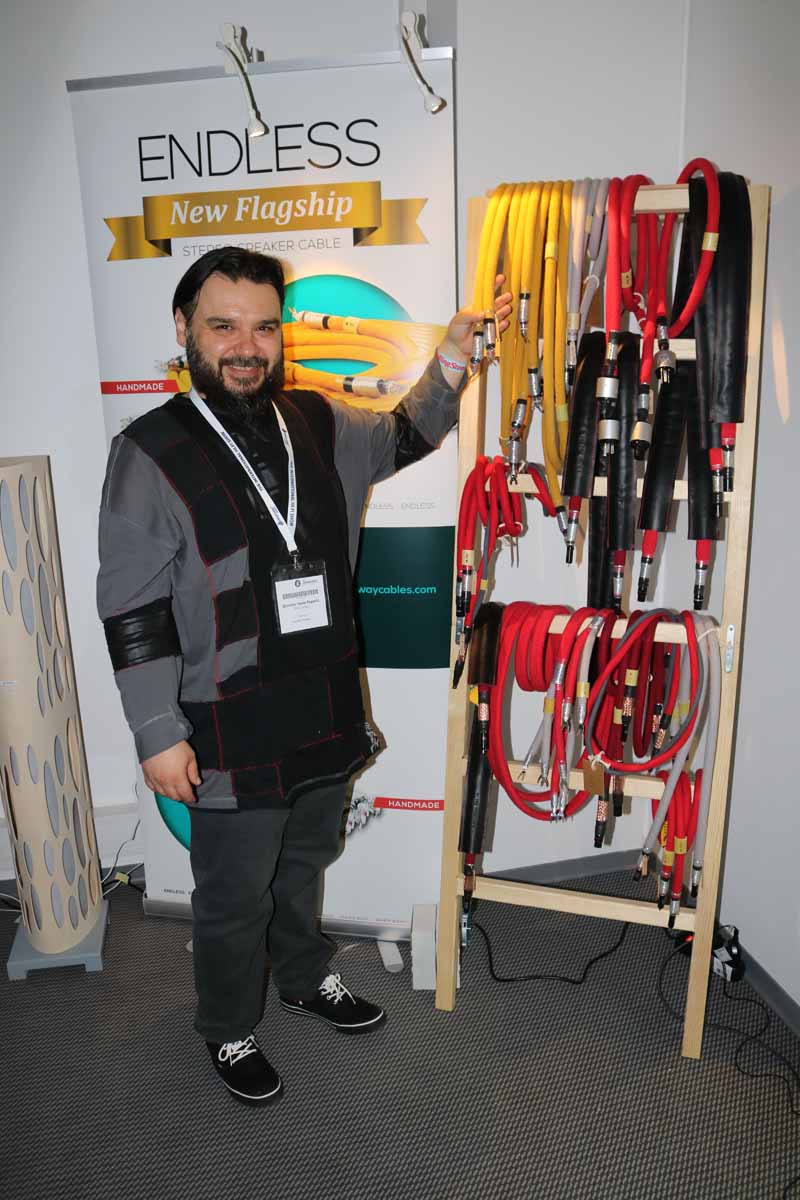 Manger, Scheu, ZenSati and SPL
Turntables by Scheu, Cables by ZenSati and a pre/DAC in the form of the SPL Director Mk2 all feeding their signals into a pair of Manger active loudspeakers. I say it every time we go into this room that it is an oasis of calm in an otherwise hectic show – great sound too! The speakers are Mangers C1 Studio Monitors that have onboard room adaptation filters, near-field/cinema-screen EQ settings, and an input trimming stage controller that can set the two-channel or multi-channel equality to within a tenth of a decibel. It's a two-way system that will go down to 30Hz and has AB amps powering the bass driver at 250W and the tweeter at 180W.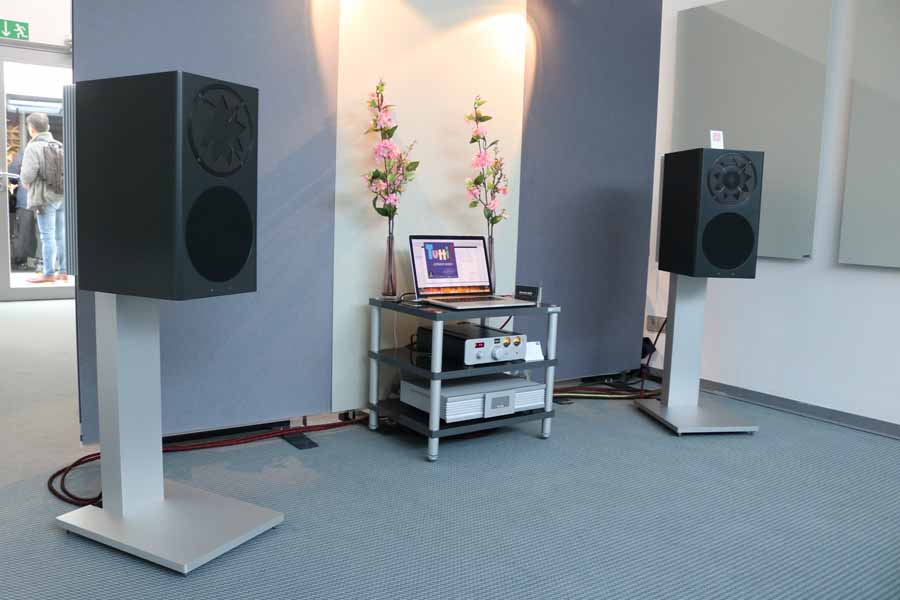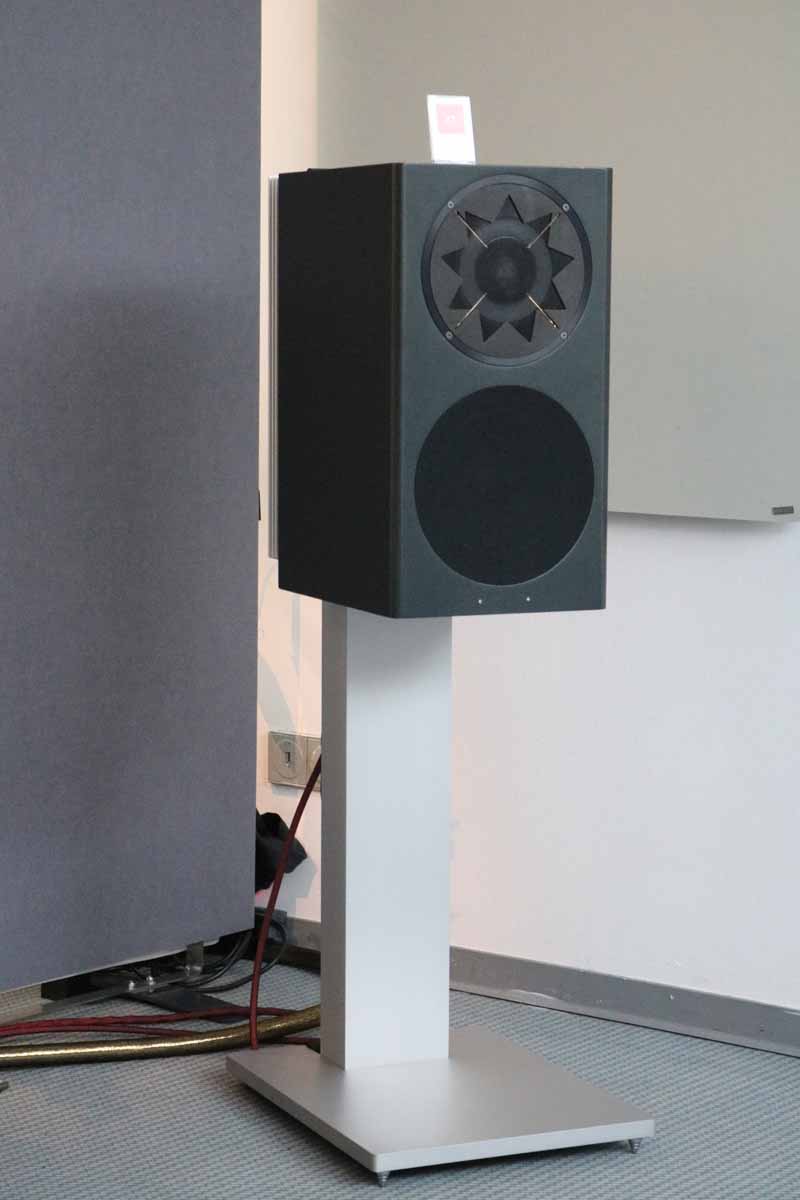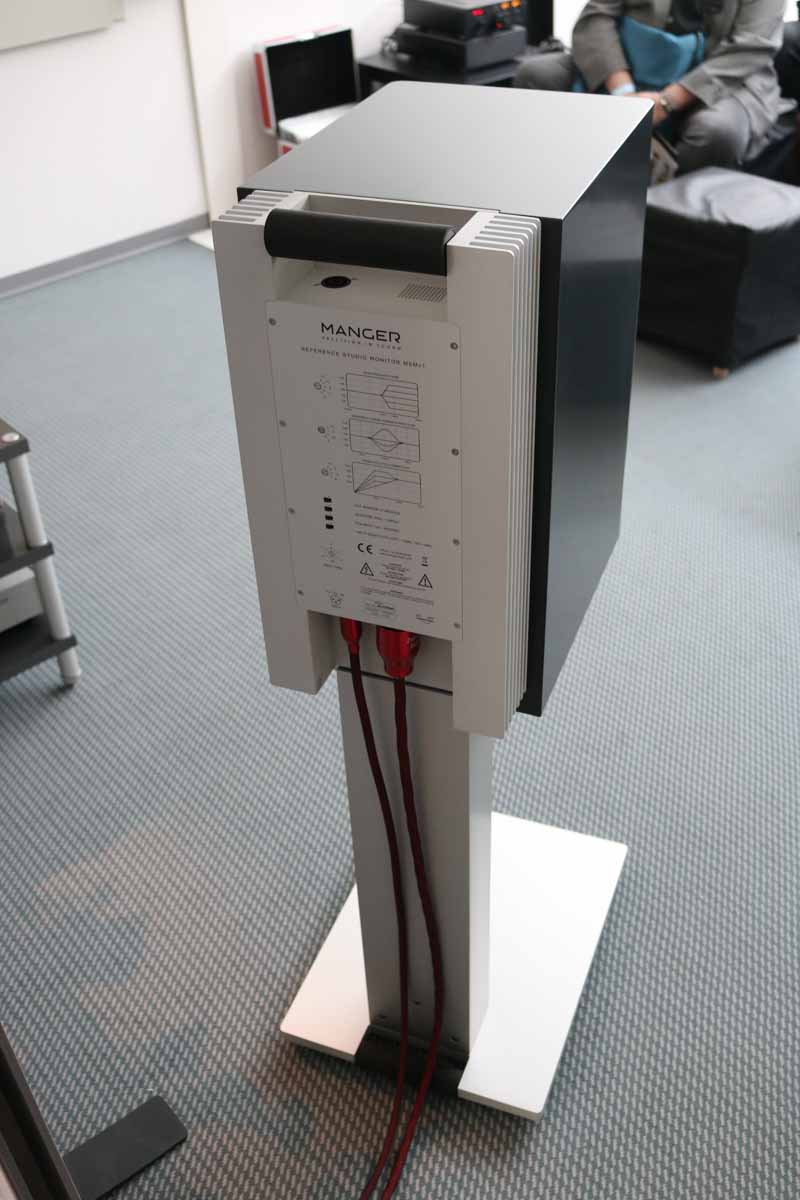 Zellaton and YS Sound
Zellaton may be a new name to many but they have been making speakers in Germany since 1932. The speakers in the picture are their Reference MK2s weighing in at around $150K. It's a three-way design using a 2" tweeter a 7" mid driver and three 9" bass drivers all in, unusually, a cabinet with an open back. Amplification is by YS Sound in the form of their 1500 W per channel YSS-772 JP monos that weigh 108kg each.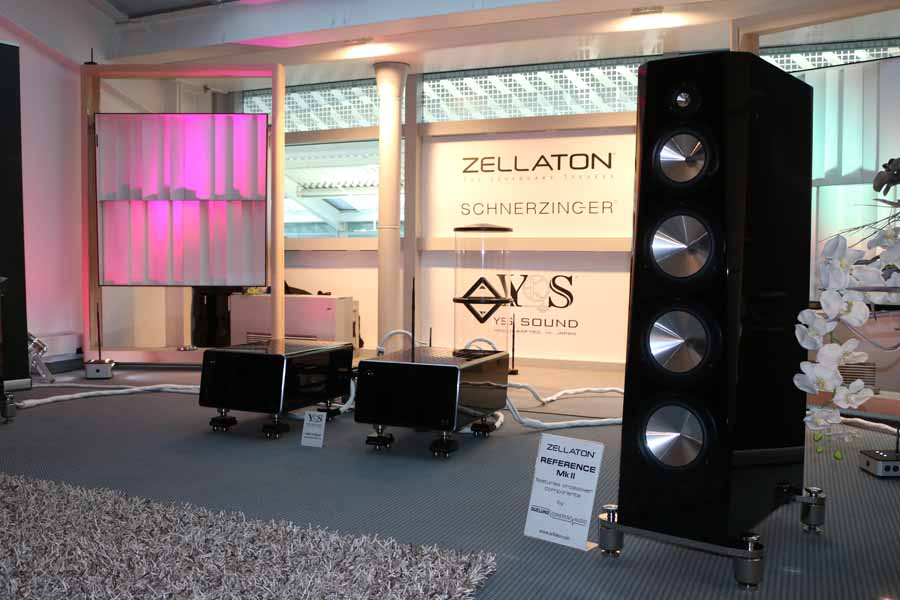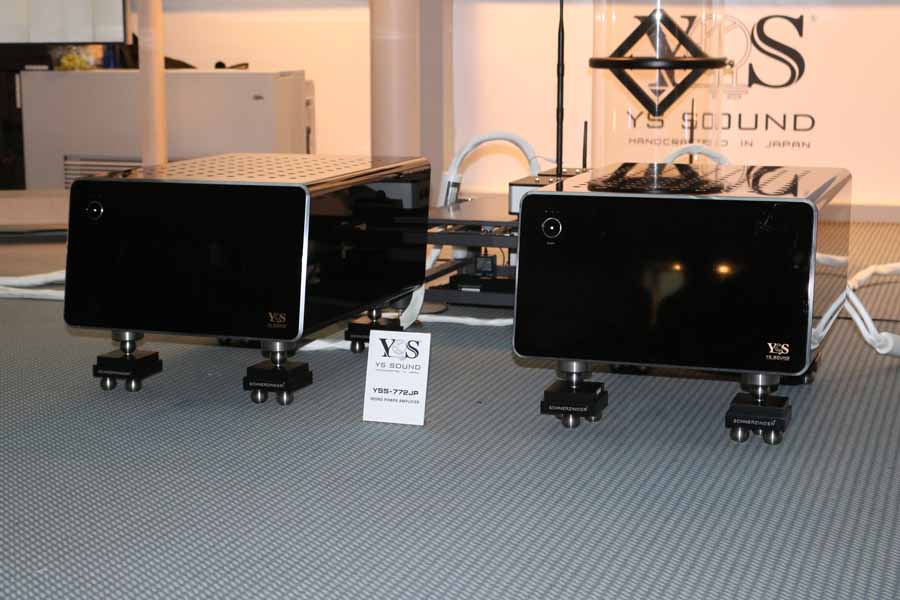 The turntable is by Reed Muse 3c which, interestingly, can be converted to be either a belt drive unit or friction driven in around five minutes.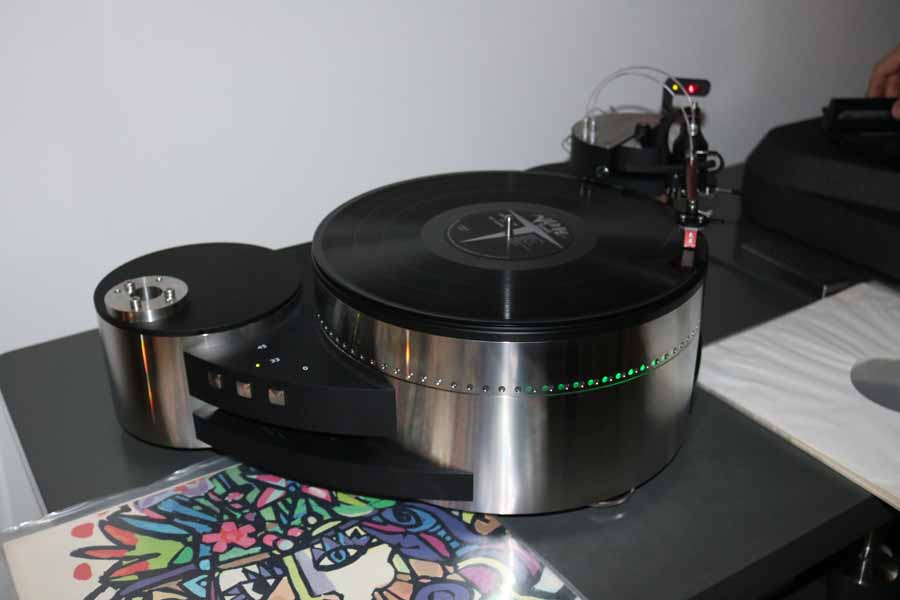 Engstrom, CAD, Bibacord, Verity and Franc Audio Accessories
Computer Audio Design were showcasing their GC-R Reference Ground Control box which contains "a mixture of materials that converts high frequency energy into heat". Loudspeakers are by Verity and the amplifier is ARNE from Engstrom and using 300B tubes.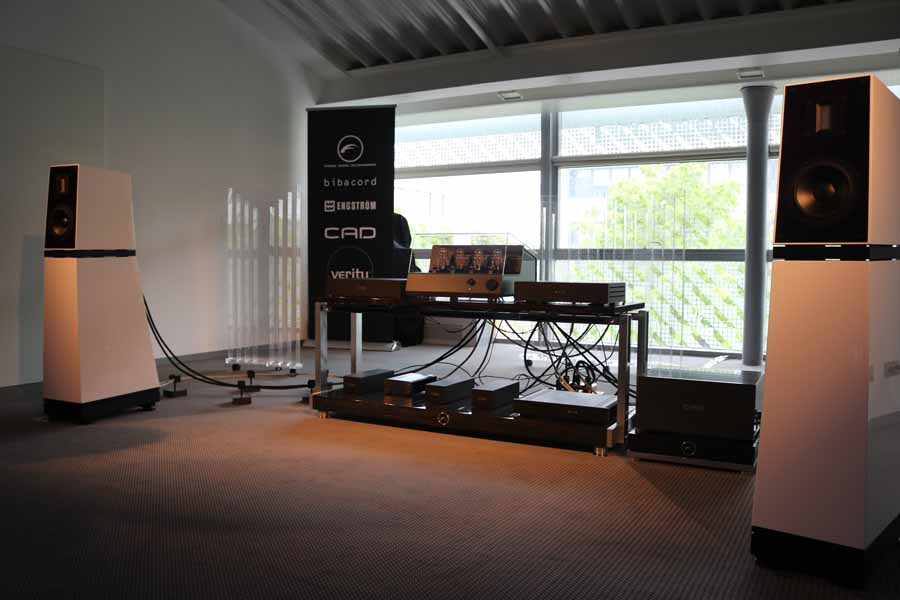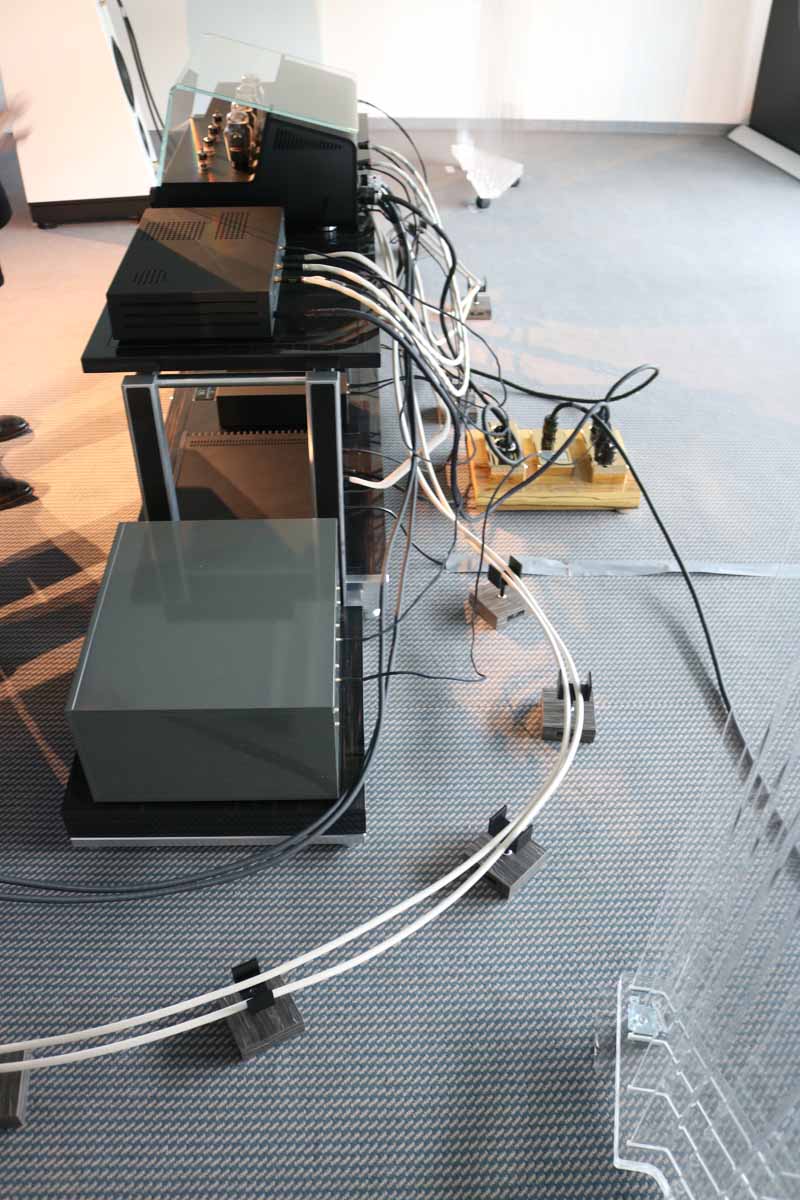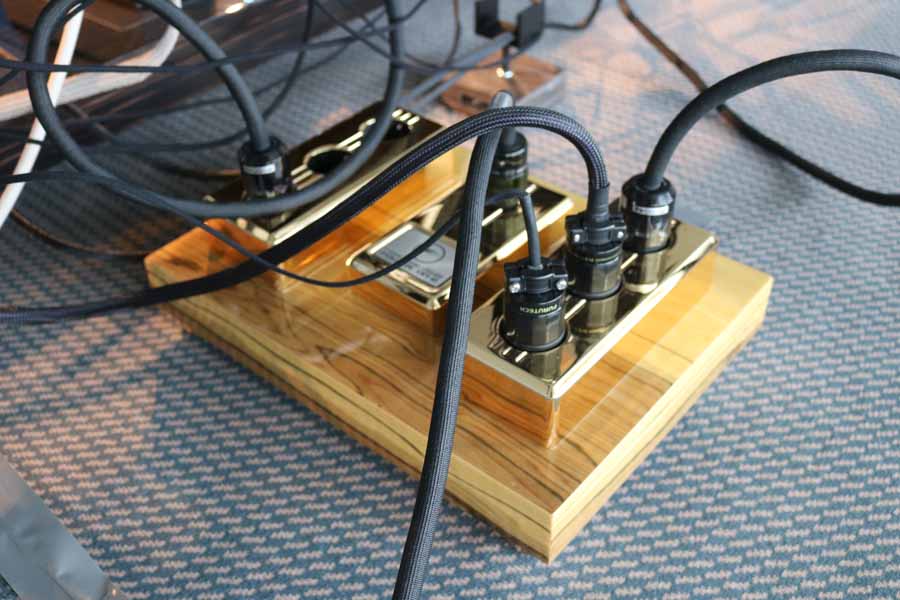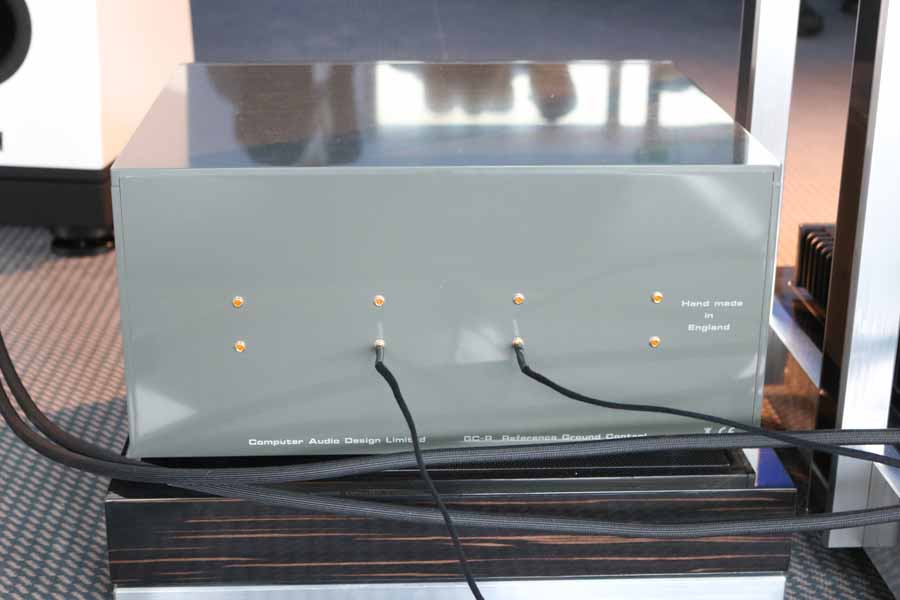 Digitale Audio Systeme, Weiner Lautsprecher Manufaktur and Way Cables
Now this was an interesting room and sounded very good I thought. The DAS HD-Player Model 2 is a fantastic looking bit of kit that manages to blend the ultra-modern with a retro feel. You add an amp and loudspeakers and off you go. It has a DAC stage that uses 3 toroidal transformers from Lundahl and the dual-mono converter boards are galvanically isolated. Price is from €9000. WLM introduced two new models of loudspeakers at the show – Maximilian and Ferdinand which are both made in Innsbruck. The whole lot was connected by Way cables and there was some interesting reel to reel machines in the room to look at.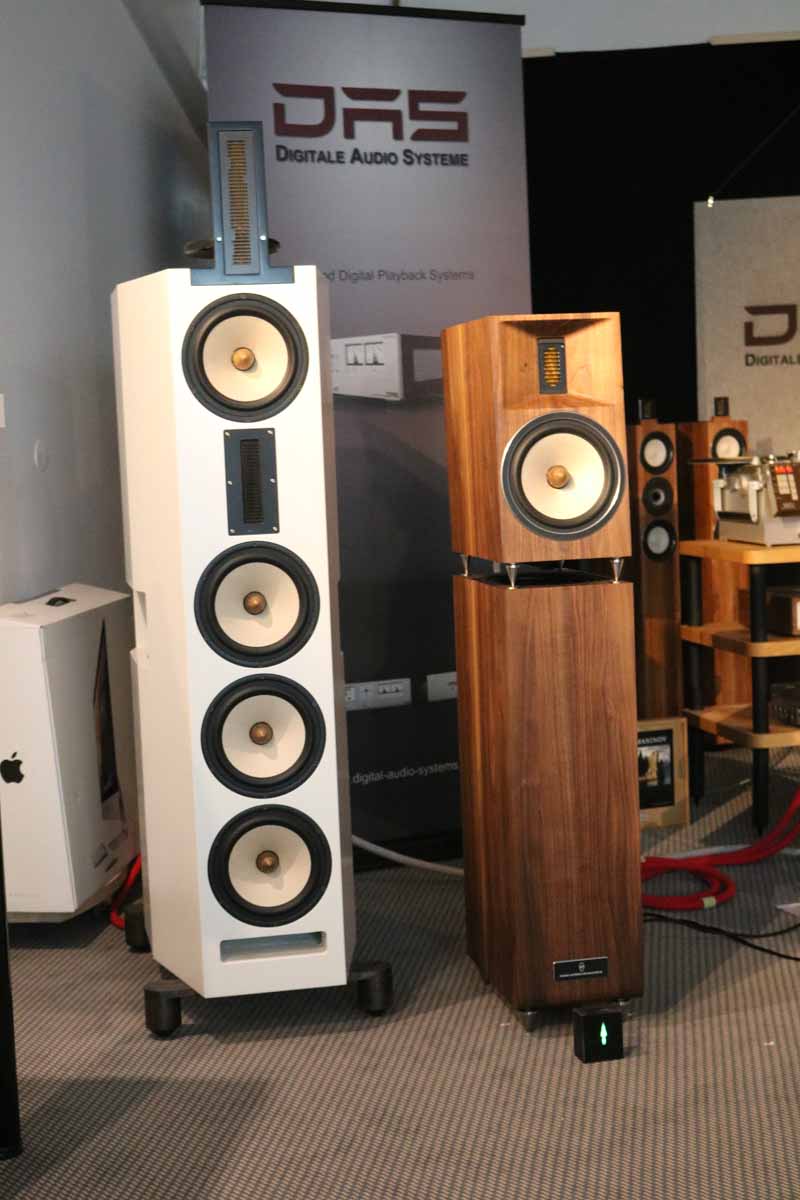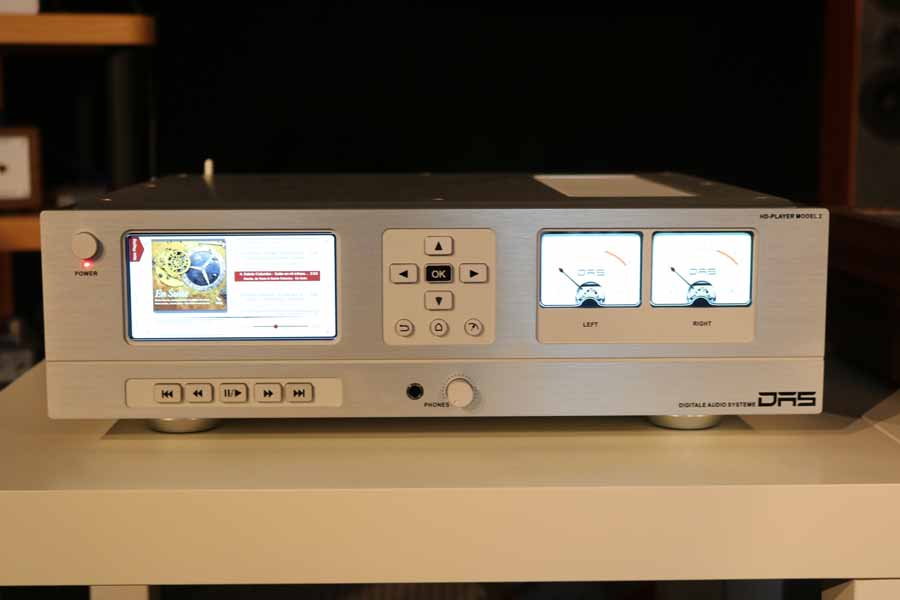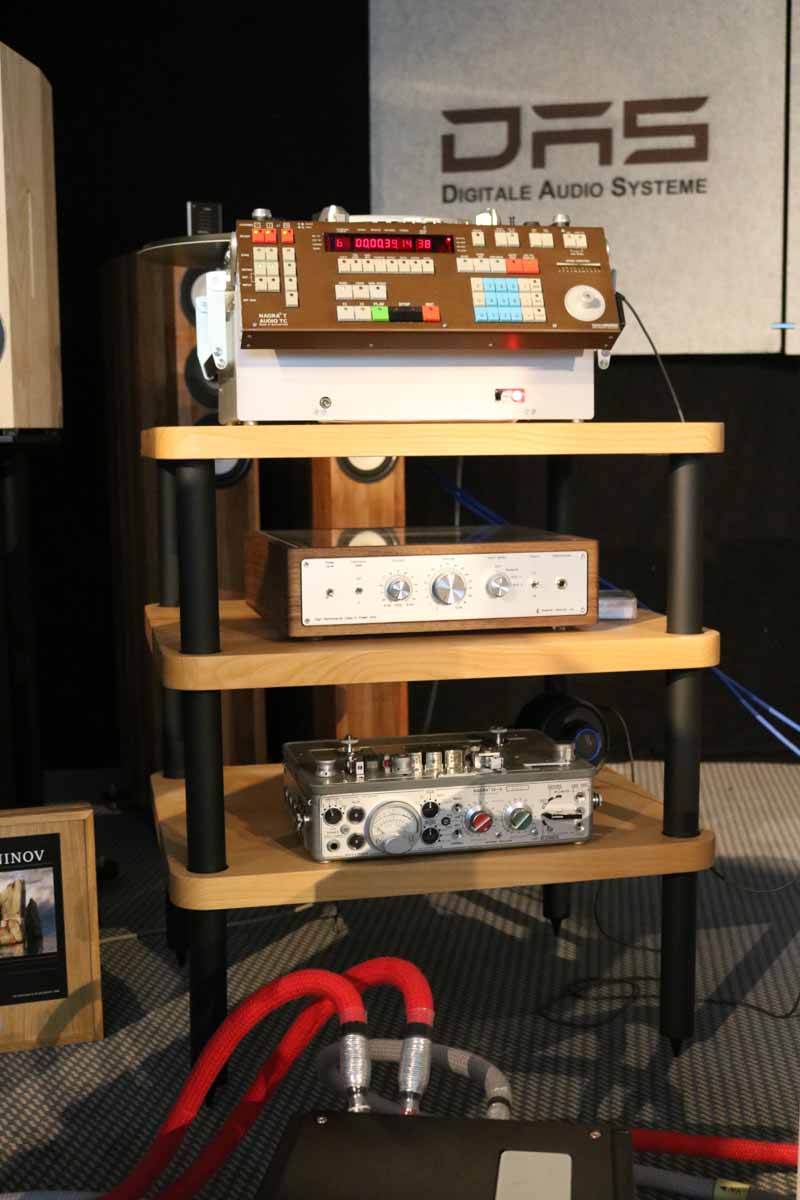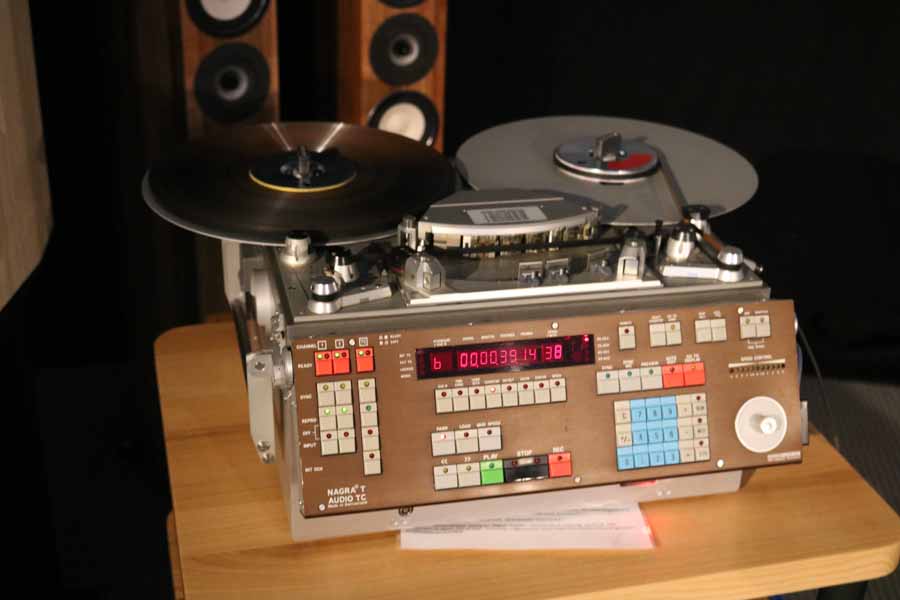 Vivid Audio, CH Precision, Tech DAS, AGS and Artesania Audio
This was a pleasant sounding room and we'd have loved to have been able to have a listen to the new Tech DAS turntable – The Airforce Zero that was launched in Tokyo earlier this and is in the UK via Absolute Sounds.
Spec Data of the turntable is as follow:
Main Unit Base Frame: 100 kg, stainless steel
Platter Base: 35 kg,
Extra Super Duralumin Platters: 118 kg in total
Bottom platter: 30 kg, ø 40cm, forged Stainless Steel SUS 316L
Second platter: 20 kg, ø 31cm, forged Stainless Steel SUS 316L
Third platter: 20 kg, ø 31 cm, cast Gunmetal Fourth Platter: 20 kg, ø 31 cm, forged Stainless Steel SUS 316L
Top Platter: 28 kg, ø 31 cm, powder sintered Tungsten Total moment of inertia: 18,720 kg/cm square
Drive system: Belt-drive, polished and nonflexible polyurethane fibre belt
Drive Motor: 3-phase 12-pole AC synchronous motor manufactured by Papst, Germany (1000/5001)  During a startup and adjustment of the rotation, high torque rotation in a steady-state rotation, non servo, low torque, ultra-low vibration.
Rotation speed: 33.3 rpm / 45 rpm, precise speed adjustment function
Wow & Flutter: below 0.03%
Suspension: Air suspension, air pumped by an electric air pump built-in in
Power Supply Unit Main Unit Dimensions including Motor: 901 (W) x 677 (D) x 335 (H) mm Distances between center point of base frame feet:  front left foot – front right foot 674mm / rear left foot – rear right foot 722mm front left foot – rear left foot 461mm / front right foot – rear right foot 442mm  Total weight of Main Unit including Motor: 350kg (Power Supply / Air Pump Units are not included)
ACCESSORIES INCLUDED: 2x Titanium Tonearm Bases (Tungsten Tonearm Base available as an option),  1x TechDAS Disc Stabilizer, 1x Platter Cover
AIR FORCE ZERO RACK SYSTEM (Optional): Set of 2 racks with turntable platform and shelves:  Rack 1/2: 905 (W) x 675 (D) x 790 (H) mm Rack 2/2: 790 (W) x 610 (D) x 790 (H) mm
Price? If you need to ask then you can't afford it!
Totem Acoustics
Vince Bruzzese's Totem room always sounds great and the Canadian company used Munich High End to launch a couple of new products: The Element Metal V2 floorstanding speaker and the Element Fire V2 bookshelf both of which use Totem's own 7" Torrent driver.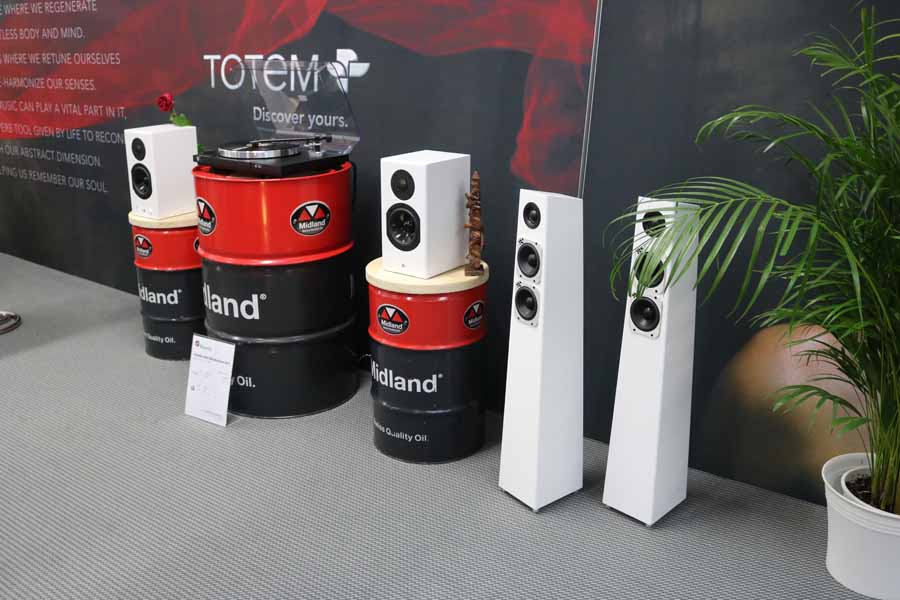 Vince was also keen to tell us about the Kin Play Bluetooth speakers which you connect to by your phone to play your tunes.
Sadly we couldn't get back to the room for a demonstration of the smaller speakers but were impressed with what we heard.
Portento Audio
Portento Audio are always very enthusiastic and always have a great looking stand that reflects their Italian heritage.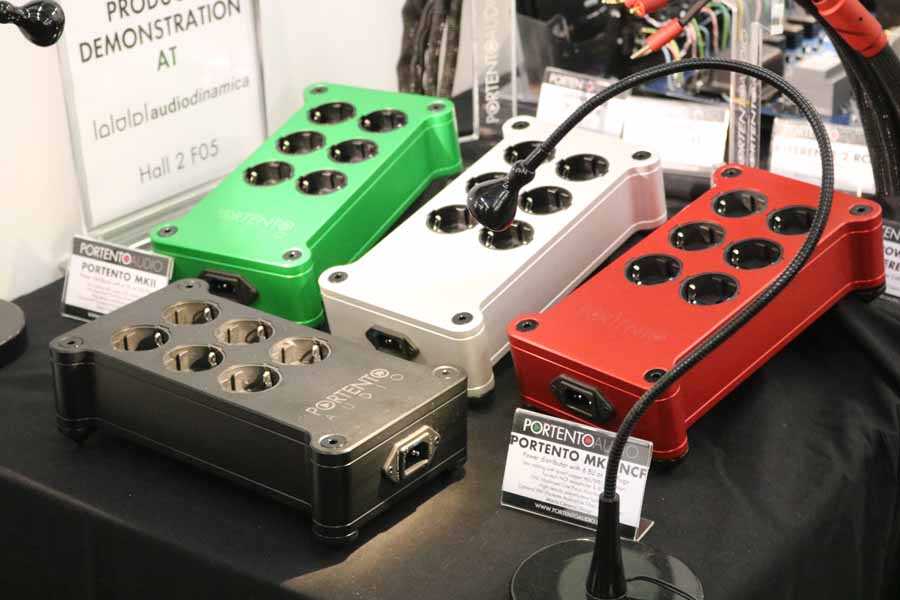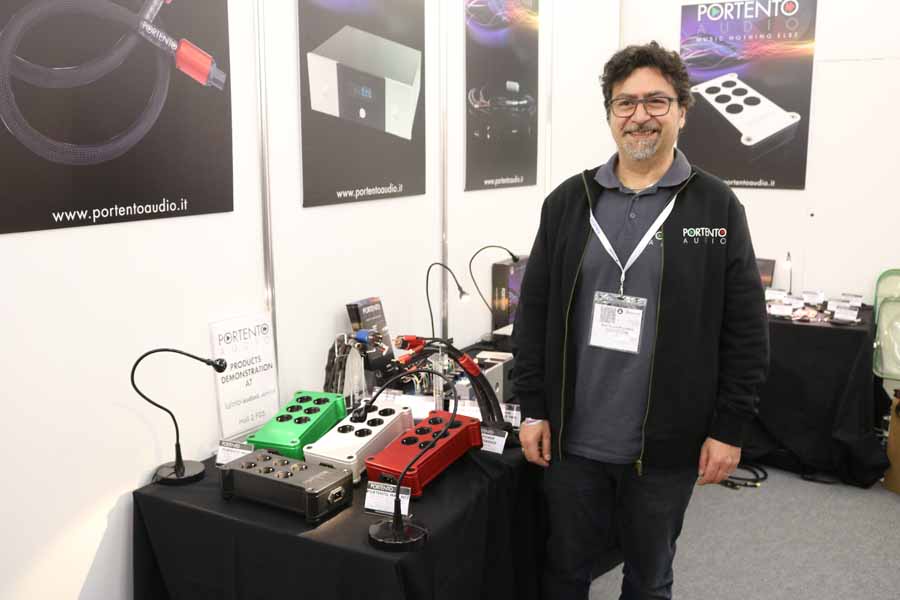 NAIM and Focal
Naim used High End Munich to launch their new version of the much-loved Mu-so.
Mu-so 2nd Generation evolves the styling of its predecessor, but under its aluminium casing are game-changing performance, feature and functionality upgrades says the UK based legend.
At the heart of Mu-so 2nd Generation is Naim's music-streaming platform, developed by 25 engineers over 3 years and is uniquely found in Naim music-streaming products, such as its Uniti range and dedicated network players, including the £20,000 flagship ND 555. Mu-so 2nd Generation's 450 Watts of music power are joined by all-new speaker drivers – optimised in conjunction with Focal, and Naim's Vervent Audio associate; more than 10 times more processing power for "even greater musical accuracy, and a re-engineered cabinet design to further enhance bass delivery".It will stream music in high-resolution (up to 32bit/384kHz) via UPnPTM, or AirPlay 2 (including Apple Music), Spotify® Connect, TIDAL, Chromecast built-in and Internet radio. Upgraded Wi-Fi connectivity promises a slicker streaming experience, while Ethernet remains an option, which would suggest that all bases are covered by Mu-so 2G – you can also add a USB drive to pop in your hard-drive.There is also the addition of HDMI ARC, to allow easy connection to TVs for films and games."In its 45 years, Naim has both created and recreated product categories – all in our founding quest for the most authentic musical experience. Mu-so was the first truly high-quality wireless music speaker; five years on we've re-engineered 95% of it to develop Mu-so 2nd Generation, and redefined what's possible from a one-box system", says Naim Audio MD, Charlie Henderson.Mu-so 2nd Generation has a new touch control panel ringed by an illuminated dial with a proximity sensor: it lights up in welcome as a hand approaches which is a cool feature. It has easy access key playback controls, favourite playlists and radio stations, Spotify resume, multiroom functionality and more from this tactile new interface.The system has an aluminium casing, in a new burnished grey finish, fronted by a new style of speaker grille – supplied in black as standard, but also available in Terracotta, Olive or Peacock colourways.Mu-so 2nd Generation works on its own or as part of a multiroom music set-up. There are three ways to make it multiroom: combine it with other networked Naim products (including 1st Generation Mu-so and Mu-so Qb) via the updated Naim app; with other AirPlay 2-compatible wireless speakers via the Apple Home app; or with other Chromecast devices via groups controlled by the Google Home app.

Available for iOS and Android devices, the updated Naim app allows you to browse by artist, genre, album and more, complete with artwork and extended music information. You can also control volume, light settings, room modes and create playlists.  As a further option, Mu-so 2nd Generation is Roon Ready, too.

Mu-so 2nd Generation will be available from a wide range of retailers from 9th May, priced £1299/$1599/€1499.

Focal, celebrating 40 years, used High End Munich to show and tell us about their SPECTRAL 40th & SCALA 40th.

Spectral 40th is made in France and is equipped with the K2 Power cone and Focal's pure Beryllium tweeter. Spectral 40th is a 3-way bass-reflex loudspeaker with what Focal are calling a neo-retro style.

Scala 40th is a very limited edition (4 pairs only) of the Scala Utopia Evo 3-way floorstanding loudspeaker. To celebrate its 40 years in business, Focal has chosen to adorn this made in France product with a Black Silver finish.

Not at the show, but we were told about Focal's teams having always been committed to Car Audio and have put cars centre stage as well, by designing F40th. This unique kit includes Flax sandwich cone speaker drivers and a pair of pure Beryllium inverted dome tweeters: major Focal innovations, designed, developed and manufactured in Focal's workshops. A 5-channel amplifier and an 8-way audio processor (DSP) for electronics complete the kit.

Audio Solutions

Lithuanian brand Audio Solutions is headed up by Gediminas Gaidelis and used the High End show to launch their Virtuoso loudspeaker concept. The speaker sits between the Figaro and Vantage range of speakers with regards price. Virtuoso has two 7.5″ woofers, a 6.5″ midrange driver and a 1.2″ tweeter. The midrange covers 500-7000Hz. Interestingly Virtuoso has three different crossovers which the listener can choose between. The version we got to listen to was the he middle-sized pair, Virtuoso M, which retails at 25000€ and we both thought it sounded excellent. Claimed frequency response is down to 25Hz and it is 92dB sensitive making it an easy to drive speaker. It has a 3cm silk dome tweeter, a 16.5cm hard pulp paper mid driver and a pair of 19cm hard pulp paper bass drivers. It stands 1240mm tall and weighs 75kg.

Audio Hungary

I have a soft spot for Audio Hungary's products and we own one of their i20 amplifiers which sounds fantastic – and I really ought to write a review of it. What caught my eye was the Qualiton MC which has an output level of 5mV and a frequency response of 5 to 90kHz and it can be factory tunes to individual needs.

EERA and PPFFF

Eera is a French company and make a wide range of DACs, transports and CD players and digital amplifiers.  

PPFFF launched a couple of new loudspeakers at High End under the banner Parangon. These were the Pandora and the Adelaida.

SPEC and Leben

I really liked this room and the SPEC kit looks fabulous in an understated kind of way. Leben, we didn't get to hear any, has a very distinctive look and has plenty of fans.

Line Magnetic and Supravox

Line Magnetic was founded in 2005 by two brothers, both audiophiles and both passionate about tubes and specifically American achievements of the 50s. The company produce amps, speakers and spare parts.

Supravox is based in France and makes a wide range of speakers, wid-band drive units as well as loudspeaker kits.

Stuart Smith