Jo Sound
Joe from JoSound must be one of the nicest folks in audio at the moment and that's saying something as we know LOADS of really nice people who make doing what we do such a pleasure.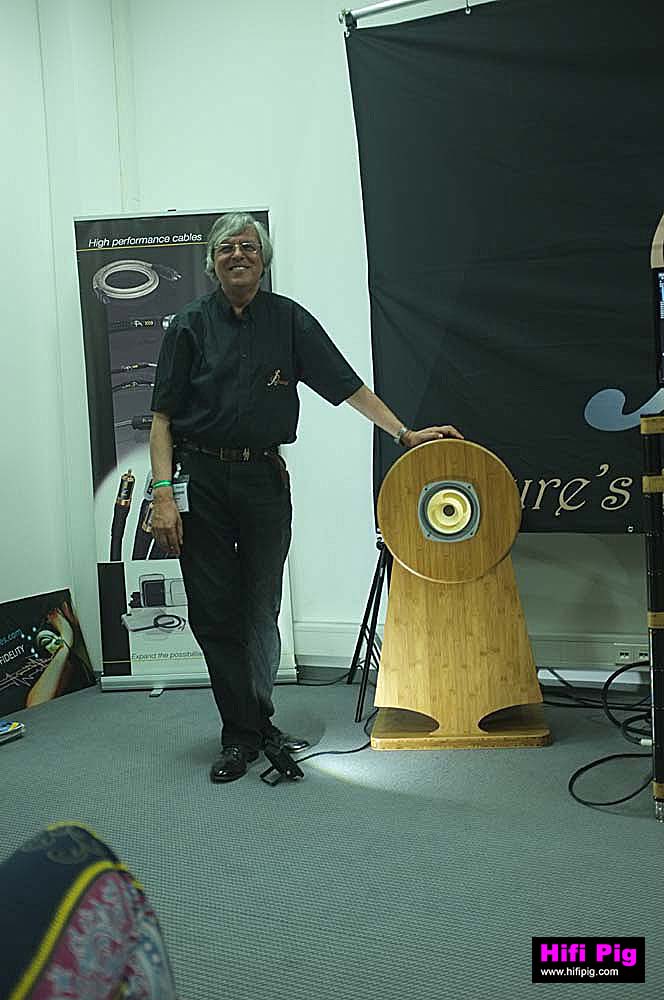 This year Joe was presenting his new Horus loudspeakers along with Arte Forme valve amplification and O2A cables by the lovely Anna Popova. The new speakers have done away with the previous models' Voxativ drivers in favour of a new series of drivers with this model being AER MK1 from AER Loudspeakers in Stuttgart. Despite being smaller than JoSounds other speakers the new Horus (26 000 EUROS) does deliver on sound and we were pretty impressed with the system as a whole. However, later in the show when we went in to pick up one of our cables we'd used for the earlier dem' we heard something completely new….more dynamic, more bass and a more refined treble element. All that had changed in the system was the preamplifier and with the Bespoke Audio amp in place the system just came alive. Our current test track is Daft Punk's "Contact" and there's some systems that fail to cope with the frequency extremes but this one did admirably. The speakers and amps are currently in our living room and a full report will follow in due course.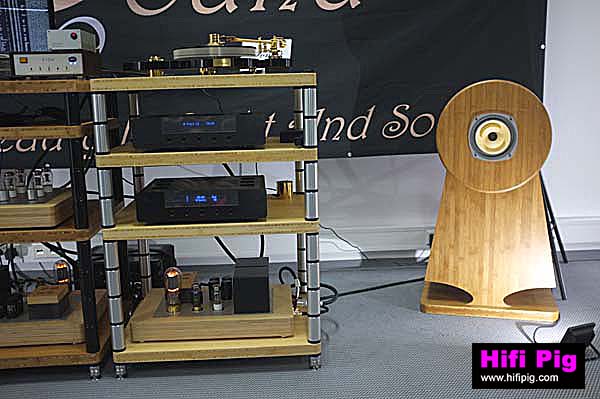 Silbatone
You can't really fail but be impressed with Silbatone's offering. The sheer scale and size of the speakers they bring to Munich is just utterly mental and this year was no exception. Unfortunately we didn't get to hear the main system and despite the oohs and ahs from some quarters I was left a little disappointed with the smaller set up. We didn't have time to go back sadly as I'm sure the mahoosive horns would have impressed as they have before. Kratfwerk on the Silbatone system a couple of years ago is still one of my best moments in hifi ever!
Townshend Audio
Max Townshend is a well known figure in the Hifi world and has been for decades and I remember well the first Rock turntable, now in Rock 7 guise but still sporting the well known trough and paddle arrangement. This year they had a small booth playing, amongst other things the Rock 7 turntable but it was the little dem' that Max did for us outside for his Splendid Isolation platforms that really impressed. Basically Max had two seismographs attached to two speakers. One speaker was on the Splendid Isolation platform and the other wasn't. Now the speaker on the platform was free to sway about a good deal and it does look a bit unwieldy, but walking away from both speakers Max stamped his foot (on a massive concrete floor at ground level)  and  the results on the screens were dramatic. Huge spikes on the seismograph for the speaker on the floor and nothing at all on the screen for the speaker on the stand. One may argue that this is a bit over dramatic but the results certainly speak for themselves!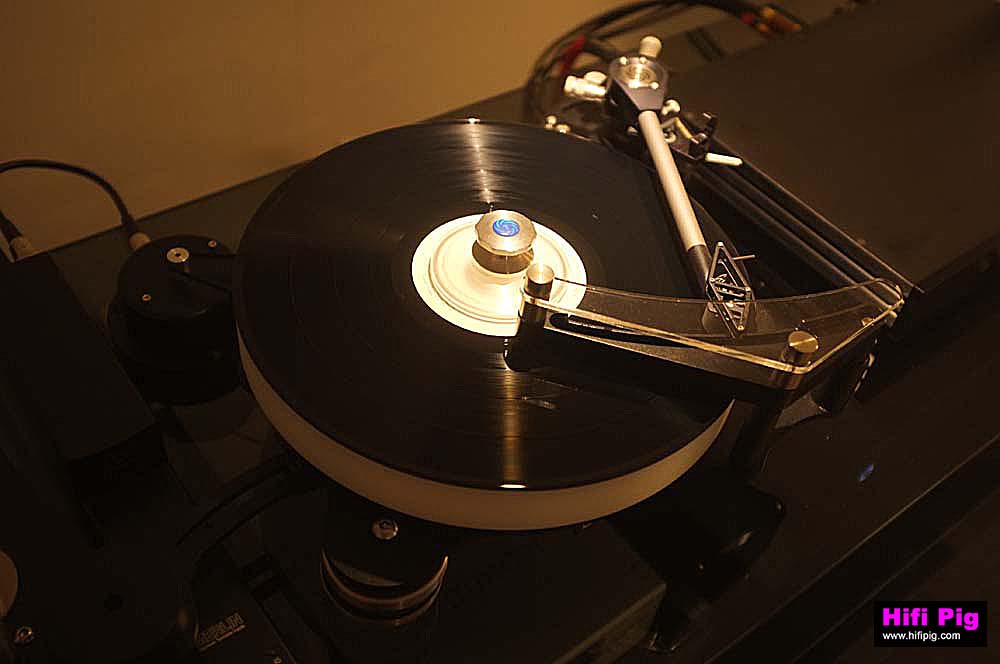 Orpheus
This was another standout room for me and could have easily been my pick of the bunch. Powerful and yet restrained and one that will please many.
Musical Stones
Time to be impressed again and this time by loudspeakers that are hewn from a single piece of granite. The first thing I do when a pair of speakers come in for review is the "tap test" – a hefty knuckle rap in the top of the cabs to see how resonant they are. Musical stones are dead as a dead thing…nothing! The sound in the room was focused and unforced and the drivers they use are clearly of a high quality.
Their top of the range model is made from the same marble as the marble used for Michael Angelo's David !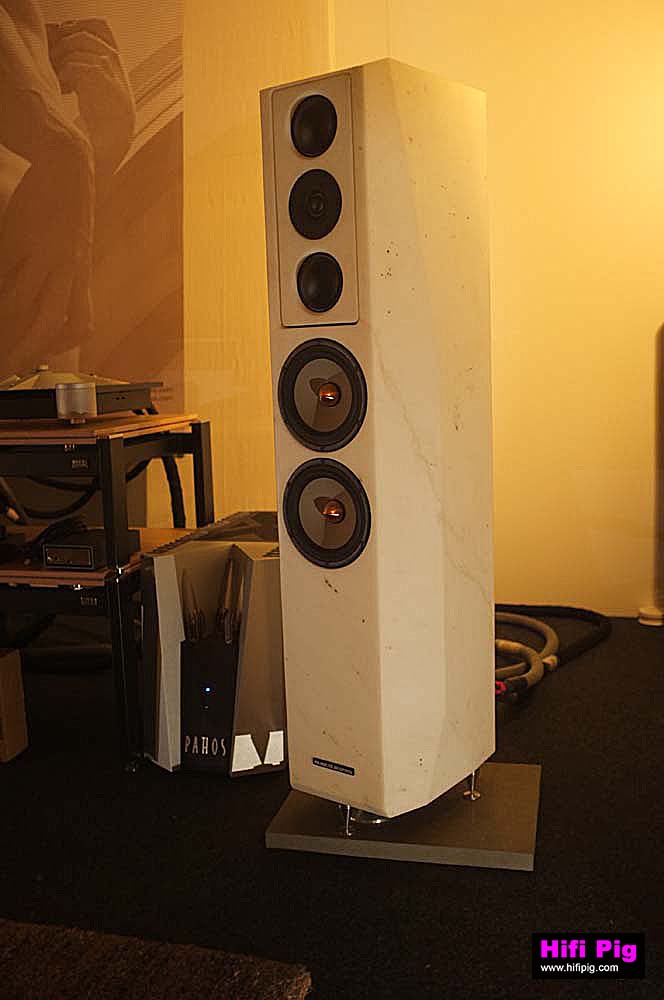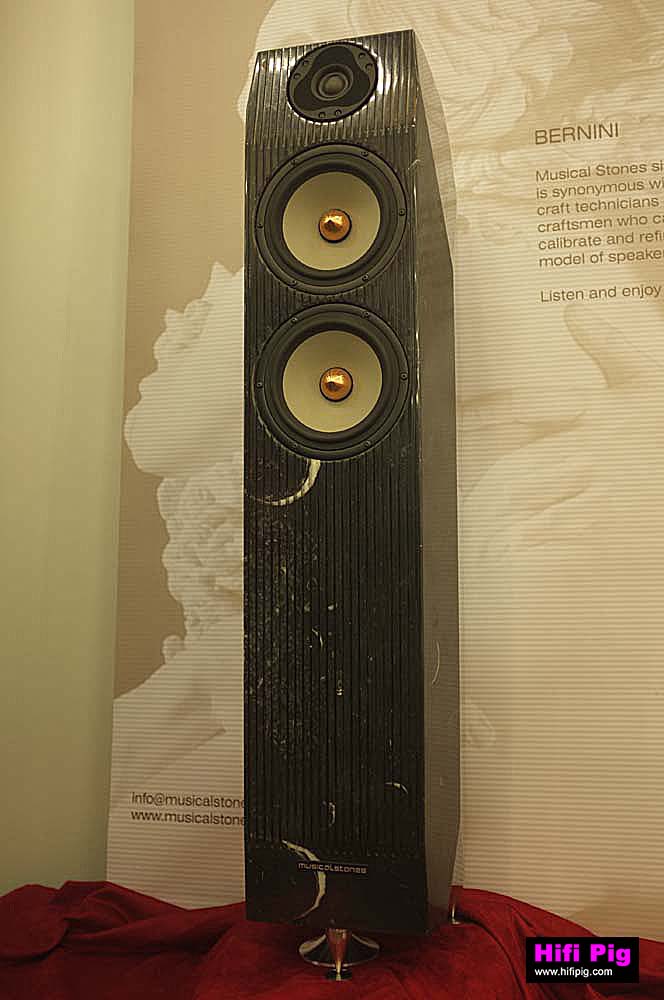 Daudio
This was an interesting room and an interesting speaker too. The little speaker you see in the picture is born out of a DIY design that has been carefully redesigned to appeal to a wider audience. The mid driver is in an open baffle configuration as is the suspended ribbon tweeter. There's an upward firing bass driver and whilst all this is in a very small speaker it seemed to be pretty nice on the jazz that was playing in the room when we arrived. Open baffles do something really nice to the sound and make for an open and organic sound and that's what you have here, albeit in a far from DIY form. The loudspeakers come with optional amplifiers and player which all in all make for a very good looking and good sounding system.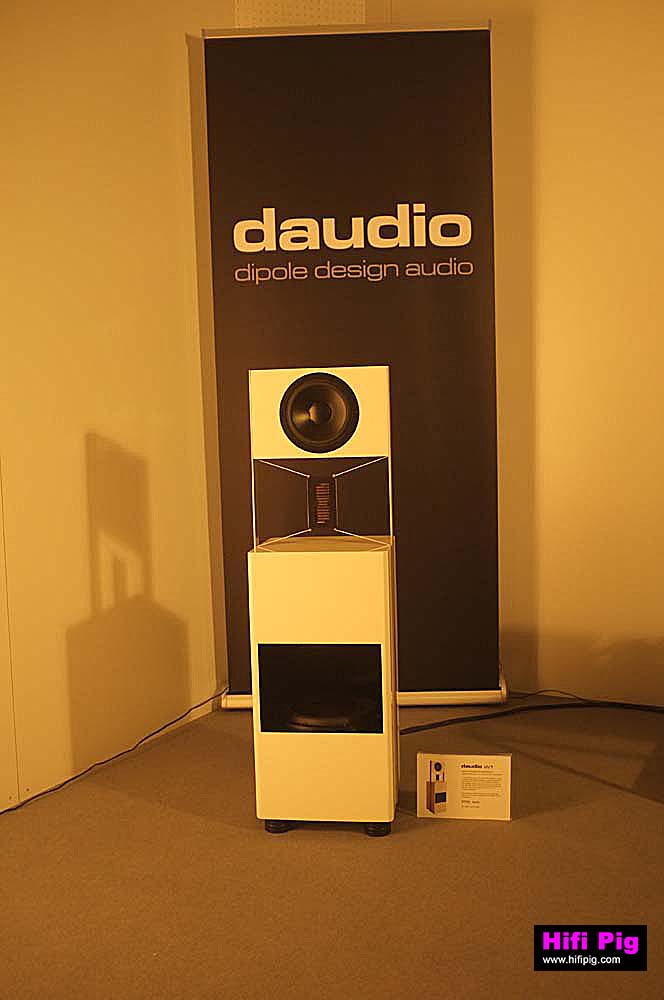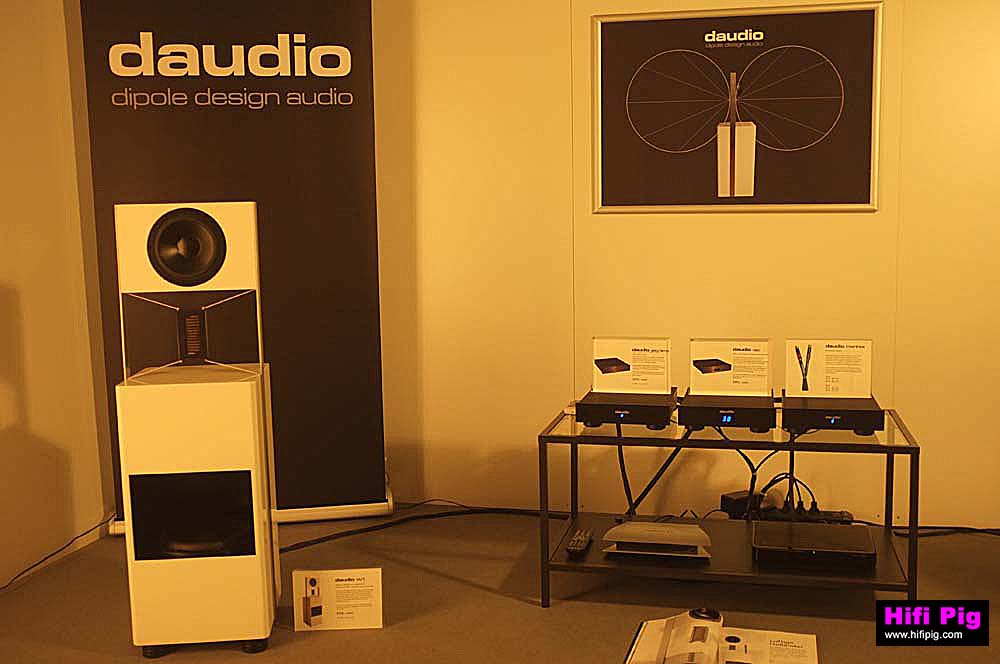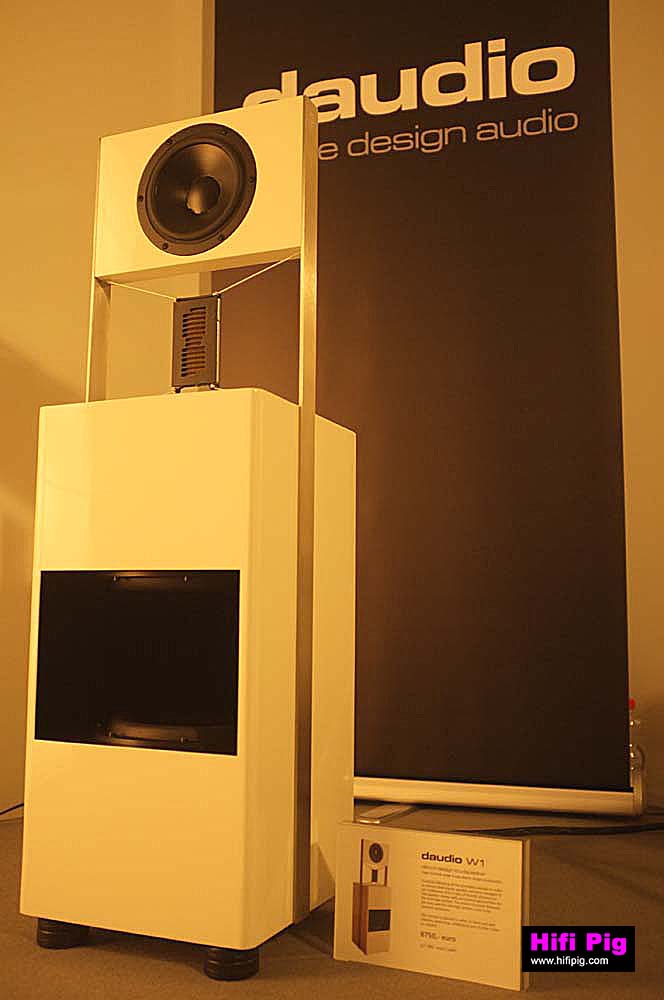 Lautsprecher und Mehr
I'm often wary of loudspeakers that are weird and wonderful shapes and so when we walked into this particular room I was prepared to be overwhelmingly underwhelmed.
I like two channel done with two speakers but here you had the main speakers and then several subs (the round things on the floor). Sound was impressive and detailed with real bass whoomf. The chap doing the dem' then switched over to the second set of speakers that employ a ribbon tweeter (we like ribbon tweeters) and he was using just one sub. OK, this is more like it. Much more my idea of audio with a more coherent and all round sound. I really enjoyed this room and it was a strong contender as one of the best sounding rooms with the second set of speakers and just one sub in place. I diodn't ask the price but I imagine this little lot will not come cheap!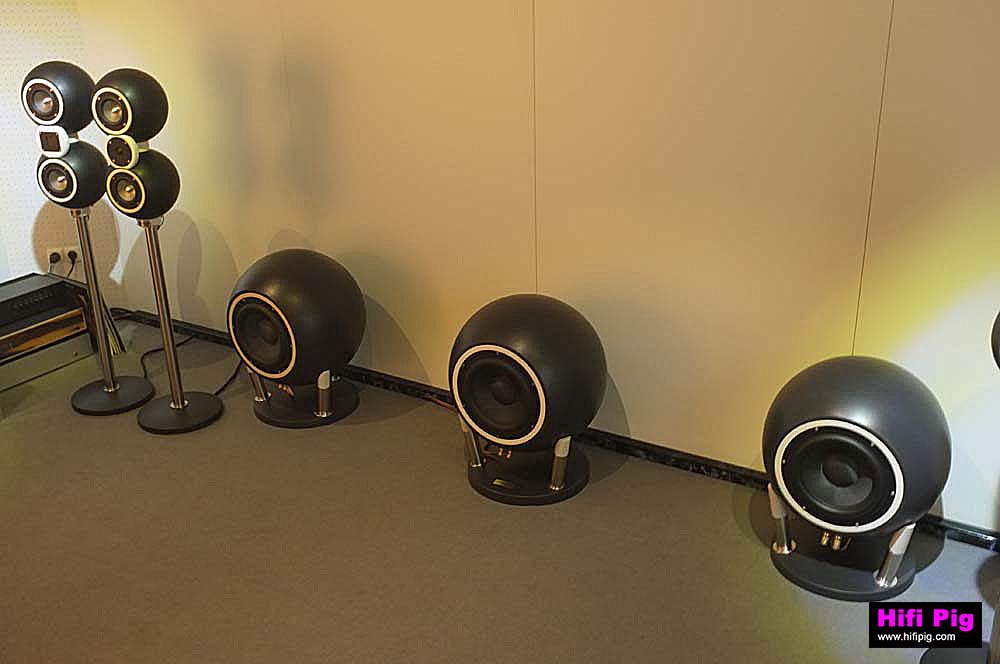 Read all our High End 2015 coverage in one place