Every year we make a beeline for the Newcomers stand at High-End as these are the people that are the potential future of the hifi industry. The stand in Hall 1 is a great idea of the High-End Society, giving brands with little or no marketing budgets the opportunity to share their ideas and their concepts with an audience they could only dream of having. We managed to get to see the Newcomers early on the final day of the High-End Show and a couple of the exhibitors were clearly flagging, but the vast majority managed to be enthusiastic and passionate about their products.
Adam Damper 
Completely made in Germany, the Adam Damper is a air suspension platform that can be used under turntables, CD players, amplifiers and loudspeakers. It's a nifty bit of kit in operation and, because you adjust the air suspension yourself, you can decouple a whole range of different equipment.
There are two versions of the Adam Damper available; the Elektronic and Manual with two different sizes of each.  The idea is that the Damper will isolate your equipment from "disruptive" influences. There's even an app for the Elektronic version as well as six rather pleasant looking real wood finishes.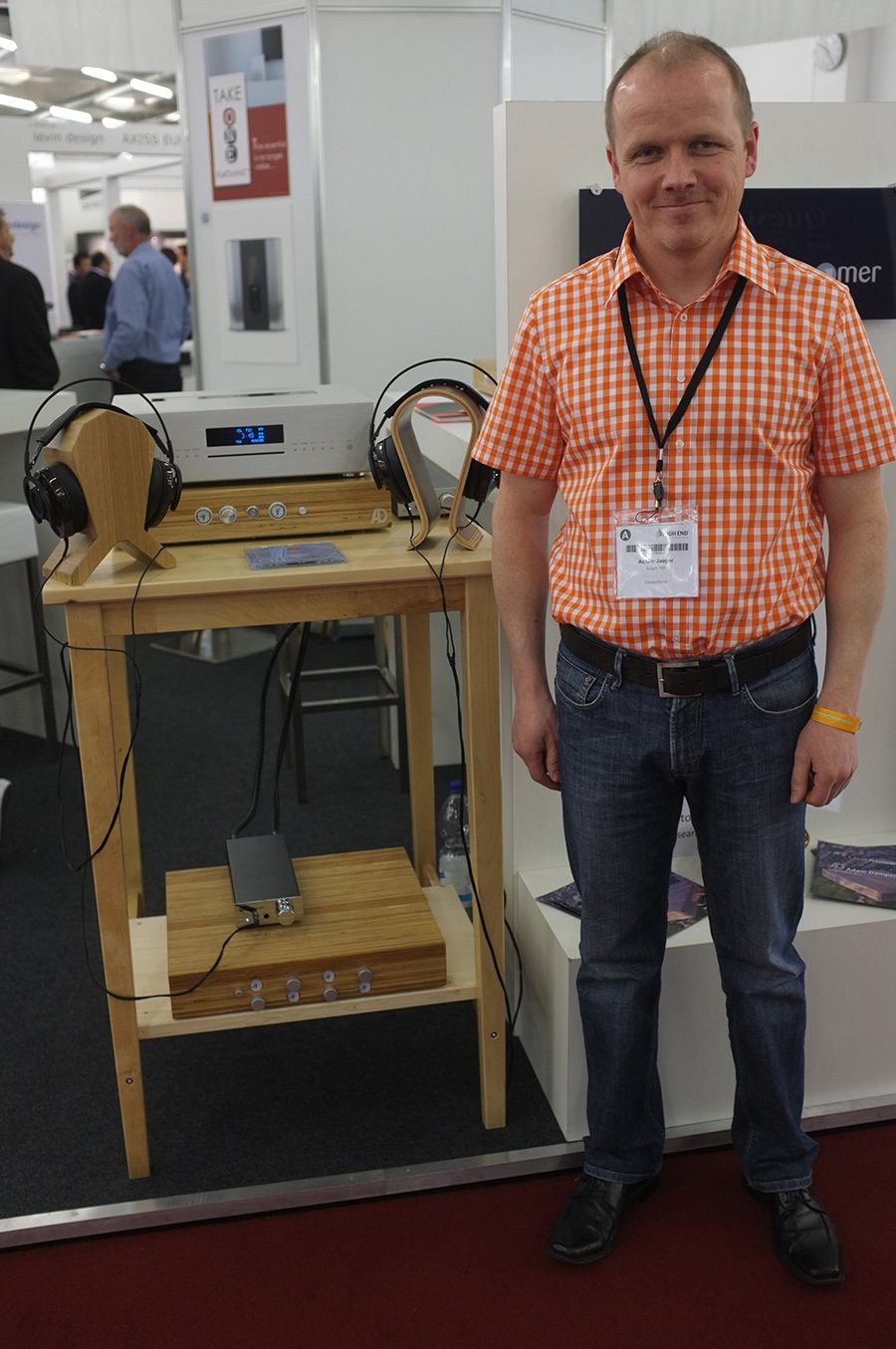 Xivero MusicScope 
What a fantastic bit of kit this was. OK, it's not really a bit of kit as such, it's a computer program that costs you just shy of €30 and is touted as being a "music microscope". There'll be a full review coming up soon in Hifi Pig that will go into more detail, but put simply it's an analyser and measurement tool that allows you to visualise loads of different aspects of your tunes. It's fully up to international audio standards and looks pretty simple to use. MusicScope not only allows you to measure digital files but also analogue sources like vinyl or tape. There are also modules onboard that allow you to measure jitter and THD of DACs and Headphone amps. Nifty!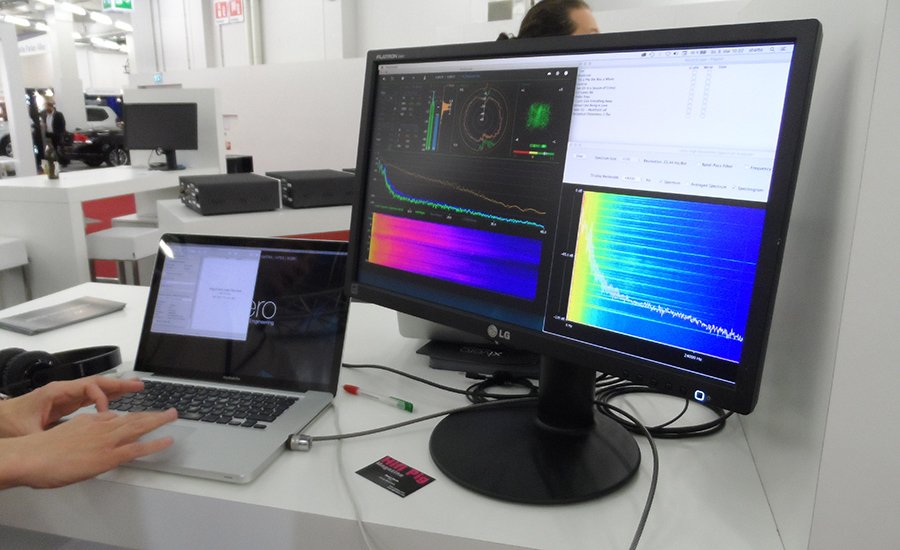 Cantieri Del Suono
From Italy the stated goal of Cantieri Del Suono is to recreate, in our every day life, the excitement and the pleasure of the characteristic sounds of live and classical music. They use tubes and specifically they are fans of the 300B valve and all their preamps and amps play in Class A.
The company has just three products in its range:
The Milliarium single ended, integrated amplifier using zero negative feedback, 2 x 12AX7, 2 x E88CC and 2 x 300B valves.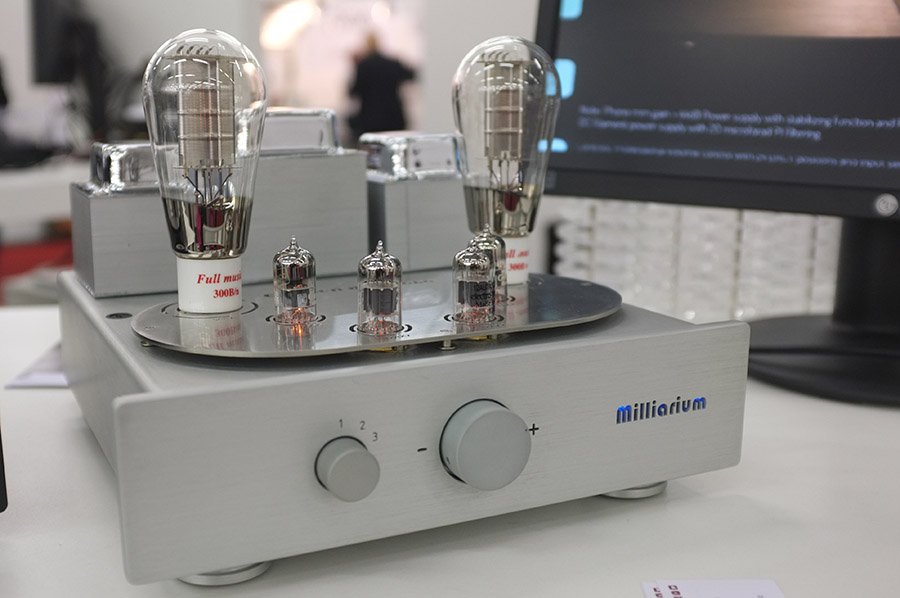 The Millarium II is also an integrated amplifier which again uses 300B tubes, but this time 4 instead of two giving around 20w per channel. Again it's single ended with zero negative feedback and uses, in addition to the 300Bs 2 x 12AX7s and a 6SN7 tube.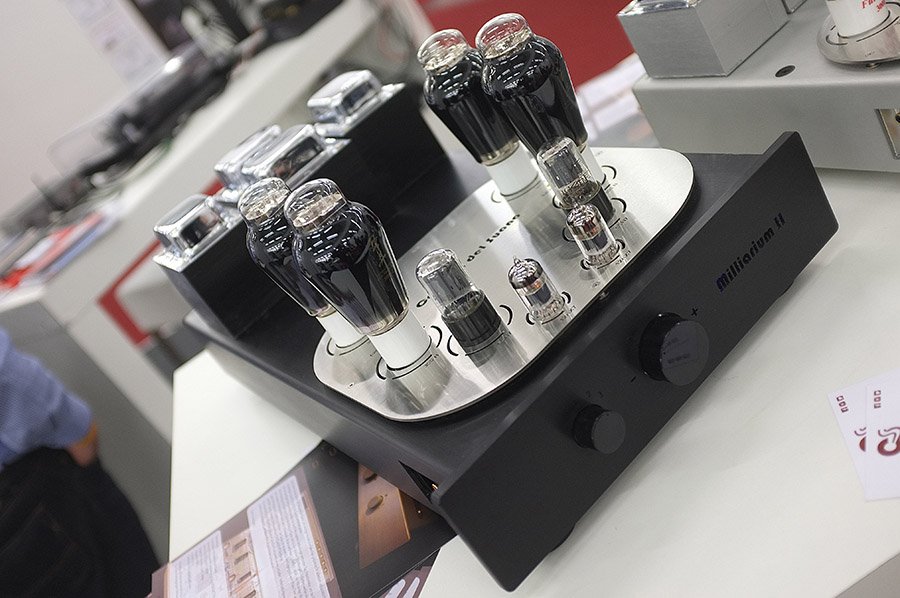 The Ductor is the final product from Cantier Del Suono and it's a preamplifier which is point to point wired and is absolutely beautifully put together (take a look at the pictures). It has three line inputs and a moving magnet phono stage. The line inputs use 12AT7 and SN7 valves whereas the phonostage uses 6SN7 and 12AX7 valves.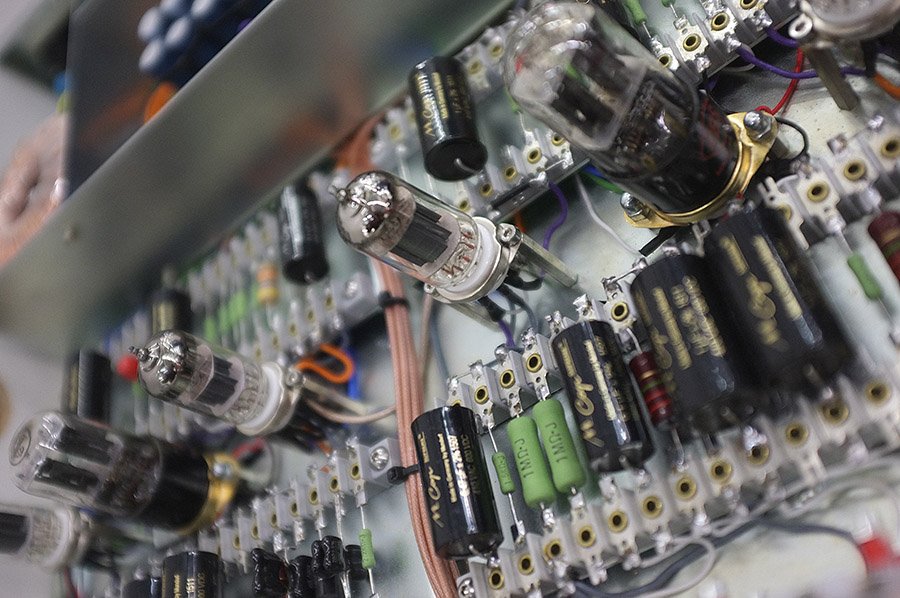 Speaking to the owner and designer of the company it is clear that he is passionate about the products he builds and has a decidedly artisanal approach to his business, creating products for the love of it rather any great desire to conquer the world or become insanely wealthy from them.
Echo-Diastasis
This newcomer to High End hails from Greece and produces just four products that are assembled entirely by hand.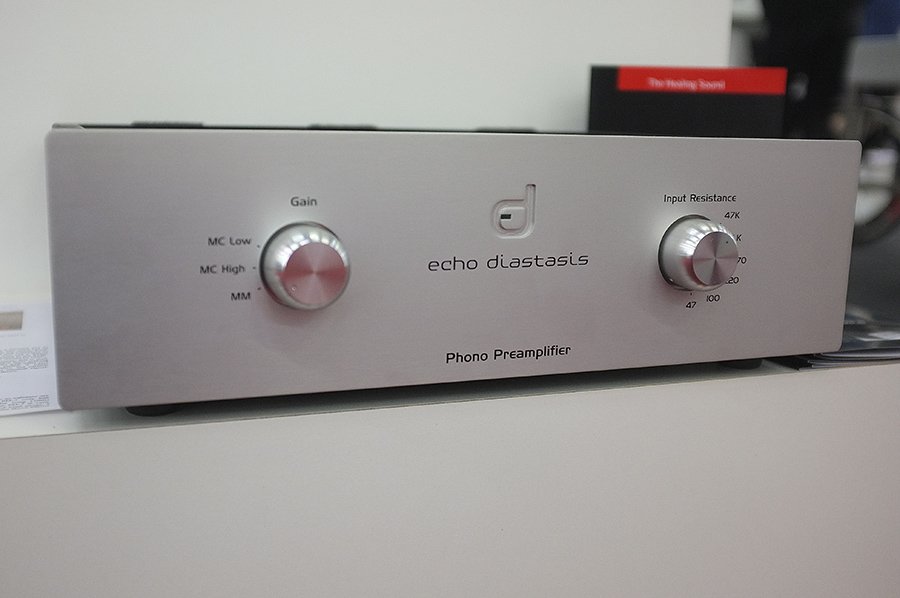 The products are:
The I-79 is an integrated amplifier that has zero negative feedback, an E-Core transformer and produces 70 Watts a channel into 8 Ohms.
The Pre 79 preamplifier has a dual mono construction and again uses E-Core transformers. It offers up 5 RCA inputs and two pairs of outputs.
A79 is the power amplifier in the family with the same negative feedback, dual mono circuitry and E-Core transformers. It's rated at 110 Watts a channel into 8 Ohms ad 190Watts into 4Ohms.
The Final product in the Echo Diastasis range is a phono preamplifier.
All products look clean, unfussy and well put together.
Flatsonic
Flatsonic is a German brand that has produced a neat looking aluminium box that is essentially a loudspeaker…but somewhat unconventionally. Instead of the normal driver arrangement, the Flatsonic unit has a bit of kit behind the front plate that vibrates the front plate (that you see) to produce music.
It sounded OK in less than ideal conditions. The company were also at the High-End show in 2011.
Red X
Two very enthusiastic German guys were very keen to tell us about their new amplifier that uses a whole new concept for amplification. Founded in 2014 in Hong Kong and then 2015 in Germany the company utilise their patented SSA Technology that they say offers higher output, better reliability, increased thermal efficiency and superior fidelity whilst reducing weight and size.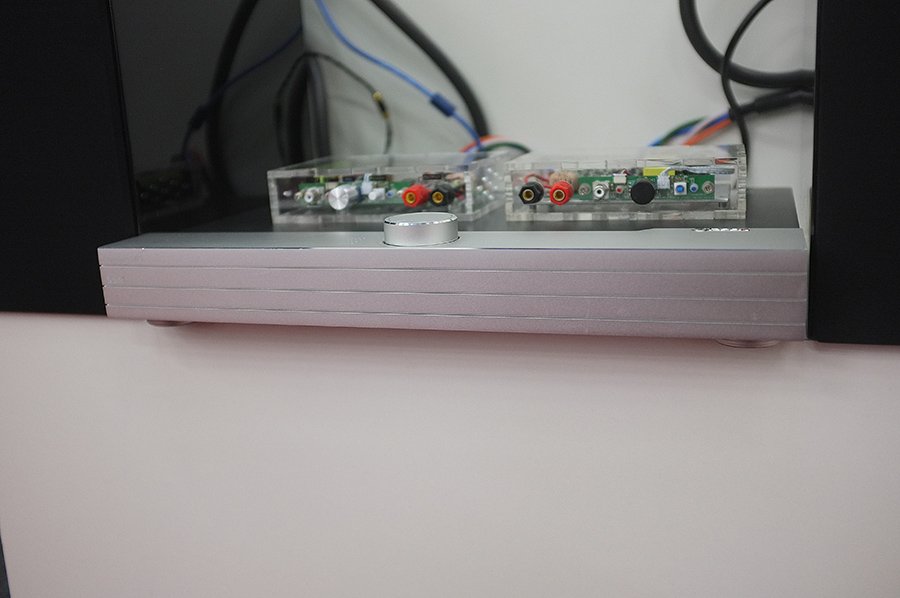 Is it Class D? Well no it's not apparently, with the SSA (Single Ended Class A) technology using "single-stage power conversion" instead of the traditional DC-DC power supply, rectifier, filtering and amplifier stages. The company claim zero cross over distortion and "true bidirectional energy flow" that allows inductance load energy return to the primary power supply.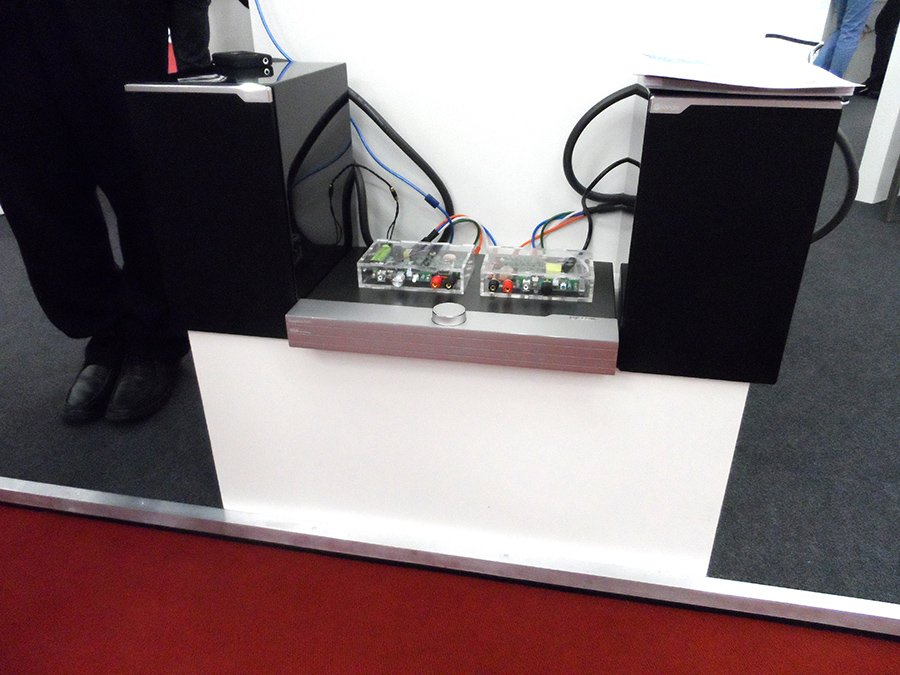 The amplifier, which features a USB audio interface, S/PDIF optical inputs (up to 192kHz) and XLR balanced and RCA line inputs generates 4 x 125Watts at 8 Ohms and can be bridged to give 2 x 500 Watts. The amp is sold as part of a system complete with a pair of bass reflex speakers that are standmounters with a 7" woofer and 1.2" tweeter. I asked why they only sell as package and was told that they had to match the amp specifically to a speaker, which may limit its audiophile appeal unless they rethink this approach.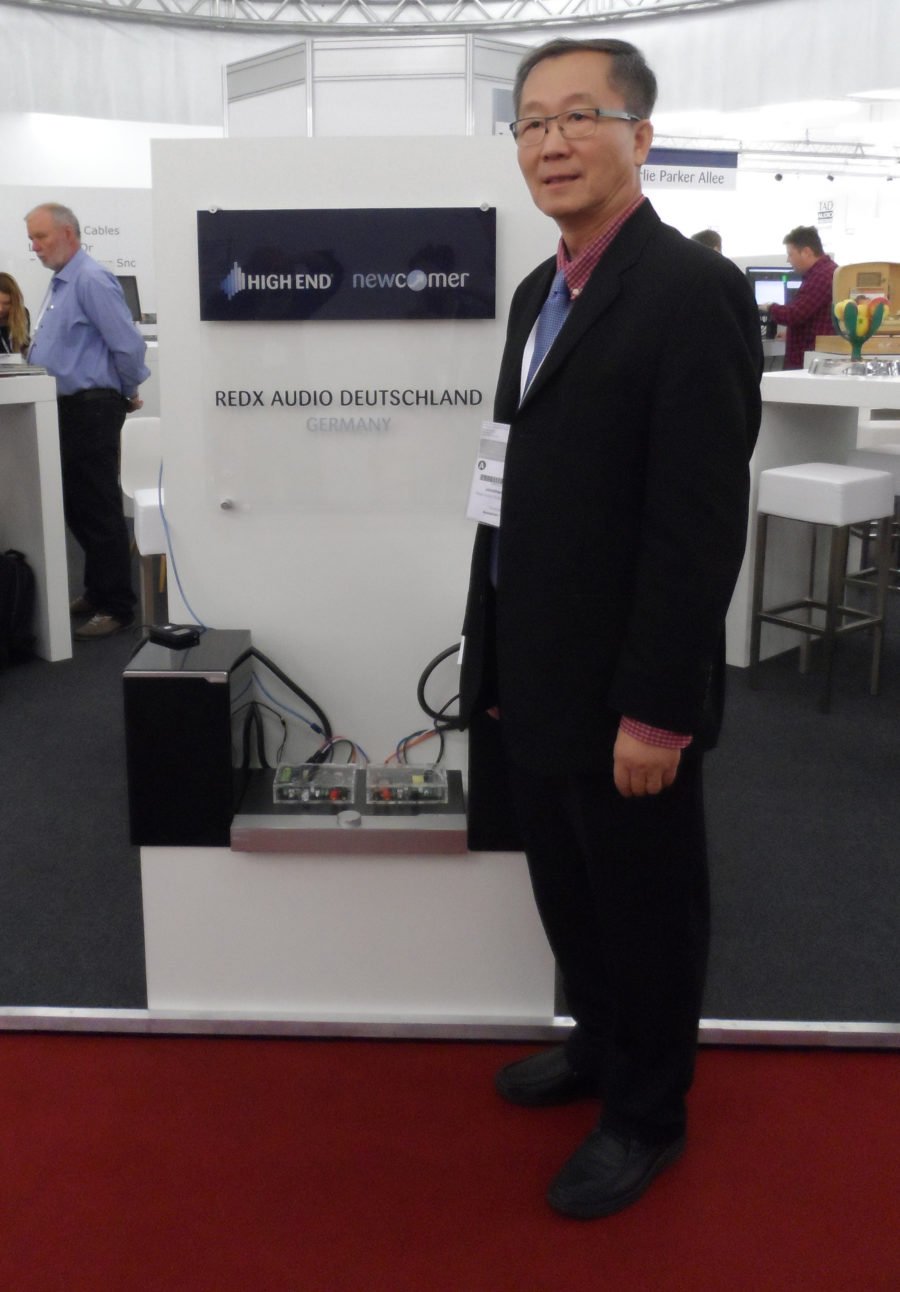 Transvinyl
An interesting box of tricks that basically lets you stream your vinyl all around the house to any suitable receiver like a Sonos box. The great thing is all this is done via wireless and so there are no messy wires to be getting in the way.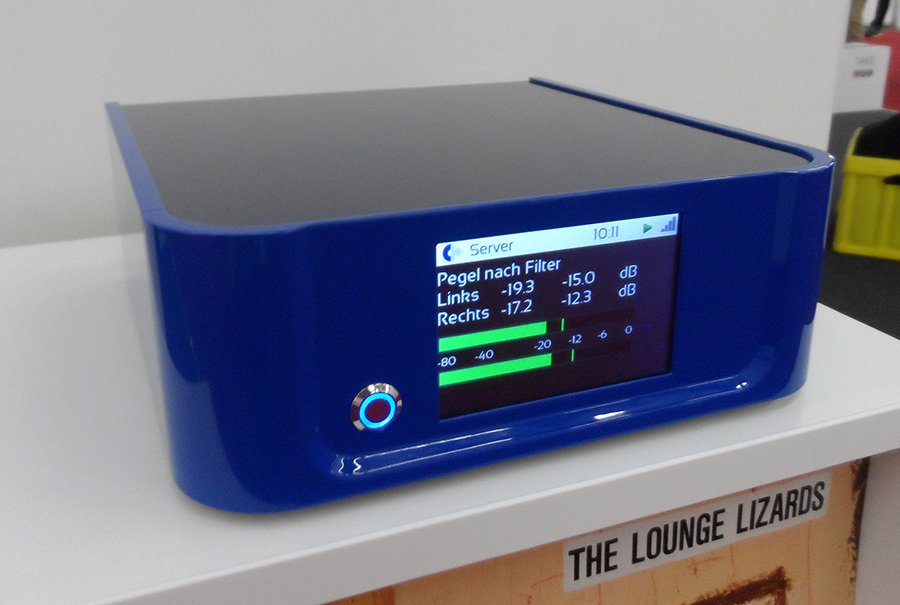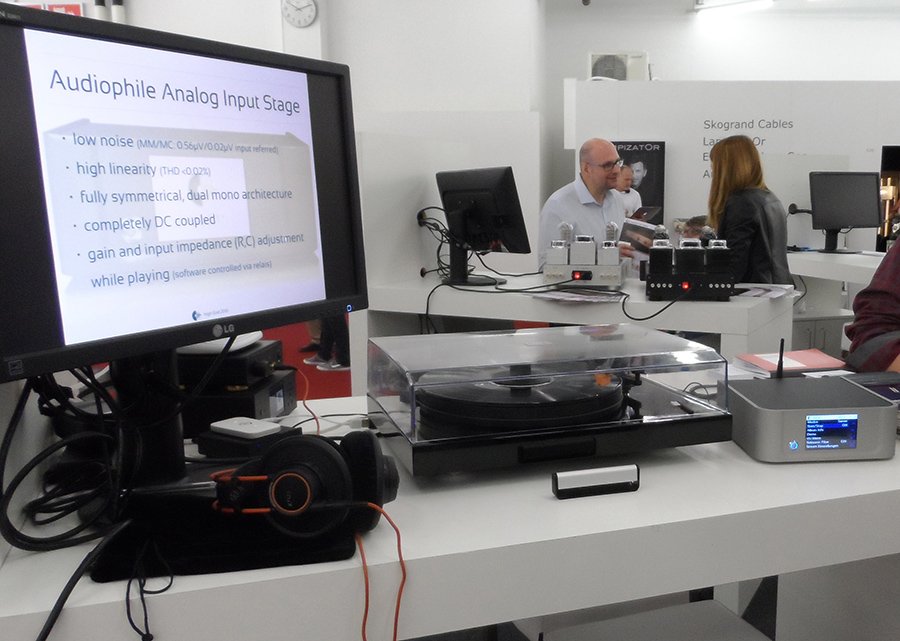 Ubiq Audio
Last on the newcomers stand was Ubiq Audio from Slovenia who arrived just as we'd given up hope of having a quick word. They are forgiven though as it was Sunday morning and it had been a tough few days for everyone concerned.
More High End New and reports right here.