Bird: UK slang meaning a woman/wife/girlfriend, synonyms: broad, chick, dame, girl, lass.

At Hifipig.com we have a lot to say about the Munich 2013 show, but I wanted to give you my views, as a first timer who isn't a techy, doesn't necessarily know all the science bit but knows a good sound when she hears it.  I also like my hifi to look great too.
Being the photo monkey of the outfit, I didn't take notes like Mr Hifi Pig who will be giving you a more in depth report of the rooms and exhibits, so my thoughts are very much based on what stood out for me.
Obviously there was a hell of a lot of kit at the show so it did take a lot for things to stand out, some really great hifi that you would be amazed by in someone's home set up, won't even get a mention but please don't take it the wrong way….I just got a bit of hifi fatigued at some points and my brain got a bit overloaded.
Right then, let's buckle up, climb through the wardrobe and down the rabbit hole into the crazy, wonderful world that is the High End show, Munich 2013.
'She's got a ticket to ride'

Taking the train from North West France to Munich via Paris sounds like a pretty romantic way to travel, but really we settled on this mode of transport as it was the most practical way for us to get there.
We wanted to be there for the Trade day on Thursday 9th of May so we set off, full of high spirits and expectations on Wednesday lunchtime.  When I say high spirits, I was actually so excited that I didn't sleep the night before; I had some serious 'night before Christmas' syndrome going on!!
We had about 4 hours in Paris where we had dinner and then boarded the overnight train from the Gare de L'Est across France and Germany to Munich arriving at about 7.15 am on the Thursday morning.
I have to mention the hotel as it was so good it really added to the experience.  We had booked the NH München Deutscher Kaiser, as it had good reviews, and was literally opposite the station.  They sorted us out with an early check in so we could shower and change and then get breakfast.
It really is breakfast Nirvana at this hotel, there was more choice than I have ever had at a hotel anywhere and it was absolutely delicious, we managed to eat so much each morning that no lunch was needed so we could spend more time chatting to hifi people, result!
The service at the hotel was incredible and we have already decided we will stop there whenever we visit Munich; it really is a no brainer, if you need a hotel in Munich then book this one. The guy that runs the bar is a star!
And so to the show.  The MOC is an absolutely enormous space, light and airy with great facilities, much more suited to accommodating the hordes of people that were there than a hotel.  I often find hotels shows to leave you a bit hot, bothered and fractious, not the best state for appreciating hifi.
The show was split into 2 halls with stands and listening booths and then 3 areas above with rooms.  We tried to do things logically so that we knew where we had been but that kind of went a bit to pot as we would catch sight of something interesting round the corner and stray from the path!
One of the best bits in Halle 3 was the 'Newcomers' stand, of which you can read Mr Hifi Pig's report of HERE;  There was a real energy about the exhibitors who were launching their products and businesses here and we had a real synergy with them, being only a year old ourselves.   It was a shame that we couldn't really hear the products other than the headphone amps but I am hoping that some of them will be back next year and hopefully with kit we can hear…;and yes the Rike Audio 380,000€ Mono block amps really are top on my list to hear!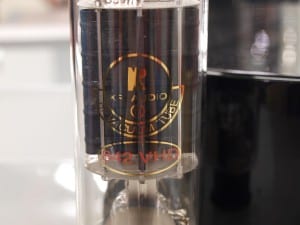 I'm also really looking forward to hearing the huge square grey and white prototype horns on the Dynamikks stand, they certainly looked like they meant business and hopefully we will be able to hear these next year too.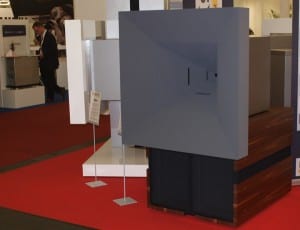 Other standouts from Thursday downstairs included the Kondo listening booth, which looked and sounded very classy and the Alkemia Vero omni directional speakers stuck in my head for some reason, perhaps because they were all shiny and Italian and featured the very distinctive Manger driver.
Feeling a bit like kids in a sweetshop, we decided to get upstairs to get into the rooms and actually hear some kit properly. We headed straight to the top floor of Atrium 4 as we knew we had to catch up with Joe from JoSound who had a room up there. What we hadn't realised was that there were nearly 60 different rooms on that floor alone….this was going to take some time!
It was great to see Jo at JoSound again, having met him at the Paris show last year, one of the nicest people in hifi who has some very distinctive loudspeakers. His new addition to the range, the Ra, sounded superb and had the art deco styling of the earlier models.
With the imminent release of Baz Lurhmann's 'The Great Gatsby', I think that Art Deco is going to become the must have look this year for everything from fashion to interiors, Jo could clean up here!
We popped into the Manger room and were immediately impressed with both the sound (which is not what you expect from a pair of fairly small floor standing speakers) but also with the room.  It was done out really nicely and felt like a proper room that you would have in your own home.  It was really god to actually meet Daniela Manger too who was passionate about her products and really knowledgeable to speak to, it was just a shame that, after realising the enormity of our task, we couldn't spend longer there.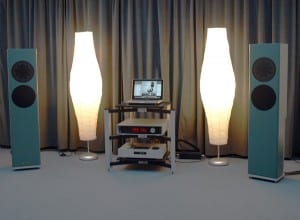 The Swissonor room was a pleasant surprise; I had seen their small BACH speakers before but not heard them and wasn't expecting the 'small' system to sound so good.  It was dressed up in a Brittish Racing Green outfit which gave all the kit a nice retro feel and made them even more unusual looking.  It was a nice relaxing room without the crush of some of the others.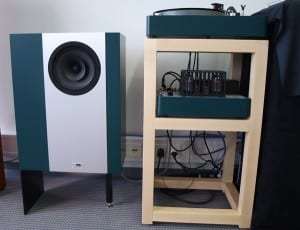 The super colourful Amphion room was a nice place to be.  The sound was good and the display of the full range of colour options gave a very young and vibrant feel, one of the guys said I fitted in very well with my red hair and multi coloured dress!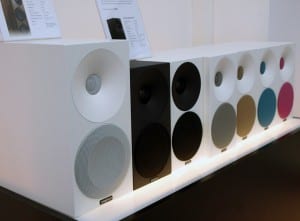 Now I'm not really a vinyl fan, much to Mr Pig's disgust, but even so I couldn't help but be impressed by the Avid room.  Their turntables really are a thing of beauty, looking more like an industrial art installation than a hifi show, and they sound top notch too.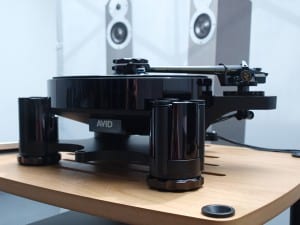 I had a bit of a disappointment in the Living Voice room, they had the Vox Olympians there but were playing the smaller system, which sounded brilliant!  We got the time of when the VO's would be used but unfortunately missed them.  I then had to endure people telling me how great they were, oh well, maybe they will be my Avantgarde Trios of 2014 or perhaps we'll make the trip over to the UK pay Kevin and Lynne a visit!!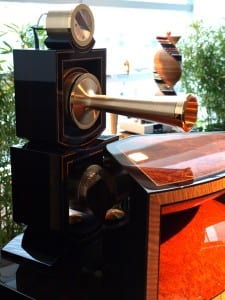 They certainly looked stunning though, kind of the Time Machine meets an extra from Doctor Who.
I've saved Thursday's best, in my opinion, until last.  The Silbatone room was a bit of an experience.  It did actually have me worried that it would be better sounding than Avantgarde!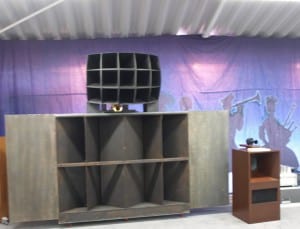 The 1936 Western Electric M3 Mirrophonic system was basically the biggest, ugliest set of horns I have ever seen, but you can forgive them anything when you hear them.  It actually felt like the music was inside you, very odd.  A lot of people complained that they had been in a better room the year before and had a better system but everyone I saw in there looked blown away by it.
We were starting to get pretty worn out before we finished the floor so decided to call it a day and come back to the rest later.
We had met Mark and Luke from Origin Live on our way into the show and decided to hook up with them at the infamous Hofbrauhaus in the centre of Munich for some huge beers, nice food and great company… just what we needed to recharge our batteries for the next leg of the show on Friday.
Linette
Avantgarde Acoustics at Munich High End – Temper Tantrums and Trios