Not everyone needs an integrated amplifier and not everyone has the room for monoblocks. The ST60P from Icon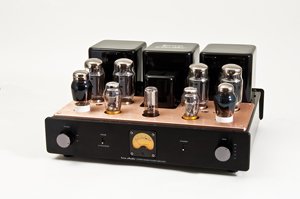 Audio is the company's first stereo power amplifier and has no selector, no volume control and the input socket is directly connected to the grid of the first valve.
It has a big power supply, big output transformers, and uses the new KT120 valve.
The new KT120 has 50% more power than the KT88 tube.
The Ultra Linear/Triode switch on the amp allows switching from 80 watts to 40 watts of triode sound.
A built in bias meter simplifies keeping biasing.
Specifications and Features
Built in "Easy Bias" Meter
Hand wired point to point
Class A, Triode front end
Output circuit Ultralinear or Triode switchable
4x KT120
KT88/6550 compatible
2x 6SL7 first stage valves
2x 6SN7 output driver valves
Valve Voltage regulator
Valve warm up, protection circuit
80w RMS* per ch Ultralinear 8Ω KT120
65w RMS* per ch Ultralinear 8Ω KT88
35w RMS* per ch Triode mode 8Ω KT120
Typical gain 70 (High) 20 (Low sensitivity)
Signal to noise level better than -97db
One line level inputs
Tape monitor circuit
44W, 40D, 23H, 35kg