iFi expands the portable 'x series' with the xCAN, an analogue headphone amplifier with the added Bluetooth.
At the xCAN's heart is a high-spec, low-noise, dual-mono headphone amplifier of proprietary design, capable of delivering 1000mW per channel to make the most of any headphone type, from sensitive in-ear monitors to high-impedance on- or over-ear designs.
iFi's Cyberdrive amp stage combines the analogue operation with the convenience digital control. Volume attenuation occurs entirely in the analogue domain. Balanced (2.5mm) and single-ended (3.5mm) analogue inputs and outputs are provided. The single-ended output benefits from iFi's S-Balanced circuitry. The xCAN can be connected via cable to any analogue audio component, or any digital device that already incorporates digital-to-analogue conversion, for example, a DAP (Digital Audio Player). In addition to its analogue cable connections, digital devices like smartphones, tablets, computers and TVs can connect to the xCAN wirelessly via Bluetooth, with the ability to store up to eight paired devices in its memory.
Instead of simply using a system-on-a-chip Bluetooth module to handle the digital audio signal, the xCAN incorporates a chip from ESS Technology's Sabre DAC family, making full use of its HyperStream architecture and Time Domain Jitter Eliminator, supported by iFi's Global Master Timing clock system. This, coupled to support for the sonically superior aptX, aptX LL and AAC codecs over Bluetooth, enables enhanced-quality streaming from all manner of digital devices.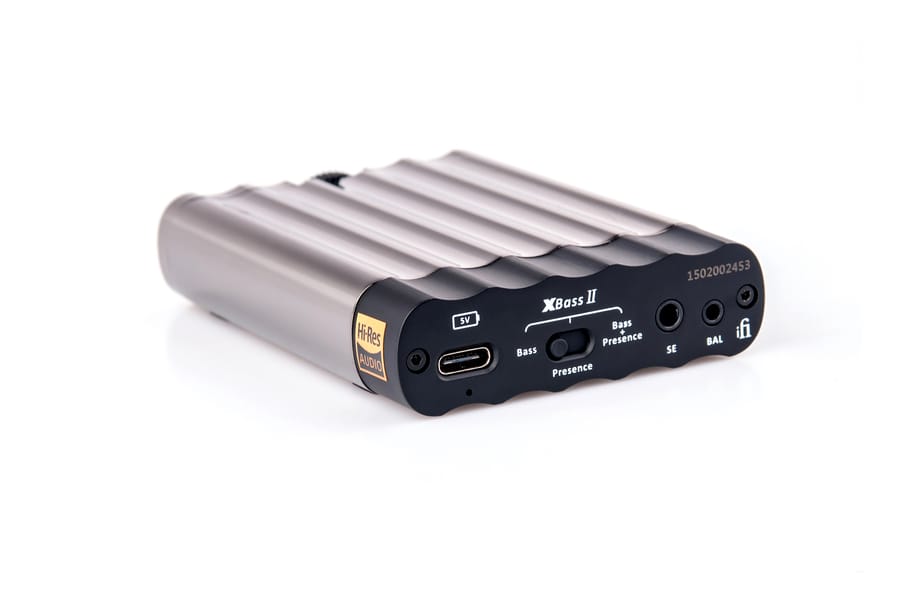 Proprietary circuits to tailor performance to suit the music and connected headphones are a signature iFi touch. The xCAN is the first device to sport a new version of iFi's XBass circuit, designed to enhance low-frequency performance. XBass II expands the proposition with three separate options: 'Bass' (which targets low frequencies), 'Presence' (which focuses on the lower midrange) and 'Bass + Presence' (which implements both together). Another setting called 3D+ tackles a common headphone problem. Most recordings are made for (and mastered on) loudspeakers, which can result in an effect known as 'in-head localisation' when listening through headphones. 3D+ counters this by delivering a more expansive soundstage, more akin to listening to a pair of speakers or a live musical performance. These circuits use high-quality discrete components and operate entirely in the analogue domain rather than messing with the digital signal via DSP. Their effect is subtle and can be switched in or out of the signal path, as the listener prefers.
Like the xDSD, iFi's new xCAN is encased in strong yet lightweight magnesium-aluminium alloy, ion-plated with a dark titanium finish. Measuring 95x67x19mm and weighting 129g, plus the xCAN's built-in battery charges via a USB-C port and offers eight hours playing time per charge. Available from mid-November at an RRP of £299 inc. VAT.
READ MORE HIFI NEWS WITH HIFI PIG