Janine Elliot takes a listen to the iFi Zen DAC that boasts a whole load of features in a diminutive package and is priced at just £129.
iFi is good at dishing out surprises, a company that love to create tiny little boxes offering hi-tech specifications at such low prices. The Zen DAC is no exception, a gorgeous curvy number with balanced headphone and line output. Plugged into your USB output this should provide the best sound from your laptop or tablet. iFi's audio products are aimed particularly at those with digital leanings; whether DACs, Bluetooth, wifi or headphone amps. Analogue output from computers is just bearable at the very best, so this product is ideal for those with a large collection of FLAC, WAV, DSD and DXD music on laptops/tablets wanting to output to headphones or even their HiFi. iFi have a good number of small digital players in their arsenal meeting everybody's needs, and this curved trapezoid-shaped beauty sits somewhere in the middle price band at £129 and will look very pleasant on your desk.
iFi is a British company I have watched with great interest since it began in 2012. They manufacture all their products in China at their wholly-owned factory and have a head office in Southport (where the company was founded) with a team of designers, marketers, sales, training and customer services from all around the world. This includes head of the in-house technical design team,  Thorsten Loesch, and American input from the legendary amp designer John Curl, working as technical consultant. iFi is an offshoot from the high-end manufacturer AMR (Abbingdon Music Research) with both companies designing and manufacturing portable, desktop and hi-end HiFi components. Despite the diminutive size of the products they claim Class A analogue circuitry throughout and being "Bit Perfect", rather than DoP, which means that DSD and DXD files aren't resampled to PCMs before being converted to analogue, thanks to the BurrBrown DAC.
CONSTRUCTION
The Zen DAC combines a lot of technology packed into its diminutive 11.7x10x3cm size. The front has a central volume control, with a variable coloured backlight indicating the sampling rate (for example; green for PCM44/48/88/96kHz; Cyan for DSD64/DSD128). To the very left is a high/low-level button labelled "Power Match" for more inefficient headphones and there's a "TrueBass" button next to this. This button is designed specifically for IEMs that lack extreme bass, though it worked well on my Sennheiser HD650's too, giving more detail and pizazz. Both buttons sizes are carefully chosen to match that of the sockets on the right of the volume control; Firstly, there is a 6.3mm single-ended headphone socket and with a 4.4mm balanced headphone socket to the right of this. At the rear is where all the work takes place; to the very left is a 4.4mm balanced output, ideally to be used with a 4.4mm-to-XLR cable connected to your balanced line-level amplifier input. To the right is a Variable/Fixed switch to allow you to choose between a variable output plugged directly into your power-amp using the DACs volume control, or fixed if you want to connect to a preamp or integrated. Next to this is the all-important USB3.0 B socket to connect to your valuable music library. Finally, there is a 5v DC power connection. The instruction manual, the size of a bookmarker, suggests this is to connect to the enclosed 5V power supply, but actually one isn't supplied, nor is it needed as the unit runs from the USB connection, on this occasion my Asus gaming laptop. However, to improve the sound quality a bespoke power supply could be a good investment. The most important part of the interior PCB is the bit-perfect Burr Brown DAC, giving support for PCM 32bit/384kHz, DSD256, DXD384 and MQA. To get it all working you download the iFi driver and control panel if you are using Windows, though this isn't necessary with Mac. To unlock DoP256 for Mac/Linux you can download 'Limoncello' 5.2A on their website. The Zen DAC also uses TDK class 1 ceramic capacitors, offering high stability and low losses for resonant circuit applications. Build quality is exemplary but the miniscule LED "holes" next to the PowerMatch and TrueBass might not be visible in strong sunlight. My only criticism of the unit is the low output power might mean very inefficient planar headphones will not work so well. My HD650 is an inefficient headphone and so I needed to press the PowerMatch switch, but the excellent Audio Technica ATH-W1000Z cans worked well at the low setting. The Zen DAC is quoted to work with conventional headphones up to 300 ohms, and with balanced cans up to 600Ω, with 330mW output @32Ω (balanced) and 230mW @ 32Ω (unbalanced).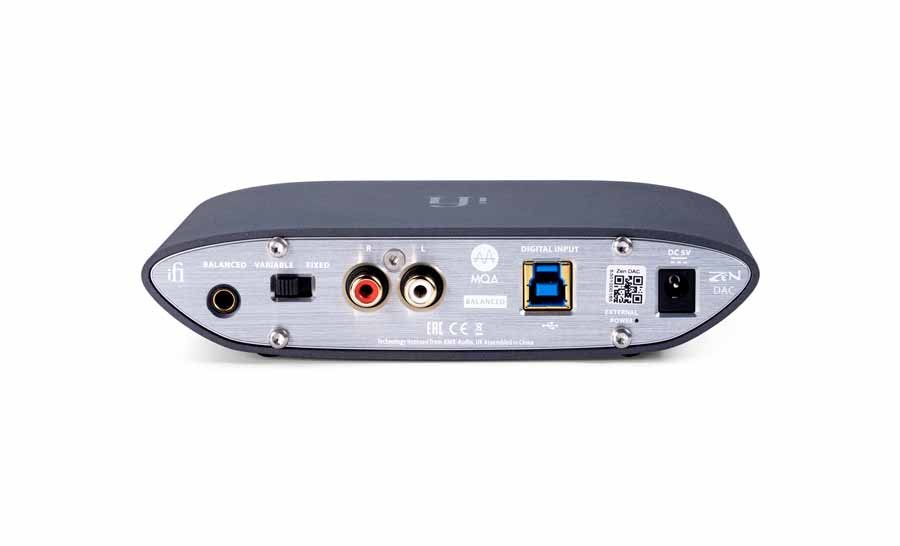 SOUND QUALITY
Cue the music. To start the concert I wired up Mike Oldfield's 'Tubular Bells' (DSD128). A great album from my childhood past, that I would have played with the lights set low in my bedroom in the evenings after doing my homework. The result through headphones and balanced line-out into my Krell was clear and pronounced at the low end and with a fast and detailed top end. The Zen basically acting as a DAC/preamplifier meant I didn't need to use my Music First Audio preamp at all when playing through the loudspeakers. The bass guitar was particularly well pronounced but nothing stood out as being over the top or taking over from the very balanced performance.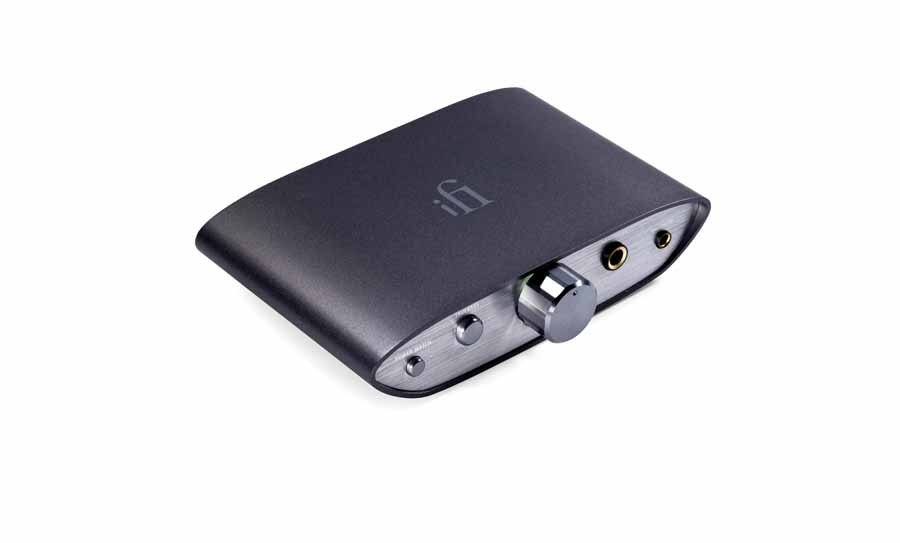 Turning to Vivaldi's Guitar Concerto (binaural Baroque, Chasing the Dragon) the amount of detail was particularly good though it did feel it sounded a tad clinical with a slight lack of depth to the music. Miles Davis Quintet 'Freedom Jazz Dance; the Bootleg Series vol 5' was next on the list. This is basically an experimental album; Miles and his musicians rehearsing the numbers and experimenting with different timbres and textures before arriving at their definitive end-result or just binning them. The Zen DAC was very detailed and excellent at the top registers, particularly the ride cymbal, and with lengthy decays on notes and reverb. The bass was not as extended as I would like, though adding TrueBass to the HD650's expanded this. Mid band was detailed and clear making for a very enjoyable listening experience. Oscar Peterson's 'Night Train' (24/96) was the next jazz recording to be played, the Zen showing off the clear piano line and well-defined double bass and drums. Whilst the top frequencies were extended it just needed slightly more clarity in the mid-frequency range, but let's not forget the price point of this unit. "Things Ain't What They Used to Be" is a track made famous by the Dave Brubeck Trio, but played a lot slower on this album, and in so doing Miles allowed the piano riffs to spread their wings and hover over the bass/drum lines in a tantalising manner, made even grander by the Zen. This DAC, come headphone amp, come pre-amplifier was pretty good and all for just £129, only lacking some of the dynamism that I know this album has.
Turning to classics and Haydn's Symphony No.44 (24/192, Linn), there was a lot of decay or reverb and by pressing TrueBass 'opened up' the sound further, giving a more enjoyable account of this highly undervalued symphony. There was a clear presentation making for a very enjoyable listening and precise performance, though I would have liked a larger soundstage – again, let's not forget this is a sub £130 unit. Indeed, all classics that I previewed on the DAC during weeks of the Coronavirus pandemic were crystal clear and detailed, giving me a chance to while away the endless hours through my laptop collection to reduce the boredom of lockdown. Next on the playlist was an old favourite of mine, Eagles 'Hotel California' (24/192) and the title track. I did feel the clarity of the Zen emphasised some of the grittiness of the original recording that on vinyl would be much more forgiving. There is nothing wrong with this, just the DAC doing its job, though I really wished there was a tiny valve sitting inside to tame the sound a bit, just as iFi have a 6N3P in the preamp stage of their iconic bamboo clad Aurora music system. Adding TrueBass, if anything, didn't help. This is not the best recorded track despite its notoriety. Listening to a live version of "Hotel California" was however much more engrossing with solid bass tom-toms keeping the track flowing with the array of acoustic guitars showing just how talented the musicians were, particularly live. Finally, it was time to take things into overdrive with Nirvana 'Nevermind'. The Zen coped with the loudest blasts from guitars as well as the quietest inflections. "Come as You Are" has a clear ride cymbal and effortless repeated bass line. Everything was precise and controlled with nothing sticking out unnecessarily. If anything, the bass was a little too restrained, but as a purist, I didn't want to rely on pressing the bass boost button to get things better. iFi are very good at adding gizmos like "bass boost" and "3D matrix" boosts on their machines such as in the xDSD recently reviewed. But, however you decide to play it, you are guaranteed impeccable quality of sound and build, at a minimalist price.
CONCLUSION
I really enjoyed reviewing this cute little box just as I did the Zen Blue a while ago. For the price this is the perfect accompaniment to your laptop or tablet, and even working particularly well as a pre-amp for your HiFi if your sources are via USB. To come completely balanced inside and bit perfect, meaning you can enjoy your DSDs in full, just adds to all the ticks I have already given this box. Only that the sound can at times sound a little too clinical and lacking depth keeps me slightly wanting, but with the right headphones or amplifier this box is pure genius.
At £129 this is a multitalented performer that I can happily highly recommend.
AT A GLANCE
Build Quality: A very well-made construction in one-piece aluminium. Excellent design.
Sound Quality: fast and extended bass, clean mid and secure top end. A very quiet amp, though its use with very inefficient planar designs at high levels might not be so great.
Value for Money: £129 is exceptionally good value for such as well spec'd and cute little box.
Pros:
Excellent mid and tight and secure top end
Plays native DSD audio
Balanced output
MQA friendly
Cons: 
Power output less than I would have liked (330mW@32 Ohm balanced output) but worked well with inefficient headphones using high gain "Power Match" button.
Price: £129
Janine Elliot
Review Equipment: Asus laptop, Music First Audio Baby Reference/Krell KPS20i (amplification); Graham Audio LS5/9 plus Townshend Super Tweeter (speakers); Townshend, Tellurium Q, Ecosse (cables), Townshend Seismic stand.
Specification
Input
USB3.0 B Socket (USB2.0 compatible)
Formats
44.1/48/88.2/96/176.4/192/384kHz PCM 2.8/3.1/5.6/6.2/11.2/12.4MHz DSD 353/384KHz DXD
DAC
Bit-Perfect DSD & DXD DAC by Burr Brown
Line Section
Output
Audio RCA (UnBAL) — 2.1V fixed
1V / 3.3V max. (variable)
4.4mm Pentaconn (BAL) — 4.2V fixed
2V / 6.2V max. (variable)
Zout
<= 100 Ohm (UnBAL)
<= 200 Ohm (BAL)
SNR
< -116dB(A) @ 0dBFS (UnBAL/BAL)
DNR
> 116dB(A) @ -60dBFS (UnBAL/BAL)
THD+N
< 0.0015% @ 0dBFS (UnBAL/BAL)
Headphone Section
Output Power (@1% THD)
4.4mm Pentaconn (BAL)
330mW@32 Ohm; 6.6V@600 Ohm;
16 Ohm – 600 Ohm Headphone6.3mm S-BAL (SE)
230mW@32 Ohm; 3.3V@600 Ohm
16 Ohm – 600 Ohm HeadphoneNote: Using 5v power. If powered from USB, power output may vary.
Output Impedance
< 1 Ω (UnBAL/BAL)
THD & N
< 0.005% (125mW @ 32R)
SNR
> 113dBA (3.3V UnBAL / 6.2V BAL)
Power consumption
< 1.5W via USB power OR 5v DC (power supply not included)
Dimensions
117(l) x 100(w) x 30(h)mm
Weight
491g (1.08 lbs)
Warranty period
12 months