The EVO3 Venus AV power centre is a five-outlet mains conditioner designed to enhance and protect a complete audio or AV system.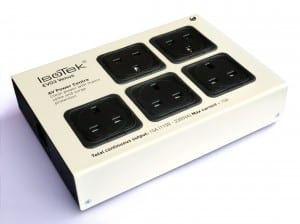 "A painstakingly designed delta filter topology filters out common mode and differential mode noise, with a reduction in RFI of 30dB". Each of the five outlets is independently isolated to prevent cross-contamination. In addition, IsoTek's unique sequential and repeatable protection system provides 13,500A of instantaneous protection from electrical spikes and surges, safeguarding valuable equipment.
EVO3 Venus is designed from the ground up by IsoTek.with hand-soldereding, silver-plated PCB, and internal wiring with silver-coated OFC (oxygen-free copper) conductors and a Teflon PTFE dielectric.
The EVO3 Venus is available now in a white finish.
Priced at £325 (including VAT).