Dan Worth takes a look at the IsoAcoustics Orea Pucks designed to help isolate your equipment from unwanted vibrations. 
IsoAcoustic's Orea Pucks are a range of two new devices from the Canadian brand which has gained great esteem here in the UK over the past year or two. The design is derived from last years Gaia speaker isolation feet – which again this year wowed many at the 2018 Bristol Sound and Vision Show and were also reviewed by myself shortly after the 2017 event. At the time of my review I was curious about the Gaia's effects on equipment but their design wasn't really intended for components and was very specific to the movement of speaker cabinets – being designed to combat lateral movements only.
The Orea however, as well as being entirely suitable for studio monitors, bookshelf speakers, and subwoofers are constructed to minimise vibrations and bi-lateral micro vibrations which are injected into our isolation racks by the equipment seated on them, as well as vibrations from speakers carried through floors and up into our racks.
The ISO-Pucks's and Oreas have polarized Isolators, the logo's should be turned towards the listening position when placed under speakers, subwoofer etc.
The primary difference is the Orea's are a stronger performer with a narrower performance curve, which accounts for the weaker performance when under-loaded (see later). The ISO-Puck  when used for the Pro Audio market can be used under studio monitors, guitar & bass amps, stage monitors, mic stands etc.
DESIGN
Like the Gaia, the Orea Pucks are a combination of high density polymers and stainless steel, constructed in layers with a carefully designed rigidity – coupled with a freedom of movement to compliment a wide range of applications. The Orea Pucks come in two weight designations per foot, allowing users to compliment system peripherals accordingly. Whether it be a set of three or four for overall weight management or a mix of the two supporting masses for equipment which is heavier at one point than the other, the Oreas are sold separately to allow the end user complete freedom of implementation.
The two loads supported by the Orea Puck are as follows:
Orea Indigo Isolation Pucks support a maximum capacity of 7.2kg each.
Orea Bordeaux Isolation Pucks support a maximum capacity of 14.5kg each.
The fit and finish of the Oreas is very nice – with a fixed rubberised top for placement under the piece of equipment, the slightly concaved top creates suction to the underside of equipment, they are dressed in a nicely polished stainless steel main body, with a flexible yet ridged rubber bottom section mounted to an internal aluminium sub-chassis.

SOUND QUALITY
My first review samples were the Orea Bordeaux, I primarily wanted to try them under my balanced AC/DC power supply which weighs around 47kgs and was due some form of isolation testing, so these came at the correct time for me as the unit has taken an age to obtain parts for and build and recent isolation footers that I have tried really haven't offered anything in terms of performance improvements.
Installing them was interesting, my system sits in an alcove, underneath a custom-made desk, leaving me not so much space between supply and underside of the desk and also getting in around the rear of the supply and attempting to lift the monster was a potential shoulder dislocating feat! Anyway, I managed to get four of the Orea Pucks under the supply with a few moans and groans.
Grabbing each side of the front of the unit I was able to rock it backward and forwards and side to side with a small amount of resistance when seated on the Bordeaux' which was actually quite satisfying.
My first close look into the sound was primarily to ascertain what differences there were in bass response. I played London Grammar's 'Hey Now'; with this piece of music if you can quite clearly hear the rubber ball on the end of the mallet strike the skin and each note free of smear then you are onto a winner. My system already did this trick very well, to begin with but with the Oreas in place, I was instantaneously astounded by the improvements. The definition of the strike and natural texture to the bass had improved really quite significant. Extension seemed more realistic and less blurred on the extremes of the roll off with even more in room presence, as to interact with the room itself.
I went onto play 'The Blower's Daughter' by Damien Rice with the very same scenario being evident when the deep single bass note extended. What I was beginning to notice without any particular focus being given, was how much more clean and how much more natural the vocal sounded. Midrange and bass integration became more cohesive in its flow and tempo but had clearly more defined space and freedom to breath.
I went on to listen to a great deal more music for a couple days and also gained some opinions from visitors with and without the Bordeaux in situ – their comments fell in line with my own thoughts. A thought had occurred to me during the last time I took the feet out that maybe I should try just three instead of the four I had underneath the power supply for the past couple of days…bingo! Even further improvements were gained. Another small amount of plummy-ness was removed from the bass and now the top end began to breath more freely. I had previously noted a little more inner detail come through but there was nothing stand out so to speak.
Whilst listening to Chris Jones' 'Angel From Montgomery' the delicacies of fine details and off-axis nuances proved to me that the Oreas, when weighted just right were not just a one trick pony, they didn't just clean up the bass allowing the midrange to in turn become freer, they actually had a really positive effect on the entire frequency range.
I contacted the distributor and passed on a few of my findings whilst requesting some of the Indigo Oreas to try under my lighter power amp. Whilst I was waiting for these to arrive I decided to try the Bordeaux' underneath the Gamut. A quick retuning into no Oreas in the system and I placed just three under the power amp and repeated the same music as in my initial tests…what a disappointment and that's being generous! The lighter weight poweramp simply wasn't loading the Bordeaux Oreas enough and the result was a total loss of bass altogether and a collapsed soundstage culminating in a small window of music in the centre stage, could this be simply that I was fortunate enough to find great synergy with my power supply or due to my educated guess that they were just underloaded?
The following morning produced a set of Indigos ready to trial, again I had opted for a three-foot support configuration keeping the weight of the amp in mind. I played some music for a good half an hour or so after everything had warmed up nicely and then added the Indigos to the Gamut. Yes please, I said instantly! The findings from the Bordeaux' under the power supply had been replicated once again and added even more tightness and control which never even bordered on becoming too tight, dry or stale, I just got more attention to leading edges and extension in the bass as well as better descriptions of decays and spatial awareness. Along with bouncier rhythms.
For instance, where Hey Now had been more defined and better expressed I was now gaining additional rhythm and overall balance to the sound in a far more natural and effortless way. Things were certainly becoming more musical and less Hifi if I can get away with explaining things that way? This doesn't mean that I was obtaining a warmer and more pleasingly coloured presentation because I wasn't, I was obtaining a most satisfyingly natural sound with even more detail.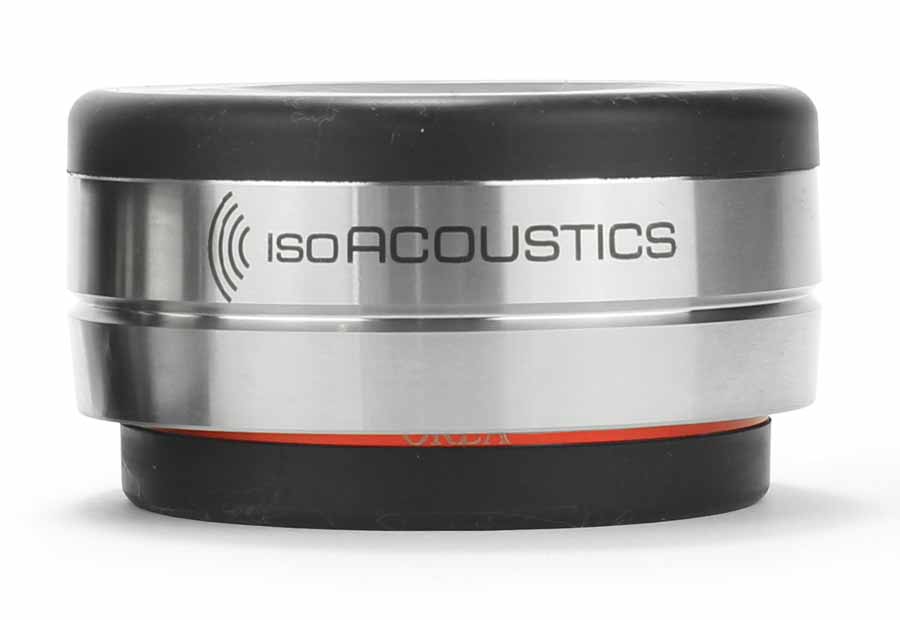 On the phone again, and this time I ordered another 9 Indigos and paid for them, along with the other two sets I already had here without any hesitation, "so you're getting on well with them then Dan?" the distributor said, "yeah, they're not bad" was my response.
So another whole day passes before they land on my doorstep (I do like efficiency!) and this time the idea was to try three under the Melco and my DiDiT DAC and also the two box Audio Music preamp. I firstly popped a set under the main body of the preamp, leaving the power supply to remain as is and again, the benefits were just so impressive. I was gaining smaller increases now in bass performance but the slight enhancement came more in spatial awareness and freedom in bass notes. Guitar bodies had more flavour and strings rattled clearly above and timed just so well with resonances in the acoustic chamber. This extra degree of freedom was more pronounced in the top-end and upper mid-range.
I had previously heard small improvements in these areas but with just the added set under the main preamp body another level of realism and dynamics was introduced. Bass was already impactful but to really feel the dynamic heft of a piece of music the overtones or crispness of leading edges needs to be inline for greater authority, and the simple addition of these three Indigos under the pre brought this to the forefront. I listened to a great range of music for the next hour or two, still eager to install another set under the pre's power supply, but at the same time, I've gained a clearer opinion of the improvements as they presented themselves in a more progressive manner.
'Seven Wonders' by Fleetwood Mac started with amazing shimmering details and a far more airier presentation, with the first bass note conveying far greater presence and control than normal, there was some real rhythmic flow and Stevie Nicks' vocal was just sublime, everything had more attention given to it, more focus and at the same time freedom and space but the cohesiveness and overall timing was bounds ahead of the zero Orea system.
Adding the Indigos now to the power supply of the preamp simply enhanced all of these advances in sound quality. The sheer effortlessness of the music was really now at a point where I am reconsidering overall rack design. These small shiny pucks have really made me sit up and consider an entirely new rack implementation and for the past few days I have been redesigning my stand in my head over and over with various materials and have also considered framed options that could integrate the Orea Pucks leaving me simply with a choice of materials for individual shelves supported by the Oreas on a custom frame.
Next up with the remaining three Indigos would be to try the Melco, I had a few doubts as the Melco weighs just less than the maximum supported weight of a single Indigo and my experience with the poweramp on the Bordeaux' was a disaster. To my surprise…I had a similar experience, unfortunately, now it wasn't as bad as the earlier issues with the Gamut but similarly, it was clear to observe that the Melco was under-loading even the lower weighted  Oreas. The sound lost its rhythm and I lost any enthusiasm for listening instantly! I decided to place the Oreas underneath the Melco's bamboo isolation shelf and the sound widened slightly but it still felt sluggish and lost all of its bounce and rhythm. Loading the Melco with another bamboo board on its top helped to load the Oreas slightly better but there was still a loss of that genius I had heard previously.
My DAC and also clock suffered miserably, the lowest supportive weights of the Indigos of 7.2kgs is simply way too high for any lightweight front-end gear and any time they are under-loaded they suck out bass, and just leave the sound without any interest or redeeming features. A single Indigo balanced nicely under the centre of my DAC offered instant detail improvements with a lot of cleanliness which although I'd say would be a preferential thing at best, still for me took away the body and rhythm of the music.
So I found myself left with three Oreas after my testing. I had one spare Bordeaux from the initial set of four and two Indigos which remained after a single one was being played with under the DAC. What to do with them I thought…
Then an idea came to mind. I run active Focals in another system and sub. The front of the sub is the heaviest portion due to the large magnet on the driver, so why don't I try a Bordeaux in the front and two Indigos in the back. There is a few millimetres of difference in their heights but it's not noticeable in situ at all. The results were fantastic, I gained a better integration with the main speakers and the bass response as a whole was much more tuneful and playful. Deep extended notes at volume filled the room without interacting with the building's structure as much and again freed up the mid-range of the main speakers due to the cleaner and more articulated upper bass crossover point tuned into the sub. I really couldn't have asked for a better conclusion to my testing, because if I had never gone through the process in the main system in the way it unfolded my other system wouldn't have had this exact combination of Oreas which mated so well.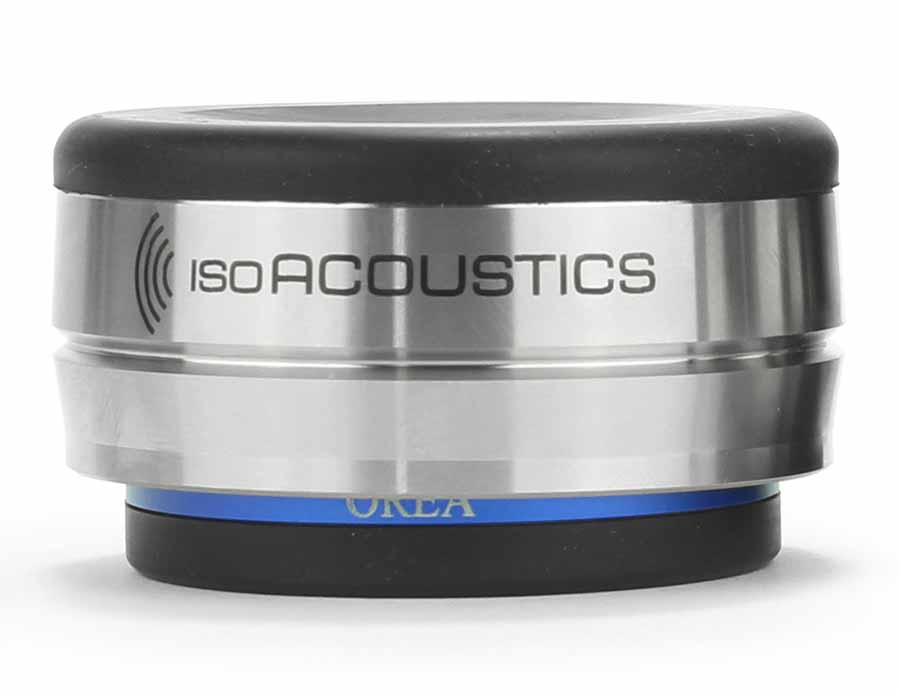 CONCLUSION
The Oreas from Canadian isolation aficionados IsoAcoustics are a sublime creation. They offer fantastic isolation support and vibration control to a huge amount of equipment and applications at a price that is simply unheard of in this somewhat overpriced industry.
When used under electronics with a weight that is at least half of what they are specified to support and over they load well and work tremendously to improve the musicality of the system. Dynamics are freer, vocals are more natural and the entire detailed picture being reported from the loudspeakers has more ambiance, presence and shape.
Under-load them and you will run into problems…
It's clear from my testing that IsoAcoustics need to introduce a version that supports a maximum weight of 3.5kgs and I'd strongly push for one at around half of that again too. There are so many devices which are being neglected from the benefits of these little stars and testing has proven for me that there is a need for the other variations.
AT A GLANCE
Build Quality: very very nice indeed, a little bling in a classic style
Sound Quality: when correctly loaded very natural and rhythmic, with more openness and detail
Value For Money: exceptional!
Pros: More body, detail and shape. Stronger and more effortless dynamics. More musical and less Hifi like. Exceptionally well made and great styling. Price is absolutely what we want to see…for a change.
Cons:
Under loading the Oreas will constrict and restrict the sound. Two more models for lower weight equipment is a must –  CEO Dave Morrison, has said – 'I am looking at making smaller and lighter weight pucks… as Dan suggests'
Price:
Orea Indigo £59 per foot
Orea Bordeaux £79 per foot
Dan Worth