The new EVO3 Mosiac Genesis is a five-way mains conditioning unit in a half-width format, featuring three outlets for front-end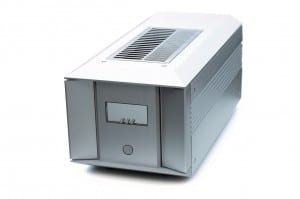 source components and preamplifiers and two for high-current amplifiers, subwoofers and the like. It brings together IsoTek's two "statement technologies" – which already feature separately in the brand's top-of-range EVO3 Genesis and EVO3 Super Titan.
The front-end is driven by a mains regenerator, borrowed from IsoTek's EVO3 Genesis, in which a unique sine wave generator builds a completely new mains waveform. This new waveform is synchronous with the incoming mains, to "protect against beat frequencies in the newly generated electricity supply". The signal is then amplified by a class AB amplifier and fed to an output transformer, with copper foil between the primary and secondary outputs to "prevent any noise or distortion from passing through the unit". The result is a continuous output of 150W (300W peak).
The EVO3 Mosaic Genesis also controls the mains voltage, ensuring that the output voltage is maintained at 230V +/- 2%.
Whatever the level of distortion of the incoming supply, the EVO3 Mosaic Genesis delivers low total harmonic distortion (THD) of between 0.05% and 0.17% with typical loads, remaining well below 0.3% with even the most complex loads.
The EVO3 Mosaic Genesis' two high-current outlets feature IsoTek's Direct-Coupled© technology which provides "optimal high-current low impedance filtering while fully maintaining the transient and dynamic performance of power amplifiers, monoblocks, active loudspeakers and subwoofers". This high-current network is derived from that in the flagship EVO3 SuperTitan and provides a 75dB reduction in RFI while delivering 3,680W of continuous power continues the company's press release.
The EVO3 Mosaic Genesis' internal wiring is IsoTek's newly-developed UP-OCC (Ultra Pure Ohno Continuous Cast) high purity copper solid core internal wire, which is silver plated before being insulated with Teflon. A fine Teflon strand is wound helically around the wire before a secondary Teflon tube is extruded over the top, creating an air gap between wire and insulating tube and forming an air dielectric which has virtually no capacitance.
The circuit design is a fully optimised 'KERP' path. KERP© (Kirchoff's Equal Resistance Path) is a technology specifically developed for IsoTek's EVO3 generation of products which ensures equal resistance and equal power delivery to all outlets.
The EVO3 Mosaic Genesis also guards against the effects of power spikes and surges, featuring 100,000A of instantaneous protection. IsoTek's protection system uses a pyramid array of VDR (voltage dependant resistor) devices that react more aggressively as a fault becomes more dangerous.
The EVO3 Mosaic Genesis is available now in black or silver and is priced at £5,995 (including VAT).