Lenco say that their Lenco-MD turntable "rethinks the classic concept of the record player". Their Kickstarter project is just over 2000€ off their target with just over a day left to run.
"Although its design is inspired by classic Lenco record players, its characteristics are not. It is built by you, 3D printed, modular, feature rich, community driven, upgradable and mainly made of renewable resources. All this with great audio quality and an aesthetic design".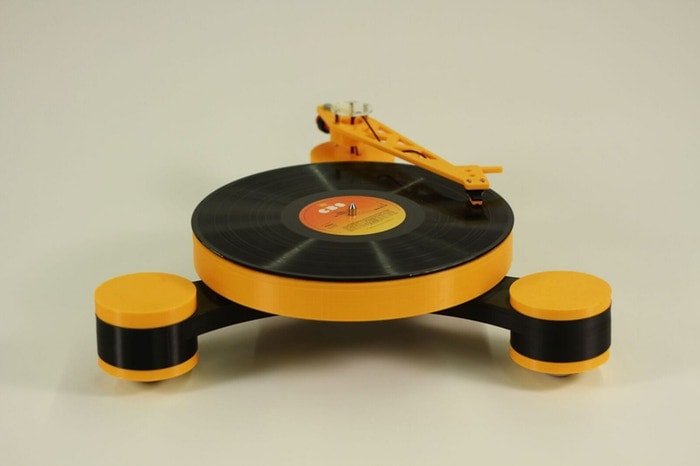 The Lenco-MD record player is created at the knowledge-sharing community Qeske. It is a collaboration between Swiss hifi manufacturer Lenco and grassroots Dutch 3D printer producer RepRapUniverse.  The first functional prototype of the Lenco-MD was first presented at the IFA Berlin 2018.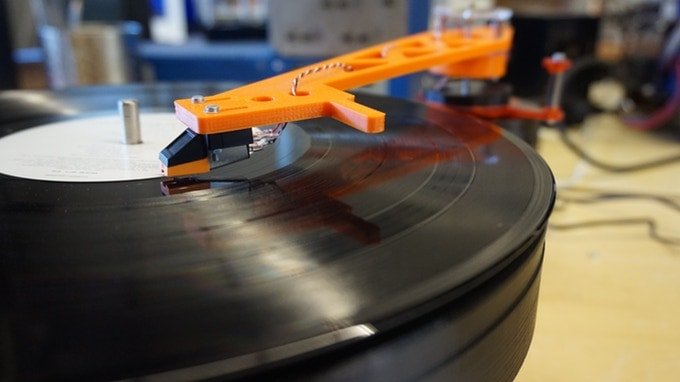 The Lenco-MD consists of multiple modular units. It is easy to swap them and adapt the record player to suit your particular situation. On a sunny day, plug in the 'Lenco-MD Solar Module', combine it with the 'Lenco-MD Speaker Module' and you are set up to go outside. Plug in the 'Lenco-MD Bluetooth Module' and you are ready to go wireless. How does the modularity work? Simple: All three 3D Printed frame legs of the Lenco-MD feature an internal thread. The modules have external thread and can be easily swapped into any of the frame legs. The Lenco-MD modules do also have internal thread. This makes it easy to add electronics to the module by using the modular adapter plate. Plug the wiring into the pre-amp and you are all set up. If you are a maker or into tinkering, create your own modules using our pre-set designs or start from scratch. Add your favorite tonearm, create a new damping system or alter the design. The only limit is your imagination. It is made of PLA, a biodegradable and bioactive thermoplastic. PLA is derived from renewable resources, such as corn starch and sugarcane.
The Kickstarter version of the Lenco-MD is shipped with two empty modular slots. Modules like the Lenco-MD Speaker and Bluetooth Modules are currently in development and will become available after the Kickstarter campaign. The Lenco-MD turntable will be available in seven colours and different option kits are available, from pre-printed to 'print it yourself' at home. All mechanical and electronics parts in the Lenco-MD are genuine Lenco parts. The Lenco-MD comes with a special tonearm, with a visually fascinating mechanical framework and a unipivot bearing. Lenco-MD is shipped with the AT3600 cartridge from Audio Technica. You have however, complete freedom to install your favorite cartridge. The handle on the tonearm is flexible and can be equipped with almost any cartridge & stylus available on the market. As an upgrade it is possible to upgrade the cartridge to the AT95E (+€25).
As it's on Kickstarter there are various pricing options and a complete, ready to assemble (no printing required) kit is currently 199€ with an estimated delivery date of April 2019. The project is currently just under its 50k€ target so get over to Kickstarter quickly if you want to join in.
READ MORE HIFI NEWS WITH HIFI PIG