KEF has become provider of custom loudspeakers to Princess Yachts and their Ci160TR loudspeakers will be featured in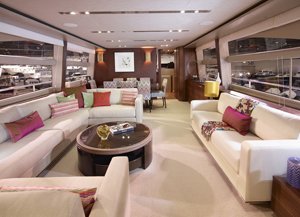 the boat company's motor-yachts of 60ft and above.
The yachts have exquisite interior spaces akin to luxury loft apartments, and the KEF Ci160TR fits "perfectly between the extremely narrow bulkhead spaces". With a depth of just 30mm, it's the slimmest full-range Custom Installation speaker in the Ci industry.
With an advanced 4.5in mid/bass driver and 1 in tweeter featuring KEF's patented Tangerine Wave guide – creating a wide sound dispersion – "the Ci160TRs' performance is nothing less than remarkable". They use an utra-thin bezel, magnetic and moisture-resistant grilles, and wider mounting legs for improved force distribution when fitted. Where every millimetre is at a premium, the Ci160TR is perfectly suited for placement within the beautiful cabins of Princess Yachts.