KEF has announced the introduction of the X300A, an active design primarily conceived to partner a PC or Mac desktop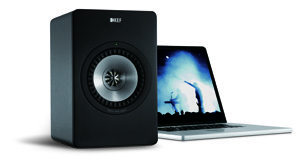 or laptop computer with inbuilt amps and DAC. Connection is via a 96kHz/24 bit USB digital input.
Unlike many typical active computer speakers, which have a single class D 'digital' amp on each channel, the KEF X300A has two class AB amps in each speaker, one for the LF/MF and one for HF.
Users have the ability to switch between desk, free space and desk/wall modes with high quality EQ, and the sound is adjusted to be optimal whichever location the speaker is put in. Desk and stand modes are selected by a switch on the rear panel of the master speaker; wall mode is selected via a foam plug for the rear mounted reflex port.
A standard 3.5mm analogue input is included so that mobile phones and MP3 players can be connected as a secondary source.
Price: £600.00 per pair.