Lampizator, the famed Polish manufacturer owned by the maverick genius Lucasz Fikus, has announced that they are to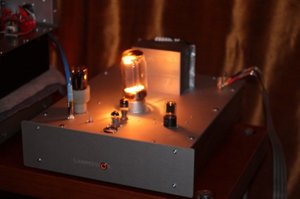 introduce a new monobloc tube amplifier for the European market only. The company are aiming the GM70s at people who would normally buy a stereo 300B amp, but with 30 WPC instead of 8 supplied by the impressive looking GM 70 triode valve.
The amplifiers are single ended from input to output and operate in pure class A mode with zero feedback. There are no solid state parts in audio circuits and the power supplies are unregulated and over-specified for the task. The GM70s boast a  separate transformer for each task with a total of three per side. Signal paths have been kept to an absolute minimum with just 2 inches of silver wire from RCA to pot, 2 inches of silver wire from pot to first tube, one inch to second tube and a hop across one capacitor to main tube without additional wiring.
Specification:
Dimensions WHD : 450 x 140 (250) x 600 mm
Weight: net 30 kg per each mono
Power: 30 WPC single ended class A
Power Tube: GM70 triode graphite version
Driver: doubled 6N6P
Input tube 6N1P
Input impedance: 47 K
Output impedance (speakers recommended) 8 Ohm
Volume: Stepped input potentiometer ALPS
Power transformers total capacity: 700 VA
Rectification: two separate tube rectifiers for HV
Inputs: One single ended RCA
Price 4000€ per pair plus 23% VAT with a special edition available for 5500€ plus 23% VAT