Italian high end audio manufacturer Lector Audio has announced the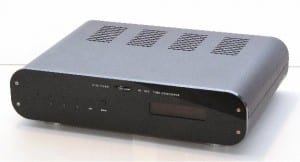 introduction of their latest DAC, the Digitube DSD (Direct Stream Digital).
The new DAC is based on the  32 bit Dac from AKM and has an output circuit designed around vacuum tubes (ECC-81/12AT7).
The DAC accepts digital signals up to 192kHz/32bit and 384kHz/32 bit via USB. Also included are a word clock input and a SPDIF output.
T h e   d i g i t a l    i n p u t s   :
–  Spdif IEC-958 as RCA connector at resolution 192 Khz 24 bit
–  Spdif IEC-958 as BNC connector at resolution 192 Khz 24 bit
–  AES-EBU AES-3 as XLR connector at resolution 192 Khz 24 bit
–  Opto toslink digital input at resolution 192 Khz 24 bit
–  Asyncronous USB PC/MAC input at resolution 384 Khz 32 bit