Light Harmonic, manufacturers of the Da Vinci DAC and Da Vinci Dual DAC, today launched a campaign on the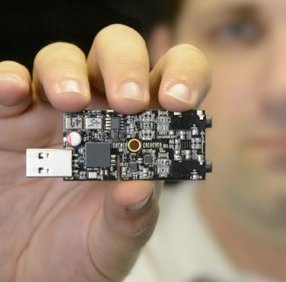 Kickstarter website to introduce "GEEK", "a cutting- edge portable DAC and headphone amp".
"We're excited that we can take technology developed while designing and building Da Vinci DAC and Dual DAC, and bring it to the mass-market," said Gavin Fish, Vice President, Sales & Marketing for Light Harmonic. "'GEEK' is the first portable DAC capable of playing DSD and double DSD files. It can play hi-res PCM files up to 384k, which is still rare for any DAC, but very rare for a portable one.
"GEEK" is a thumb drive-sized portable DAC and headphone amplifier that plugs into the USB port of a laptop or desktop computer. In addition to a DAC and headphone amp, "GEEK" features proprietary spatialization software which is said to produce the image of a 3-D sound-field around the listener and has two headphone jacks, allowing shared listening.
Backers of the Kickstarter campaign will have the opportunity to sample
"GEEK" for as little as $99 before it begins shipping in Q1 2014 to specialist audio retailers, big-box stores and online resellers, where it will sell at an MSRP of $299.